Staying focused on changing retail models is equally important as paying attention to consumer behaviour, writes Russell Handy
Much has been made of the growth of e-commerce and its contrasting level of impact on European consumer habits. While online shopping and its various incarnations continue to cause investors to ponder the future path of the retail sector, a quiet revolution – one that has ramifications for holders of supermarket-anchored centres and retail parks – has taken place behind the scenes.
Since the 1960s and well before the portmanteau e-commerce came into use, only one thing mattered for some of Europe's largest grocery chains – size.
The likes of Carrefour, which first opened a hypermarché near Paris in 1963, as well as Auchan, rolled out the concept across Europe, adding clothing and electrical departments to their core grocery retailing activity.
To suggest that in 2017 such a multi-channel retail model is flawed would be wide of the mark. But increased competition among retailers has resulted in consumers making more educated decisions before buying – a trend in itself which, of course, inadvertently owes much to the rise of online retailing and a greater consumer awareness of price.
Appetite for shopping centres and retail parks – where supermarkets are often the anchor tenant – shows no sign of abating.
CBRE Global Investors this year found a buyer for €650m of shopping centres in central and eastern Europe. The portfolio, in Czech Republic, Poland, Romania and Hungary, was sold to Luxembourg-based CPI Property Group, owned by Czech billionaire Radovan Vitek.
The 265,000sqm portfolio includes the Olympia Plzeň Shopping Centre and Nisa Liberec Shopping Centre, anchored by an Albert hypermarket, in the Czech Republic and, in Poland, the Ogrody Shopping Centre, anchored by Carrefour.
Roland Bebcak, head of CEE divestments at CBRE Global Investors, said "sizeable investments" in Poland, Czech Republic and Hungary were "firmly back on investors' agendas".
Mitiska REIM recently attracted €223m for its second fund, First Retail International (FRI) 2. The investment manager, which targets retail parks, said the fund was oversubscribed, having beaten its initial €120-150m target.
Luc Geuten, executive chairman of Mitiska REIM, says retail parks are "fast becoming the first choice among retailers", due to being in highly visible locations and with low occupancy costs.
Rockspring sold a portfolio of Spanish retail assets for €110.7m to real estate investment trust, Grupo Lar. The portfolio of 22 supermarkets is let entirely to Eroski.
In a recent report, Bain & Co highlighted the changes set to affect the retail landscape in Europe. In its 'How brands can prepare for European retailing's tectonic shifts', Bain & Co pointed to the weakening performance of hypermarket stores – due to changing consumer demographics and lifestyles, such as a shift to smaller households and ageing populations, as well as growing urbanisation that have reduced the attractiveness of a concept that requires consumers to drive relatively long distances to stock up for a week.
Patrizia Immobilien says dominant high-street locations will still experience strong demand from consumers, while the popularity of tertiary retail destinations continues to decline. "Heavy polarisation is taking place within the sector, leading to an increasing number of markets underperforming," the investment manager says in its 'Patrizia Insight' research note.
Bain & Co's report says that hypermarkets are losing ground to more accessible shopping options, such as discount and convenience stores and e-commerce, as well as to specialised and online competition for non-food products.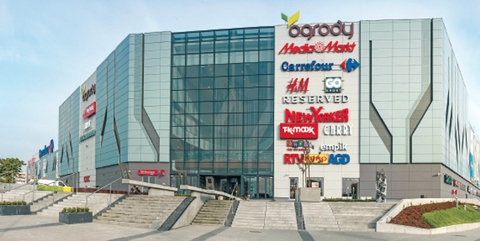 So it is no surprise that some large supermarket chains have gone back to the drawing board to reassess a model that was essentially 'one-stop-shop'.
In the UK, Tesco brought in fashion retailers Burton, Dorothy Perkins and Evans from the Arcadia Group to take space that the supermarket previously used to stock household items and electrical appliances. The chain, which launched 14 concessions in 2015, now plans to do the same in more of its large supermarkets.
The move divides rental income between more than one source.
"Those concessions can be fantastic footfall generators," says Michael Neal, head of UK investment at TH Real Estate. "The UK's major four supermarket chains are constantly asking themselves how they can make their stores more interesting and more vibrant."
Ian Williamson of LaSalle Investment Management, which co-manages the €1.2bn open-ended Encore+ fund, says: "Shopping centres are an organic beast and they do evolve. That means you have to stay on the front foot."
Williamson has noted the change in retail offer by continental European grocery chains. In Sweden, Williamson says a retail park the fund owns to the north of Stockholm in Sollentuna is performing strongly after a change of concept by anchor tenant, Coop.
The grocery chain's move in 2014 towards a different retail model did not perturb LaSalle, Williamson says."They were in the process of rolling out a new concept across the country," he says. "The asset was long-leased and well-let, so we took the view that we could work with the tenant and release some of their space and control who that was then released too."
Systembolaget, a government-owned chain of liquor stores in Sweden, was brought in to take space previously occupied by Coop. "It's proved to be a huge draw for customers and it's paying off today," Williamson says.
CBRE Global Investors has also noted a trend of changing space requirements among large retailers and has taken action to revive a shopping centre in its portfolio, says Florencio Beccar, head of retail in EMEA.
Rather than simply sub-let space, a small mall was 'carved' out of space freed up by one of the manager's tenants at an asset in Spain, going beyond a simple store refit. The move added three tenants.
"Retail keeps evolving, but a good asset with the right structure will continue to perform well," says Beccar.
City centre incubation
In Sweden, AMF Fastigheter is also focusing on the behaviour of retail tenants. However, the Swedish firm is concentrating its efforts on new retailers, creating a hub in central Stockholm for start-ups. "We wanted to form a creative environment for new retail brands," explains managing director, Tomas Krywult. "Brands prefer to establish themselves in the centre of cities."
AMF, he says, sees its central Stockholm scheme as an incubator for up-and-coming retailers, including a communal area and encouraging interaction between its tenants.
"It's not just about creating offices or retail space, but a meeting point," Krywult says. "We encourage seminars and social events."
AMF's asset, he says, has been less rigidly defined in terms of sector use, at a time when Stockholm is doing everything it can to attract new businesses and talent.
BNP Paribas Real Estate's global head of retail for international brands, Fiona Hamilton, says "new digital natives are now driving our latest retail models. We live in a changing world. Globalisation, technology and demographic shifts are dramatically changing the way in which consumers interact with global brands."
Consumers today, Hamilton says, want access to products at any time. "Why we shop is also changing, away from simple product transactions towards emotional connection, interaction and participation in a wider narrative that speaks to our personal values." Keeping on top of retailer and consumer trends has, it seems, never been so important.
Floored argument
Extensions of established European shopping centres will be a significant source of new floorspace in the next two years, according to Cushman & Wakefield. "Extensions to established centres will account for around a quarter of new space and there is good logic behind that," says Justin Taylor, Cushman & Wakefield's head of EMEA retail.
"The planning process is shorter, they have existing public transport solutions and a ready-made customer base to tap into – all of which reduces risk."
Taylor says development activity is increasingly focusing on new formats with a strong food and beverage presence as well as leisure and entertainment operators to increase footfall, "dwell time" and spend.
As retail schemes get larger, Taylor says they can also attract more visitors and become "regional destinations in their own right".
Retail UK: A land of powerhouses?
1

2

3

4

Currently reading

Retail: Food for thought