Larger supermarkets had been slowing losing their appeal, and then COVID-19 struck. Mark Faithfull reports on how grocery real estate has responded to the pandemic
Before the pandemic, urban convenience stores and 'value retailers' were thriving, while larger-format grocery stores were losing their appeal, with people increasingly moving away from the big weekly or monthly shop to frequent top ups. The big supermarket groups across Europe had largely checked out of numerous non-food categories and most had withdrawn from international diversions to focus on their domestic markets.
But during lockdowns, shoppers were cautious of mixing in public and reverted to less frequent, larger shopping trips. Supermarkets were some of the only retailers allowed to keep their doors open, and the importance of reliable supply chains and the notion of supermarket staff as frontline workers was quickly established.
Little surprise then that the pandemic provided new opportunities for growth and increased investor appetite, according to The European Grocery Real Estate Market by JLL and Union Investment. The grocery real estate market attracted €6.7bn of the capital flows targeting retail real estate in 2020, reaching 22% as a proportion of total retail real estate investment in 2020, compared with only 10% of Europe's overall retail investment volumes, on average, between 2014 and 2020. However, grocery stores attracted 37% of the total retail consumption in the 27 EU countries last year, so investment still appears to be underweight.
The sector's resilience during the pandemic has led net initial yields for quality grocery stock in key retail markets to compress and the strength of grocer covenants, core long-term income for more risk adverse investors, as well as more value-add product where shorter leases and older assets are put to the market, have all increased attractiveness.
"What we are seeing is a renaissance in big-box grocery," says Steve Windsor, Principal at Atrato Capital, adviser to Supermarket Income REIT. "The algorithms created during the 1980s and 1990s to develop supermarket sites within 15 minutes' drive of towns and cities are now proving ideal to service online delivery. So grocery groups are increasingly optimising their larger sites to service in-store shoppers at the front of house and logistics and last mile delivery at the back-of-house."
Windsor believes that the UK will experience more big-box grocery consolidation, with only selective new developments. While land and site divestment after the aborted 'space race' is now largely complete, he says the onus will be doing more with less, which will also make real estate investment more competitive.
In its latest global investment outlook, M&G Investments notes: "Grocery shopping remains an important part of daily life for many Europeans, meaning low online penetration in this domain. Long leases and low rents make hypermarkets across Europe an attractive long-term bet, while entry yields look particularly good versus other defensive sectors."
So too are growing urban populations, expected to rise 3.4% across Europe by 2035 (3.7% including UK). Developers are also increasingly looking to transform some larger standalone sites into urban logistics hubs.
"We are big believers in the urban convenience sector," says Jeff O'Dwyer, fund manager for continental Europe at Schroders, citing Germany especially where strong brand and value recognition have helped support property values. France is another strong market, with O'Dwyer pointing to the importance of parking for click and collect.
"Going forward, we see this as remaining a strong urban play, possibly with a combination of retail at ground level and residential on top," he says, noting a recent acquisition in Frankfurt that combines a 1,600sqm Lidl with residential in an affluent and densely populated area as a model for future purchases. "The pandemic has also focused us on our core markets, notably France and Germany which are the most liquid, and less so Southern Europe."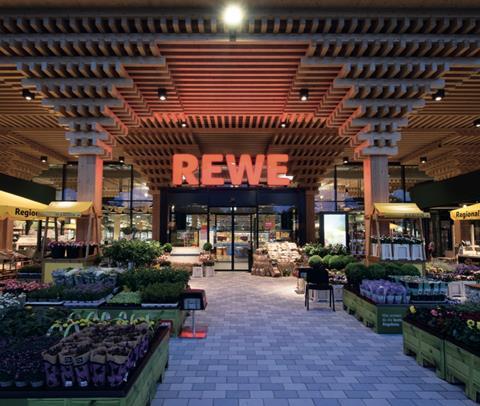 Supermarket of the future
German retail giant REWE opened a 1,500sqm 'supermarket of the future' in Wiesbaden- Erbenheim, in May, featuring a basil farm on the roof and wood as the main building material. The new store is a pilot project for the new generation of sustainable stores, "combining a supermarket, basil farm and fish farm under its glass roof – a state-of-the-art green building," says vice-president Peter Maly.
Although many Mainland European shopping centres are anchored by a supermarket –and while this conceivably could become more common in the UK – O'Dwyer says ir is not an investment focus for Schroders. "As a house we have remained underweight in this area," he adds. "I think it is going to continue to be pretty tough for shopping centres and the concern is where the bottom is."
However, Eric Decouvelaere, head of retail EMEA at CBRE Global Investors, says that the market needs to "stay calm, thorough and focused" when it comes to supermarket valuations, pointing to the rise in online grocery shopping and the rise in local buying of fresh produce.
"We need a little forward thinking," he says. "Trends are shifting and so we have to think about the longer-term values and whether hypermarkets and retail parks are as attractive as they seem now."
That said, it is the defensiveness of the asset class and the re-establishment of local food retail that has made grocery the star performer in a retail market otherwise largely characterised by a belated but dramatic shift online.
As Mike Bellhouse, director, head of retail investment, international capital markets, JLL, points out: "The European grocery real estate market is proving itself to be a secure and defensive sub-sector and the European grocery real estate sector continues to attract investors looking for longer and more secure income streams."
Meanwhile Windsor predicts growing demand for legacy, out-of-town stock. "There is clearly going to be more interest in the right assets in the right locations. For many of the supermarket groups it makes more sense to combine their larger stores and their online fulfilment, rather than operating from large fulfilment centres."
Market report: Retail
1

2

3

Currently reading

Retail: Europe's grocers prove their value

4