The diverging fortunes of shopping centres in China and Australia highlight the disruption taking place in APAC retail, writes Florence Chong
Shopping centres in China – with the exception of a handful of top-tier city malls are suffering. Meanwhile, Australia's 'fortress' or 'moated' shopping centres make for compelling investments. The contrasting fortunes of Asia Pacific's two largest mall-centric markets sum up the state of the region's retail sector.
Australian industry research house BIS Shrapnel forecasts a 41% rise in the value of regional shopping centres over the next decade. Australian retail assets are tightly held by half a dozen listed trusts and wholesale fund managers. The odd recycling of assets that does take place attracts fierce competition from domestic and offshore buyers. Offshore capital was responsible for most of the AUD8.4bn in transactions in 2015.
Among the investors was Blackstone, which spent more than AUD1bn in two transactions to secure four shopping centres, while another US private equity group, KKR, and an Australian partner bought a Queensland centre for AUD104m. TH Real Estate bought a Sydney centre for AUD250m in 2014 and is negotiating to buy a one-third stake in the Myer Centre in central Melbourne, reportedly for around AUD150m. In May, a Hong Kong family bought the Mid-City Centre, in Sydney's CBD, for AUD310m – at a new record low yield of 4.1%.
In China, the floundering retail sector defies prevailing expectations of a boom in consumerism. In contrast to Australia's stringent planning regulations, which restrict the number of shopping centre developments, rampant construction in China has created an oversupply of malls.
Trading has been eroded by online shopping, with Chinese mall operators unable to halt a seemingly inexorable shift away from physical shopping. The malls are struggling to find a concept or format that will retain foot traffic.
When e-commerce started to take off, savvy investors switched to logistics projects to capture China's growing private consumption.
Swire Properties remains committed to Hong Kong retail
Falling sales in the past 12 months have been unsettling for global brands in Hong Kong, prompting a number to question the level of rentals they pay to landlords. Hong Kong has the most expensive retail space in the world. At HKD2,800 per sqft per month, it is equivalent to €35,756 per sqm per annum, according to property consultants, CBRE.
Several large global brands, including Burberry and Tag Heuer, have publicly voiced their concerns about Hong Kong's high rents.
"Both landlords and retailers are actively making adjustments to adapt to changes in the retail market," says Alvin Kong, director, retail at Swire Properties.
Kong says key tenants are long-term business partners and the company is working with these tenants, in some instance, to reconfigure their stores. "As a retailer, we are used to market cycles and have strategies to deal with them," Kong says.
"We will continue our long-standing commitment to investing in our shopping malls, regardless of short-term market fluctuations."
Swire Properties is currently remixing tenancies at its three key malls – Pacific Place, Cityplaza and Citygate, in the Tung Chung area near Hong Kong International Airport. It is introducing innovative retail concepts and significantly beefing up the food and beverage (F&B) and entertainment components.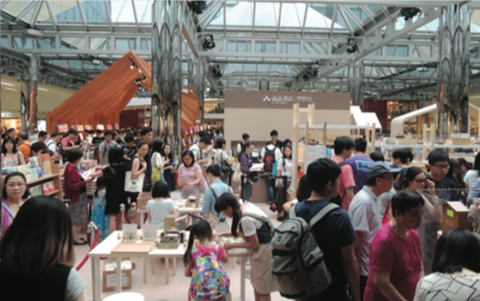 At Pacific Place – a magnet for big global brands – 10 new restaurants and cafes will progressively begin trading over the next half year, taking its food-and-beverage component to 50%. The F&B component at Cityplaza will also increase, and it will have a brand new food hall.
Tenants are being encouraged to be innovative. The Italian chocolatier, Ferrero Group, which also owns Nutella, has set up a pop-up store at Pacific Place, giving customers the choice of creating their personalised Nutella Jar. The concept has received positive feedback, observes Kong, noting the overall success of the new pop-up concept in Swire malls.
Despite the less-optimistic outlook on retail sales in Hong Kong – largely due to the changing spending patterns of well-heeled Chinese shoppers – Swire Properties will not shy away from the retail sector.
"Retail forms a core component of Swire's specialty mixed-used developments, which comprise office, hotels and serviced
apartments," Kong says. "We are always prepared to invest based on our view of market trends and opportunities. We continue to
invest in our existing assets to upgrade their hardware and software."
Currently, Swire Properties is expanding retail at Citygate to an adjacent site, due for completion in 2018.
Some have said Hong Kong has "too many doors", a quaint expression for over-servicing, but Kong disagrees. "Retail is an integral part of Hong Kong's economy. Going forward, we are confident that Hong Kong will remain a robust and popular shopping destination. We see retail as a whole entertainment experience and our shopping malls as destinations."
He adds: "Demand for high quality and well managed shopping malls remains strong. Hong Kong is also a well established market which attracts quality brands and tenants."
Overall, the Swire portfolio still enjoys 100% occupancy. According to Swire's annual report, gross rental income from the group's Hong Kong retail portfolio increased marginally to HKD2,725m in 2015.
Of China, where Swire Properties currently has four shopping malls, Kong says: "Our Mainland portfolio has enjoyed good growth and is now contributing positively to our bottom line. We have a strong footprint with four, soon to be five, mixed-use developments located in prime downtown locations in four key cities – Beijing, Shanghai, Guangzhou and Chengdu. When the Shanghai project is completed this year, our Mainland portfolio will contribute one-third of our overall gross floor area."
Swire Properties is also developing a large shopping mall in Miami, US. The company traces its heritage to John Swire, who founded a trading company in 1816 in Liverpool that has grown into the large global diversified conglomerate, Swire Group, of today.
"I used to get new international investors every week wanting to find out more about getting into China retail, and that has dropped to almost nothing," says Steven McCord, JLL's head of research in North China. "Investors are concerned about slowing growth, oversupply risks and online sales."
The only retail segment still of interest to investors is outlet centres, McCord says. In June, TH Real Estate and Gaw Capital Partners launched a China outlet mall fund, aiming to create a $2bn (€1.8bn) portfolio over the next five years.
Undeniably, the internet has disrupted retailing business around the world, China and Australia included. But in Australia, retailers are holding up, with official figures and bank surveys showing that Australians last year spent less than AUD20bn online – between 6% and 8% of Australia's total retail sales.
Greg Miles, chief operating officer of Scentre Group, owner of a AUD42.1bn shopping centre portfolio, says: "We have definitely seen stagnation and, in some instances, a reversal away from online. The lower dollar has helped and, equally, the arrival of some overseas retailers to the Australian market has also helped. Their products are more readily accessible and this removes the need for people to shop online."
The opposite is true in China. From nothing 10 years ago, China is today the biggest e-commerce market in the world. Some research firms say online sales now account for almost 13% of all retail sales in China – a percentage continuing to grow. A confluence of factors contributed to China's e-commerce boom, says McCord, listing among them convenience, competitive pricing, choice, timely delivery and ease of payment.
Leisure activities, entertainment and food make up the formula to counter the encroachment of e-commerce throughout Asia Pacific. The mantra is fresh offerings – new names, new concepts and so on.
"Five years ago, the average mall in China typically let a maximum 30-40% of space to food and beverages and entertainment," says Joe Zhou, JLL's head of China research. "In the newer malls, that proportion is now easily over 50%. I would not be surprised if, one day, non-retail takes up to 70% of space."
Zhou adds: "Retail shops are starting to stage their own events to attract customers. And they are working in partnership with mall owners and others to create a reason to visit their shops."
McCord says: "Developers are engaged in a race to build the most unique property. We have seen a huge surge in lifestyle centre concepts to emphasise the leisure element and themes around water or historical features. [But] the developers have realised in the last two to three years that it is not a matter of copying something from Sydney or Stockholm. Rather, they have to innovate brand new concepts that speak to the Chinese audience."
Big international brands have helped pep up jaded consumers in both Australia and China, but their pulling power is waning. International retailers like Zara and H&M have been in China for nearly two decades.
McCord says one of the conditions of China joining the World Trade Organisation was to open up its retail sector to foreigners. It did not take long for brands to set up shop there.
In a survey of 100 international brands, JLL found that Hong Kong was their top destination, with China's top cities among their top five destinations. Australia was a long way behind in around 20th position, says McCord.
"International brands no longer serve the purpose of being a differentiator or giving a competitive edge," he says. They have become ubiquitous – they have stores in most big Chinese malls.
Westfield's early embrace of technology pays off
Back in 2010 when online shopping was gathering momentum in Australia, Scentre Group, then known as Westfield, launched Westfield Online. It offered some 150,000 products from more than 50 retailers, and delivery was only within Australia.
Westfield, the innovator, had already developed an e-commerce strategy to face off the challenge of disruptive technologies.
It has begun to harness technology. Greg Miles, chief operating officer at Scentre, Australia's largest shopping centre owner, says Westfield Online offers 400,000 products today. He explains that the online mall enables shoppers to browse through products available in stores before they visit a Westfield centre.
"We are trying to remove friction from the shopping trip," he says. "We have created digitalisation to ease shopping journeys and payment systems." The malls also accept Chinese credit card, Union Pay.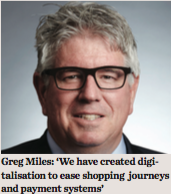 "And we have introduced ticketless parking in a number of locations. Drivers no longer have to pull a ticket out of dispensers, and boom gates lift automatically to ease traffic flow."
Miles says a state-of-the-art WIFI network is being rolled out to meet demand by shoppers for fast, free internet access. So far, it has been installed at 30 centres in Australia.
"WIFI also encourages customers to stay longer, and enables better product search. Retailers can target special offers to shoppers while they are in the centre."
Westfield dominates the retail sector in Australia precisely because of its ability to set trends. Other operators tend to pick up the cues. "It is all about meeting the demands of the consumer," says Miles. "Consumer preferences change over generations because they live, work and play differently.
"We work to meet these changing trends in a way that is both economic and profitable. You need to keep these centres relevant and contemporary. We are continuously working through the portfolio of 40 centres."
To see the Westfield philosophy in practice in contemporary shopping, look no further than Westfield Sydney – or to the newly-opened Westfield World Trade Centre in New York, or to Westfield London, or soon-to-open Westfield Milan.
Since 2014, Westfield centres in Australasia are owned and managed by the Scentre Group, while those in the US and elsewhere come under Westfield Corporation. Both companies are listed on the Australian Stock Exchange.
Chasing the tourist dollar
Tourism promises an additional market for shopping centres. The tourist dollar is important to Singapore and Hong Kong, and increasingly so for South Korea and Japan – thanks to high-spending Chinese tourists.
"Australia is yet to see a real wave of tourist dollars, although the interest in Australia is increasing," says Daryl Browning, chief executive of ISPT – the property fund manager for Australian superannuation funds. "But if you look at global luxury retailers who are expanding to Australia, clearly they think this is going to happen."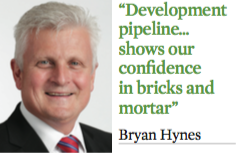 Bryan Hynes, managing director of AMP Capital Shopping Centres, says his group estimates that tourists to Perth contribute up to 30% of spending in shopping centres in Western Australia's capital city.
Miles says: "The tourist dollar is becoming important, particularly in a centre like Westfield Sydney, and for the whole of the Sydney CBD." But he believes that underlying migration growth, which is bringing in friends and relatives, is helping support many local centres in Australia's main city suburbs.
Reliance on tourism also carries risk. A combination of sluggish economies, strong currencies and fewer tourists is hitting mall owners in Singapore – and, in particular, Hong Kong – hard.
"Australia is yet to see a real wave of tourist dollars, although the interest in Australia is increasing"

Daryl Browning
Retail analysts forecast further deterioration in retail sales in the next six months, and likely into next year.
Mariana Kou, retail analyst with CLSA in Hong Kong, says: "Landlords are keeping the rental ratio flat, but high street rentals are 30-50% down."
Chinese tourist spending accounts for 40% of retail sales in Hong Kong, and the downturn is hitting the luxury sector particularly hard as Chinese President, Xi Jinping, tightens his anti-corruption dragnet and well-heeled Chinese shoppers stay clear of 'gifting'.
Kou says: "The number of tourists has not collapsed, but it is definitely dropping – and average spending is also dropping. Chinese shoppers no longer make multiple trips to Hong Kong, as they become wealthier and Hong Kong becomes less attractive as a shopping destination. Japan and Korea are benefitting from Hong Kong's loss."
However, in place of the wealthy, she says, an increasing number of lower-income Chinese are coming to Hong Kong. McCord says these day-trippers shop across the Hong Kong border in the New Territories. "In the last two to three years, a whole crop of relatively good malls has sprung up to cater to these shoppers."
Reinvesting for returns
Alvin Kong, director, retail at Swire Properties, one of Hong Kong's largest commercial landlords (see Swire Properties remains committed to Hong Kong retail), says: "Retail is a cyclical and ever-changing business. There is a need to adapt to the changing market place.
"We constantly revisit our trade mix to ensure that we stay abreast of the latest market demands. We look at customers' preferences, what is popular in the market, and explore new concepts with retailers and tenants."
Deep-pocketed owners spend billions each year to constantly fine-tune their product. Over the past decade, Scentre Group (see Westfield's early embrace of technology pays off) has spent, on average, between AUD750m and AUD1bn annually to keep in step with changing consumer tastes and demands. It has an AUD3bn redevelopment/expansion pipeline.
Mall owners invariably see a bounce in foot traffic when a centre has undergone redevelopment or major refurbishment. AMP Capital spent AUD440m to expand Macquarie Centre, a large shopping mall in Sydney's northern suburbs, and the result was a 20% lift in visitors.
AMP is spending AUD670m to reinvent Pacific Fair on Queensland's Gold Coast, a popular tourist destination. Hynes says: "An early indication is that our weekly visitations to Pacific Fair have gone up from 120,000 to 270,000."
AMP Capital works with shoppers for their input as it fashions new designs and concepts for its centres before work redevelopment works begin. Hynes says: "We have a AUD5bn development pipeline. And we are part way through on our AUD20bn portfolio. It shows our confidence in bricks and mortar.
"People have a misconception when they compare Australian with US malls, which are not trading successfully. The major difference is that we make our centres the heart of the community, so they are owned by the consumers – as a town centre. They have a vibrancy to them, and a nighttime economy."
Miles says: "The primary difference is that centres in Australia cater more to necessities – grocery and services including pharmacies and banking – that drive daily visitations. American centres typically do not have those offerings. They tend to be fashion and casual-dining centres."
Despite spending big on capex, Hynes says: "If our investors do not get commercial returns they will take their capital elsewhere where they can get a better return. When talking about our portfolio, we are talking close to double-digit returns."
Retail: Europe - How cities overtook countries
1

2

Currently reading

Retail: APAC - Winners and losers

3