The challenges and opportunities that have emerged from omni-channel retail have been occupying the minds of shopping centre landlords across the world. In an age of little new development, refining suitable digital strategies to keep malls relevant has been afforded a prominent place in asset management planning.
Clearly, shopping centre owners need to get a handle on the likely future impact on investments says Florencio Beccar, fund manager of the CBRE Global Investors European Shopping Centre Fund. "All of our acquisitions involve an e-risk component, where we look at the possible impact of online shopping on income and vacancies," he says. "However, we will continue to invest in projects wherever we see value, from flagship schemes through to neighbourhood malls."
Approaches vary markedly. A large study by Amsterdam-based Redevco on consumer behaviour led the company to establish a dedicated 'Internet Strategy Platform' to investigate changes in consumer shopping habits and retailers' performance and it has recently switched to a high street-led investment strategy.
"Our findings suggest that consumers see strong benefits for the physical store in terms of experience and service," says Marrit Laning, head of research at Redevco. "When it concerns price and efficiency-related factors, they opt for online. Therefore, it is not only retailers who increasingly use the store as a branding and experience tool, it is the added value of the physical store for the consumer as well."
Some landlords are moving in iterations, others launching comprehensive pilots. For example, in the spring of 2013, Germany's largest landlord, ECE, created two "interactive shopping experiences" at Alstertal-Einkaufszentrum, Hamburg and Limbecker Platz, Essen. The pilots came after a study by ECE and Roland Berger Strategy Consultants analysing the purchasing behaviour of around 42,000 consumers.
"Developments that are well received by the customers will be continued and implemented in other centres. Ideas that don't appeal to the customers will be replaced by new ones," says Henrie Kötter, managing director of centre management at ECE. "We asked ourselves: what can we learn from online retailers?"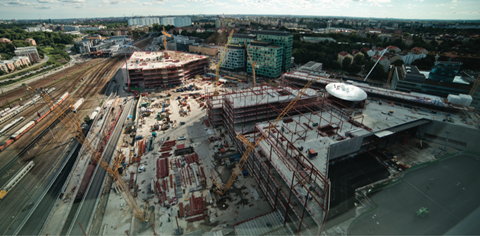 Klepierre is testing digital innovations in its centres at Val d'Europe and Creteil Soleil as it focuses on customer engagement through digital technology. Val d'Europe went live in November with Play Box, developed with Mobi Rider, and with a digital totem developed with Clear Channel.
Play Box – which enables shoppers access to a gaming link via a text message – is close to the end of a four-month trial and Klepierre brand development director Delphine Beer-Gabel says that the initiatives are based on bringing technology into the shopping centres in a way that engages consumers. "It's a way of us having a dialogue with the customer, entertaining them and making the shopping centre the destination to come to," she says.
Battleground: speed of delivery
The heavyweight line-up of Amazon, Google and eBay are all hell bent on trying to match the quick delivery that store platforms can provide for omni-channel retailers. One of the UK initiatives at eBay has been its in-store collection tie-up with Argos. John Walden, chief executive, Home Retail Group, says of the initiative and its own digital store strategy: "We are establishing a hub-and-spoke system, whereby our hub stores have two to three times more product and will deliver out to the spoke stores multiple times a day."
Chris Gates, director of retail at Hitachi Consulting, says: "The top retailers need to continue integrating different channels across multiple locations so that they can allow stores to act as fulfilment centres. Retailers need to have an accurate view of the stock inventory available at a local level – either in stock at a store or a local hub – so they can provide a super-fast collection or delivery services."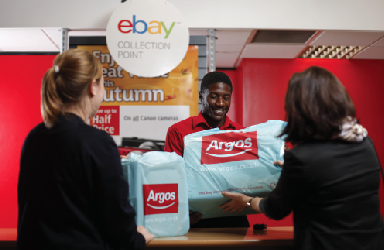 Amazon has its subscription Prime service, which promises next day delivery, while it recently expanded its same-day delivery service to 10 US cities from four. Also in the US, Google has signed up 19 retail partners for Google Shopping Express, a service that allows customers to order items from local retailers that are picked up and delivered by a courier in a Google-branded vehicle.
Unlike Amazon, Google does not operate its own giant warehouses or store inventory for more than a few hours and, as a consequence, it has partnered with retail heavyweights including Target, Costco, Walgreens, Toys 'R' Us, Whole Foods and – most recently – bookseller Barnes & Noble.
After the test phase, these innovations will be rolled out throughout Klepierre's main centres in Europe. The company has also created an 'Inspiration Corridor' concept, currently under development, through which shoppers would interact with large touch-screens in order to get inspiration for accessories and new fashions, to which they would then be directed within the mall. "We hope it will be a source of inspiration and help for shoppers," says Beer-Gabel.
Similarly two of the world's three biggest mall owners – Westfield and Unibail-Rodamco – have hived off their innovation into 'Labs'. Unibail-Rodamco believes that large, destination malls are the best way to compete with online buying and the company will open two more major projects this year.
"We see the near future in terms of three main shopping requirements," says Jean Marie Tritant, chief operating officer at Unibail-Rodamco. "The first is, of course, the internet, which is already big and will only get bigger. The second is convenience, which means shopping at locations in close proximity to your home, or on the way from the home to office. Like the internet, most of this shopping will be done alone."
It is on the third area – which Tritant describes as "destination and leisure" in large-scale environments – that Unibail-Rodamco has focused much of its recent growth: "At a destination it is more likely that shoppers will be with friends or family, it is about socialisation and in this case our view is that big is beautiful," Tritant says. "If you want to create something different from online, then you must give people a real experience."
Westfield Labs is based in San Francisco and in May it unveiled Westfield Dine on Time – a food pick-up and delivery experience, available via iPhone app, online and mobile web, which it launched at Westfield San Francisco Centre. This enables customers to order food from Westfield San Francisco Centre's Food Emporium and Restaurant Collection Under the Dome for scheduled pick-up or bike delivery.
Even better than the real thing?
While retailers have experimented with everything from in-store holographic avatars to automatic checkouts as they pull technology in-store, US DIY giant Lowe's decided to take things further by introducing robotic shopping assistants (pictured right) at an Orchard Supply Hardware store in San Jose, California late last year.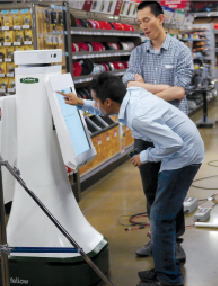 OSHbot greets customers, asks if they need help and guides them through the store to search out products in a technical innovation that recognises that while once the likes of Home Depot, Lowe's, B&Q and Castorama could win on the vast array of merchandise they offered in warehouse-style stores, the endless aisles of the Internet no longer make this an advantage. This sea change led former Kingfisher boss (the umbrella group for Europe's largest DIY chains) Ian Cheshire to concede that the battle for range and price was lost to Amazon and that DIY chains needed to compete on different platforms, notably customer services and convenience.
In-store avatars who can converse with shoppers, ask them about their likes and dislikes, and make recommendations, offer a potential extension of cognitive computing technology. However, the application of holographic avatars at Marks & Spencer's ill-fated homewares and furniture store format in Gateshead was a flop. Similarly, Germany's biggest shopping centre operator, ECE, says that customer services avatars have proven unpopular with shoppers at its two 'future lab' malls.
Indeed, while iBeacons and other locational tools are being lauded as ways of reaching customers at the point where they can be most effectively influenced, the fact remains that the ability to connect with shoppers has been available for years through SMS. The reason little of this has been taken forward is because most shoppers find it intrusive and irritating.
"At Westfield Labs, we seek to provide our visitors with digital technologies that enhance their shopping and dining experiences," says Kevin McKenzie, global chief digital officer, Westfield. "We're giving our visitors the freedom to enjoy their favourite food spots from work, at home or inside the mall without having to worry about long lines."
Portuguese-based Sonae Sierra is another to have embarked on a major strategic repositioning, ranging from online sales and loyalty programmes to the introduction of new eco-brands to its tenant mix, and the enhancement of customer services such as gyms, sports facilities and health services.
It is working to integrate digital communications: from free Wi-Fi access, charging stations and digital directories, to communication tools like websites and integrated apps, plus social media.
In November 2012, Sonae Sierra launched PromoFans in Portugal, and a year later in Spain; an initiative consisting of an online discount platform linked to the tenants within its centres.
"This is the first online platform that incorporates physical contact with the product before the purchase, creating a shopping process that begins on the Internet and concludes at the store," says Madrid-based marketing officer Patricia Gross.
In November 2013, Sonae Sierra also opened a digital lounge at Hofgarten Solingen shopping centre in Germany, called 'Hofgarten on', with a view to rolling it out in other centres and geographies. The 36sqm digital lounge contains several online platforms for customers, along with information, news content, games, centre information, plus free Wi-Fi, charging stations for smartphones and devices as well as seating.
While Gross acknowledges the slower impact of e-commerce in southern Europe, she points to recent growth.
She says: "We foresee that over the next few years, the share of online commerce will grow and will reach levels similar to those of other European countries."