The tail end of 2017 saw two seismic mergers in the global retail property market, and another is on the cards. Mark Faithfull investigates what is going on
A relatively benign year in retail property, 2017 concluded with a bang. And a big one at that, as listed retail specialists merged. Hammerson's £3.4bn (€3.8bn) bid for Intu initially looked like it would be the surprise sting in the tail of 2017, but Unibail-Rodamco trumped it by agreeing the £18.5bn purchase of Westfield. In the US, meanwhile, Brookfield had an initial $15bn (€12bn) attempt to buy another mall giant, GGP, rejected. However, another move is expected.
Ironically, these mega deals aside, the €34.7bn of retail properties acquired across Europe in the first nine months of 2017 represented a 15% fall on the same period a year earlier, according to Real Capital Analytics (RCA). Transactions were 20% below the sector's five-year average, while July to September was the sector's quietest quarter since the second quarter of 2013.
"Online commerce is polarising investment and this is particularly pronounced for shopping centres," says Tom Leahy, RCA's senior director of EMEA analytics. "Large, dominant centres in strong catchments continue to attract buyers, whereas there's less appetite for centres in regional locations. It's a pattern that is playing out to dramatic effect in the US; in Europe, the trend is most pronounced in the UK."
The year's largest shopping centre deals included flagship schemes in the desirable Spanish and Scandinavian retail markets: the €530m purchase of Xanadú Madrid by Intu and TH Real Estate, plus the latter's acquisition of Kauppakeskus Kamppi in Helsinki for €500m. However, market concern over the sustainability of secondary and tertiary assets and the threat of retailer insolvencies have cast a shadow beyond these flagships and regional super-malls.
But 2018 could be different as the shake-out from the two mega deals filters into the system. The combined Hammerson/Intu group will have assets of £21bn and stakes in 13 of the 20 super-regional shopping centres in the UK, including Bullring in Birmingham, Intu Trafford and Brent Cross in London. Hammerson has identified at least £2bn of short- to medium-term disposals across both portfolios, primarily in the UK, with the proceeds likely to be directed towards Spain, Ireland and Premium Outlets, as well as the enlarged group's development pipeline.
On the day of the Hammerson-Intu announcement, Hammerson CEO David Atkins – and CEO-elect of the combined business – said: "I'm not taken with the argument that there's too much retail space in the UK. Looking at the Intu pipeline, it's not just expansions; there are brand new developments."
Jeremy Eddy, head of retail capital markets at JLL, says: "What's happening now is part of a long-term progression and the maturity of the market, with landlords and investors looking to the types of assets where they can add value. The major players tend to want the best locations and the top malls, so it's not surprising that they are looking at acquisitions because the opportunities to develop are very limited."
There will also be some fallout from the Westfield deal as Unibail-Rodamco – Europe's biggest mall operator, with 69 shopping centres in 11 EU countries – says it plans to roll out Westfield centres in Europe and expand in the US. The Lowy family, Westfield's largest shareholder, is selling its 9.5% stake for a mixture of cash and shares. Unibail-Rodamco lacks a presence beyond western Europe. Meanwhile, Westfield's total portfolio of 35 malls is predominantly in the US and Australia, and focuses on super-malls. It is best known in Europe for running two hugely successful malls in London and has plans for a third in Croydon, south London – with Hammerson – plus a joint-venture scheme in Milan.
Unibail-Rodamco's acquisition of Westfield is the clearest signal yet of the big focusing on getting bigger. Both have aspirations to become omni-channel platforms for retail, not merely mall operators – a shared belief underlined by Westfield co-CEO Steven Lowy recently at a conference in Copenhagen, where he said that the days of only operating physical space are over for mall owners. Lowy believes instead that developers need to be "connectors" and, looking at the two London schemes, he called the malls "physical disruptors".
Equally, Unibail-Rodamco COO Jean-Marie Tritant says the company's new-generation developments represent a new model of retail space, to match evolving shopping habits and trends. "We are shifting from one world to another one," he says. "We've been talking a lot about the impact of online on retail. Customers want fewer barriers between online and offline; we want to be part of their online journey."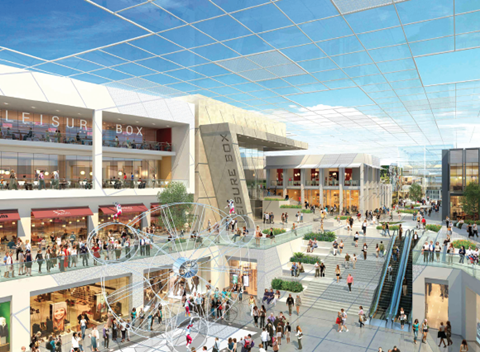 Florencio Beccar, head of retail EMEA at CBRE Global Investors, which manages non-listed European shopping centre funds, describes the acquisition as "quite exciting for a business likes ours" and speculates that the companies' focus on very large centres is likely to be intensified. "But it is certainly not the only game in town and we hope to see greater value for schemes that are a little below the very high bar in terms of size and visitor numbers set by these companies."
Beccar says both mergers make disposals likely, "which should also help with some price corrections. Because of polarisation, some schemes will benefit, some will not. I also believe that we and others will look to hold assets for longer because we are at a point in the cycle where development opportunities are limited, and with the information and data we have available to us now we feel very capable of identifying strong centres in good locations that – in a time of winners and losers – will be winning schemes.
"That is going to change investment views, because if we go back five to 10 years then we asset managed our centres, added value and raised rents, then as an industry we were a bit lazy and just sat on them. Now it is about identifying key schemes and growing them, adding to them and giving a lot more back."
It is a point taken up by Eddy. "The limited availability of the best assets does, I feel, mean we will see more open-ended funds, because fund managers will increasingly want to hold the best assets as a long-term play," he says. "So we may well see a shift from closed to open-ended funds for prime retail assets. That's potentially a major change.
French mission in the US
Unibail-Rodamco's bid to buy Westfield Corp – creating a $70bn business – has the US market talking about whether market leader Simon Property Group – which has a portfolio valued at $110bn – will target one of its REIT rivals.
Simon already has a 20% stake in Europe's second-biggest mall operator, Klépierre, but will be keeping a close eye on home as activist investor Daniel Loeb's Third Point has built a position in Macerich, the country's third-biggest shopping-centre REIT, which rejected Simon's $17bn bid in 2015. In November, hedge fund Elliott Management acquired a stake in Taubman Centers, joining Jonathan Litt as a second activist investor in the country's fourth-largest mall REIT.
Meanwhile GGP, one of the largest owners and operators of US shopping centres, rejected a $14.8bn buyout offer from its biggest shareholder, Brookfield Property Partners, for the 66% of GGP it does not own. Brookfield Property is understood to be building a new offer and the acquisition would create a company with an ownership interest in almost $100bn of real estate assets globally.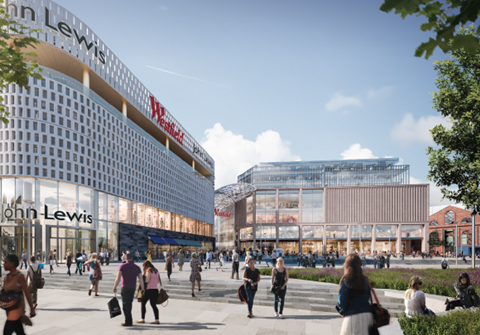 Meanwhile, Maryland State Retirement and Pension System plans to invest tactically in undervalued shopping mall REITs in the US. Morgan Stanley, which manages a $458m global REIT strategy for the pension fund, has been given an additional $30m to take advantage of mispricing of listed owners of shopping centres, according to a Maryland State board meeting report.
"The speculation around US acquisitions is actually quite encouraging, because it is a market in a state of flux and somewhat drifting," says Eddy. "The fact that players within it can see the potential for growth, albeit so long as the portfolios are priced appropriately, does suggest there are those with confidence in the sector. The UK market could do with a couple of such deals to get things moving."
Who next in Europe?
Westfield Corp remains a small, albeit well-known, player in Europe, having divested all but its London assets in the UK and with a yet-to-open joint venture in Milan. However, the combination with Unibail-Rodamco gives the latter its first presence in the UK, while the Hammerson/Intu deal creates a business with a footprint in three European markets – the UK, France and Spain.
Neither of the UK's biggest REITs – British Land and Land Securities – shows any significant retail interest outside the UK. Klépierre, though, might feel compelled to act, while a host of mid-size developer/operators – from Germany's ECE, to Polish/French developer Apsys, France's Altarea, Portugal's Sonae Sierra, the Benelux/UK Redevco and Finland's Citycon, to name a few – could all be seen as strategic acquisitions, along with others that have established strong regional portfolios.
"The Unibail-Rodamco acquisition of Westfield is very much aligned with its strategy of operating mega-malls in key locations," says Beccar. "For me, I see the Hammerson and Intu deal as more of a defensive move. There are almost no pure developers left and there are a lot of mid-sized operators across Europe who develop, acquire and hold. It makes sense that some may choose to combine, so we have probably not seen the end of this."
Market Report Retail: All to play for in retail's new order
1

Currently reading

Market Report Retail: All to play for in retail's new order

2

3