With the rise of big data, investors can begin to incorporate 'soft factors' into their analysis of retail investment locations, writes Marrit Laning
The magic of the Champs-Élysées and Paris is not a hard sell to the average shopper, retailer and real estate investor on the European retail map. But it is far more difficult to gauge the relative allure of places such as Alicante or Aberdeen, when the whirlwind forces of urbanisation, online shopping and the growing consumer search for 'experience' are carving a destructive trail of empty stores across Europe's high streets.
The wrong choice of city, or even street, can be very costly for the retailer and investor alike, as the volatility of returns and polarisation between prime locations and others intensifies.
Over the past few years retail investment has become a much more specialist game, not only because the way that retailers do their business is more complex, but also because the landscape is evolving so rapidly. You have to be a specialist to understand which retailers are likely to be successful and how you can create an environment that appeals to consumers' thirst for enjoyment, beyond simply the retail offering.
Over the past six years, Redevco has been refining its annual retail City Attractiveness ranking of 825 European cities in 25 countries to measure the opaque 'soft factors' that help create the social 'buzz' of a place, and which have become key determinants of the success of cities as retail locations.
The influence of these soft factors, such as the proportion of creative professionals in a city's population and the number of tourist attractions, is more quantifiable today due to the rise of 'big data' statistical analysis, spurred by the online information revolution and the application of behavioural economics to real estate investment strategies.
A study by Redevco in co-operation with Oxford Economics shows a high, 0.6, correlation between the relative representation of creative professionals and the acceleration of economic growth in Madrid, with 125,200 jobs in these areas and an employment growth rate of 6.2%. In Oxford in the UK, this is 14,000 and 3.1%.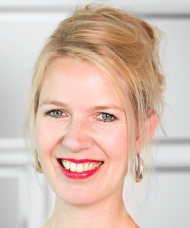 London has 5,021 major leisure activities, according to Tripadvisor and an annual rental growth rate of 5.9% over the past three years, compared with 73 activities and -2.7% for the Dutch city of Leiden.
The variables used in Redevco's City Attractiveness research model can explain about 80% of the differences in prime rental levels between cities.
Consumers and retailers are focusing on cities with more leisure activities, restaurants and points of interest, and rents have increased most in these higher-ranking locations, where vacancy rates are also the lowest.
When Redevco began its research in 2012, the focus was on the traditional metrics of the size of a city's population and its economy. Over the past few years, city quality and the characteristics of the local property market have become more important in the model and investment decisions. It is no longer logical to buy an asset and wait for the rent to go up, as the market has polarised since 2008. While there have been rental increases in the best locations, in the weakest ones the decline has been enormous.
The City Attractiveness Model is composed of 19 different indicators grouped into four categories: population, economy, retail property market, and city quality, based on range of data sources. These are scored and weighted to derive a city's ranking. This is then enriched with the local knowledge of Redevco's country teams.
The locations are then grouped into five quality baskets, ranging from 'excellent' to 'poor', to derive a total investment-grade universe made up of the top 20% of European cities that fall into the 'good and above' categories.
The highest average annual retail rent level per square metre for excellent cities is €5,020, while for poor cities it is €515. The highest rents are paid in London, with an average annual prime rent of €23,000 per sqm. Paris is second with €16,000.
Since 2004, poor-rated cities have shown a prime rental development index of 81% which, taking into account inflation, means they have seen a decline of 40% on average. In contrast, London has an index of 300%, representing real growth of 180%.
The nominal rental development index for the other categories is: excellent 160%; very good 138%; good 118%, and sufficient 98%.
Redevco has reduced the number of urban centres it will invest in by 10% to reflect the widening gap between the 'best and the rest'. The high-street retail sweet-spot appears to be emerging around the middle of the two ranges of the investment universe, between the expensive top slots of London, Paris and Munich in the excellent category and the likes of Córdoba, Arnhem and Slough at the lower end of 'good'. But there are very few places for property investors and retailers to hide in contemporary European retail.
The market paradigm is changing and while Redevco had previously observed that the best cities were generating the lowest returns for a commensurate lower level of risk, this group is now producing the highest returns as they are buoyed by renewed economic growth, generating higher employment, rising wages and stronger retail sales.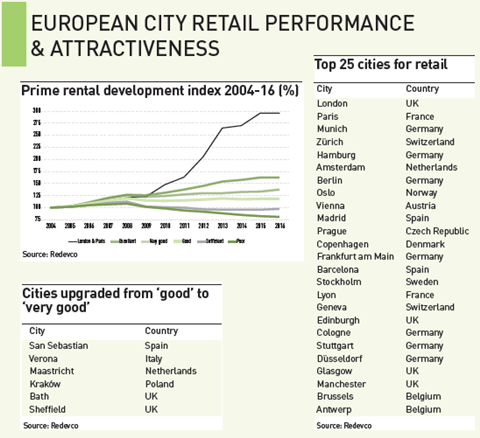 Strong urbanisation trends are supporting the dominance and growth of the larger cities, although the European population growth-rate forecast overall has declined slightly from 2.5% in the period 2016–21 to 2.3% between 2017 and 2022 (based on 2017 data from Oxford Economics).
For example, employment growth in Vienna (excellent group ranked ninth) is 3.1% and retail sales growth is 3.1%, compared with -4% and 0.4% in Schwerin, Germany.
Retailers also recognise these trends and concentrate their expansion mostly within higher-ranking cities. From the selection of retailers that Redevco monitors for store openings, the most expansion in the past year in Europe has been concentrated in the value apparel and beauty sectors, led by Kiko Milano with 87 store openings, H&M (59), Rituals (46), Zara (42), JD Sports (38) and Primark (38).
Paris leads the European retail pack following these trends with 29 store openings by international brands, followed by London (25), Brussels (19), Amsterdam (16), Bucharest (16) and Berlin (15). Only the Romanian capital falls outside Redevco's excellent category within this group, coming in at rank 118 (good).
Lower cities in the hierarchy are more risky, because it is harder to find retail tenants, but this is not being rewarded by excessive investment returns. As the market cycle turns, however, very low retail yields in the top locations will move out and this could have a huge impact in the next economic crisis, suggesting that higher volatility will extend across the quality spectrum.
It is becoming more difficult for retailers to keep their store performance at the level they have been used to. If turnover is falling they have to close down – and this is happening, particularly in smaller cities. They realise that having stores in better locations will also boost online sales.
Online sales have much higher growth rates than store-based sales, albeit from a very low base, recording 1,113% and -5% real growth, respectively, over 15 years.
Having stores in the best locations is also about being visible in marketing your retail brand because it drives hard sales on the online platform. If a store closes down, the online sales vanish. We see less of this halo effect in smaller cities as there are fewer people around.
Location selection is key to outperformance in a challenging, polarised market, and future rental growth is expected to be limited in most cities, with some locations already experiencing rental decline. This will result in shrinking prime pitches where retail demand and rents can still grow, and the battle of the micro location in smaller cities is set to intensify.
Marrit Laning is head of research and strategy at Redevco
Big data: Critical update
1

2

3

Currently reading

Big data: Mapping city appeal