The arrival of Amazon is awaited with nervousness by Australia's retail industry. Florence Chong asks, are the fears of disruption overstated?
The woes of Australia's struggling retailers have heightened with the impending advent of Amazon. Much is yet to play out, but the overriding concern is that the global online retailer will eat into what is already a shrinking market by as much as AUD14bn (€9.3bn) a year. Australia's retail sector is worth AUD300bn annually.
Bricks-and-mortar retail sales in Australia have been slowing, largely because of high household debt and sluggish wage growth. Fashion retailers have felt this most acutely, and some of Australia's oldest and best-known names, including David Lawrence and Marcs, have gone.
And the big global retailers have not been immune. Topshop Australia is in voluntary administration because of mounting debts – six years after opening in the country.
Retailers mostly blame online sales, which have significantly altered the face of their industry.
As a measure of the extent to which retail is in trouble, look no further than the returns of Australia's two largest pure retail real estate investment trusts (REITs). Scentre Group and Vicinity Centres have combined assets of AUD68bn, but their market capitalisation fell by almost AUD6.65bn and AUD3.6bn, respectively, in the 12 months to July 2017. Scentre Group had registered negative return of almost 9% and Vicinity of 9.5% from December 31, 2016 to the time of writing.
REIT analysts are unanimous in their belief that bricks-and-mortar retailers will lose share to Amazon when it sets up in Australia.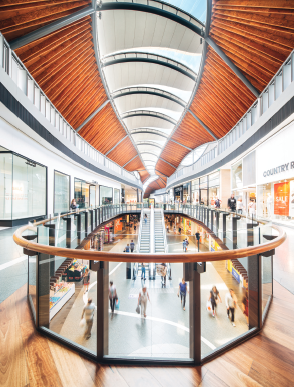 The bulk of Australia's shopping centres are in the hands of half a dozen listed REITs and wholesale fund managers, such as AMP Capital and ISPT. Large asset owners have, however, been building resilience against the loss of physical sales, (see AMP gets ahead of future trends) and are repositioning shopping malls as "lifestyle destinations".
Speaking at a recent industry forum, Peter Allen, Scentre Group's chief executive, estimated that Amazon had already raked in between AUD800m and AUD1bn from Australian sales through its offshore websites. But, he said, retailers in "great physical spaces" in the US and Britain – where Westfield has major centres – continue to perform well.
Notwithstanding the prevailing retailing climate, he said, Scentre has seen fewer stores close in the 39 Westfield shopping centres it controls in Australia during the first half of this year than in the same period of 2016. year.
Michael Bate, head of retail at Colliers International, agrees that there should be a degree of caution when talking about the Amazon impact. He believes the threat has been overhyped and investors are not backing away from retail assets.
Colliers International in May sold Salamandar Bay, a regional shopping centre in Newcastle, north of Sydney, to the listed Charter Hall Retail Trust for AUD174.5m at a 6% yield.
Bate says the value of a centre like Salamandar Bay is its tenant mix. The centre houses three supermarket chains – Coles, Woolworths and Aldi – along with two discount department stores – Kmart and Target.
"Neighbourhood shopping centres offering convenience, and services will be insulated," he says. "Sub-regional centres should adapt by replacing department stores with supermarkets. As for the large-regional and super-regionals, their owners have already focused on delivering entertainment, recreation, amenities and so on."
Similarly, Sam McVay, co-founder of McVay Real Estate, has not seen a pull-back in interest in quality centres. In May, his firm sold two "large format" shopping centres, owned by LaSalle Investment Management, to the Australian group, Aventus for AUD436m.
"In speaking with retailers, there is a firm belief that customers don't buy large items, fridges, carpets, et cetera, online – they buy them in-store. Online is used to price check," says McVay.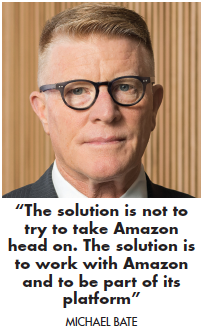 But, he admits: "There is no doubt that Amazon will have a significant impact on the centres with no point of difference."
Analysts single out department stores as being most vulnerable to Amazon. Morgan Stanley says Australia has more department stores per capita than anywhere else in the world. There is one for every 30,000 shoppers, compared with 62,000 in the US, 283,000 in the UK, and 417,000 in Germany.
Bate encourages retailers to work with – and not against – Amazon, to turn its arrival into a positive development to help grow their businesses. He suggests that retailers list their products on the Amazon site, treating it as a giant search engine for procurement, just as Google is the universal search engine for information.
"The solution is not to try to take Amazon head on. The solution is to work with Amazon and to be part of its platform."
In conversations with shopping-centre owners and investors, McVay stresses the importance of creating "unAmazonable" properties that offer an experience. Owners should try to turn them into versions of mini town centres where people go to meet, dine, socialise, shop and do business.
"Amazon's success in the US is its penetration and having the logistics to support its distribution," he says. "It is five years away for Amazon to achieve that level of penetration in Australia, and that is an opportunity for retailers and shopping-centre owners to improve their offer."
McVay has started to see savvy Australian retailers successfully combining "bricks and clicks" strategies, with some turning parts of their stores into small warehouses where customers can collect online purchases. Shoppers feel more comfortable buying when they can touch, feel and try a dress or whatever they are buying, he says.
Indeed, if there are going to be losers, Bate believes they are likely to be other online merchants such as Kogan and Catch of the Day. Analysts have singled out eBay, which now accounts for around AUD5bn in sales in Australia, as most likely casualty of Amazon's entry.
Developers and owners of logistics properties, like Goodman Group and Logos Property, are expected to be beneficiaries. Goodman counts Amazon among its top 10 tenants in key markets in Europe, the US and Asia.
Credit Suisse analyst, Ian Randall, recently wrote that Goodman is the most obvious winner from the growth of online retail globally, and in particular Amazon's flagged entry into Australia. Assuming that Amazon does enter the Australian market over the next 12 months, and has an initial requirement of about 270,000sqm of logistics space in three distribution centres, Credit Suisse says this would imply AUD460m in development volume for Goodman.
Estimates of how much Amazon will take out of the market vary from AUD3bn to AUD14bn.
Is the sense of dread about the impact of Amazon on Australia's retail landscape being overstated?
Colliers' Michael Bate recalls that when eBay first came to Australia in the early 2000s, there was similar gloom and doom.
"People were talking about the end of retailing," he says. "But it did not transpire."
AMP runs ahead of future trends
Retailers need to understand their customers if they are to stay on top of fast-moving retail trends, Mark Kirkland tells Florence Chong
With a AUD10bn (€66.5bn) portfolio, AMP Capital needs to keep its fingers on the pulse of its 28 shopping centres. Managing director Mark Kirkland, says: "Ultimately, if our retailers are successful, we are successful."
AMP Capital anticipated the impact of online shopping some five years ago, when it looked into the potential effects of internet shopping on physical stores. Kirkland says that, compared with the 15% forecast in the research, online sales today represent some 7.5% of sales, and have grown more slowly than initially predicted.
But the pace of change is quickening, he notes. And AMP Capital's research-led approach is helping it stay ahead of the curve and the changing demands of customers.
What that research is saying is that regional centres with constantly-refreshed and appropriate tenant-mix continue to thrive. At the other end of the spectrum, convenience-based neighbourhood centres are also pulling their weight. It is the sub-regional centres that have to work harder to maintain relevance.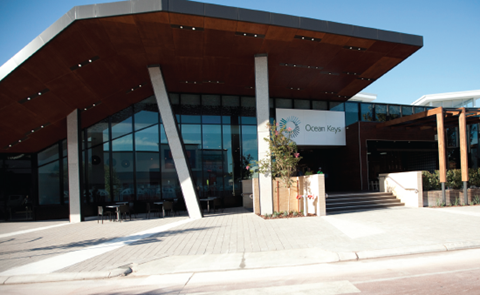 AMP Capital recently refurbished and upgraded its Ocean Keys Centre in Perth, opening up the mall into the main street and bringing in more food and beverages to fill a void in the local market.
It has now shifted attention to another sub-regional centre, Marrickville Metro, in Sydney's inner west. Planning is well advanced to expand it and broaden its appeal to a larger segment of the market.
The demographic of the catchment area is one of young professionals, says Kirkland. They are looking for more "bespoke experiences" than provided in typical shopping centres. "We plan to offer a market place, bespoke food and beverage and eclectic dining."
Owning a shopping centre today entails constant fine-tuning to keep up with the latest trends through shopper-focus groups and so on. AMP Capital shares its research with speciality retailers, offering them a glimpse of things to come.
Its latest Recommended Retail Practice report zooms in on Generation Z – the 19-22 age group now starting to earn money and which is the future of retailing.
"They are born into the digital age, yet our research shows that they prefer to go to a store than shop online – although not before doing their research of a product online," Kirkland says. "Even within our shopping centres, they still use digital to help them make a purchase and to share their moments on Instagram."
Kirkland says another interesting phenomenon is the rise of young male shoppers, who shop with friends to seek their endorsement of purchases. They are ethically and socially-responsible shoppers who favour retailers who stand for something. For example, they are more likely to buy products that are not tested on animals and are environmentally friendly.
AMP Capital is seeing larger tenants evolve business strategies and focus on customer-scoring to improve services, identifying areas to work together to improve car parking, lighting, and signs for easier access.
As a landlord, AMP Capital is investing in its centres to maintain market relevance. Currently, it is on track with plans to upgrade two centres – Karrinyup and Garden City, both in Perth – at a combined cost of at least AUD1.4bn.
It recently completed total redesign and expansion of two other centres Pacific Fair in Queensland and Macquarie Centre in Sydney, at a cost of AUD670m and AUD440m, respectively.
Kirkland says retailers – and asset owners – that understand their customers will continue to do well. They need to blend their physical and digital offering to ensure they are offering better service and experience than online.