There are some striking commonalities between how the Irish and UK governments are supporting institutional investment in housing. Stephen Ryan explores
The Irish government's action plan for housing and the UK government's 'patient capital' initiative have one thing in common – both endorse institutional investment in housing. The two governments are approaching the topic from different angles, but the common message is clear: this type of investment brings widespread, long-term benefits.
Expanding the build-to-rent (BTR) sector is a specific objective of the government's action plan, Rebuilding Ireland: An Action Plan for Housing and Homelessness, launched in 2016. In February, the Department of Finance published its report on Institutional Investment in the Housing Market, which provides useful market data and analysis.
The report examines the role of institutional investors and large-scale landlords in the Irish residential property market. Ownership of rental properties by large landlords – those that own more than 100 rental units – is minimal nationally. The purchasing and ownership activity of such landlords can, however, be far more pronounced at a local level. In some areas, the proportion of the rental stock in professional ownership is likely far greater than the national average. Investors focus their activity on new apartments. Over 40% of all new apartments are purchased by firms in the report's Financial & Insurance and Real Estate categories.
The report outlines how investment in the residential sector offers significant advantages. Such firms are investing in high-quality, high-density and well-located units for the rental sector. There is emerging evidence that such investors are the driving force behind a significant increase in the supply of new apartments in Dublin. The report does caution, however, that while institutional investment is in the main a positive development, the activities of institutional investors poses broader long-term questions for policymakers in relation to tenure, affordability and the socio-economic make-up of urban areas.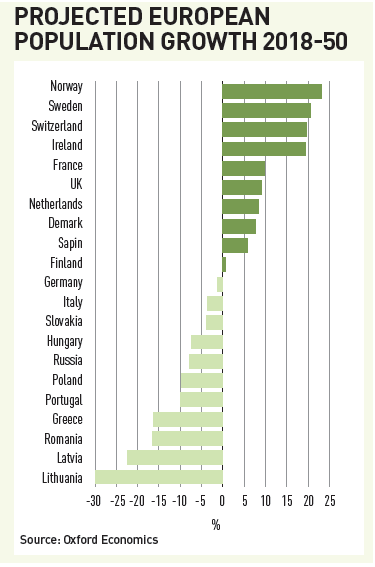 In 2016, the UK launched its 'patient capital' initiative, which seeks to enable long-term investment in growth and innovation. In February, the Department for Work and Pensions (DWP) issued a consultation on proposals to encourage defined contribution (DC) pension schemes to consider a wider range of investments, such as housing, smaller and medium firms, green-energy projects and other illiquid assets1. This document sits alongside two related consultative documents, which consider more flexible investment for unit-linked funds and authorised funds respectively.
The consultation notes that "by investing almost wholly in highly liquid investments such as publicly-listed equity and debt, beneficiaries can miss out on the illiquidity premium which results from being invested for the long term". It points to the need for greater engagement among defined contribution (DC) members. People care about the impact of their money on society and the environment. Investment in the 'real economy' boosts member engagement and thereby reduces the risk that they cut their pension contributions or withdraw from saving altogether.
The UK's DC pensions market is big (€450bn), and growing fast. DC makes up less than 20% of total UK pension assets, but it is nevertheless a considerable pool of capital. The UK is forecast to become Europe's first €1trn DC pensions market by 20212.
DC pensions are under-allocated to real estate so increasing their exposure, specifically to residential real estate, is seen as a win-win:
• Greater engagement from scheme members;
• Better risk-adjusted returns for members;
• Increased funding for housing.
The consultation makes three specific proposals:
• Larger DC pension schemes should document and publish their policy in relation to investment in illiquid assets, and report annually on their allocations to such assets;
• Smaller DC pension schemes should conduct a triennial assessment of whether their members could receive better value if the scheme consolidated into a larger scheme;
• It should be easier to accommodate performance-related fees within the DC charge cap.
While the governments of Ireland and the UK are coming at the issue from different starting points, the underlying markets are similar in many respects:
• Home ownership rates are about 70% in Ireland. In the UK they are 65% – not far from the EU average of 69%, but significantly higher than the German rate of 51% where institutional investment in residential is well-established;
• Population growth in both countries is strong: Ireland's population is expected to grow by 19% and the UK's by 9% over the next 30 years. In contrast, Germany's is projected to shrink by 1%;
• Flats, or apartments, are less popular than houses – only 8% of Ireland's population and 15% of the UK's population live in flats. The EU average is 42% and for Germany the figure is 57%;
• Demand for new housing outstrips supply;
• Both countries have mature occupational pension systems with sizeable assets;
• The BTR sector is growing fast and has attracted overseas institutions such as Dutch pension asset manager APG (Ireland and UK) and Canada Pension Plan Investment Board (UK).
The Irish report fits within a wider housing initiative and it defines institutional investment very broadly. In contrast, the UK consultation is concerned specifically with one type of institutional investor only (DC occupational pensions), and within this category it distinguishes between large and small schemes. The Irish one concerns housing only, while the UK one addresses housing and other illiquid assets.
While there are differences of emphasis between the two countries, UK and Ireland are both travelling in the same direction – catching up with markets such as Germany and the US where residential investment strategies for institutions are already established. This common destination reflects the similarities in the underlying markets.
Footnotes:
1 The full title of the consultation is 'Investment Innovation and Future Consolidation: A Consultation on the Consideration of Illiquid Assets and the Development of Scale in Occupational Defined Contribution schemes.
2 Both published in December 2018 by the Financial Conduct Authority.
3 Consulting firm Cerulli Associates.
Stephen Ryan is an independent researcher and consultant. Statistics are from Eurostat, unless otherwise indicated
Global housing: Going up, and up
1

2

3

4

5

6

7

8

Currently reading

UK/Ireland housing: Two plans, shared values

9

10