Is the renewed institutional interest in UK housing warranted? Emma Grew compares its performance to commercial property
Institutional investors are returning to the UK residential property market, challenging the decades-long dominance of small buy-to-let players.
They are waking up to what residential can add to a commercial property portfolio – diversification benefits, favourable demand/supply fundamentals (both now and in the future), and strong returns. Political support for the sector, meanwhile, offers an extra degree of reassurance.
According to IPD data, UK residential property has strongly outperformed commercial property since the 1980s and has also performed well against other asset classes.
In real terms, the difference between residential and commercial property is even starker, with residential having produced a total return of 9.6% per annum, almost double commercial property's 4.9%. This has not just been because of the recent easy availability of mortgage finance – the significant outperformance can be seen over each of the past three 10-year periods.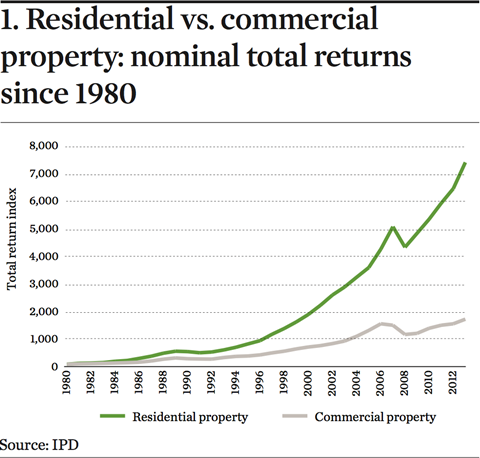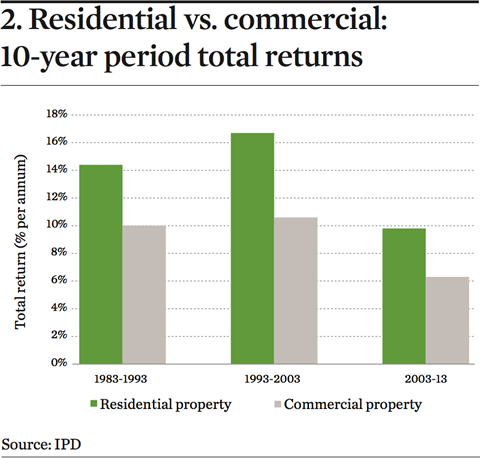 While capital values in commercial property have declined by just under 40% in real terms since 1980, those for residential property have increased significantly, likely reflecting a combination of restricted supply and strong demand fundamentals.
For some institutional investors, though, such strong capital growth could be seen as a downside. Pension funds and insurers, for example, have liabilities to match, so their focus is on income. Historically, income on residential has been lower than that on commercial property, although this varies widely between different parts of the market, with central London providing a negligible income return of 2.2% in 2013, according to IPD, well below that seen in commercial property. But other regions – for example, South West, Midlands and Wales – have provided an income return of 6.6%, above All-Commercial Property's 6.3%. Additionally, institutional investors have the opportunity to use economies of scale – as well as their experience of managing commercial property – to streamline and improve the running of residential properties, thus reducing the operating costs and maximising income.

Residential property does not tend to offer the kind of decades-long leases that some long-term investors prize in commercial property. Indeed, the average residential tenant stays just three years in any one property. On the flip side, a vacant apartment can be filled much more quickly than an empty warehouse – and from a larger pool of potential occupiers – and also tends to account for a much smaller proportion of the overall income stream, which means that residential benefits from lower average void rates than commercial (according to IPD data).
Unlike commercial property, the performance of residential real estate is not purely an investment play. People will always need somewhere to live. Therefore, if there were a downturn in the economy, the rental market would generally strengthen as the economic environment encourages, or even obliges, people to rent. This potentially lessens capital decline for investments in rented accommodation.
The performance of the residential sector during recent economic downturns supports this thesis, proving its defensive characteristics by performing as a less risky investment than mainstream commercial property.
Although the statistical volatility of the two property types has been similar over the past 30 years, this mainly reflects the upside volatility of residential property. When looking just at downside volatility (in this case, the risk of negative total returns), residential has actually shown a much lower level of risk than commercial. During the steep market downturns in both the 1990s and 2000s, residential property recorded a smaller capital decline than commercial and also recovered its initial value faster.
These defensive characteristics are one of the advantages for an investor of diversifying a portfolio by adding some investment in residential alongside commercial property and other asset classes.
Correlation analysis shows that property – both residential and commercial – has different market drivers to those of more traditional investments such as equities and bonds, and consequently shows relatively low correlations with those asset classes.
Analysis also suggests that residential property could prove to be a suitable portfolio diversifier for commercial property investors, considering it has much lower correlations with most traditional property segments than those segments show with each other.
As such, adding residential property into a multi-asset or commercial property portfolio would be expected to improve risk-adjusted returns.
Demographic trends offer strong support for residential. England's population is expected to expand by around 0.8% per annum – or by around 230,000 people – in the medium term (2012-21), according to the Office for National Statistics (ONS). That is one of the fastest growth rates across Western Europe. All of these people will need to be housed. In addition, household size continues to fall, with more people living in single-person households. Thus, demographic trends clearly point to a continued rise in demand for housing in the UK.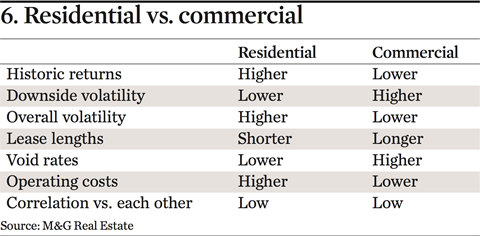 Already, supply has not kept pace with existing increases in demand and this trend is expected to continue. Indeed, housing construction has been on a downward trend since the 1970s. Only 125,460 homes were built in 2012-13 in the UK as a whole – well below the level consistent with new demand. This demand/supply imbalance is expected to place upward pressure on house prices over the long run. Coupled with the fact that there are still significant affordability constraints, particularly in London, this means that barriers to home ownership remain high which, in turn, is likely to fuel demand for rented accommodation – a sector which is increasingly dominated by private rather than social landlords.
The private-rented sector (PRS) has been growing over the past decade, and now represents 18% of the English market, up from 10% in 2001, according to Department for Communities and Local Government (DCLG) data. English private rentals are now at their highest level since the 1960s, at four million households, and are overtaking the size of the social rented sector, and this share is forecast to grow further. At the same time, only around two-thirds of households are now owner-occupied.
Over the past few years there has been a sea-change in the UK government's attitude towards PRS, welcoming professionalism from landlords and looking to large-scale investors to plug the housing supply gap through the build-to-let market. They have started offering incentives to encourage investors into PRS. This is key, as government support for other tenure types over private renting was one of the most significant reasons for the withdrawal of institutions from this asset class in the first half of the twentieth century.
Political backing is expected to continue, with all three major political parties in the UK voicing support for private rented residential.
M&G Real Estate's PRISM model ranks all the London boroughs, City of London and 343 local authorities across Great Britain to determine which regions are the most attractive for investment in the PRS. Currently, this shows areas of attractive opportunity across Greater London and the South East, including Brighton and Hove, Camden, Kingston upon Thames, Newham and Redbridge.
Emma Grew is research manager at M&G Real Estate