Less than 10 years since the sub-prime crisis, investors have plenty of reasons to invest in US housing, says Christopher O'Dea
When Equity Residential, one of the largest listed US apartment companies, lowered its revenue guidance for the third time this year in July, there were concerns that nearly seven years of growth in US multi-family rents and asset values might be coming to an end.
Equity Residential, which focuses on large coastal cities with high walkability scores, reduced its expected 2016 revenue growth, citing a loss of pricing power in San Francisco and New York City due to increased move-outs, elevated new supply and a slowdown in the growth of higher-paying jobs.
The loss of pricing power in key markets by Equity Residential, the bellwether multi-family operator, rattled investors. Prices of several equity REITs fell and an air of caution settled over the sector. This concern is understandable, but market participants have said it might be premature or even overdone. Property valuations, fundamentals and demographic trends all support a long-term positive outlook for US multi-family property, they say.
What has been one of the longest positive runs for multi-family property in the US has pushed valuations into new territory. The trailing 12-month rolling cap rate fell below 6% for the first time in the second quarter of 2016, reaching 5.9%, according to a analysis of multi-family markets by consultancy Reis.
"It remains remarkable that this far into an economic expansion that investors are willing to pay such a premium for apartment properties," the company said. The low-yield environment around the world plays a big role, especially given the relative strength we have observed in apartment fundamentals."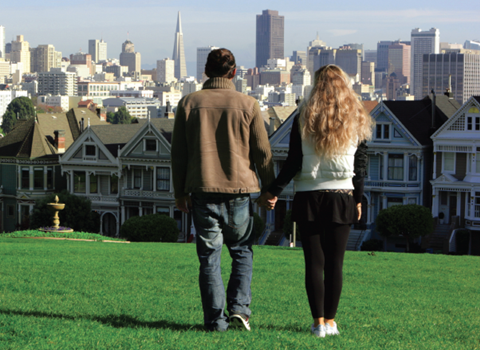 Although some soft spots appeared this year – in gateway markets where rent growth and building has been strongest – the decline in cap rates shows that "investors, despite new supply growth, continue to be bullish on the apartment sector".
In fact, the rate of cumulative new apartment supply has been far below the levels reached in previous cycles: it was 5.2% between 2010 and 2015, compared with 7.7% between 2001 and 2009, according to Clarion Partners. Meanwhile, demand for apartments in the US has been increasing steadily, a trend that accelerated during the recession.
"There are significant demographic and lifestyle changes from millennials and Baby Boomers that are increasing demand for apartments," says Chris Akins, senior managing director, multi-family at CBRE Capital Markets. A higher proportion of households are staying in the rental market for longer due to the cost of homeownership and stagnant real wages.
The attractions of urban living are bringing households into city centres where homes are more expensive and renting predominates – resulting in additional demand for residential property that is hard to produce. "These trends have a long way to run," says Akins.
What these factors indicate is that the increased demand for rental housing in the US is a structural change in the US economy, says Tim Wang, director and head of investment research at Clarion Partners. "The US home ownership rate has declined in all age cohorts since 2005," says Wang, with the biggest declines occurring among people under the age of 35 and those between the age of 35 and 44.
Since 2006, 9.7m more renter households have been created, compared to only 942,000 owner households, Wang says. And that increase has occurred across all age cohorts. Between 2011 and 2014, the average annual increase in the number of renter households ranged from 201,000 for those 65 and older to 276,000 for those aged 35 to 54. Those under 35 created on average 246,000 more rental households each year during the period.
The trend is set to continue and the main driver will be the US household formation rate, says Wang. The US population increases by about 3m annually, leading to the creation of approximately 1.2m new households each year.
"That's a big number. You don't see that in any other developed country, or even many developing countries," says Wang. The good news for multi-family investors is that the number of people under the age of 34 – considered the prime renter age cohort – is expected to increase by 1.4m between 2016 and 2020. To meet housing demand for the population, "multi-family property is a necessity," says Wang. "People need a place to live."
For investors to realise adequate returns it is crucial they buy property in the places people want to live. Emerging weakness in coastal gateway apartment markets has challenged the conventional wisdom that core property in central business districts is the best place for investors to deploy capital.
The next phase of the US residential cycle will transcend traditional dichotomies – such as downtown versus suburban or millennials versus Baby Boomers – that have often guided asset allocation. According to CBRE Research "the story is more nuanced and evolving in ways that create hybrid environments".
In a recent analysis, Millennial Myth Buster: Young Americans Do Like the Suburbs, CBRE's Darin Mellott found a "remarkable discrepancy between population data and the prevailing narrative… about the preferences of young people in the US." Despite being commonly viewed as purely urban creatures, more millennials aged 25-29 moved into the suburbs than the other way in 2014 (see figure). The pull of the suburbs was even stronger for millennials aged 20-24, and greater still for older millennials and the younger end of the Generation X cohort (age 35-44).
The trend tracks the overall population: while 2.8m people moved from suburbs to cities, 4.6m people did the opposite. Mellott asks: "What do they want? Simply put – space and an urban feel."
Today's renters do not have to stay downtown to get that urban feel. The implications for investors are many, says Brandon Crowell, an analyst at the MPF Research unit of RealPage. Crowel's research suggests that residential property in the right suburbs will generate the highest risk-adjusted returns, regardless of the holding period.
Crowell examined privately owned, institutional-grade real estate in the top 50 US markets using NCREIF and YieldStar data on new apartment supply and market fundamentals. He found that apartment returns averaged 9.1% over the past decade in both good CBDs and good suburbs. But apartments in good suburbs outperformed urban-core property over three, five and 15-year periods. On a risk-adjusted basis, good suburbs outperformed in four time periods.
"Assets located in the high-rent, superior job growth suburbs produced comparable returns to assets in good CBDs but with less risk," Crowell concluded.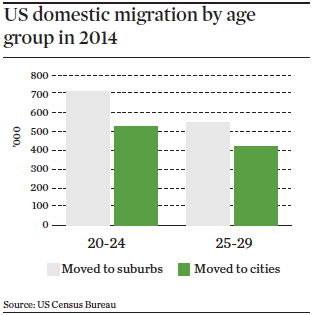 When all urban and suburban areas were compared irrespective of job and rent growth, suburban income returns, which provide stability during periods of economic stress, exceeded income returns on city property, and capital appreciation returns were virtually the same.
The multi-family sector in good suburbs "emerges from this research study as a market inefficiency – a rare segment where investors are likely understating value and overstating risk," Crowell says.
The analysis is timely for investors concerned about late-cycle risk. Systemic risk, Crowell argues, is captured mainly in capital appreciation, which is heavily influenced by cap-rate movement. In this cycle, he adds, the share of total return driven by appreciation has grown materially, reflecting strong investor appetite for multi-family property. While investors are certainly seeking income returns, fundamentals such as income, rents and supply "are not the driver of appreciation. Investors' perception of risk is".
If the market reaction to Equity Residential's guidance revealed anything, it was a growing awareness that the income return from multi-family property carries risk and, in the end, that the price paid for income-producing assets does matter.
But Reis predicts that investor demand for the sector will remain strong. "The environment remains ideal for apartment cap rates to remain at or near historically low levels and possibly fall even further," the firm says.
Anecdotal evidence suggests some investors may be starting to balk at high apartment prices, "based on the cap rates for properties in the market that are actually trading, that looks more like the exception these days".
Proliferation of strategies
While investors are becoming increasingly concerned about risks in the market, any such sensitivities have yet to slow the flow of capital into US residential markets, as indicated by the steady decline in cap rates.
In fact, a proliferation of investment strategies reflects the strong demographic story underpinning the market. Investors have learned that the 'new' American Dream will include renting one's home for years to come.
The rate of homeownership in the US has steadily declined since 2006 to a 50-year low, according to the US Census Bureau. However, there is plenty of institutional interest in the sector. By the middle of 2016, there were 57 private residential property funds – more than any time since 2012 – according to Preqin. Those funds were seeking $10.1bn (€9.2bn) in capital, just shy of the $11.2bn high of 2014.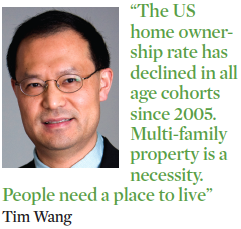 The majority of funds in the market are aiming to take on more risk, with 32 funds seeking $6.1bn in capital for value-added strategies, and 14 opportunistic funds seeking $2.4bn, Preqin says. The attraction is clear: a larger proportion of North American-focused residential property funds have surpassed the median North America-focused benchmark than any other property sector, with 63% of residential funds in the top or second quartile, compared with 49% of all other funds.
With risk rising, investors are taking a more cautious approach even as they continue to fund new multi-family entrants. Six institutional investors, including overseas pension funds, sovereign wealth funds, and insurance companies, are backing Lennar Multi-family Venture (LMV), a project of US builder Lennar Corporation, which has raised $2.5bn.
Through LMV, Lennar plans to develop and own class-A multi-family communities in 25 growth and gateway markets – a strategy to build at replacement cost rather than paying today's market prices for completed, fully-leased assets.
Lennar entered the multi-family market in 2012 through single-asset joint ventures that were structured to be sold. It is now a growing business – and LMV, a fund-like venture launched in 2015 – has approximately 9,100 apartment homes under development in 31 communities at a total cost of $3.1bn. With the combined equity commitments and 50% leverage, LMV has about $1.3bn more to invest in future opportunities, according to Lennar.
"As the multi-family development cycle has started to mature, we feel this is the right time to pivot to a strategy that is less reliant on merchant building, or 'build to sell' and focuses on 'build to own'," said Todd Farrell, president of LMC, the Lennar subsidiary sponsoring the multi-family venture.
Another way to handle risk is to go up the quality scale and target higher-value tenants. This is the strategy of the $3.7bn Clarion Gables Multi-family Trust. Gables targets higher-income "renters by choice" who can afford to buy, but choose to rent, and are willing to pay a premium for better amenities.
As one of the few core-plus open-end multi-family property funds in the US, Gables provides investors with immediate access to current income, portfolio diversification and a level of liquidity. Those features enable investors to access the US multi-family residential opportunity without introducing the volatility of public REITs, the delayed income returns associated with closed-ended funds, or the liquidity constraints of private joint ventures.
The portfolio consists of 53 assets made up of 13,718 units across the growth markets of South Florida, Atlanta, Dallas, Houston, Washington DC, Austin, Boston, Denver, and Southern California. About 80-85% of the assets are stabilised, with the remaining 15-20% build-to-core development assets. The fund targets a core-plus return of 10-12% over a market cycle.
Hansainvest Hanseatische Investment, the $26bn asset management arm of Germany's Signal Iduna Group, has created a fund to invest in core residential real estate in the US. It is the first time the company has invested in US residential, having previously focused on the commercial sectors, so it has teamed up with local operator Bell Partners.
Nicholas Brinckmann, managing director at Hansainvest, says: "As a long-term investor, we believe the fundamentals for US multi-family property are very attractive. However, not all US markets are universally strong. Our challenge is to find the right property in the right location, priced reasonably to give the appropriate risk-adjusted return."
"The next phase of the US residential cycle will transcend traditional dichotomies – such as downtown versussuburban or millennials versus Baby Boomers – that have often guided asset allocation"
He adds: "To select the markets, we carefully review growth rates in key population segments, job creation, incomes and so on, as well as new supply. We are focused on the larger cities that have a diversified economic base, where residual risk is low. Within those markets, we search for the best locations, near major employment, retail and transportation nodes."
Many US households unable to go into homeownership are opting to stay in single-family homes as renters. To focus on this opportunity, GTIS Partners and 643 Partners formed a partnership in 2013. Rebranded this year as Streetlane, the vertically integrated single investment and management company has a portfolio of over 3,500 single-family homes across seven primary markets, mainly in Texas and the Southeastern US, as well as Chicago and Las Vegas.
Single-family rental property offers a 6-6.5% unlevered cap rate at acquisition, and the potential to achieve a net IRR of 13-15% using moderate leverage of 60-70%, according to Streetlane. And late in the cycle, it is a highly defensive sector.
Single-family rents increased even in the 2009 recession, Streetlane says, and net operating income growth is supported by a single-family occupancy rate of 94% nationally.
While Streetlane notes that single-family property does have drawbacks for investors, such as higher capital expenses and administrative expenses compared to multi-family housing, the tenant base can be stickier, and the dearth of new home construction since the financial crisis is restricting supply.
There are also numerous exit routes offering downside protection for single-family property, including bulk sales to large private investors, portfolio sales to REITs, public flotation of single-family portfolios, and potentially sales to individual buyers.
With millennials delaying marriage and facing financial hurdles to home ownership, it may be some time before they can buy a homes. In the meantime, says Streetlane, single-family rental property is an attractive proposition.
In a sector that includes nearly 16m units nationally, comprising 13% of the total housing stock and 35% of all rentals, the top 10 institutional owners hold less than 2% of the market – a situation akin to multi-family REITs in the 1990s. A market cycle for a whole new sector may just be getting under way.