The multifamily sector continues to look attractive and capital is turning its attention to single-family homes. Christopher O'Dea reports
Investors looking for the next new thing in the US property market would do well to look straight through all the glass office towers rising in gateway markets and focus their gaze on residential property across the country.
Another year of strong rent growth in 2015 has sparked questions about the sustainability of growth in US housing. But investors and investment managers make a compelling case that, far from being near the end of its positive performance cycle, residential is the one sector benefitting from both macroeconomic and demographic trends – and the good times are just getting started.
Residential developers and investment managers are creating new rental housing options in response to major shifts in the structure of the US economy, a more tepid pace of growth, and lifestyle changes among both younger and older workers that portend a lower rate of homeownership for years to come. Institutional investors are continuing to allocate capital to residential property, with a marked interest in new sub-sectors that address the country's changing housing picture. These include: higher-end rental units targeting well-off retirees moving to urban infill sites; an ongoing institutionalisation of the market for investing in single-family rental homes, and a shortage of affordable housing options for middle-class and lower-income renters in many areas of the country.
Multifamily property was the top-performing sector in 2015, according to CoStar Group, rising 13.7% to end the year nearly 19% above its previous high of 2007 – the only one of six sectors to surpass its pre-recession peak. Performance was concentrated in primary markets, CoStar says, with its Prime Multifamily Metros index topping its 2013 peak to end 2015 more than 41% above its 2007 level.
US multifamily and industrial property tied for first place as preferred property types in a recent survey by the Association of Foreign Investors in Real Estate (AFIRE).
One major investment manager has chosen the US for its first foray into residential property. Macquarie Capital, a leading infrastructure investor with a renewed focus on real estate, in February took a stake in Stonehenge NYC, a multifamily property platform with a $3bn portfolio of 23 assets in Manhattan.
There are certainly obstacles on the horizon. Affordability in the US is declining as the sluggish economy keeps incomes in check, leading to a steady increase the number of people renting through necessity. And with new supply rising after years of modest construction activity, construction costs are increasing for new units that may become harder to rent. Rent increases in the US continued at a torrid pace in 2015, according to Yardi Matrix, with the average rent rising 6.4% – the second-largest increase in the last decade and 190bps more than 2014. Even with a seasonal slowdown, the average US rent in December was just $1 less than the all-time peak reached in September and October.
But the sector is adapting in critical respects: with a shorter development cycle than other property types, developers can keep supply better in line with demand. And the success of multifamily property in institutional portfolios has established rental housing as a major destination for pension fund capital, just as America – where home ownership has long been a matter of national pride – is becoming a society where renting one's home is not just an option, but the preferred choice.
Strong rental growth reflects the convergence of both demographic and economic trends, says Tim Wang, director and head of investment research at Clarion Partners , which invests some $7.8bn of its total assets under management of $38bn in residential property. The residential rental property sector is benefitting from demographic changes, with Millennials delaying marriage and having families, renting longer, and congregating in urban areas to "live, work, and play". Meanwhile, their Baby Boomer parents are trading empty nests for smaller quarters – often newer urban apartments with the latest technology, amenities and access to leisure pursuits that attract their children.
That spells a bright future for rental property, Wang says. With about 75m members, the Millennial generation is the "largest rental-age cohort in history," Wang says. "That's a game-changer." Prime renters are those aged 20 to 34, and – as the average age for a first marriage in America has crept up from about 22 in the 1970s to 30 today – "that demand is not going to abate in the next several years", he says.
The other key trend is job growth – despite a sluggish headline GDP growth rate, the US economy produced 2.7m jobs in 2015 – and the Millennial approach to career planning provides another boost for rental property, says Ed Carey, portfolio manager of Clarion Partners' multifamily sector fund. Previous generations "flocked to where the jobs were", says Carey, "but now the jobs are moving to them, to where the best and brightest want to live."
Despite conventional wisdom suggesting that Millennials have become averse to making economic commitments after seeing parents suffer financially during the crisis, Carey says they display a high level of confidence. "They choose where they want to live first, such as Austin or Denver, and they'll move there whether they have a job or not. They're willing to take more risk than many were at their age."
No matter how confident, most Millennials will not be moving straight into a property owned by Clarion. The company's multifamily strategy focuses on higher-quality units in markets sufficiently diversified to generate employment throughout economic cycles, says Sue Ansel, CEO and president of Gables Residential, a $3.6bn multifamily real estate developer and manager bought by Clarion last year. Gables concentrates on nine markets, including Austin, Denver, Boston and Atlanta, and sees additional demand from empty-nesters moving to high-amenity housing in urban infill locations near the same transportation, entertainment and cultural options that attract Millennials. "I don't think we've begun to tap the demand from that source," Ansel says.
Rising rents have attracted capital, and stimulated new supply. Property analytics provider Reis says the 10bps uptick in the US apartment vacancy rate in the fourth quarter of 2016 shows that construction has begun overtaking net absorption. In 2015, net absorption totalled 164,837 units, down from 168,684 units in 2014, according to Reis, as 188,000 units were delivered, the highest total since 1999.
But capital markets indicators signal that the multifamily market is holding its own against other sectors. "Apartments are probably the one category where, on an initial yield basis, assets are above historical lows," says Edward Pierzak, managing director, global real estate at TIAA-CREF. While the initial yield of other major property types over 10-year US Treasury rates has dipped below prior lows, "for apartments the spread is slightly above" its prior low, says Pierzak. "Does this mean apartments are expensive? You need to look at relative value, and our answer is no."
Single-family market
In fact, the strong performance of multifamily assets so far is prompting investors and managers to seek value in other corners of the US residential market. Investing in single-family rental homes is one of the newest sub-sectors. The mortgage crisis created the opportunity for large private capital sources to scoop up single-family homes that were taken over by lenders, but the initial transactions were in large measure distress plays, aimed at reselling the homes into a traditional housing-led recovery.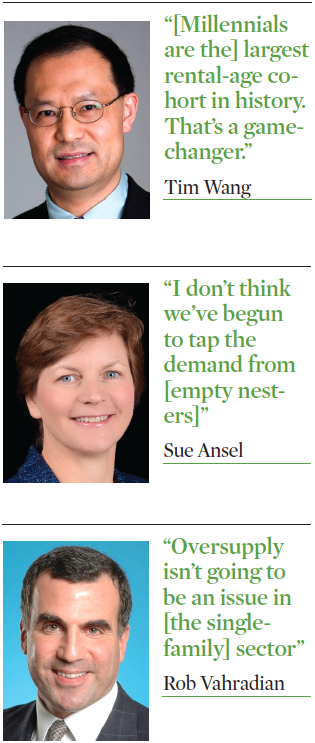 That recovery never arrived, and the cross-currents of economic and demographic factors in the housing market is obscuring the fact that the major shift taking place is a transition from buying to renting, not necessarily changing from a house to an apartment. That is according to GTIS Partners , which is working to transform single-family units into a market segment that can deliver the level and consistency of returns required by institutional investors.
The influx of capital has reduced returns from investing in traditional apartment buildings, says Rob Vahradian, senior managing director and head of US investments at GTIS Partners. "Multifamily is an established and mature asset class with strong liquidity in both the sales and financing markets," he says, resulting in cap rates near historic lows. In contrast, few real estate managers are investing in single-family rental homes and the strategy currently offers a yield premium – Vahradian says unleveraged single-family rental property yields are approximately 150-200bps higher than multifamily assets in similar markets.
While overlooked as an institutional asset class until recently – and even now with only 15-20 major players – single-family rentals have always comprised a large share of US residential property, Vahradian says. It comprised approximately 30% of the US residential rental market a few years ago, and now is about 35% of all rentals. The biggest barriers to entry are developing the expertise and large infrastructure to acquire and manage thousands of disparate assets to achieve efficient operating margins, and the fact that cost-efficient financing is available generally only for larger portfolios and operators.
So far, GTIS has invested approximately $165m of equity capital across two funds, and one separate account dedicated to investing in single-family rental property. All told, the company has acquired approximately 3,400 units in seven markets.
With a dedicated platform, GTIS says it is able to achieve gross rental yields of approximately 12% and net operating income yields north of 6.5% on average across the portfolio. Its 95% portfolio occupancy rate is reflective of the overall industry metrics. "With strong demographic demand drivers and the fact that the production of single-family housing is still only 70% of normalised historical levels – and well below that needed based on current and projected household formation – oversupply isn't going to be an issue in this sector," says Vahradian. "Also, unlike an office building, if a tenant leaves, you're not disrupted."
Apartment buildings achieve cost efficiencies by operating many units at one site, but single-family rentals achieve performance through a different set of levers, and by catering to a different tenant: families. Rented single-family homes have a much higher tenant retention rate than multifamily. The average tenancy is 36 months compared with 18 months in an apartment, Vahradian says. Bad debt levels are also low in the GTIS portfolio, he says, at about 1% after deposit retainage. "Tenants in a home with a family typically take more pride in their property and the community," he says.
As renters become a larger share of the US residential market, transitions within the rental population offer institutional investors additional opportunities. Housing affordability is a big problem in the US. Rent increases are outpacing income gains in many markets, leading to a shortage of affordable housing, according to report late last year from the Joint Center for Housing Studies at Harvard University. From 2001 to 2014, inflation-adjusted rents rose by 7%, while renter-household incomes declined by 9%, the Center said.
Investors are providing capital in two main segments: workforce housing aimed at steady, if modest earners such as teachers and firefighters; affordable housing for those on the lower rungs of the income ladder.
A series of TIAA-CREF funds, CASA, has executed more than $3bn of workforce apartment transactions. The CASA approach is a value-add strategy using tax-exempt municipal bond financing to obtain leverage at below-market rates, which enhances income returns to investors. The CASA funds develop or rehabilitate workforce housing units to rent at market rates.
StuyTown hits the headlines
Perhaps the highest-profile residential transaction of 2015 was the $5.3bn purchase of the Stuyvesant Town-Peter Cooper Village affordable housing complex in New York City by Blackstone Group and Ivanhoe-Cambridge. The complex was being run on behalf of lenders by a special servicer after a 2009 New York State court ruled that rent increases on thousands of units were illegal and threw the project into financial disarray.
CoStar estimated the Blackstone transaction price was 82% of StuyTown's 2007 peak value. Blackstone subsequently arranged new financing, and the deal resolved a $3bn securitised loan that led to a decline in the US CMBS delinquency rate. The new owners secured city approval to sell the complex's air rights to projects in other parts of the city, which could allow development of up to 10m sqft of space.
New York City's Comptroller, who controls a $160bn employee pension system, has questioned the air rights deal. "This component of the agreement has not been disclosed in any detailed way either in the public documents or in our conversations about the deal," according to a letter to Blackstone from the Comptroller and three other politicians, asking for details about the disposition of the air rights. "The potential impacts of 10.7m sqft of density on public transit, streets or other critical infrastructure are staggering, and the true number must be clarified and publicly disclosed," the letter says.
The deal ensures 5,000 of the more than 11,000 units at StuyTown are kept as affordable housing for 20 years. But in classic New York City style, there's another chapter to be written about this oasis of middle-class housing in Manhattan.
Residential UK: On the move
1

2

3

4

5

Currently reading

Residential US: Generation rent