Russell Handy reports on an institutional private-rented sector gaining momentum in cities and towns across the UK
"We'd never have bought that." An investment manager panning a rival's deal is probably the best indication that a market is heating up. While such utterances are often heard in the fiercely competitive central London office market, they have been a rarity in the emerging institutional private-rented sector (PRS) market.
In the space of two years, however, the sector has evolved into one where deals – still hard to source – are now creating meaningful debate. A dearth of stock, rather than capital, is the market's main issue, creating competition among those targeting its steady income streams.
The Department for Communities and Local Government PRS champion, Mark Davis, says the sector is at last "building momentum".
"We've seen tangible announcements over recent months and completed schemes emerging," Davis told delegates at the British Property Federation's (BPF) Build-to-Rent: Insight conference in London in February. "The geography is changing to bring in Leeds and Sheffield and other markets."
Manchester seems to be leading the way ex-London. With the net yield on Grainger's Salford Quay scheme expected to be around 5.5%, some observers have questioned such a low yield in the UK secondary city. Grainger, which has previously teamed up with Dutch asset manager APG and plans to invest £850m in UK PRS by 2020, is not alone in targeting Manchester's improving economic outlook.
David Pringle, the Cooperative Group's director of mixed-use Manchester site NOMA, says the city's "economic success has given people confidence to invest".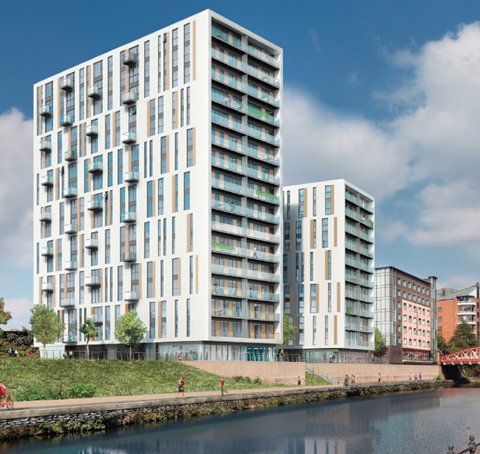 Also in Manchester, Apache Capital Partners this year completed its £128m investment in Angel Gardens in a joint venture with Moda Living. The Middle-Eastern-backed investment manager is using the 34-storey scheme to seed the joint venture, which has £1bn of UK PRS assets in its development pipeline.
Johnny Caddick, director of Moda Living, says the joint venture is looking to build "a brand and quality of product currently not available in the regions".
US-headquartered LaSalle Investment Management is close to investing £110m in a PRS development in Salford, while Germany's Patrizia Immobilien last year made Manchester the destination for its first UK PRS investment, buying a 20-acre, mixed-use site, with 500 apartments planned for the scheme.
Property analysts at JP Morgan take a positive view on the northern city, where residential rental levels are currently growing by more than 5% a year. This in a city where prospective tenants may be in a better position to buy than in London, where an average home now costs £514,000.
However, Davis' Scottish counterpart, Gerry More, told BPF delegates "whether you're in Aberdeen or Acton", the issues of affordability are the same.
Figures recently released by the BPF show that there are now over 30,000 build-to-rent units with planning permission in the UK – a 47% increase since October. While Manchester and similar UK 'gateway' cities continue to attract capital, there is also interest in less headline-grabbing locations.
John German, senior director of residential investment at Invesco Real Estate, says the firm has considered opportunities across the UK, including schemes in smaller towns and cities.
Invesco's first PRS investment – on behalf of a UK local authority pension fund and in the Hayes area of west London – is due for completion this May, German says. Developed by Willmott Dixon's be:here division, Invesco will buy 118 units for £32.5m.
"We're looking at a variety of markets – from the more premium, 'best-in-class' end of the market to more functional assets in less-known locations," he says.
"A scheme ideally needs to be within commuter distance of a major city or have a strong local employment base."
M&G Real Estate last year funded a £51.1m deal to build and let 227 units near Crawley, around 40 miles south of London, through its partnership with developer, Crest Nicholson. The investment manager is aiming for a long-term annual net return of between 7% and 9%.
Dutch pension fund asset manager PGGM'S real estate investment director, Mathieu Elshout, says he prefers cities "which don't rely on one source of income".
A city's over-dependence on one industry is, of course, a potential risk in a sector still finding its feet. The dramatic decline in oil prices has put the spotlight on real estate markets where the local economy is dependent on commodities – Aberdeen in the UK and US oil capital Houston are two examples.
Andrew Stanford, LaSalle's UK residential fund manager, says he is confident about Aberdeen's long-term prospects.
"We've invested in Aberdeen and that's for long-term income," Stanford told BPF delegates. "We'll continue to invest in Scotland – we're interested in capital preservation."
Private-rented sector: the need for a stable environment
Institutionally owned private rented sector (PRS) assets are still a relatively new asset class in the UK, but the sector has already enjoyed success in North America and Europe. As the government's delivery partner for the £3.5bn PRS guarantee scheme, Venn Partners is in dialogue with a range of investors and borrowers, both domestically and internationally and, so far, has had positive feedback from both groups. However, the next few years are critical for PRS and a number of elements central to the scheme's success need to be carefully managed to ensure that it helps the sector emerge as a new institutional asset class.
PRS needs a stable environment to grow. For institutions to invest and borrowers to seek funding for developments, they need certainty and a clear framework to assess the risks and returns. The UK currently provides a reasonably supportive and stable political and regulatory environment. For the economy and society to reap the most rewards from a successful PRS sector it would be beneficial if this stance continues.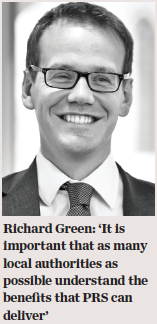 Improved understanding of PRS would be helpful. While many pro-development local authorities have embraced PRS, a number have a more limited understanding of the model and its benefits. Given the time lag in delivering housing from site acquisition to planning, investment and stabilisation, it is important that as many local authorities as possible understand the benefits that PRS can deliver in terms of their overall housing strategy, whether in improving the housing mix across communities, delivering higher quality housing to helping to re-generate urban environments.
Key to success is variety; whether it be by geography, tenant type or housing sector, PRS needs to remain varied to appeal to a range of end users. To date, the geographical focus for PRS has largely been on London and the South East, but major cities, including Manchester, Leeds and Birmingham, are also excellent locations for PRS schemes, offering the chance to improve housing and regenerate some neighbourhoods. Similarly, glossy, aspirational flagship schemes for young professionals have caught the headlines, but there is equally good potential in schemes in areas targeting less-affluent tenants.
Delivering a professional product. The PRS sector Task Force established by the UK government in 2013 has identified a pool of more than £10bn, which institutions would like to invest in PRS. UK institutions are keen to invest in PRS, including brand names such as Aviva, M&G, L&G and Hermes. To ensure this sector materialises, we need a professionally-run PRS market with high-quality product. The UK government's support of an institutional PRS market is the right strategy, and we can see clear signs of international capital targeting UK investment to build new homes for private rent.
Lessons can be learnt from overseas. Comparing PRS schemes across Europe the US and further afield in Australia and New Zealand illustrates the very different approaches to PRS that exist globally. Great differences are evident, whether in terms of regulation, length of lease tenure or tax incentives to invest.
The UK's existing rental sector, at around 17% of total housing stock, remains relatively small compared with many European markets, where around 20% is the average and in countries such as Germany it is close to 50%.
From reviewing these markets and identifying the elements that have made them successful, what is clear is that if the UK is to continue to grow its PRS sector, scale needs to be improved, institutional investment needs to be fostered and schemes need to address housing needs across the economy.
Richard Green is a partner at Venn Partners
LaSalle last year invested £60m in a 292-unit build-to-rent scheme in the Scottish city, which recently received £504m of infrastructure funding. The so-called City Deal for Aberdeen could be important for the city as it looks to diversify its economy, bringing the biopharmaceutical and agri-food industries into play.
While such factors play an increasing role in decision-making for investors in all sectors, the relatively juvenile PRS sector is at risk of "first-mover error", as one investment manager describes it.
Bringing foreign experience
PGGM recently announced a £600m joint venture with Legal & General. "There are plenty of opportunities, but we need to be selective," Elshout says of PGGM's joint venture. "We could easily invest the capital in a short period, but we will take our time."
The partnership, which is being managed by LGIM's Real Assets, has been seeded with three developments – once again, in Manchester's Salford area, pictured opposite, as well as London's Walthamstow and Bristol, where £4.8m was recently spent on a site with planning permission.
"These are all places where we can expect above-average economic growth," Elshout says.
PGGM, which currently owns around £3bn of residential investment through partnerships in the Netherlands and the US, began looking at the UK market last year, Elshout says.
"We began looking for a partner more than a year ago," he says. "PRS in the UK is a relatively new sector, but we've already seen more players entering the market."
"There are plenty of opportunities, but we need to be selective"
Mathieu Elshout
Elshout says PGGM will use its experience of the US and Dutch residential sectors, where it holds a combined £3bn of investments through partnerships.
US residential know-how is arriving in the UK. Greystar, one of the biggest housing investors on the other side of the Atlantic and active in UK student housing, this year bought a 26-acre site in west London for PRS development. The former GlaxoSmithKline site is expected to become the UK's largest purpose-built rented housing scheme.
As earlier entrants than Greystar to the UK PRS sector move closer to delivery day, the product itself is likely to vary – and could sit somewhere between its North American and continental European peers.
German believes the sector will evolve and investors will need to "identify the level of services and fit-out that each individual market will be prepared to pay for".
"When you look at what happened in the US, when rented product started, the product was initially quite functional," he says. "It was only over time that the 'extras' have been added."
He predicts the UK PRS product will take a similar path to the student housing sector.
"I think you'll see a broader church, from super-prime product down to more functional units," he says.
With the PRS or 'multifamily' sector established in parts of continental Europe and North America, German says he was pleased to have attracted experienced investors from the regions for Invesco's first UK PRS fund, which has £250m to invest.
Experience from across the Atlantic is something many in the sector are calling upon. Hermes, which is active in the US multifamily sector, recently bought the first assets for its UK Private Residential Fund. The properties – in Leeds and London – include 270 purpose-built residential units. The investment manager is aiming to invest more than £500m in the sector, targeting existing assets and developments.
Those looking to get schemes off the drawing board will have been encouraged by Royal Bank of Scotland's recent £1bn commitment to support the development of purpose-built rental schemes. The bank, with the UK government's Homes & Communities Agency, has previously financed M3 Capital Partners' developer Essential Living with £52m for three schemes, two of which are in London.
Backed by Canada's Ivanhoé Cambridge, PRS specialist Residential Land last year completed its purchase of Palace Wharf in Fulham for about £37m.
While appetite for assets outside London has undoubtedly increased, there is no denying the attraction of PRS in London. The UK capital's average £514,000 house price makes it an obvious rental investment proposition. Greystar managing director Wes Fuller recently said the city's under-supply of housing represents "an attractive investment opportunity".
However, Chris Taylor, head of private markets at Hermes Investment Management, says a lack of accessible, affordable housing is the "Achilles heel for London economy".
BPF delegates heard how high house prices threaten London's success, with some London-based companies fearing a 'brain-drain' as employees get priced out to other UK cities.
Marc Vlessing, chief executive of housing developer Pocket, says steps need to be taken to "house the 30-somethings in London".
For investors and their prospective tenants, accessibility, as Taylor says, remains a key issue. The London Land Commission, the body set up by the city's mayor, recently found that as many as 130,000 homes could be built on surplus public-sector land. How many of those become rented, rather than sold, is a "double if".
Large investors should avoid UK Stamp Duty Land Tax
Increased stamp duty for buy-to-let landlords could indirectly benefit institutions looking to enter the UK private-rented sector (PRS).
The PRS market "remains fragmented" and "overwhelmingly dominated" by small, private-let landlords, according to Richard Jackson, co-founder of Apache Capital Partners.
That may change, however, if government proposals announced in last year's budget have their desired impact. A proposed higher rate of 3% Stamp Duty Land Tax (SDLT) for purchasing additional homes has caused considerable debate recently.
Steve Bolton, founder of Platinum Property Partners, says the buy-to-let rental sector has been scapegoated as a barrier to home ownership, but in reality this is far from the case.
"By attacking landlords' profits, policymakers are likely to drive costs up for renters, making it even harder for them to raise a deposit for a house," says Bolton, who is co-heading a legal challenge to the changes. "The buy-to-let tax grab is targeted purely at landlords with mortgages, excluding the wealthiest landlords."
The British Property Federation's (BPF), meanwhile, has urged a "sensible SDLT regime".
In its response to the government's consultation on the surcharge, the industry body warned that the higher rate of tax could "cancel out progress" that the build-to-rent sector has made since 2011.
"We stand behind the BPF on this," says Invesco's John German. "The greater the regulation on institutional-grade investment, the less likely institutions are to come in. But, on the face of it, it looks like investors with 15 or more units will not be subject to SDLT."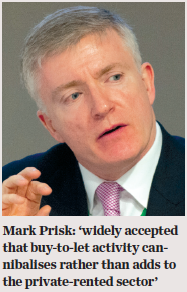 Andrew Stanford, who chairs the BPF's Build to Rent committee, says the proposed exemption for large-scale investors from the additional 3% SDLT charges is encouraging.
"If the exemption was not implemented it would have a significant negative impact on our ability to invest in the nascent build-to-rent sector," he says.
Investors in PRS could benefit from the changes, says German, who thinks it is possible there will be an impact on the rental sector.
"People in traditional, private-rented properties may be prepared to move to more professionally-managed units," he says. "That could create more demand."
At the same time, a tightening of lending criteria could also indirectly benefit institutions looking to enter UK PRS.
The Bank of England is monitoring mortgages taken by buy-to-let landlords.
Speaking at the BPF Build-to-Rent: Insight conference in February, Martin Skinner, chief executive of Inspired Asset Management, said smaller landlords can be part of the solution, with the ability to deliver rental properties at greater speed than institutional investors.
"PRS is not going to replace buy-to-let," Skinner said.
However, Mark Prisk MP, former housing minister and adviser to Essential Living, says it is "widely accepted that buy-to-let activity cannibalises rather than adds to the private-rented sector".
Residential UK: On the move
1

Currently reading

Residential UK: On the move

2

3

4

5