There is more to the UK than just London, as developments in Birmingham and Manchester go to prove. Russell Handy explains
Deliberating over the type of finish on a reception wall may seem excessive for many private-rented sector (PRS) investment managers.
But such meticulous attention to detail is vital, says Andrew Stanford, residential fund manager at LaSalle Investment Management. "Retaining control of an asset is essential," he says in the foyer of the investment manager's Greengate scheme, in Salford, Greater Manchester.
Developed by Renaker on the site of a former car park, an initial tranche of 229 apartments is 70% let. A second, adjacent block will take the entire scheme to 497 units. Peripatetic professionals, such as footballers, doctors and post-graduate students, have made the block their home.
The control Stanford refers to ranges from what he calls 'granular' detail, such as "asset specific branding" (no sign of LaSalle's logo) and communal areas, to more familiar considerations, such as location and a city's long-term growth prospects.
One of five UK cities in which the firm has invested, Manchester is ripe for the build-to-rent strategy.
This year M&G Real Estate invested for the first time in the UK's north-west region for its PRS strategy. The manager is financing the £27.6m (€31.7m) development of 135 homes in Manchester. The scheme, at 97-105 Port Street in the city's Northern Quarter, is due for completion in 2018.
The deal was made on behalf of M&G Real Estate's UK residential property strategy, launched in 2013 for UK and international investors.
The Manchester scheme, which includes mainly one and two-bedroom flats, took M&G's residential property commitments to about £545m for UK and international investors, including pension funds, insurance companies and local authorities. The firm now owns 19 assets, 80% of which are in London.
Middle-Eastern-backed investment manager Apache Capital's joint venture with Moda Living last year invested in a 458-unit scheme in Manchester's Angel Gardens.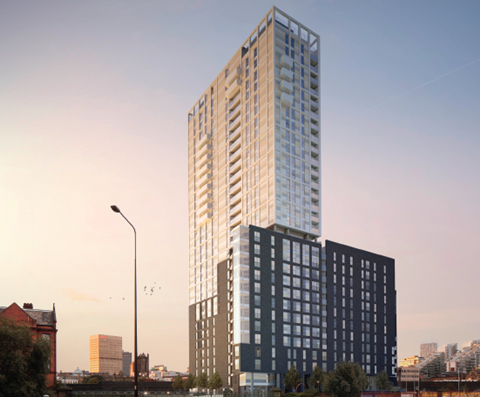 Patrizia Immobilien is also investing in Manchester PRS, with part of its 20-acre mixed-use First Street site including 500 apartments. Positive demographics, says the firm's UK managing director, James Muir, were reasons for the firm's investment.
The city's ability to retain its large student population beyond graduation is clearly a major draw, as well as the council's forward thinking.
"What Manchester has is a 'can-do' attitude," Stanford says. "Infrastructure promises are being acted upon.
"That's one of the reasons that I felt one of the first places we'd invest in would be Manchester."
Grainger, which has a UK residential joint venture with Dutch pension fund asset manager APG, this year invested in Clippers Quay at Salford Quays.
The movement of staff by the likes of Deloitte to what is now widely regarded as the UK's second city has also helped.
PGGM and Legal & General Capital bought a site in Salford from developer English Cities Fund this year. L&G said the leasing by law firm Freshfields Bruckhaus Deringer of 80,000sqft at nearby One New Bailey would bring more residents to the area.
Relocation
Moves by 1,000 HSBC staff and Deutsche Bank employees to Birmingham are often cited as equally positive signs that the UK is finally experiencing "life beyond London".
Rockspring Property Investment Manager invested in a development in central Birmingham for its TransEuropean VI fund, its second PRS deal in the UK.
The Pershore Street site was sold to Rockspring and joint-venture partner Atlas Residential for £50m. Development of the site began last month.
"This is an exciting time for Birmingham," says Hugh Elrington, Rockspring partner and head of UK transactions. "We see a lot of potential emanating from socio-economic trends in the UK, with a number of high-profile companies across a range of sectors, including the professional and financial services sectors, moving significant parts of their operations there."
Hallmark BY Development, a joint venture between Bouygues Development (now Linkcity) and current landowner, Hallmark Investments, sold the site.
"Moves by 1,000 HSBC staff and Deutsche Bank employees to Birmingham are often cited as equally positive signs that the UK is finally experiencing 'life beyond London'"
The scheme, due for completion in 2018, will include 334 apartments.
Despite a recent Office for National Statistics report naming Birmingham as the most popular city destination for people leaving London, the "city of a thousand trades" is faced with stiff competition with its north-west rival for talent, skills and investment.
"Birmingham is still a city based upon the car," says Stanford. "If it can demonstrate that it is less of a car-centric city, I'm really positive for it."
This year LaSalle paid £100m for 603 build-to-rent apartments at developer Nikal's Exchange Square scheme for a client. Delivery of the scheme's first block is due in 2018, with full completion the following year.
Stanford says the site's proximity to the location of Birmingham's High Speed 2 terminal will attract future residents.
At the other end of that rail line, pricing and a lack of land for development make London a difficult market to enter.
LaSalle's £30m commitment to an 87-unit scheme in the London's Canning Town area has a very different feel to its Manchester asset, with less emphasis on communal areas.
"A one-size-fits-all approach does not work," he says. "You need to be very clear on your expectations."
Stanford says residents of the final stage of the Rathbone Market project, which completed this month, are more likely to use the immediate area surrounding the scheme for recreational activity, such as fitness gyms.
Further north in Walthamstow, PGGM and Legal & General's joint venture has been given planning approval for a 440-unit scheme.
The development includes cafes, a food store, communal working spaces, open landscaped areas and leisure space for residents.
As Stanford points out, each site developed by players in this relatively young sector will vary in terms of rent levels, layout and detail. That goes so way to explaining his focus on the 'granular'.
Brexit, bricks and politics
Andrew Stanford, residential fund manager at LaSalle Investment Management, says the UK's vote to leave the European Union could affect employment levels in the short term.
"A negative impact on jobs would mean no rental growth post-Brexit," he says. "So in the short term, rental growth must be a 'no'.
"The counter-argument, of course, is will there be enough house building? The answer is also 'no'."
Stanford, who headed the UK Department for Communities and Local Government's private-rented sector (PRS) taskforce, before joining LaSalle in early 2015, says even if the UK faced "zero migration, population growth would still be a reason to invest in the sector.
"We are still a growing population," he says. "Despite Brexit, the economic fundamentals are good."
The need for more homes was highlighted in a recent report by the Confederation of British Industry, with the country's population expected to grow by 10m in the next 25 years.
"The UK's housing shortage is not just a social issue, but an acute problem for businesses," the No Place Like Home report said. "A step-change is needed in mindset and delivery on house building."
Rob Martin, research director for real assets at Legal & General Investment Management, says the potential implications of Brexit for residential property will derive from supply and demand and changes to the outlook for productivity growth.
"There are scenarios in which changes to UK policy on immigration reduce the pace of population growth," he says.
Echoing Stanford's comments, Martin says that in population projections prepared by the Office of National Statistics – which assume lower migration – the UK population wil continue to increase.
"The implications for productivity are complex. Migration, particularly of educated individuals, is a source of knowledge transfer that plays a role in productivity growth," he says.
"On the other hand, there are arguments that there are a number of economic rigidities created through EU membership that if removed and replaced with a more flexible regime will enhance economic growth."
Martin says there is potential for a "cyclical slowdown in rental growth", caused by weaker hiring and wage inflation.
However, the firm views the implications for long-term rental growth as modest.
More immediate concerns lie in the government's plans for the residential sector, with Prime Minister Theresa May's cabinet pursuing policies to encourage home ownership, such as Help to Buy.
"We need all sorts of tenures," says Stanford. "And not an obsessional focus on home ownership."
Gavin Barwell, minister for housing, planning and London, told delegates at MIPIM UK that "most people want to own their own home".
"I want a system that's bottom-up – we are going to build the homes that we need to build," he said.
Barwell said there is "huge potential for off-site construction", driving innovation and diversification in the market.
Revision of the UK's office-to-residential permitted development rights (PDR) to allow for complete demolition could feature in this year's autumn statement by the UK government, a move that Stanford would welcome.
A three-year window to make office-to-residential conversions was due to expire this May. First introduced in 2013, PDRs enable offices to be converted to residential use without the need for planning permission. Planning permission is still not necessary when converting.
In London, mayor Sadiq Khan has announced plans to set up a Homes for Londoners board to oversee homebuilding in the UK capital and boost delivery of new and affordable homes.
The board will oversee delivery, land assembly and investment decisions.
Ian Fletcher, director of policy (real estate) at the British Property Federation, said given that "almost a quarter of private new home starts in London last year were for build-to-rent developments", the BPF hopes to see the sector engaged in future discussions.
"Build-to-rent is attractive to investors, can be delivered quickly, and is a sustainable housing solution for those who cannot afford to buy," says Fletcher. "It will play an important part in the capital's housing solution."