The factors that have discouraged investors from investing in housing still exist. So, asks Ed Stansfield, what is behind the build-to-rent surge?
For most of the past 40 years, institutional investment in the UK private-rented sector (PRS) has been regarded as a niche area, best left to specialists.
However, over the past year rarely a week has passed without the announcement of a new build-to-rent (BTR) scheme.
Although it is difficult to get supporting data, institutions were far more active in the residential sector in the 1960s and 1970s than they are today. But the combination of rent controls and moves to give tenants greater security of tenure during this period, led most institutions to gradually sell off their residential holdings.
However, figures from the British Property Federation (BPF) show that more than 61,500 BTR homes have either been completed, or are under construction or have planning permission – that figure has more or less doubled over the last six months.
At first glance, many of the traditional reasons investors give for being wary of residential still apply: relative to commercial property, lot sizes are small, leases are short and costs are high. So why is BTR surging?
We think three factors are at work. First, for most of the past three decades, the income return on residential property, after deducting voids, management costs and depreciation, has been the same or lower than the return on Gilts (figure 1). In other words, property was offering investors a lower income return than the risk-free rate, despite its relative lack of liquidity, transparency and the potential for a loss of income. Following the global financial crisis, however, risk-free rates have fallen well below residential income returns. Since 2012, the yield premium offered by residential property has averaged 180bps.
Second, the demand for PRS homes has also surged. In 2007, 2.69m or 12.7% of English households lived in PRS homes. The latest data for 2014-15 show that the total has jumped by more than 1.58m to 4.28m, or 19% of households. That rapid growth may have convinced some wavering investors of the sector's medium-term durability.
The main reasons behind that growth are high house prices and the tightening in income verification and minimum deposits triggered by the last downturn. The cost of mortgage credit may be at an all-time low, but access to that credit is still restricted.
At the margins, the growth of PRS has been boosted by the gradual decline in the social-rented sector. As figure 2 shows, for the first time in at least 35 years, the social-rented sector is now smaller than PRS.
The third factor behind the surge in BTR is that the gap between commercial and residential income returns has narrowed materially. In the past, commercial income returns have typically been about 300bps higher than residential, meaning that residential returns have been more dependent than commercial on capital value gains. Not only did that make them less predictable but it put pressure on investors to churn residential portfolios more often to realise those returns. That added further to costs and risk.
Today, thanks to a large drop in commercial income returns, the gap with residential is just 125bps, sharply reducing the relative costs and risks of investing in housing.
So have we seen a structural shift in the investment case for residential property? On a positive note, there seems to be little risk of a collapse in rental demand. For most of the past 45 years, a prospective buyer needed to save between 35% and 45% of national average earnings to generate a 10% deposit. Today the figure is more than 71%. Returning the deposit-to-earnings ratio to its past range will take over a decade – even if house prices remain flat.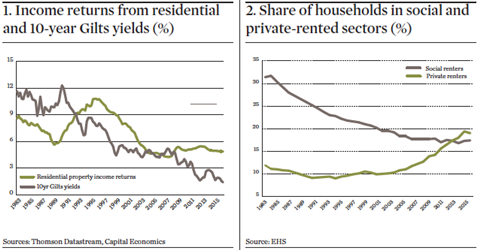 A major house price slump or a loosening in lending criteria could accelerate that process, but neither seems imminent. In any case, if household formation averages 210,000 households per annum, more than 26,000 new PRS homes will be needed each year – even if the share of PRS drops to its pre-credit-crunch level of 12.5%. And even more PRS homes will be needed if the share of social-rented homes continues to fall.
In principle, demand for additional PRS homes could be met through further growth in BTR. But only if the overall supply of new homes can be raised to adequate levels. After all, without growth in the overall number of homes, growth in one form of tenure can only occur if other tenures shrink.
In addition, there is unlikely to be a material rise in interest rates for another couple of years. So, assuming residential income returns are unchanged, BTR will not become less attractive than holding cash or bonds. And over the medium term, there is no reason to expect residential yields to fall back below risk-free rates.
Nevertheless, we suspect that the compression between commercial and residential returns is largely cyclical, not structural. But if commercial income returns do adjust, it does not necessarily follow that residential property will again be seen as the poor relation to the commercial sector.
While such claims have yet to be tested, the BTR model could allow investors to slash management, lettings and maintenance costs, as well as voids. If so, net income returns could be higher than past data would suggest, boosted by smaller, less homogenous portfolios
For investors with a focus on overall returns and not just income, we suspect that the residential sector's record in delivering total returns that match or exceed those of commercial property, and with less volatility, will mean that investor interest stays high as long as the outlook for PRS demand is solid.
That said, BTR is still in its infancy. Even if the number of new BTR homes rose by 50,000 a year, boosting the total number each year to 200,000, it would take five years before BTR accounted for 1% of the dwelling stock and 33 years to reach 5%.
So while the outlook for BTR is solid, it is not about to transform the wider market.
Ed Stansfield is chief property economist at Capital Economics