Foreign investors have flocked to a housing market that has opened up – but they would like more, writes Maha Khan Phillips
The Dutch residential market is an established part of Dutch pension funds' investment portfolios. But a rise in opportunities in the sector has attracted a new wave of foreign, cross-border investment managers.
In February, Round Hill Capital, the European real estate specialist, acquired four residential portfolios in the Netherlands, worth €100m. The new acquisitions follow on from other high-profile transactions, such as Heitman's agreement to purchase a residential portfolio of 32 properties in Amsterdam in January. In 2015, transactions included the €80m sale of Campus Diemen Zuid to Greystar and LaSalle Investment Management's purchase of a €70m portfolio of 460 units in two Dutch cities on behalf of a separate account client.
The residential sector in the Netherlands has been identified as a key growth area for many investors as a result of legislative changes that opened up the market in 2014, and were precipitated by a mortgage crisis in the country. Loans-to-value (LTV) of up to 106% on mortgage debt were prevalent, with the idea that house prices would increase over time and decrease debt. Instead, house prices declined by approximately 20% in the period between 2007 and 2013, LTV percentages increased, housing associations themselves, which controlled about 90% of the rental sector, became over-extended, and the government stepped in. It wanted housing associations to focus on social housing, and to sell real estate for the private-rented sector (PRS) to institutional investors.
For institutional investors, the legislative changes provided a good investment opportunity, and were timely, as markets had started to rise again. "After years of declining house prices, the value started to increase again in 2014 and 2015," says Paul Oremus, fund manager of the CBRE Dutch Residential Fund. "This year we've seen very strong increases in house prices, which is the result of the fact that the government introduced new regulations, and that the Dutch economy is doing quite well at the moment. We have a low interest rate in the Netherlands, which makes it rather cheap."
For investors, part of the attractiveness is that the residential market is characterised by very stable and low risk returns (see figure). Indexed rents offer a good inflation hedge as well, explains Michiel de Bruine, head of asset management residential at Bouwinvest, the institutional real estate investment manager. "When yields in other main investment asset classes, such as fixed income, are very low, or even negative, then residential producing returns of 6% [with] low volatility becomes very attractive." The firm has won 11 Dutch institutional mandates for its residential fund over the past three years.
But it is not just local institutions flocking to the market. The role of foreign investors in the housing market has increased considerably, according to Capital Value, the Utrecht-based residential real estate services company. In its 2016 survey report on the investment policy of international residential investors, the firm says that foreign investors became much more active in 2014 and 2015, making around €800m in direct investments, and accounting for approximately 26% of the total €3bn spent. They also made about €600m in indirect investments, and had hoped to invest more in 2015, but there was insufficient supply.
"There is fierce competition for acquisitions, and for tenants there is fierce competition to find affordable housing," says Gertjan van der Baan, CEO of Vesteda. "The number of tenants is rising more than the number of newly built homes."
David Ironside, international director of LaSalle, says that investors have become frustrated. After legislative changes, housing associations were supposed to offer up PRS assets. "Housing associations were supposedly going to be selling massive amounts of real estate, which hasn't happened, except at the beginning," he says. "Now it is little and low quality, and in peripheral locations. Housing associations have started selling to each other, rather than to other people. That's not exactly what the government told them to do, and there's no access there for anyone else."
Gordon Black, senior managing director and co-head of Europe at Heitman, says that the government may tweak the regulation. "With the recent changes in the legislation, the market, including ourselves, anticipated that the Dutch housing authorities would be selling much more of their non-social housing stock. Whether the housing authorities are selling to each other or not, I couldn't comment, but it is clear that they are not selling much at all. It is our understanding that the authorities may further refine the legislation to increase the sale of non-social housing."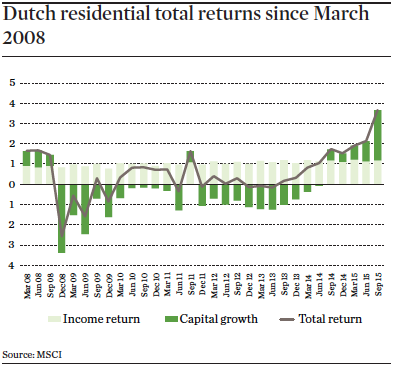 He points out that the critical element for managers is to gain access to high quality deal flow, which the firm has managed to achieve in conjunction with its local partner, Orange Capital Partners. "We like the defensive nature of living facilities. The different demand drivers aren't necessarily correlated with the broader economy, it is more needs-based. So in a low-growth environment, we like the downside protection."
Heitman is not alone in finding a local partner. More than 40% of institutional investors told Capital Value that co-operation with a Dutch partner was their preferred method of accessing the market, with 32% saying they planned to set up their own organisations, mostly hiring local personnel to obtain local expertise.
Black says the firm will continue to focus on Amsterdam primarily, but that there are a number of opportunities in the country's four biggest cities.
Research from CBRE supports this view. In a November 2015 briefing note, the firm says that rental growth is likely to persist in most parts of the country, but that rental properties in the non-regulated segment of the market are likely to remain highest in Amsterdam and the other cities to the north of the Randstad conurbation.
In its survey report, Capital Value points out that investors have been willing to invest outside of the core regions for the right opportunity. A good example is the acquisition by LaSalle of the Servatius portfolio, which consisted of 350 single-family homes in the Maastricht region.
"The largest cities have picked up strongly, but the recovery has only just started in the rest of the Netherlands," says Michael Hesp, head of Dutch strategy and research at CBRE. He says that the competition in the market is making it difficult for investors to access to the right product, and they are expanding their horizons. "That is why most investors are now turning to new-build developments, which will only generate cash flow when they are delivered."
One example is the signing of a letter of intent between German investor Patrizia and the municipality of The Hague to develop 200 new houses annually, according to Capital Value. But the firm goes on to say that 89% of international investors state an interest in existing properties, although there has been an 'expansion of interest' among investors in development opportunities this year (68%, compared with 37% in 2015) and in turnkey complexes (74%, compared with 32% in 2015).
This is partly due to the lack of supply of existing portfolios that match investors' risk-return profile. "The advantage of development opportunities is that the quality of the projects is more up to date and sustainable," says Capital Value. "But even more important, these opportunities are more closely aligned with future demand for rental housing. This means lower risk for the investor."
Investors are mostly positioning themselves in the mid-rental segment of the market, which offers downside protection. Many are also following demographic trends and focusing on single-occupancy rentals. "The number of single person households is increasing, because of young people and elderly people," says Hesp. "Young people are moving to the bigger cities where demographic growth is expected to be stronger. That's where our investment strategy is directed towards."
In its 2015 report, Cushman & Wakefield says that demographic changes will have an impact on the residential market in the medium term. Despite regional population figures potentially decreasing, average household sizes will also decrease, leading to an increasing appetite among consumers for one or two-person premises. Demand for larger premises will come under pressure, however.
Despite the lack of supply, industry participants are optimistic about the future, although they see growth at lower levels in the coming years than it is now. Cushman & Wakefield foresees investment volumes likely to return to a 'normalised' level of €1.3bn to €1.5bn per annum.
Van der Baan believes the fundamentals are on the side of investors. "For the coming years, we see a positive outlook for sure. There is huge demand coming from tenants, which means the outlook is still very favourable. It takes time, especially in a densely populated country like the Netherlands, to build new houses."
But van der Baan also says that investors need to decide when it's worth making an acquisition, and when it isn't, given that some assets might be overvalued due to increasing competition. "You can always outbid everyone, but you have to ask yourself if you are just a collector of real estate or an investor of real estate. At the moment, I think for outsiders coming into the market who are making direct investments, it's going to be very difficult."
Residential UK: On the move
1

2

3

4

Currently reading

Residential Netherlands: Opening the door

5