There is no let up in demand for high-quality residential developments from global investors, says Russell Handy
When compared with the UK, there has historically been less attention paid to Germany's more mature private rented sector (PRS). With a strong culture of renting, German residential property still attracts global capital. However, investment has slowed recently as a lack of product has affected trading.
About €7.2bn was invested in Germany's residential sector in the first nine months of this year, 61% below the €11.3bn posted in the first three quarters of 2015, according to CBRE.
There have, the advisory firm says, been no large transactions above €500m this year. Interest in the housing market remains high, CBRE says, with a concentration on smaller lot sizes.
Transactions between €20m and €50m rose 68%, and deals between €50m and €100m 56%.
"Tight supply in the market for housing portfolios is ongoing," says Konstantin Lüttger, head of residential investment at CBRE Germany. "We are registering a growing interest in property development investments. Investor demand here cannot be fully satisfied either, due to restricted property availability."
While 70% of registered investment volume is accounted for by existing stock, property developments are becoming increasingly important, the firm says, with almost one third of the investment volume in the first three quarters of 2016 attributable to new construction projects.
Capital invested in project development rose by 35% to €2.1bn in a year-on-year comparison.
Morgan Stanley Real Estate Investing is paying €1.1bn for a residential portfolio being sold by BGP Holdings – the investment manager is reportedly acting for China's sovereign wealth fund CIC.
Originally a joint venture between GPT and Babcock & Brown – which liquidated in 2009 – the BGP vehicle owns 16,000 residential units.
The portfolio's spread – across Berlin, Kiel, Rendsburg and Cologne – will no doubt vary in rental levels and quality.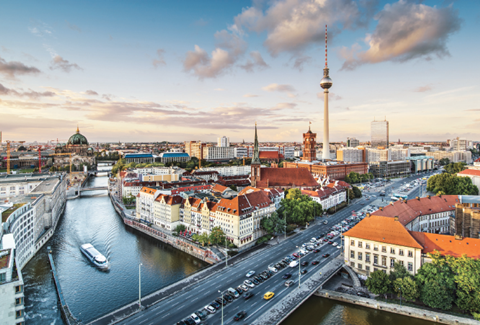 Rod McGeoch, chair of BGP Holdings, said prior to the sale the firm had focused its efforts on the portfolio, increasing asset values through renovation and reducing vacancy, as well as increasing rents.
Patrizia Immobilien recently bought a German residential portfolio from Bouwfonds Investment Management.
The Augsburg-headquartered fund manager invested in the 223,000sqm portfolio for close to €300m, according to sources.
The deal was said to have been made for a major German insurance company which, according to media reports, is Barmenia.
The portfolio, made up of about 3,500 apartments, is spread across 50 properties in 25 major German cities.
"There continues to be high demand for good-quality rental accommodation in Germany, as proven by the high occupancy rate across this geographically diverse portfolio," says Philipp Schaper, group head of transactions at Patrizia.
The portfolio, originally owned by several private Dutch investor funds, is 97% let and includes properties in North Rhine-Westphalia, Lower Saxony and Bavaria.
Berlin's growth potential
The German capital remains in favour with investors. Hines recently bought a site in the city on which it will build its first PRS scheme.
The manager is financing the construction of 530 rental apartments on the 231,424sqft Wohnpark Südkreuz scheme, in the city's Schöneberg district.
The city's rent levels are still considered low enough to offer scope for growth, albeit at a lower pace than during the last decade.
In a jointly published 2016 Housing Market Report for Berlin, CBRE and Berlin Hyp noted that the average asking rent has, however, been falling in recent years.
Growth eased to 5.1% in 2015, following a 6.9% increase in 2013 and 6.6% in 2014.
The report says the slowdown cannot be attributed to Berlin's mietpreisbremse – the capping of rents on re-letting introduced in June 2015.
"The reasons for the weaker rental growth become clear on examining the extremes of rental value," says the report. "In the lowest segment, the median asking rent rose by only 2%.
"The potential tenants of such apartments have only limited purchasing power available to pay rent, no matter whether they have to find the money from their own budgets or whether the state pays them as benefit recipients."
In both instances, the report says, there is a risk of vacancy if "excessive asking rents outstrip the individual's ability to pay.
"General pressure on the Berlin housing market still does not appear to be strong enough to force wealthier people into this lowest segment, which would make higher asking rents feasible."
ADO Properties, which is solely focused on the city, invested €218m in August. The firm bought 1,905 units in the German capital, of which 1,877 are residential and 28 commercial.
Annual rent from the units, in the Schöneberg, Wilmersdorf and Neukölln districts, totals €10.2m.
Current rents of €6.20 per sqm per month are expected to rise to €7.30 per sqm per month.
"Berlin is still growing and demand on the housing market is growing with it," says Henrik Baumunk, managing director at CBRE and co-author of the firm's jointly compiled report with Berlin Hyp. "As an investment location, Berlin continued to be in focus last year.
"In the wake of the continuing sharp increase in population and positive impetus in the local economy, the city is still sought after as an attractive investment location."
CBRE predicts that about €10bn of German residential investment is "realistic" for 2016.
Residential US: Renting the American Dream
1

2

3

4

5

6

7

8

9

10

Currently reading

Residential Germany: Build it and they will come

11

12

13