Cost leakage can have a large impact on returns, particularly in short-lease markets like the UK. John Danes explains
Aberdeen Asset Management has carried out an analysis of how much income European residential property investors lose on costs. Such costs – or leakages – can have a big impact on returns, and our analysis suggests that UK landlords can learn much from their German peers.
The average difference between an investor's gross rental income and their income after costs have been deducted – the 'gross-net income leakage' – is about 15% for modern properties in Germany, 20% in the Netherlands and a staggering 27% in the UK. Bringing down this leakage, which includes repairs, letting costs, management fees and vacancies, can make a huge difference to returns.
Part of the reason for the scale of the leakage in the UK is the tendency of landlords to try to maximise rents. They offer short leases to raise the rental price to the market price more often. But short leases mean that they turn over tenants more often than their European peers. It also means they incur significantly higher costs.
Tenants on short leases are less likely to look after a property than those who know they will be there for a long time. So landlords have to spend money in refurbishing properties between lettings. The regular turnover of tenants involves administrative costs like finding new tenants, and it inevitably involves periods when the property is unoccupied, with an obvious impact on a landlord's income.
The UK has much to learn from Germany where incomes can be 50% larger if tenants stay for 10 years instead of one. German rent controls cap rental increases each year and so discourage landlords from changing tenants in quick succession to try to capture the maximum market rent. This promotes longer tenancies that mean the property is vacant less often and costs on fees and refurbishment are incurred less often. Longer leases mean tenants feel more secure and treat the properties better, so refurbishment costs are lower when tenancies do end.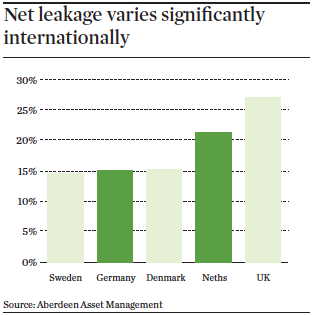 There are other things that landlords can do to reduce leakages. The nature of the property matters. Large purpose-built blocks with over 100 units are efficient to operate. Their maintenance costs are low because they are new and well-designed. Vacancy rates are lower because each apartment's bedrooms are similarly sized – making it easier to let since there are no arguments among would-be flatmates over who will be forced to put up with the one tiny bedroom.
Having so many apartments in one place lowers management costs. For example, landlords can employ a handyman rather than pay a third party each time issues need attention. Concentrating on high-quality apartments also minimises bad debts and repair costs, since it attracts tenants who pay on time and look after the property.
In Germany, on new blocks such as these, landlords can lose as little as 15% of their gross income if they are well-managed. This compares with an average of over 30% for the German listed sector. Reducing leakage from 30% to 15% translates into a growth in net rental income of more than 20%.
At the other extreme, leakage for older stock that is not purpose-built can become a flood, reaching as much as 60%.
An alternative tactic is to buy properties with high gross-net leakage from inexperienced or inefficient landlords, in the knowledge that there is ample room for reducing it.
Technology can help to reduce leakages. The time spent showing prospective tenants around can be reduced through online tours and key fobs for automatic access. Lettings can be managed more efficiently by property-specific websites and using concierges in buildings to give access to prospective tenants. This is already being done in Denmark and the UK.
Energy costs can also be reduced using technology such as remote-controlled and automated demand and supply systems. This is especially important in the Nordic countries where large amounts of energy is required for heating at a significant cost to the tenant or, more often than not, the landlord.
Historically, residential property investment has often been primarily about speculation: buying low to achieve a strong gross yield, and selling high at the end. But it is also about efficiency. Sometimes in life it is not just about what you gain, but also what you do not lose.
John Danes is head of continental European property research at Aberdeen Asset Management
Case study: Stratford High Street
Aberdeen Asset Management acquired 180 Stratford High Street in 2015. Near the site of the London Olympics, the 27-storey building consists of 178 rented apartments and two retail units.
Too many of the apartments were not let out or were let for significantly less than the market rate when it was acquired. By decreasing the number of vacancies, the rent roll was increased from £2.7m (€3m) to £3.6m.
Additional services have been provided to make tenants' lives easier. The building now contains a cold room where their supermarket deliveries can be stored during the day. Dry cleaning can be left in secure booths and are returned the next day. There is a 24-hour concierge, an on-site maintenance team and the whole building is covered by one Wi-Fi network.
The idea behind these services is to make renting a more pleasant experience for tenants, leading to tenants staying longer and a more stable income for the owner.
Aberdeen maintains a database of the thousands of rental units that we manage in major European cities. This allows it to easily refine rents so that they are priced fairly according to the market rate and tenants' expectations.