There is a two-speed housing market and the biggest cities are pulling away from the third and fourth tiers. Sharon Hayes reports
As if to reflect the country's economy, China now has a two-speed housing market, distinguishing the more prosperous first and second-tier cities from the less-well-off third and fourth-tier cities.
The largest cities are recovering from oversupply as their populations grow and their economies thrive on an expanding services sector, the new driving force of China's GDP growth. The lower-tier cities, still tied to low-value manufacturing, are withering as they struggle to deal with shrinking populations, economic slowdown and an overhang of unsold housing stock.
Economists generally believe it will take several years before China's massive overbuilding in the early years of this decade is absorbed – if ever.
China's housing vacancy (completed but unoccupied) rate has hovered around 15% in the past five years, according to a comprehensive report by the Hong Kong-based brokering firm CLSA. This is equivalent to 10.2m empty units, or 22% of China's household savings locked into unproductive assets, says CLSA, which conducted a massive on-the-ground study of 810,000 units in 609 projects across 12 Chinese cities in 2014.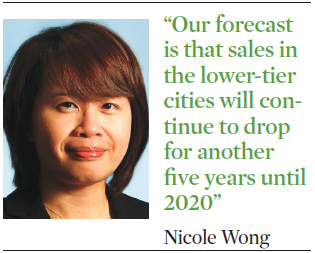 Nicole Wong, CLSA's head of regional property research, says the analysis remains valid today because "not much has changed" in the tier-three city housing market since the report was published. "Our forecast is that sales in the lower-tier cities will continue to drop for another five years until 2020," says Wong.
With real estate, including related upstream and downstream activities, accounting for between 20% and 33% of the Chinese economy (according to various estimates, including those of the International Monetary Fund), Beijing is throwing resources at the real estate sector.
Analysts tell IPE Real Estate that the government has a two-pronged approach to prop up China's housing industry. "It is using two tools – one to give buyers a helping hand and the other is get banks to take on more risks," says one source, adding cynically that, ultimately, any financial exposure is borne by the country's balance sheet.
Tacitly, according to observers, the authorities have instructed China's state-owned banks to continue funding developers. This helps explain why there is little distress or bankruptcy among Chinese developers.
It is stimulating sales by relaxing restrictions on purchases and making mortgages more accessible to buyers.
As part of this policy mix, China's state pension fund – which had net assets of C¥3.5trn by the end of 2014 – is being encouraged to offer mortgages at a lower rate than bank rates.
"Pooled mortgage lending is new for China. It shows the government is trying to turn around the housing inventory problem," says Wong.
She says mortgages from the state pension fund will be priced at around 4.5%, versus the 5.5%-6% charged by banks.
China has had six interest rate cuts since November 2014. In the latest cut in October 2015, the central bank, the People's Bank of China, lowered the benchmark lending rate by another 0.25% to 4.35%.
The market widely expects PBOC to cut interest rates by another 50bps and the required reserve ratio by 150bps before June this year.
The focus is on 80 or so tier-three cities, which are in an economic quagmire. The level of vacancy in these cities is 19%, compared with 10% in tier-one cities and 13% in tier-two cities, says CLSA.
The outlook for a housing recovery in third and fourth-tier cities is bleak.
The CLSA research team expects sales in third-tier cities to shrink by 60% by 2020. In contrast, over the next four years, sales in first- and second-tier cities are expected to grow by 6% and 13% respectively.
China has four tier-one cities – Beijing, Shanghai, Guangzhou and Shenzhen. Twenty-six provincial capitals plus the two municipalities of Chongqing and Tianjin are classified as tier-two. The rest are tier-three and lower and most of these have a population of at least 5m.
The crux of the challenge facing China's third-tier cities is population outflow as young educated Chinese migrate to large cities for work. The key economic activities in these cities are low-value manufacturing and mining – both industries facing serious headwinds in recent times.
Low-value manufacturing is affected by the relatively strong Chinese currency and rising labour costs in China, forcing an exodus of manufacturers to lower cost countries in Asia, the Middle East and South America.
Joe Zhou, head of research, China at JLL, says China has a divergent housing market, and that prices in tier-one and tier-two cities are improving – rising conservatively by 5-10% in the first three quarters of 2015, while the tier-three and teir-four cities are still facing downward pressure on pricing.
David Ji, head of research and consultancy, Greater China, at Knight Frank, says that year-on-year price increase in Shenzhen was 40.5%, followed by Shanghai with 12.7%, Beijing at 8.1% and 7.1% in Guangzhou. By comparison, prices in the top 10 third-tier cities were down from 6.5% to 4.4%, he says.
In response to continuing "solid demand", Ji expects residential prices to rise by 5-8% in tier-one cities and by 1-4% in tier-two cities in 2016.
Economic growth will take care of surplus housing inventory in the bigger cities, but some believe that small and poorly-built stock in smaller cities might never be sold.
Unsurprisingly, Beijing continues to support local governments to alleviate the financial burden imposed by the housing glut.
Wong says that, traditionally, local governments have sold land to fund their budgets. She says the central government is offering financial support to local governments, including assumption of some of their debt, to give them breathing space to deal with housing oversupply.
"Now, local governments are able to look at their own property markets and to reduce supply of land for a couple of years to allow inventory to be absorbed," says Wong. She adds that the central government is trying to encourage rural people to buy their own homes by lowering the required deposit from 30% to 20% of the purchase price.
CLSA's research found that affordability for both upgraders and first-time buyers does not seem to be an issue.
Zhou says the Chinese housing market is policy-driven and that market reaction to policy changes by Beijing is swift and dramatic. He says sales rose substantially by 33% year-on-year in the 20 major cities in China in the first three quarters of 2015 following implementation of stimulatory policies in the previous 12 months.
The government first moved to assist first-home buyers by allowing the banks to discount mortgage rates by as much as 30% to the benchmark rate in the second half of 2014.
"But in 2015, we saw a 38% quarter-on-quarter decline in sales in the first quarter," Zhou says. "This can be explained. The first quarter of each new year is traditionally a slow sales period because of festivities, principally China's spring festival.
"By the end of March (2015), the government had handed down further easing policy targetting upgraders. The down payment requirement for the second-home buyers was slashed from 60-70% to 40%. Sales perked immediately in the second quarter of 2015, rising by 57% quarter-on-quarter as a result."
Chinese research has indicated a deep pent-up demand to upgrade among the bulk of the population living in apartments smaller than 100sqm and in older housing built in the 1980s and 1990s. Chinese developers are aggressively ramping up construction in the high-tier cities.
Wong says the price of land in these cities has risen more than the rise in apartment prices. Her team believes China's housing bubble 'can deflate gently' and that doomsday forecasts on the housing sector are overplayed.
China's richest man on 'collapsing' market
The so-called collapse of China's housing market is all in the mind of westerners, according to China's richest man, Wang Jianlin, chairman of the Dalian Wanda Group.
"You need to be in China, not in the US or UK, to be talking about the Chinese housing market," Wang said in response to questions during a panel discussion at a financial forum in Hong Kong in January. "If you look at the volume of transactions, you will understand that some media reports are incorrect."
He tells IPE Real Estate: "You need to categorise the markets. Beijing and other tier-one cities together with the second-tier cities make up 36 cities and they account for 75% of all property transactions in China.
"First-tier cities have no problem, while tier-two cities have 12 months of inventory. Third and fourth-tier cities require three to four years to digest its oversupply."
Regarding China's property market generally (depending on the market sector), Wang believes there is structural oversupply in commercial property, although, in some areas, there is also a lack of supply.
"If you look carefully, there are some cities which don't even have a shopping mall or a cinema, which is why we stopped focusing on selling property two years ago," Wang says. "We now focus on management of property. "
Wang said the trend of Chinese companies going offshore is now irreversible. He expects Chinese enterprises to embark on more mergers and acquisitions overseas, and his own group will be among them.
"If I don't do it, others will," he says, adding that the Wanda Group current owns US$10bn in assets overseas. "We need to change our business model, to acquire sports and entertainment enterprises."
In January, Wanda announced that it would buy Legendary Entertainment, the US-based producer of Godzilla, for US$3.5bn. It followed the acquisition of Western entertainment and sporting companies, including the British luxury boat maker, Sunseeker, and the US cinema chain, ASMC Entertainment Holdings.
Wang told the forum that, by 2020, he expects the group to generate some US$100bn in revenue – and more than 30% of that will be from its overseas operations.
"Last year, our earnings were already C¥300bn," he said.
Residential UK: On the move
1

2

Currently reading

Residential China: A tale of tier cities

3

4

5