Growing city clusters in China and populations in ASEAN countries will create investment opportunities, writes Geoffrey Wong
China is undergoing massive urbanisation. But, more importantly the country is focusing on the development of big city clusters. This is linking bigger tier-two and tier-three cities with smaller tier-four cities and towns via modern infrastructure.
As the government looks for ways to develop these clusters in the central, western and northern parts of China, we see strong development potential over the next 10 to 15 years.
Taking five clusters in China – Chengdu-Chongqing, Guangzhou-Shenzhen-Foshan, Shanghai-Nanjing-Hangzhou, Beijing-Tianjin-Hebei and Greater Wuhan – we expect residential gross floor area (GFA) to hit 286m sqm by 2020, a 4% compound annual growth rate (CAGR). In 2014, these top five metro areas achieved approximately 226m sqm residential GFA sales (21% of the country's total) and ¥2.16trn (€293bn) total residential sales (35% of total), according to Citi Research.
Assuming that urbanisation levels reach about 70% in 2030, we may see 2.5m new households (three people per household) a year in these five metropolitan areas. Conservatively, if we assume that only 10% of the newly urbanised residents buy a flat, we would have new demand of 250,000 units, or 25m sqm every year.
Including organic household formation, mainly from new marriages and upgrades, Citi Research estimates housing demand in the five metro areas will reach about 300m sqm GFA by 2030, implying a 3% CAGR (note that we only assumed that 10% of newly urbanised dwellers will own property).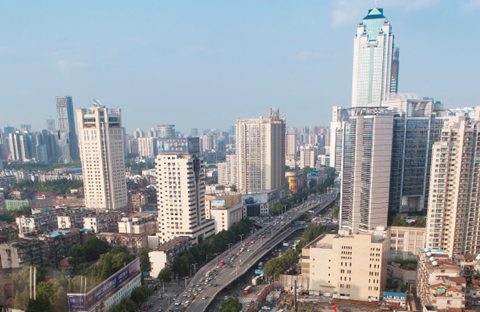 While high-income countries have been highly urbanised for several decades, upper-middle-income countries have experienced the fastest pace of urbanisation since 1950.
For high-income countries, a majority (57%) of the population already lived in urban areas in 1950 and urbanisation is expected to rise from 80% today to 86% in 2050, according to the UN.
By contrast, in today's upper-middle-income countries only 20% of the population lived in urban areas in 1950, but these countries urbanised rapidly and are now 63% urban. This percentage is expected to rise to 79% by 2050.
We believe countries such as China, where middle-income and upper-income growth has risen rapidly in the past decades, will experience rapid urbanisation and rapid growth of gross national income in the next 10 to 20 years.
Interestingly, Chinese developers exposed to new urbanised clusters will benefit from higher growth due to market consolidation. By 2020 – assuming an urbanisation rate of 60% – the market share of the top 10 property companies could grow to 45% in the top five metro areas and five regional hubs.
We see the nationwide market share of the top 10 developers being about 35% by 2020. As such, we believe the top 10 developers can grow their aggregated sales of ¥1.069trn in 2014 to ¥2.619trn in 2020, implying about 16.1% CAGR.
The Association of Southeast Asian Nations (ASEAN) Economic Community (AEC) represents a vision of regional economic integration through establishing a single market supporting the free flow of goods and services, including labour. The UN estimates that this regional integration generates a huge market, to the tune of over 600m people, with a combined GDP of some $2trn (€1.8trn).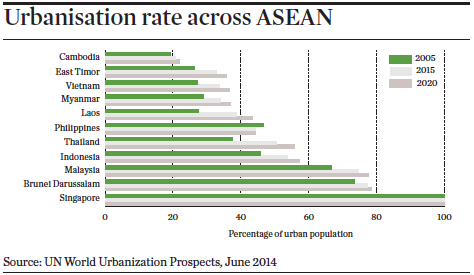 When fully operational, the AEC will have the potential to create 14m new jobs between 2015 to 2025 and increase the annual growth rate in the region to 7.1% in 2025, according to a 2014 report by the International Labor Organization and the Asian Development Bank.
With the potential integration, more opportunities will be created in key cities within ASEAN, spurring faster labour growth and demand for housing.
With the exception of Hong Kong and Singapore, Asian urbanisation levels are still below the global average of 55%. Today, the most urbanised regions include Northern America (82% living in urban areas in 2014), Latin America and the Caribbean (80%), and Europe (73%). This is in contrast to 48% in Asia and 47% in southeast Asia.
ASEAN regions are expected to urbanise further, with an additional eight million people per year making the rural-to-urban migration across Southeast Asia from 2015 to 2020. This will help push urbanisation for the whole region to above 50%, from 47% today.
Based on data from the UN, the population of ASEAN countries will increase from 633m people in 2015 to 717m in 2030 and 741m people in 2035, a rate of 0.85% per annum. In 2030, three countries in ASEAN will have a population of over 100m people: Indonesia (284m); Philippines (127m) and Vietnam (103m).
These countries, together with Laos and Malaysia, have young populations supporting housing demand. Indonesia stands out for its high urban population growth – 2.7% per year over the past five years, which is close to China's 2.9%.
Assuming the average size of a household shrinks from 4.0 in 2015 to 3.8 by 2018 (continuing the past trend), the urban household CAGR for the next three years will be, at 4.1%, the highest in the region.
The Philippines stands out due to its high wealth growth (median disposable income per household has grown at 3.7% CAGR in the past five years, one of the highest in the region), young population and the lowest urbanisation rate in the region at 44.4%. Together with higher disposable income, these factors will provide 3.1% upside to current urban household growth.

Overall, the urban population of ASEAN countries is likely to grow at an annual rate of 2-3% over the next 10 years, and the rate will be faster in mega-cities such as Manila, Cebu, Bangkok, Jakarta and Surabaya.
Geoffrey Wong is head of global emerging markets and Asia Pacific at UBS Asset Management