The Dutch residential sector is attracting overseas attention as market fundamentals improve following a shake-up in housing policy, writes Jaap van der Bijl
A radical shake-up in government housing policy to remove distortions in the market and positive shifts in the sector's underlying fundamentals should propel Dutch residential assets onto the international stage, new research has shown.
Until now, Dutch residential assets have mostly been the preserve of domestic pension funds – which have sizeable holdings in the sector – but if the Netherlands can attract the capital flows to boost the supply of stock, there is no reason why it cannot match the appeal of Germany and the UK, where foreign investment in housing is 'hot'.
There is no reason why it cannot match the appeal of Germany and the UK, where foreign investment in housing is 'hot'
In Germany, where residential property has attracted large inflows of private equity recently, housing has achieved the almost mythical status of 'beton-gold' (concrete gold) as institutions seek returns in a market where government bonds and cash yields have been virtually zero. Average German house prices have risen by 31%, and in Berlin by 42%, over the past five years.
The report 'Dutch Residential Investments in a European Perspective' by Professor Piet Eicholtz of the University of Maastricht for consultant Finance Ideas, was sponsored by eight Dutch residential fund managers: Altera, Amvest, ASR, Bouwinvest, CBRE Global Investors, Delta Lloyd, Syntrus Achmea and Vesteda.
It found that a number of important regulatory and market trends have converged to reshape the market in 2014, reinforcing the basic investment characteristics of the class.
First, the house price-to-rent ratio – the residential property equivalent of the equity price-earnings ratio – which shows the price an investor has to pay for annual cash flows the investment generates, has fallen back to its long-term average. Since 2008, average nominal house prices have fallen for five years in succession and are now about 18% lower than before the financial crisis, while rents have risen and most likely will continue rising. This indicates that the price correction has moved the market from being expensive in the boom period to 'fair value' now, from an investment perspective.
Second, under new legislation introduced in January, the regulated rental sector has to a large extent been liberalised for tenants paying €700 and above per month. Social housing providers who manage 71% of Dutch rental housing, or approximately 2.25m dwellings – 94% of which fall into the regulated rental sector – now have to focus on properties for lowerincome earners below this benchmark, forcing them to sell part of their housing stock to other investors.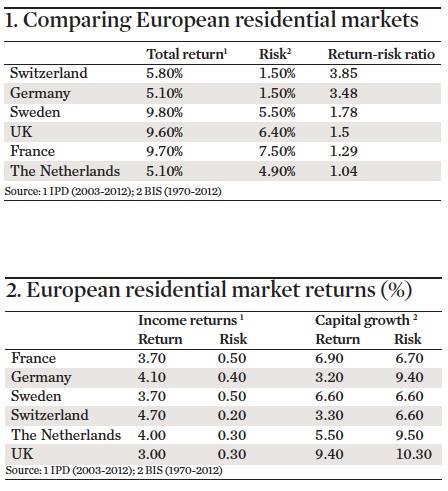 The report estimates that these legislative changes may make a large contribution to projected growth in the number of dwellings in the unregulated rental sector of up to 200%, or 695,000 homes, over the next 20 years, while the regulated market is projected to decline by 10% to 16%.
Last, further boosts to demand in the unregulated market could come from less favourable tax treatment of mortgages, measures to close the gap between regulated and free-market rents and future upward pressure on Dutch residential prices from a shortfall in supply.
Since the onset of the financial crisis, the construction of new housing has fallen from a peak of about 80,000 per year in 2008, to under 60,000 in 2011. Meanwhile, demand for additional residential units is expected to rise by around 540,000 over the next 10 years, mainly due to the number of elderly single-person households increasing, as well as other social changes, such more students and young people leaving home.
There are only six European countries that have sizeable institutional investments in residential as part of their total real estate allocations, according to Investment Property Databank (IPD) data: The Netherlands (49%), Switzerland (47%), France (12%), Germany (12%), Sweden (12%) and the UK (4%).
The analysis of residential assets in these countries drew the following conclusions.
Dutch residential investments in the IPD database outperformed stocks, bonds and listed real estate in the Netherlands over the long term (25 years). They generated average annual total returns of 8.6%, with a standard deviation of 6.4% and a return-risk ratio of 1.34.
The Netherlands was the least volatile market for total returns during the past 10 years, with a return-risk ratio of 1.04. While total returns for residential property were superior in the UK, France and Sweden, at an average of just under 10%, these were accompanied by relatively high volatility.
In Germany and Switzerland total returns were similar to the Dutch market, but volatility was also higher, largely due to the substantial price correction in the Netherlands over the past five years.
Residential property delivered steady income streams in the six markets studied. These returns varied between 3% in the UK and 4.7% in Switzerland, with the Netherlands almost in the middle at 4%. The low standard deviation in all these countries shows that the income streams are very persistent.
Residential real estate has the highest correlation to inflation among all asset classes studied and this increases as the investment time horizon lengthens. Only short-term government paper comes close in terms of the inflation hedge potential. Bonds, stocks and listed real estate do much worse in this regard.
Low correlations between housing markets in the different countries implies that large diversification opportunities exist, thereby reducing systemic risk.
Jaap van der Bijl is managing director of investor relations, Syntrus Achmea Real Estate & Finance