There is growing shortage of affordable housing for America's working middle class, writes Christopher O'Dea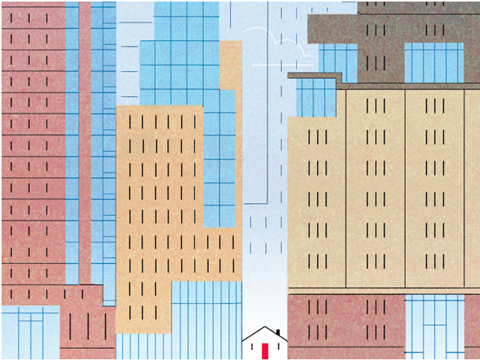 The lack of affordable housing in the US is reaching crisis stage, with some of the most severe shortages appearing in cities such as San Francisco and Seattle that have benefited disproportionately from the tech boom.
While there is increasing attention from the media and research groups, there appears to be no solution on the horizon. But that has not stopped some investment managers with expertise in housing finance from taking the lead, and early efforts demonstrate that it is possible to mobilise significant institutional capital. It is going to be needed. Tax reform in the US has reduced the value of tax breaks that supported construction of affordable housing, and direct government support is shrinking.
Urban communities are becoming sharply delineated along income lines, and more Americans are falling into the affordability gap – even as many US gateway and secondary cities report top-line progress on measures of urbanisation, such as employment. In addition to the lowest income workers who live in public housing, middle-class workers are also struggling. The result is that in areas where most multifamily development, which is increasingly focused on class-A assets, is taking place, there is little housing being created at rents that middle-class services workers can afford. In some cases, marginal assets are being renovated to tap into the higher rent segments.
At a recent affordable housing seminar organised by the ULI, Tiffany Manuel, vice-president of knowledge, impact, and strategy at Columbia, Maryland-based Enterprise Community Partners, said: "Across every region of the country, we are facing major housing challenges." Manuel says these include surging costs and a lack of affordable options, displaced residents, and the need to revitalise distressed neighbourhoods where affordable options exist, but where no one wants to live.
The problem is big, and growing, says Inna Khidekel, a partner in the capital markets group at Bridge Investment Group. Affordable housing in the traditional sense in the US has focused on providing government funding for employees earning less than 60% of the median income (AMI) for the area in which they live, with most such funds targeting those earning 30-40% of AMI. But subsidised housing "is a small market and institutional investment in it is thus by definition limited", she says.
And the loss of federal tax breaks will result in the loss of nearly 235,000 affordable rental housing units financed by the Low-Income Housing Tax Credit over the next 10 years, according to Novogradac, a public accounting and consulting firm specialising in property. Khidekel notes that subsidised housing does not factor in the natural age and renovation needs of older assets, which require renovating every five to seven years, which counterintuitively leads to further obsolescence of existing housing stock.
At the same time, in a country where about 330,000 new renter householders are created each year, 62% of renters in the US earn less than 80% of median income for the area in which they live. That is the standard used by US banks in determining which communities qualify for capital under the Community Reinvestment Act that mandates banks to invest in revitalising communities, and by federal housing and housing finance agencies in programmes to preserve affordable housing.
"That's the biggest subset of US population, and this is the group that is the most at risk this cycle," says Khidekel. "This is the teachers, policemen, firemen, and public state workers, the bread and butter of US force work, and they are trapped on both ends. They earn too much to qualify for government-subsidised housing – what was traditionally called affordable – and too little to be able to afford market-rate housing because there has been virtually no new supply of anything but class-A luxury units in this cycle."
The same type of problem exists elsewhere. In the UK, CBRE Global Investors attracted nearly £250m (€289m) from investors for its first social and affordable housing fund, which will fund homes for households unable to afford to rent or buy in the open market. The open-ended CBRE UK Affordable Housing Fund was believed to be the first of its type in the market; the first close comprised 13 institutional investors, including social investment institution The Big Society Capital. The strategy aims to invest in social and affordable rented housing, shared-ownership properties, homeless hostels and housing for 'key workers', such as nurses.
By focusing on the working middle class, investors can make a difference by providing capital to a large segment of the US population being squeezed out of the housing market. To target this need, Bridge Investment Group created an innovative financing vehicle through an affiliate, Bridge Multifamily Fund Manager. The aim is to create housing for low-income and working people who earn less than 80% of AMI, without relying on government subsidies.
The transaction, the first of its kind, works in conjunction with Freddie Mac Multifamily. Under its existing MultiAsset Commitment facility, Freddie Mac will purchase and aggregate up to $500m (€444m) in loans over a one-year period to allow Bridge to acquire, improve and preserve workforce and affordable housing stock nationwide. After the one-year term, Freddie Mac will place the aggregated loans in a single securitisation, for which Bridge will be required to purchase the subordinate bonds. Commercial banks are involved as well, with Wells Fargo pledged to originate $400m of the commitment and KeyBank on tap to supply the remaining $100m.
Bridge has agreed that a majority of units in each property will be rented to those earning below 80% of AMI, and will remain that way for the life of each loan. The objective is to finance 20,000 units through this programme. The first asset to be acquired within this vehicle, a 352-unit multifamily community in Plant City, Florida, near Tampa, has 55% of rents affordable to those residents earning less than 80% of AMI, above the 51% required by Freddie Mac; at the portfolio level, about 70% of units lease at rents affordable to those earning under 80% of AMI. Bridge will manage the assets. The investment strategy aims to improve unit interiors and common areas, including a soccer field and revamped family areas. In addition, Bridge will construct an on-site social and community centre with the aim of enhancing the social mobility of tenants. The centre will be operated by Bridge's non-profit partner, Project Access.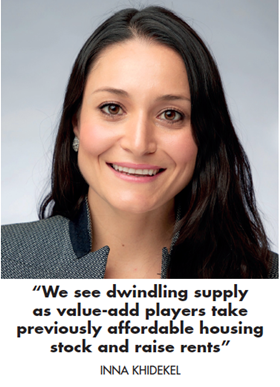 From an asset allocation perspective, "this is very institutionally investable", says Khidekel. "There's a lot of potential inventory that is at risk of getting taken out of the affordability range. By preserving and rehabilitating that housing and creating strong, affordable communities that provide residents with a very high quality of life at a lower cost, both in rent as well as in thoughtful social community programming on site that further reduces their cost of living, we're able to make a big difference." In doing that, Bridge expects returns to be supported by "a sticky resident base with high occupancies, low turnover, and high cash flows that are durable and of low volatility," Khidekel says. "On a risk-adjusted basis, that is a very attractive, recession resistant portfolio."
But it will not be easy. The market for multifamily assets in the US is "super competitive", Khidekel says. "We see dwindling supply as value-addplayers take previously affordable housing stock and raise rents."
Asset price inflation also contributes to the affordable housing crunch by pushing more renters into a category called 'cost-burdened', a measure of affordability based on the percentage of income a household pays for rent. In the US, renters paying more than one third of their income on rent are classified as cost-burdened. On that basis, about 50% of US renters are cost-burdened. Reducing the supply of affordable housing stock by renovating units to higher quality levels, as well as the reduction of government subsidies, will only accelerate the need for private capital targeted at affordable housing.
Currently, the 30% of income standard is a widely used and accepted measure. While simple and easy to implement, "the measure is not perfect", according to a study assessing the effectiveness of the standard by the Joint Center for Housing Studies of Harvard University.
The Harvard study looked at an alternative way of assessing affordability, by measuring residual income, a 'sliding scale' that varies with the size, composition, and income level of the household. It found that both measures produced similar results regarding the overall level of affordability, but that the 30% standard tends to overstate housing affordability challenges for
high-cost markets and for higher-income and smaller households. The study concluded that, given its simplicity, the 30% standard "remains a reliable indicator of affordability both over time and across markets". However, it cautioned that it might be necessary to adjust for the costs of other necessities when using it to compare affordability challenges among different income levels or household types.
Given the trends of housing costs in the US, it is almost certain that investors will be making more such comparisons as they decide how to allocate capital to this increasingly important part of the US residential market.
Global housing: Going up, and up
1

2

3

4

5

6

Currently reading

Housing: The squeezed middle

7

8

9

10