Post-war modular housing fell out of favour, but in today's residential markets investors are again looking at prefabrication. Christopher O'Dea
Institutional investors looking for the next big thing in residential property should glance in the rear-view mirror. Modular housing seemed on the brink of a boom after World War II. More than 70 manufacturers were active, and they produced more than 200,000 prefabricated homes. But returning soldiers flocked to America's new suburbs, opting for site-built homes that grew larger by the decade. But many now sit on the market unsold.
Rising house prices and lifestyle changes have revived demand for modular housing, the euphemism for homes built in a factory and transported to sites urban locations, or set on concrete slabs fitted with utility connections in suburban or rural locations.
The revival is being fuelled by several macro trends, according to Michael Hendrix, director of state and local policy at the Manhattan Institute. In a recent report for National Review, a US political journal, Hendrix details how modular construction can help address the affordable housing shortage in the US. The rate of new housing units being built every year is more than 20% below the average between 1975 and 2000, Hendrix says, and US housing construction last year fell 400,000 homes short of the total needed to keep up with population growth.
Compounding the crisis, Hendrix notes, construction productivity has barely budged for 80 years, and the residential-construction labour force has declined by nearly 25% since 2006. "Somehow we are getting worse at building new homes," he laments. "So we must build differently."
Up to 80% of modular-construction work can be done off-site, which dramatically lowers costs by substituting moderately skilled factory labour at $15 (€13.4) to $30 per hour for on-site speciality trade labour that can cost more than $80 per hour in gateway markets.
Building digitally-designed homes in factories can also save time. Hendrix estimates that a multifamily apartment building that would take up to 16 months to build traditionally could be built in about eight months using modular construction. He writes: "Shaving months off carrying and operating costs, along with having more-predictable timelines and budgets, helps more housing projects pencil out."
Institutional investment managers are finding that owning the land to accommodate modular homes is also an attractive opportunity.
"We started investing in the manufactured housing sector as a niche strategy almost two years ago, and have ended up spending a significant amount of time on the opportunity," says Soultana Reigle, PGIM Real Estate's senior portfolio manager for US value-add strategies. The investment proposition is that a PGIM-managed vehicle owns land, while residents rent a 'pad' and acquire their own manufactured home for installation on it.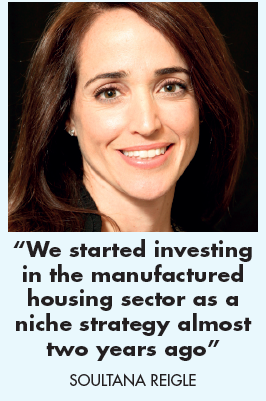 Manufactured-home properties are rated on a scale of one to five stars, and PGIM seeks to deploy capital to the upper three segments. "We're looking at the three, four, and five-star projects that are primarily age restricted," Reigle says. "It's a segment of the renter demographic profile that has the potential to generate significant, stable income from a property."
She adds: "These properties require low capital investment and have a high renewal rate and occupancy level, and we have found there is the ability to increase rent in a very reasonable way on an annual basis while maintaining affordability for residents." The long-term goal is to aggregate small assets into a diversified national portfolio. "From our perspective, manufactured housing is a very fragmented market," Reigle says. "There is a significant amount of individual ownership, relatively little institutional ownership of these assets."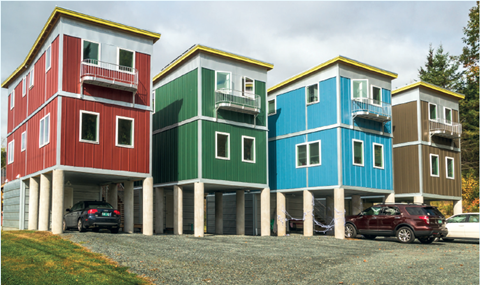 The strategy, which is managed as a value-add investment, is gaining momentum. "Manufactured housing has been in the headlines a lot more," Reigle says. PGIM works with a property operator to select assets and operate the properties once they are owned. Residents can buy a home from a manufacturer, or purchase one that is already on a pad. Geographically, there is a cluster of assets in Florida and a cluster in Arizona. Manufactured homes are "making sense with the 55 and older demographic profile," Reigle says, "and there's a lot of demand in those markets."
The modular home ecosystem is expanding, and includes manufacturers such as Katerra and FullStack Modular, which streamline the residential construction process by eliminating layers of architects, builders and contractors.
Hendrix predicts that the industry will snowball as efficiency gains release capital that can be used to boost productivity. But there will be obstacles, he notes. Modular home builders, still niche players in the US, face about 93,000 different building codes, which is a major hurdle for an industry that gets its competitive edge by mass-producing a standardised range of digitally-designed dwellings.
Transformation of the residential construction sector will take time. But as housing prices grow further out of reach for millions of Americans, Hendrix notes, "the smaller budgets and faster building times of modular housing could be an affordability game-changer".
Global housing: Going up, and up
1

2

3

4

5

Currently reading

Housing: The return of the prefabs

6

7

8

9

10