Living has become an important sector in the European real estate market, but there are still headwinds ahead. Maha Khan Phillips reports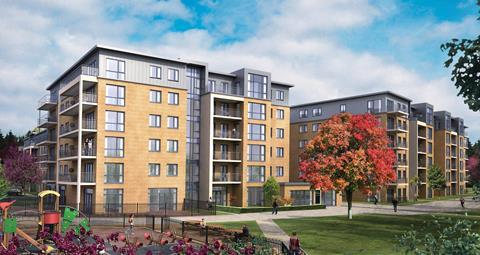 Europe's 'living' sector is alive and well. Demand for living assets, which includes student housing, co-living, multifamily, affordable housing and healthcare, increased by 10% in 2020, hitting €83.4bn, according to JLL, as investors searched for safe havens and stable income. Industry participants expect this figure to have risen significantly in 2021.
"The story for living is both a long-term and a short-term one," says Tom Colthorpe, associate, EMEA living research and strategy at JLL. "When you look back 10 or 12 years, it accounted for less than 10% of real estate investments in Europe and across the EMEA region, and a lot [existing stock] was not particularly new or fancy. In the pre-COVID period there was a slow realisation that… living was underpinned by strong fundamentals in terms of urbanisation and population growth."
The pandemic was a significant driver of demand, Colthorpe adds. "In the last two years, investor appetite has accelerated. In a period of economic discomfort and uncertainty, the rationale for living stands out even more. People need roofs over their heads and housing as an institutionally owned asset class came to the fore."
But not all sub-sectors are the same. Only 8% of respondents to JLL's survey had exposure to all of the sub-sectors that comprise living, although 27% had ambitions to allocate across the board, and 35% had experience in one or two sectors only. Investors see multifamily as the easiest sub-sector to access, followed by student housing, while healthcare is seen as the most difficult.
Peter Hobbs, managing director and head of private markets at Bfinance, says: "Most investors are looking for the typical multifamily or private-rented sector, with some exposure to student housing and senior living. That seems to be the sweet spot."
Douglas Crawshaw, global head of real estate manager research at Willis Towers Watson, says allocations to living could become too complicated. "There is a sweet spot for these kinds of assets, the right number of exposures to have. You have to take a thematic view and look at the themes, locations, and opportunities," he says.
For most investors, that sweet spot seems to be primarily core and core-plus. A record €97bn was invested in multifamily markets across Europe last year, according to JLL, a near 50% increase on the year before. Mega deals such as German-listed Venovia's €23.5bn takeover of rival Deutsche Wohnen contributed to the figure.
There are also signs that multi-family is pushing real estate investors into secondary cities and emerging markets, such as the UK where the build-to-rent (BTR) market is underdeveloped.
Hobbs says: "Standard rentals are the bedrock of living strategies. There are some specialist areas which are quite complicated and operationally intensive, like student housing and senior living."
Investment managers are accessing the market differently. Last year, DWS launched an open-ended real estate fund to target residential and living assets in Europe. Jessica Hardman, DWS head of European portfolio management and UK real estate, says the firm has been building and owning residential assets for several years, mainly in Germany. "Living was becoming part of our core and core-plus offering from a sectoral perspective, but six or seven years ago it started to go mainstream in other parts of Europe, and investors were asking about it and seeing some of the performance we were generating in Germany. We started to build out our ability in residential and student housing throughout Europe with strategic partnerships."
The firm allocates to residential, senior living, and co-living, and then adds a layer of ESG over its portfolio allocations. While investor appetite is significantly focused on multifamily, Hardman says returns are lower.
"The rented residential markets are still the largest part of the universe," she says. "That's most likely where you'll raise substantial fund sizes. It's the most passive return end of the market, so for us to deliver decent core or core return, we think you have to have a meaningful allocation to student accommodation, which is actually quite a mature sector these days."
Hines, which also builds and develops its own properties, has teamed up with Canadian investor QuadReal Property Group to establish a €1.25bn pan-European living joint venture targeting BTR properties, student accommodation, and serviced apartments.
Managing director Pavlos Gennimatas says the gross development value under control of Hines was €2bn in 2019, which has risen to more than €13bn. "Most of what we are doing is development, because we strongly believe that the product of the future is being designed and redefined now," he says.
William Ertz, senior director of fund management at Invesco Real Estate, which invests across the lifecycle of the market, from value-add to core and long-term holds, also makes the case for development. "It's important to understand flexible building," he says. "It's about the quality of the buildings and feeling safe and secure in your environment. It's ecological, it's living and it's inclusion. That's why we are really convinced we have to construct ourselves."
The COVID-19 pandemic caused the investment manager to reassess its product offering. "We asked our architects to reconsider floor plans. Where is the niche where you can place a desk and work from home?"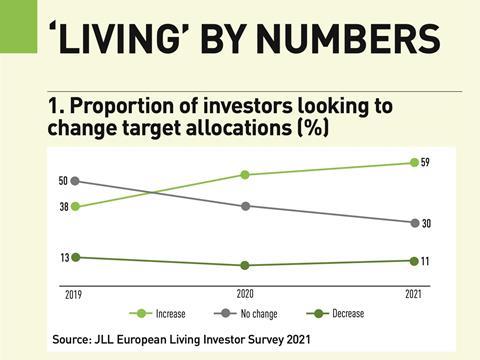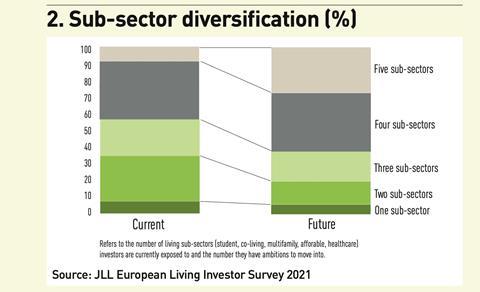 But development brings its own risks. Hobbs says: "A lot of the product just isn't there, so many groups are prepared to create new products. They say that there is no development exposure because it's all forward funded, but there is development exposure. With COVID there were a lot of delays in construction and their projects became less profitable. Construction costs are going up, some of the developers are going bust, so they are exposed even on the funding side."
Michael Keogh, director of research at Nuveen, highlights the need to work with the right partners to mitigate risk. "If you work with the right partners, you should be able to de-risk some of the long-term concerns and issues," he says. "It's all about, how do I get scale, about proof of concept, execution, land prices, affordability and operational concerns? But if you work with a good partner and a good team with resources and a pipeline, then you are in a strong position."
Another risk is regulation. Colthorpe says: "There is some regulatory risk on the multifamily side. Ultimately, most European markets have some kind of rent regulation. Regulation doesn't put investors off, but the question of regulation is whether it will change if there is an overzealous government."
Managers are aware that any allocation to residential needs to meet ESG criteria. "We are focusing on the human-centric aspect of the sector, how to offer better experiences," says Gennimatas. "That means looking at… wellness to cultural elements, the weather, individual cities and what the COVID pandemic has created. The biggest focus is on product definition and then how to operationally offer a better experience."
Hardman emphasises DWS's focus on air quality. She says: "To solve air quality, you need to be… improving the biodiversity of a building, and increase the health and wellbeing of the site… you need to bring communities together on a project. When you do that, tenants stay for longer and enjoy their space. That's a positive outcome from an ESG and business perspective."
Colthorpe believes that over time, investors will diversify across the living sector. "Diversification of your assets means diversification of risk as well," he says. "You've got slightly different tenants and different demand pools. The fundamentals are strong and operations are increasingly similar. It's just a question of finding the right investment at the right location."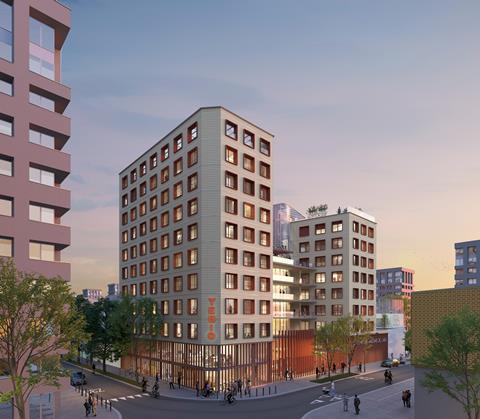 Net zero to energy positive
Catella launches the world's first energy-positive fund
In March, Berlin-based Catella Residential Investment Management (CRIM) launched the world's first 'energy positive' residential impact fund, which will invest €500m in buildings in France that produce more energy than they use.
The buildings are designed by Elithis Groupe to enhance solar-power generation, covering the roof and part of its facade in photovoltaic panels, and harnessing this to bioclimatic principles, such as optimising the building's surface area to limit heat loss and boost solar-energy gains.
Internal temperatures will be managed through automatic sunscreens and natural ventilations systems to cut costs and reduce environmental impact. Residents can take control of the climate of their homes through an app which 'nudges' them to act if temperatures are moving out of the desired range or artificial light is not needed in the room. Tenants who minimise or eliminate their energy bills earn an annual bonus, paid through the sale of the building's surplus electricity to the natural grid. Elithis has already created one energy-positive tower at scale in Strasbourg and achieved an 8% annual surplus of energy production over consumption.
So are the Elithis towers the future of living? Xavier Jongen, managing director of CRIM thinks so. "We need to put capitalism to work to solve some of the major issues that we have on the planet, and they include climate change and affordability," he says. "It's important that we find a solution that is scaleable. We can always find solutions through subsidies and taxation, but they are dependent on the political process. If we have a solution that doesn't need subsidies… that's a fantastic signal to other parties on where the market should be going and will be going. And the Elithis towers can be built for the same standard construction costs as a normal building."
Elithis was initially a consulting company specialising in ESG and design. Thierry Bièvre, president and founder, became a developer "out of frustration", according to Jongen. "He felt that developers and investors were aiming too low and decided to do it himself."
Bièvre himself highlights the urgency of finding new solutions. "We have to save the planet, and to do that we need to act far more quickly," he says. Building affordable housing is part of the solution, he argues. "We and Catella are aligned in our belief that lifting household purchasing power is very important for accelerating the decarbonisation transition and the well-being of our residents. Each building provides solutions for the major challenges facing our cities, from the environment and more equitable societies, down to the raw materials we use in construction. The formula at the core of our DNA allows us to erase household energy bills and empower economic affordability in rents."
The first energy-positive buildings to be invested in the fund are under agreement in Bordeaux, Clermont-Ferrand and Nancy. A further 20-25 additional sites have been identified across France, and the fund will target other European cities.
"The goal of the fund in 10 years is to build 100 towers. We have 25 development sites identified, but the ambition is to build not only in France but also across Europe. We need to find people and developers who share our conviction and ambition," says Emir Berkane, director of digital strategy and international development at Elithis.
Jongen acknowledges that investors have "psychological worries" about new technologies, even if they have been tried and tested. He says: "Why are we giving plots out to developers who are building traditional buildings which are totally out of date, and not addressing the challenges of sustainability and affordability?"
Europe's living real estate sector comes of age
1

Currently reading

Europe's living real estate sector comes of age

2

3

4

5

6

7

8

9

10

11

12