The Chinese government is keen to develop a private-rented housing sector, and institutional investors are more than willing to help. Florence Chong reports
In China today, as many as 200m people are estimated to require rental housing. Half of them fall under the label of millennials who, in particular, seek contemporary housing. China is witnessing the twin impact of an increasing housing affordability problem compounded by a second wave of urbanisation – with Chinese workers converging on a few large cities for better jobs.
There is also an economic imperative. Jimmy Phua, managing director, head of real estate investments for Asia at Canada Pension Plan Investment Board (CPPIB), says the Chinese government wants to develop a service sector.
"As China matures, the financial and technology sectors will become more prominent and the role of the manufacturing sector will reduce," he says. "These service-oriented jobs tend to be located around key nodes in tier-one cities in particular and near to transportation. So there will be greater employment mobility and therefore you really need to provide housing. Without that, you really can't develop the service sector to its full potential."
The Chinese government, aware that a rental sector is critical to solving the country's housing problem, is changing policies and offering incentives to kick-start a residential rental sector. Beijing has taken a three-pronged approach – personal tax rebates, concessional land for residential-for-rental projects and, depending on the municipality, allowing conversion of existing buildings to residential rental housing.
As a result, foreign capital has started to trickle into China. Among first movers are Warburg Pincus, CPPIB, GIC, Greystar, APG, Bouwinvest, Macquarie Capital and, most recently, Caisse de dépôt et placement du Québec (CDPQ).
JLL, the global consultancy, is undertaking due diligence for several foreign investors seeking direct investments in China. "Potential investors are looking at underperforming hotels or retail assets suitable for conversion into long-term rental housing," says Daniel Yao, JLL's head of China research. "These groups are likely to form club deals with two or three LPs [limited partners] and a GP [general partners] to manage their investments."
In March, CDPQ invested US$150m (€133.4m) with China's large institutional for-rent apartment operator, Mofang Apartments. It joined other investors, including Warburg Pincus and the Chinese institutional investor AVIC, injecting capital into this rapidly growing group.
Mofang already has a dominant position, and is poised for rapid growth. Chairman Alex Zheng says Mofang has helped usher in a new era for accommodation in China "by transforming under-utilised property into long-term rental housing for the people".
NOVA, another residential company, is also deepening its market penetration through a RMB4.3bn (€567m) rental platform established jointly with Singapore sovereign wealth fund GIC. The rationale for its investment? The "promising" outlook of China's fast-growing rental apartment sector, says GIC Real Estate's CIO, Lee Kok Sun.
GIC is attracted by China's changing demographic trends and cultural shifts towards city living as the key factors behind demand for rental housing, Lee says. "There is a large and growing population of renters within our target income group, with a limited supply of quality institutionally-owned and professionally-managed projects."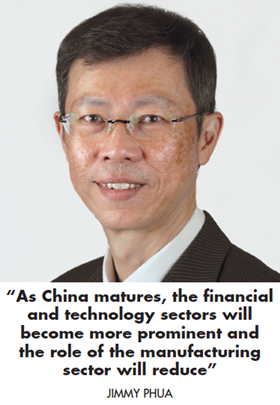 As an existing investor in China's residential and mixed-use market, the opportunity to move into long-term rental housing was not lost on CPPIB. Last July, in a 50/50 joint venture, CPPIB and Longfor Properties agreed to develop a US$817m rental housing platform.
Phua says the plan is to develop the platform over three years. "We have started on our first project in Shanghai, and have begun working on the next two projects. We pace ourselves not to jump in too quickly. We take a longer-term view and will look project by project, focusing initially on tier-one cities and a couple of second-tier cities."
While momentum has been building for some time, the real opportunity for investors only started to crystalise when the Chinese government increased support for the sector.
Yao lists three recent developments, which have coalesced to turn a promising market into a compelling one for investors. "In January this year, the government brought in tax incentives for renters," he says. "Depending on the city, renters can claim personal tax deductions ranging from RMB800 to RMB1,200 a month."
Some municipal authorities now also have the discretion to allow property owners to convert underperforming shopping malls or offices into residential-for-rent. "It is case-by-case," Yao says. "We are seeing hotels, retail and office buildings being converted into rental housing."
Another important government strategy, says Yao, is to allocate land for rental projects. "Since 2017, Shanghai has started to release what is termed 'R-4' land, zoned for long-term residential rental projects. Compared with regular residential land (R-2), the R-4 sites are sold to developers with prices around only 25% of R-2 sites. However, most of the R-4 sites [have been] sold to state-owned companies, so far."
The icing on the cake is concessional financing. "The government also gives incentives, which are not available to other sectors, through loans," Yao says. "The reason is that rental housing has social benefits."
He says precise statistics are hard to come by, but JLL research points to some 750,000 units being planned or under development and due to come to market over the next four years in six key cities, including Beijing, Shanghai, Guangzhou, Shenzhen, Hangzhou and Chengdu. Large listed Chinese developers – Vanke, Longfor and China Resources – are leading the way.
China has created two entry points for foreign investors. They can choose partnerships with Chinese developers or form clubs with an international operator to buy properties for conversion into rental stock.
US-based Greystar, the world's largest multifamily operator, has opted for the second route. In February it launched its China-focused fund, backed by APG, Bouwinvest and Macquarie Infrastructure and Real Assets (MIRA).
Using the US$450m raised in its first close, Greystar has purchased a centrally located building in Shanghai's inner ring for conversion into the first Greystar-branded rental apartments in China.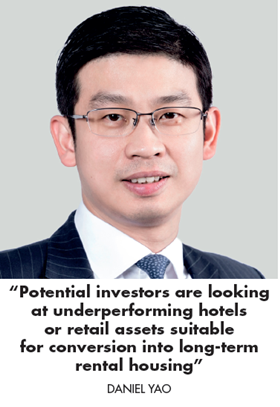 "We secured a site in a premium location at the end of last year," says Charles Ma, Greystar's managing director for Asia-Pacific. "We will renovate and reposition it. Our aim is to launch the product by the third or fourth quarter of 2020."
The US operator has already started work on positioning the Greystar brand in China. "We are looking at other locations near subway locations," says Ma. "We like scale within a single building and within a city. Scale lends itself to marketing, branding and so forth."
The typical acquisition will be in the price range of US$150m to US$250m, with Shanghai its preferred city. "There is enough opportunity in Shanghai alone," says Ma. "It is a city four times bigger than New York."
Greystar will eventually expand to Beijing and Shenzhen. The ambition is to build assets under management to a total US$2bn in two to three years.
China's second wave
China is going through its second wave of urbanisation, a natural progression as its economy matures, Ma says. "Unlike the first wave where people from rural areas flocked to cities, in the second wave they are congregating in larger cities."
As Ma sees it, major Chinese cities are evolving into global cities. "These cities are pulling in people from all over China and all over the world as well. The number of Shanghainese is now constant. Shanghai's population growth – at least 1-2% – is coming from all over the world and elsewhere in China. Mostly millennials, and they come for jobs.
"Shanghai is probably one of the most expensive cities in the world. I would say an average home in Shanghai in the inner ring – and I am talking about a 1,000sqft home – is priced at more than US$2m.
"So affordability for people who are moving into Shanghai and people thinking of upgrading becomes an issue. That is when the government says we need to think about quality housing from a rental perspective. And short-term housing is one way to resolve the affordability issue."
Phua says there is a big gap to be filled, and that, over time, this nascent sector will grow into a big, scalable industry across China. "Certainly you are seeing more foreign and domestic players entering the market," he says. "We do expect quick growth, but, like all things in China, even if growth is quick it will take time for the sector to develop, especially in second and third-tier cities.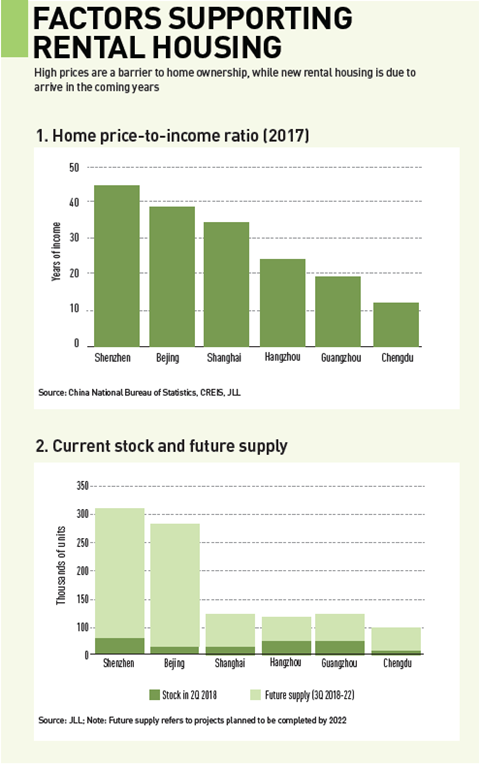 "The main constraint is land. Competition for land is so intense because everyone wants to be in the same locations. The ability to secure land at a price that will give you the return you need will be a key issue."
There will also be a learning curve for both the Chinese government and developers, Phua says. The government can be expected to fine-tune its policy, and developers will learn lessons and adapt as they gain experience.
Ma says Chinese authorities also see the benefits of having an institutional rental housing market from a town-planning perspective. It is easier to reclaim a block owned by a single owner than from hundreds of individuals holding small titles.
With rising affluence, Ma says, the Chinese are becoming more sophisticated consumers – and they are driving social change. "The Chinese are looking for higher-quality living and they don't mind renting. A decade ago, the average age of Chinese homebuyers was in the mid-20s, but, with later marriages, that has stretched out to the mid-30s."
Global housing: Going up, and up
1

2

Currently reading

China housing: Market makers

3

4

5

6

7

8

9

10