There are several ways to invest in physical assets underpinned by global tourism. Don't overlook the planes themselves, writes Christopher O'Dea
Airlines need plenty of capital to acquire the planes needed to meet the growing demand for air travel. Boeing forecasts that airlines globally will take delivery of more than 41,000 aircraft by 2036, doubling the size of the commercial airliner fleet, a production outlook that includes replacement of three quarters of the 23,500 commercial planes flying today. Boeing expects new production to include nearly 30,000 of the narrow-body, single-aisle jets – the industry's workhorses of the sky.
Each new single-aisle plane from Boeing and Airbus cost $40m-$50m (€34m-€42m). Already, manufacturers are pumping out at least 47 units per month of their marquee jets, says Keith Allman, senior analyst, commercial and esoteric ABS at Loomis Sayles. "That's basically a plane and half a day," he says.
Building the fleet will require new financing of $100bn-$120bn a year for the next 10 years, according to finance specialists. While the number of planes each airline leases varies, airlines on average own just over half of their planes (often with debt financing), with the rest leased from investors that own the aircraft. Underpinning that outlook is the prospect of a 4.7% average growth rate of revenue passenger kilometres (RPK) – a measure of airline economic growth – over the next 20 years. Boeing expects the pace of RPK growth to exceed global GDP between now and 2036.
"The fundamental driver of this industry is the desire of people to travel," says Cian Dooley, executive director and partner at Airborne Capital, an aviation finance specialist based in Ireland. With only two major plane producers, "what we have uniquely in our industry is a relatively limited and constrained supply situation", he says. While events such as 9/11 and the SARS outbreak have caused dips in air travel, "aircraft investments, historically, have presented as a very stable asset class with consistent returns", he says.
Also supporting the economics of aircraft finance, airlines have been remarkably effective at increasing load factors, the percentage of available seats filled by revenue-generating passengers, says Allman. The average load factor of 65% that prevailed in the early 1990s has steadily increased to 80% or above, according to Boeing. "It's not surprising if you feel like you are completely [squashed] in there when you board a plane now," Allman says. "You really are."
Such heavy use, which can reach 99% on single-aisle jets flying common routes, is a main factor in the favourable risk-reward profile that aircraft can present for investors.
There are three primary ways investors can participate in the growth of global commercial aircraft, says Thomas Juterbock, managing director at Barings Alternative Investments. They can finance a plane owned by an airline, invest through an aircraft leasing company that leases plans to an airline, or buy a specific exposure through a fund or special purpose vehicle that acquires aircraft and manages them.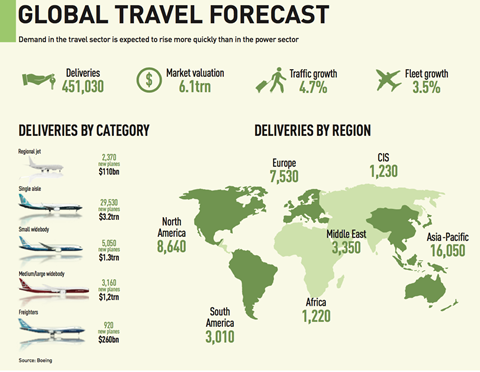 Barings, which invests in aircraft as part of broader transportation strategies, has recently formed a partnership with Genesis Aircraft Services to acquire and actively manage a fleet. To facilitate new acquisitions, Genesis will increase its capabilities to include the commercial, technical, portfolio and legal-management functions required to act as a full-service owner and lessor of commercial aircraft. "We believe the aircraft sector has attractive risk-adjusted returns relative to other kinds of transportation investment," Juterbock says.
The investment proposition for aircraft is similar to core infrastructure. For passengers, air travel has become an essential service, and for airlines, planes are mission-critical assets. "What attracted us to aircraft leasing is the fact that demand is predictable both from passengers and from airlines," Juterbock says. "Because you have that predictability, we believe you can lease a plane out and achieve good risk-adjusted returns," he adds. While risk-adjusted returns vary depending on the specifics of each transaction, on narrow-body aircraft returns could potentially fall by between 5% for new aircraft and 10% or more on older aircraft that require more maintenance as they age.
While new aircraft using fuel-saving technology such as ceramic engine parts are coming on the market, the mainstay of most airline fleets is 20-year-old technology which is reliable and safe. "As of now, our focus has been on owning and leasing narrow-body planes using current technology," Juterbock says. "Ultimately, I'm sure we'll get involved there. Customers like flying in newer equipment, but it's more expensive equipment. So the operating cost may be lower, but the capital costs are higher on the new technology."
Barings believes aircraft offer several advantages over other core infrastructure assets. Demand for air travel is expected to grow more rapidly than the demand for services like power, and complexity of designing airline routes and fleets favours the use of leases for flexibility. And because air travel and maintenance are heavily regulated, significant expertise is required to structure and monitor leases and other financing documents that govern the use of commercial passenger jets. Companies with high credit ratings, for example, might be able to pay for maintenance at the end of a lease, while weaker credits might be required to pay into a maintenance reserve account to ensure funds are available to pay for services.
The main product as it relates to investment in aircraft is the operating lease, says Dooley. An airline takes an aircraft from an investor for a fixed period, and pays a fixed, or floating, rental every month. The rental rates is not dependent on how many seats an airline sells, he notes, so the investor can rely on a certain payment every month over the course of the lease. That highlights a "bifurcation between the risks and rewards of operation of the aircraft, which lie with the airline, and the risks and rewards of ownership of the aircraft, which lie with the investors", Dooley says. "The investor's main concern is with the valuation of the asset, so it's a straightforward project in terms of investors not having to understand, beyond the credit of the operator that they're leasing their aircraft to, things such as aircraft maintenance or insurance."
A key feature in terms of asset allocation, specialists say, is that aircraft finance is conducted in US dollars, allowing investors to participate in a strongly growing sector without adding incremental foreign currency exposure to their portfolios.
While an operating lease is involved in many investment transactions, aircraft finance is "incredibly complicated", says Allman. He estimates that 40% of the total debt and equity financing for aircraft purchases originates from the capital markets.
Allman specialises in asset-backed securities (ABS), in which a pool of aircraft are sold into a securitised structure against which debt is issued. Aircraft ABS issuance reached a record $6.6bn last year. Airlines themselves take a similar approach, issuing enhanced equipment trust certificates (EETC), a debt security backed by a group of aircraft owned by the issuing airline.
EETCs are nearly always bonds backed by lease payments from single airlines. They have been a key source of aircraft finance in the US since the 1990s, but despite an issuance by Iberia in 1999, have been slow to catch on elsewhere. Originally backed only by aircraft in the pool, which can be claimed and re-leased in the event of default, EETCs allow investors to file a creditor claim against the corporate issuer, Allman explains, providing another level of security. Similarly, with an aircraft-backed ABS, investors only have recourse to the aircraft in the securitised structure to cover claims.
Currently, Allman says, investors in EETCs – which are priced based on the Treasury yield curve – have been demanding higher yields to keep pace with rising Treasury interest rates, whereas aircraft ABS yields, which are based on the swap market, are lagging. That presents a potential value opportunity to move into EETCs, which offer additional security and, traditionally, lower yields than ABS. As with many aspects of aircraft finance, determining whether any given security is a bargain can become complicated. The tranches within a security are all backed by the same aircraft, for example, but the performance of factors such as technology, remaining service life and financial characteristics such as amortization, can affect the tranches differently.
Understanding how such variations will affect each tranche, Allman says, enables investment managers to acquire exposures that tailor holdings in aircraft securities to a client's risk-return profile. As an investor, he says, "you can adapt to a broad spectrum of risk, as long as you have the in-house specialty expertise, because it all comes back to the collateral".
A pending EETC offering from United Airlines shows how innovation in the collateral backing certificates can help achieve a solid credit rating. In its first issuance since 2016, United is including new wide-body Boeing 777-300ERs and new-technology narrow-body jets in the collateral for $935m in 12-year certificates being issued to finance 16 aircraft. Comparable issuances from other airlines have not included wide-body jets, which are harder to redeploy than smaller planes.
But Moody's Investors Service says the mission-critical role of the big jets and new, fuel-efficient long-haul models to United's sprawling global network is credit positive: "Having the 777s and newest technology narrow and wide-bodies in the collateral drives down the probability of default of the certificates."
For airlines, travel demand is up, up and away. Investors seeking to take part in the expansion of the global aircraft fleet had best buy a ticket soon.
Global travel: Markets that move
1

2

Currently reading

Aircraft: Get on board

3

4

5

6