---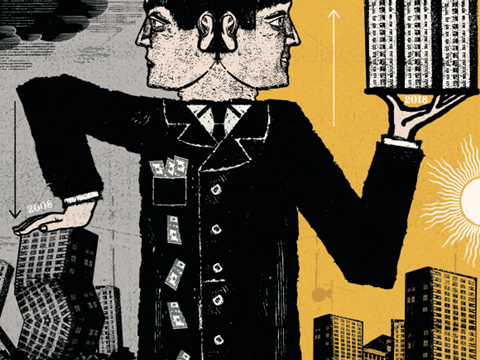 Real estate investors learned painful lessons 10 years ago. With signs of a correction yet to materialise, can the market escape a repeat of 2008? Christopher O'Dea reports
It is a well-known tale. Property investors chasing double-digit returns in the years before the global financial crisis took on leverage to maintain performance. Wall Street abetted the leverage boom by packaging residential and commercial property loans into innovative multi-tranche securities. When the credit markets ground to a halt, as the riskiest compartments of those bonds went bad, central banks injected unprecedented amounts of capital into the financial system.
Of course, the Federal Reserve's liquidity programme came too late to save Lehman Brothers. The latest theory is that it forced Lehman into bankruptcy for political reasons and misjudged the collateral damage that would result from letting it fail. The recession that followed forced it to
push interest rates to near zero. Property values declined sharply, creating a glut of non-performing property loans, which are still being resolved in some countries.
The crisis also spurred regulators to order banks to hold higher reserves, which reduced lending to the property sector. A decade on from the depths of the recession, leverage levels in commercial property remain below long-term averages. But with cap-rate compression slowing – and new sources of private capital providing debt at every level of the capital structure – it is prudent to ask two questions.
First: does leverage still pose a comparable risk to real estate investors today? If the answer is no and the leverage in the system is assumed to be under control, the second question is: will this market cycle – already unprecedented in its longevity – take the form an extended plateau, characterised by steady income returns? That is, rather than the value-crushing correction that investors have learned to expect after long periods of positive performance.
Both questions are more than academic for many pension funds, which have spent the past decade putting ever-greater amounts of capital to work in the asset class. Property became one of the few sources of income in the world of low interest rates.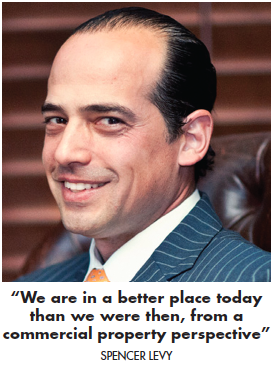 Real estate markets have a relatively positive outlook, but the process of normalising those historically low rates will test whether rental increases can keep pace with the rising cost of debt. A constructive sign is that managers are starting to lower return targets, while institutional investors are instilling disciplined use of debt.
To understand the market today, says Spencer Levy, senior economic adviser and head of research for the Americas at CBRE, you need to "start at the very beginning, which is, as they say in the Sound of Music, a very good place to start".
Levy led CBRE's restructuring practice between 2008 and 2010, a role that had him shuttling between the Federal Reserve, the US Treasury, the Office of the Comptroller of the Currency, and virtually every bank involved in commercial property lending as the crisis unfolded. "I was on the front line," he says.
Based on that experience, Levy believes two things should have been done differently to deal with the crisis. Most analysts now agree on the first point. "We should have saved Lehman, because it obviously led to a much greater cataclysm," he says. "It should have, at least, had a much more orderly resolution, similar to what we saw with Fannie and Freddie." The Federal National Mortgage Association (Fannie Mae) and Federal Home Loan Mortgage Corporation (Freddie Mac) were both taken over by the government.
A less common view, he says, is that the federal programmes to bail out financial institutions "were poorly executed". The property sector – and the economy – would have fared better if the government had taken the more direct approach used by the Resolution Trust Corporation in the aftermath of the savings and loans crisis in the 1990s.
"We took the bad assets out of bad institutions, sold them into the marketplace, and moved on," Levy says. "It certainly helped to accelerate the recovery to put those troubled assets into the hands of private developers who were motivated to make money," he explains. But after 2008, "a big reason why the economy never reached faster growth, both here and more notably in Europe, was because we never had these market-clearing events".
While the recovery has been prolonged, "we are in a better place today than we were then, from a commercial property perspective", Levy says. Capital markets have been strengthened, leverage is moderate and supply remains constrained, with construction in the industrial and multi-family sectors in line with demand for space.
Although rates are starting rise, Levy believes inflation will remain low owing to the existence of cheap energy – which few predicted, cheap money and labour stemming from increased population and savings, and cheaper industrial production resulting from automation and technology innovation. While CBRE's house view is that the market cycle is likely to last another year and a half, "it could go as much as four more years", Levy says.
An era of prudence
Leverage in the commercial property sector remains substantially below long-term trends. According to the National Council of Real Estate Investment Fiduciaries (NCREIF), leverage employed by the funds in the NFI-Open End Diversified Core Equity index has ranged from 15% to 34% of fund value over the quarterly series history beginning in 2000. In the second quarter of 2018, NCREIF reported that leverage in NFI-ODCE funds stood at 21.1%, towards the lower end of the historical range and unchanged from the first quarter.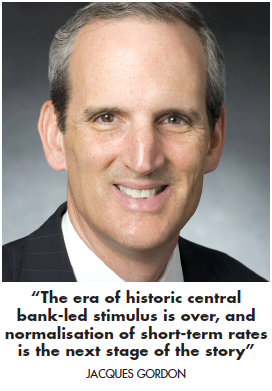 The modest level of debt in core funds reflects a lesson learned. Back in 2006, "even institutional open-ended core strategies increased leverage in order to achieve higher returns, because cap-rate compression and capital-value growth led to lower returns," says Paul Guest, lead real estate strategist at UBS Asset Management. "Even though interest rates got close to zero or negative in some markets, and the cost of borrowing is low, you don't see the same kind of leveraging up."
But, says Guest, "it's impossible to say leverage doesn't pose any risk". A price decline comparable with 2008-09 is probably not on the cards, but with some funds still employing up to 70% leverage, a correction of even 25% "could land those funds in trouble", he says. "Leverage is not a systemic risk, but an individual risk related to particular strategies or funds."
Guest has a front-row seat, monitoring strategies from core to opportunistic as a member of an investment committee for a $10.5bn (€8.9bn) fund-of-funds business. "One thing I am seeing from managers is discipline over leverage," he says. Those taking on higher leverage are doing so in markets like Japan, where the cost of debt is likely to remain low, or through interest-only loans to finance asset improvements that can be realised over the medium term. "It's not leverage for the sake of return," he says, "it's additive leverage where it makes sense."
The prudent use of leverage has become a selling point, says Lauren Sertich, vice-president in Callan's Real Assets Consulting group. "Managers now like to lead with an explanation of how they are not using high-octane leverage in their underwriting," she says. "What we like to be thoughtful about, after the crisis, is not just the level but what type of leverage is being used," she adds.
Depending on the strategy, investor and consultant questions can range from whether a fund is using recourse or cross-collateralised debt to whether floating-rate debt is adequately hedged against rising interest rates. A common denominator, says Sertich, is that all parties "don't want underwriting to be predicated on leverage being a prime driver of returns".
There is a positive to lower leverage, says David Piasecki, CIO of ElmTree Funds. "There's more equity," he says. "That's a big difference compared to prior real estate cycles and I don't see that changing." Institutional investors "have increased their allocations to real estate, so there is a lot of money to put to work, and they just don't want to see a lot of debt", he adds.

Transactions with a 50% loan-to-value ratio are becoming more common, with fund managers often being limited to 60%, Piasecki says. "That is the discipline imposed by institutional investors, and we've been more than happy to work with that."
The new environment – less leverage, clearly linked to asset improvements, with cap-rate compression slowing – requires managers to be sharper. Even at the lower leverage ratios now prevalent, as much as 75% of the total return on some five-to-seven-year transactions can hinge on what happens when leases end, as opposed to contractual increases in rental rates, explains Piasecki.
If a fund has not held an asset long enough for lease payments to support the return objective, and a rate increase is not feasible, he says, it might have to dispose of the asset at the end of the lease to get a capital gain to compensate.
Elm Tree looks for a bigger contribution from rental income. "We like to see the present value of the contractual rents amount to between 70% and 90% of what we pay for a property," Piasecki says. That implies lease terms of 12 to 18 years. If the present value of contractual rents is only 30% of an asset's price, he notes, "the rest of your return is really a gamble on future real estate values".
That gamble might not pay off in a market where cap rates in sectors such as multifamily and industrial – especially in gateway cities and other prime markets – are already below 4%. "To make numbers like that work on an IRR basis, you've got to be projecting significant rent growth," Piasecki says.
At the same time, cap-rate compression is clearly slowing, which could make it hard to sell assets at a gain sufficient to offset rental income shortfalls. Evidence of this is the wide bid-ask spread on commercial property assets, Piasecki says. The spread between a seller's asking price and a buyer's offer has been widening as cap rates have come down, indicating less agreement about a property's value. If a seller is asking for a price that implies a 5.8% cap rate and a buyer offers a price that implies a 6.2% cap rate, the 40bps difference translates into a bid-ask spread of about 7%. "That's a pretty significant variance," he says.
Faced with uncharted waters and investor-led restraint, fund managers are trimming return targets. It is a marked contrast to the pre-crisis use of leverage to boost performance. The trend is most notable in value-add strategies, Sertich says, where managers are facing rivalry from core investors that are responding to cap-rate compression by acquiring higher-quality value-add assets and upgrading them to support core property rents.
"Across the non-core spectrum, return targets for funds in the market raising capital now have come down a bit," she explains, "not egregiously, but there's a downward shift of about 1% to 2% because of what's going on in the markets."
The big experiment: rising rates
One number that is sure to vary as interest rates rise is the cost of debt, says Jacques Gordon, global head of research and strategy at LaSalle Investment Management.
"The era of historic central bank-led stimulus is over, and normalisation of short-term rates is the next stage of the story. In the next five years, I estimate the cost of debt could increase by 50%," he says. Increases beyond that could be problematic, but "I think the industry can manage a move from borrowing at 4% for a major property in America to borrowing at 6%".
Gordon warns that recent interest-rate increases could test conventional wisdom about how rising rates affect the property sector. The conventional wisdom is that rental income will rise in step with rising rates, so investors' returns will keep up with rising debt costs. But the theory assumes interest-rate increases are a response to stronger economic growth that drives sufficient increases in demand for property to allow owners to raise rents.
"We don't really know if that will work," says Gordon. While economic growth is favourable, "we've never been through it before in quite this way, starting from incredibly low rates and normalising them, and having the industry take that in its stride through healthy and growing NOI," he adds. "It would be nice if it happens without any bumps in the road. But it may not."