Falling home ownership since the crisis has fuelled the multifamily boom, but why is the single-family market lagging? Christopher O'Dea and Richard Lowe report
The global financial crisis was not just a 'real estate' crisis. Commercial property fundamentals, for example, were strong going into 2008. But it was precipitated by a specific real estate market – the US housing sector.
Sub-prime was a financial term that very quickly moved from obscurity to newspaper headlines and public discourse, as mortgage defaults began to rise in 2007. Mortgages had been given to people with no incomes and were predicated on house prices continuing to rise – which they had been doing for a long time.
In some ways, the most lasting impact of the global financial crisis has been on the housing sector. The collapse of the sub-prime mortgage market sparked fundamental changes in US housing finance markets. Even as the American Dream of home ownership has faded for many people, the need for quality housing for all Americans has not.
It has led to a fall in home ownership and a rise in renting. According to Morgan Stanley, 6.8m renter households have been formed since 2008, while one million owner households have been lost (figure 1). This trend, combined with global investor appetite for income-producing assets amid low interest rates, explains why so much institutional capital has been pumped into the multifamily rental sector.
According to CBRE, from 2010 to 2016 multifamily attracted more capital – $680bn (€583bn) – than any other sector apart from office ($700bn), representing 29% of all real estate investment. Between 2001 and 2009, multifamily accounted for 24% of real estate investments.
The sector continues to be attractive. Two major Australian institutional investors, Australian-Super and First State Super have been active. First State Super has entered a US$2bn joint venture with Lendlease to target the sector. At the same time, others have sought to take some profits; Los Angeles County Employees Retirement Association (LACERA) sold a 50% stake in a $500m multifamily portfolio.
American Realty Advisors, which started decreasing its exposure to multifamily in 2015 over concerns of too much development, is now recommending increasing it again. It recently reported that "the sector is now beginning to overcome supply-induced torpor", and that its tendency to generate above-average performance during downturns means it should be given due consideration today.
But while the multifamily investment boom has attracted most of the attention following the crisis, a curious phenomenon has been developing. Between 2000 and 2006, multifamily and single-family prices tracked each other closely. But in the months leading up to the financial crisis they began to disconnect; and from 2010 they diverged markedly (figure 2).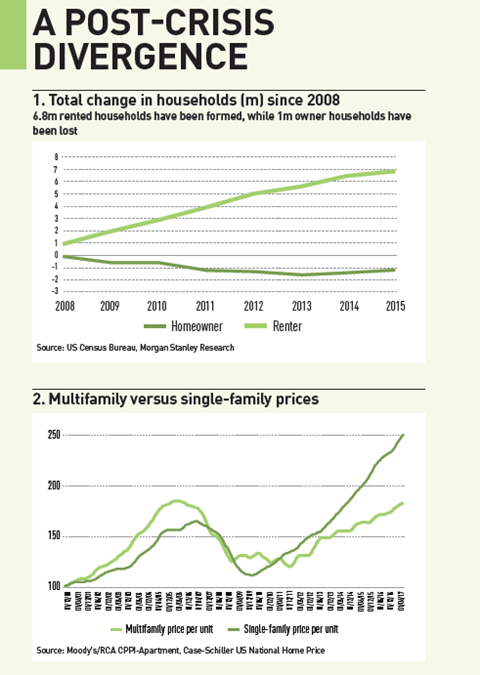 This divergence has developed to such an extent that multifamily prices (per unit) today are 47% above their pre-financial crisis peak, while single-family prices are 2% below theirs.
The opportunity in single-family has not escaped the attention of some of the country's most opportunistic investors. Private-equity firms Blackstone and Starwood have both been active in the sector, and last year merged their platforms – Invitation Homes and Starwood Waypoint Homes – to create a $11bn single-family real estate investment trust.
Man GPM has been investing in single-family homes on a smaller scale since 2012, and by 2017 was managing more than $1.7bn in the sector. It believes that asset values have not been as inflated by institutional capital flows and the hunt for yield as they have in the multifamily sector.
"Rather, single-family market valuations have lagged as US consumers have been slowly recovering from the deepest financial crisis in recorded history, in an environment of reduced mortgage availability," it reported.
Mikko Syrjänen, co-head of real assets at Man GPM, says: "Nationwide, asset values are roughly at similar levels compared to summer 2006, when the market peaked. In other words, there has been a 'lost decade' – or 12 years, really – of no cumulative nominal asset-value growth.
"During the same period, cumulative inflation has been over 20%, so on an inflation-adjusted basis the single-family residential market's performance has been particularly bleak… it appears that the single-family residential sector is considerably lagging the apartment sector in recovery."
The supply of new units has also differed in the single-family and multifamily markets. "Recent years have seen significant volumes of new construction of apartments and current construction volumes are at all-time highs," Syrjänen says. At the same time, construction volumes in the single-family market are still well below levels recorded between 2000 and 2007. But, he says, "population growth has been steady, and more and more of the Millennial generation is approaching the age cohort of family formation and [will need] more residential space".
Syrjänen continues: "That said, we are late in the economic cycle and not every residential sub-market is the same. Some major markets are seeing market values softening, such as high-end New York City, which started a notable recovery straight after the financial crisis. Perhaps, this time around, when the overall economic cycle turns next time, the residential real estate markets will show more dispersion as to asset value performance."
Investors are moving into other areas of the market, including manufactured housing communities. In 2016, Singapore's sovereign wealth fund, GIC, was one of two investors that took a 71% stake in Denver-based YES! Communities, an owner of manufactured housing backed by opportunistic San Francisco-based investor Stockbridge Capital Group. This summer, Blackstone acquired a 14-park portfolio of manufactured home communities from Tricon Capital Group.
But perhaps the most notable development of the past year is the decision by the California State Teachers Retirement System (CalSTRS) to return to the development of for-sale homes. In December 2017, GTIS Partners, which is also active in the for-rent multifamily and single-family markets, announced a joint venture with CalSTRS to generate double-digit returns, making CalSTRS is one of the first pension funds in the US to return to the practice since the crisis.
Some of the largest public pension funds – including California Public Employees' Retirement System and Los Angeles County Employees Retirement Association – were active homebuilders prior to the crisis, but experienced poor performance and losses following the housing crash.
Recently, CalSTRS has been an active homebuilder in California, and wanted to expand beyond its home state, according to Tom Shapiro, president and CIO for GTIS. "This is a requirement that CalSTRS has made for our relationship," Shapiro told IPE Real Assets at the time. "The pension fund was looking to find a manager for its homebuilding investment programme outside of California where it already had established a significant presence."
It is the first direct joint venture with a pension fund by GTIS in the homebuilding sector.
The real estate manager has been investing in homebuilding since 2009 through commingled funds, investing $600m of equity in $4bn-worth of projects since then.
10 years after Lehman: This time it's different
1

2

3

4

5

6

7

Currently reading

10 years after Lehman: The lasting effects of sub-prime

8

9

10

11