Leverage in the UK is lower than it was 10 years ago. But with price declines on the cards, investors should take extra care around high LTVs, write Nicole Lux and Sotiris Tsolacos
In the past 30 years the UK real estate market has been at the centre of a financial and economic crisis at least twice – in 1991-92 and 2008-09 – and is seen as having contributed a considerable amount to bank failures. This is because any crisis in the real estate sector produced by the sharp and unexpected fall of real estate collateral prices is immediately transmitted to the bank's effective exposure, which is then transferred to the bank's equity capital, thus causing a banking crisis. In both crises, lending to residential and commercial real estate played a major role in write-offs and losses incurred by banks.
The post-mortem of both lending cycles revealed increased risk-taking by investors and lenders alike. The lessons learned gave rise to action and policies aimed at averting – or at least reducing the magnitude of – similar situations in future.
After the market crash of the 1990s, most organisations revised their approach to property lending. One important change was a new sophisticated approach that was believed to help facilities to survive economic and market downturns. The arrangement of loans was based on cash flows with loans structured to suit individual projects. Resilience to adverse market developments was further enhanced through incorporating amortisation, hedging, and ring-fencing collateral.
However, with falling interest rates and the development of the securitisation market, by 2007 bank lending to commercial real estate had expanded to new levels, and loan books had grown five times the size they were in 1997 (figure 1). Also, more investors and lenders entered the market as interest rates reached a low point in 2003-04. Risk-assessment failures, epitomised by not fully comprehending the risks embodied in CMBS and RMBS products, contributed to the 2007-08 crash.
What is different now? At the broad level, macro-prudential policies have clearly improved and there has been work on assessing systemic risks and predicting financial-crisis events. Regulators have implemented a variety of regulations affecting real estate lending and de-risking lender's balance sheets. In the aftermath of the latest crisis, regulators demanded that banks increase their equity ratios and risk capital held against real estate loans.
Driven by low interest rates and a regulatory ceiling on lending values, overall market leverage reached a low of 32% in 2017, while the supply of equity flowing into real estate markets aided by quantitative easing still resulted in a rapid growth of real estate market values (figure 2). Total implied market leverage estimated total secured debt fell from its market peak of 74% loan-to-value (LTV) in 2009 to 32% in 2017 (figure 2).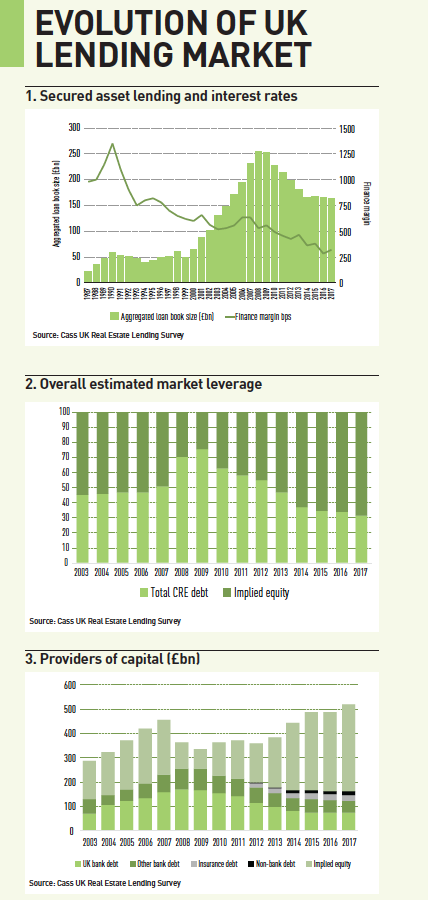 A more diversified lending market started to appear from 2012, with non-UK banks and insurance companies getting a share of secured asset finance, reducing the exposure of banks (figure 3).
While systemic risk overall seems low, risk is not distributed evenly among the lending community. To understand lending risk better it is important to look at new approaches to identify risk. LTV-based approaches rely on contemporary property valuations, which in a rising market tend to outpace real growth and are slow to react to market changes. In addition, while LTV levels have remained at 60% for senior debt, the total debt amount has been expanding as property values have increased.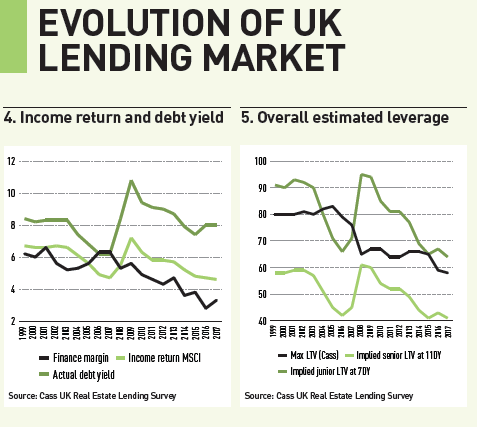 For example, a property valued at £100m (€85.6m) in 2007 was worth £138m at the end of 2017, according to the MSCI capital growth index. With a loan of £60m, a 60% LTV loan would now be 44%. However, the reality is that new lending is still done at a 60% LTV, hence the new loan amount has increased to £83m from £60m.
The debt service coverage ratio (DSCR), another measure of lending risk, has been inconclusive in the low-interest-rate environment. On the other hand, the debt yield can help in understanding the sustainability of the lending environment. Debt yields rely on the actual net income of a property, which is displayed as a ratio to the total debt amount. An examination of trends in debt yields reveals some differences between the cycle 10 years ago and today. We have calculated the debt yield over time using the MSCI income return. This metric generated signals of inherent lending risks as the debt yield had fallen to 6% in 2006-07. The acceptable debt yield level depends on sector, riskiness of asset and competition among lenders. But a debt yield of 6% still suggests caution. Currently, the yield has stabilised at about 8%, which is sustainable.
We can stress today's debt yield at different levels of 7%, 9% and 11% to obtain the optimal LTVs for senior and junior debt. This suggests an LTV of 41% for senior debt (implied debt yield 11%) and 64% for junior debt (implied debt yield 7%). This compares with the current average LTV of 58% for senior debt with a debt yield of 8%.
With low expectations for rental growth, income returns have reached the low levels of 2007 at a time when loans at 75-80% LTV, combined with a debt yield of below 7%, led to an unsustainable situation. The same conditions apply for lenders today lending at higher LTV levels. At the same time, the low income return means there is little room to absorb interest-rate rises.
Monitoring metrics commonly used by real estate lenders, and in particular the debt yield metric, we see a less risky lending environment today compared with 10 years ago. But we still need to be alert to property value declines.
Consensus forecasts from the Investment Property Forum point to declines in property values in the future – but far more moderate than those seen in 2008-09. Despite the more comfortable debt yield level compared to 10 years ago, caution should used at high LTVs to absorb surprise falls in property values and rises in interest rates.
Nicole Lux is senior research fellow and Sotiris Tsolacos is professor of real estate investment at Cass Business School
10 years after Lehman: This time it's different
1

2

3

4

5

6

Currently reading

10 years after Lehman: Rate rises to test UK lending market

7

8

9

10

11