Leverage is no longer the danger it was in 2008. But can investors and regulators be sure? As Richard Lowe reports, the European lending market is just as – if not more – in the dark
If the financial crisis taught real estate investors one lesson, it was the danger of leverage. Debt can supercharge real estate returns in a rising market (and maintain them in a slowing one), but equally it can multiply losses in a downturn.
And it seems to have been a lesson the industry has learned and retained in its collective memory. Tightened regulations have been instrumental, but today's more conservative loan-to-value (LTV) ratios can also be attributed to investor demand for lower leverage (some institutions effectively avoided it altogether) and a greater discipline among advisers and fund managers.
"A lesson we all learned with the GFC is that there really is no floor to a downside," says Eric Adler, CEO of PGIM Real Estate . "Everybody – managers and investors – knows how bad things get, so that's one of the reasons there is more discipline around leverage."
Some of that is down to tighter regulations and less risky lending – especially to speculative developments – but it is also down to investor demands. Adler says: "Most funds when they are raised, the maximum leverage amount that LPs really want is much more constrained than [it was] before."
But is the market really more conservative? How confident can investors be that systemic risks are not being stored up?
According to Cass Business School, the estimated total implied market leverage fell from a peak of 74% loan-to-value (LTV) in 2009 to 32% in 2017 (see Rate rises to test UK lending market, page 28). But while the Cass UK Commercial Real Estate Lending Report (formerly produced by De Montfort University) is widely seen as the most useful source of information on trends in the UK, in many ways the UK – and European – lending market remains as opaque as it was in 2008.
In fact, it could be argued that efforts to more tightly regulate bank lending have made the market less transparent – by facilitating the growth of private lending.
European banking regulations have encouraged traditional lenders to become more conservative and to hold greater levels of capital reserves, diminishing their appetite – especially for more risky forms of lending. In the UK, for instance, the introduction of 'slotting' rules, which apply simplistic risk categorisation to loans, means banks have effectively withdrawn from certain parts of the market.
This pullback explains the growth in real estate debt funds, backed by institutional investors, and the return of insurance companies over the past decade. As the latest Cass report shows, the proportion of non-bank lending has increased in the UK from just 5% in 2008 to 25% in 2017. While it is arguable that a more diverse lending base is better for the stability of the market, the rise of private lending does not necessarily bode well for greater transparency.
Ted Leary, founder of Crosswater Realty Advisors, has worked through several real estate market cycles and, as a 'workout' specialist has several decades of experience in dealing with investments and partnerships that have encountered problems.
One of the key lessons he has learned over the years is that downturns tend to be caused by different problems, be it, for example, over-building, over-leveraging, or a shift in interest rate. For this reason he tends to keep an eye out for the next "canary in the coal mine".
He agrees that the growth of debt funds – both in the US and Europe – could be a cause for concern, because of the inability to track them. "That's where the problem may come, because we know so little about it," he says.
Companies such as Preqin provide useful data on real estate debt funds, but the risk profile of their lending practices is difficult to assess on a market-wide basis.
"People tell me in any given year there are 25 to 30 funds raising money," Leary says, and that "these debt funds are a huge proportion of the lending market above the senior loan. We don't have statistics and information on that side of the business, and so if something goes wrong we will be slower to spot it and react to it."
PGIM Real Estate is an established real estate debt fund manager in the US and was one of the first companies to launch debt funds in Europe. Adler readily admits that "we and others are now a bigger participant" in the mezzanine lending market. "Debt funds existed before, but not at the same scale as now," he says. "You can point to [that] and say it is harder to quantify."
However, Adler says the crucial difference between today and 2008 is that mezzanine financing is "more intelligently priced". A decade ago, the 75-85% portion of a typical loan was priced as though it were very low risk (AA-rated). Today, mezzanine financing is much more expensive, better reflecting its risk.
"The cost of that capital was very low, so there was no space for a non-banking lending market," Adler says. "The downside is that some of that space has been taken up by a harder-to-track non-bank lending market. But what we're seeing is it's priced much better." He says, in short "it's no longer an LTV problem, it's a coverage problem".
The danger of known unknowns
But for many, this problem of coverage is still concerning. Hans Vrensen, head of research and strategy at AEW Europe, is disappointed that during the decade since the financial crisis the European real estate debt market has not become more transparent, especially compared to the US.
Vrensen, who last year co-authored an Investment Property Forum-commissioned report on the Changing Sources of Real Estate Debt Capital in the UK, says: "The near complete transparency of the commercial real estate lending landscape in the US from data providers like ACLI, Trepp and CrediFi has facilitated a competitive lending market with different types of active lenders. This also offers borrowers plenty of choice and a way to monitor systematic risk levels in the lending market.
"By contrast, despite some private initiatives and some significant new regulatory initiatives to protect banks and insurers from general credit risks, the lack of progress on transparency in the European commercial real estate lending market means borrowers are still mostly dependent on traditional banks and are largely unable to monitor systematic lending-market risks. The emergence of non-bank lenders in Europe not only increases competition, but also offers a good opportunity to improve transparency."
Peter Cosmetatos, CEO of the European arm of the Commercial Real Estate Finance Council (CREFC), says in the immediate aftermath of the financial crisis, regulators realised the visibility they had on the real estate sector "was woefully inadequate". With real estate playing such an instrumental role, there was "an awareness that it is a market that they ought to monitor a little bit more carefully".
The Bank of England (BoE), which often references the UK real estate market in its regular financial stability reports, has pushed for better data. It supports an initiative led by the Property Industry Alliance (PIA) to pool data among lenders. The loan database project is intended to have a dual role: help regulators monitor the market and spot systemic risks, and provide lenders with richer market-wide information.
"Granular, timely data can help everyone – industry, lenders and regulators – to manage the risks in lending against commercial property," says Alex Brazier, executive director for financial stability strategy and risk at the BoE. "The loan database is first and foremost an initiative by the industry for the industry.
"But because risks in property lending have in the past cascaded onto the wider economy, by crippling banks and restricting the access of companies to credit, the BoE supports the development of this loan database too. We plan to use it as the comprehensive source of information on the commercial property debt market."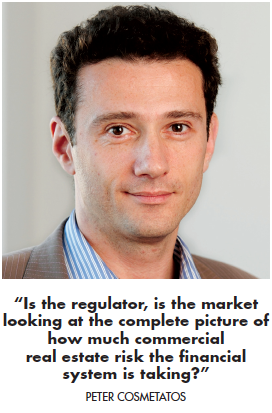 Last year, PIA, which represents real estate industry bodies, published research which concluded that "if lenders and regulators had had access to suitable long-term value metrics leading up to the 2007 crash, they could have anticipated the extent to which commercial property was becoming overvalued and seen that a major crash was looming". And, the paper suggests, they could have had this foresight with three years to spare.
The research was the culmination of one of the key recommendations of another PIA report, A Vision for Real Estate Finance in the UK, in 2014. The report, which has been influential since its publication, made another recommendation: the creation of the aforementioned loan database.
But the recommendation also called for the database to be compulsory. If all lenders had to submit data, it would ensure a comprehensive picture for regulators and the industry. It is understood that pushing for a mandatory database was deemed too difficult politically, and the exercise has instead progressed on a voluntary basis.
About 10 of the UK's main lenders – consisting mainly of banks and covering between 60% and 70% of the market – are said to have signed up. The plan is to entice other lenders to provide their own data in return for access to a pool of market information that continues to become ever more rich.
Will the growing population of non-bank lenders join the pool if membership is not mandatory? Time will tell. But 10 years into the current market cycle, time is not on the side of the industry.
Cosmetatos worries that "despite everything", the industry remains "partially blind to the cycle". He says: "We are in an environment where people are saying we are at the top of the cycle. But they are also saying this is an extended cycle; everything is overpriced, but it will probably be okay for another couple of years. In a way I find it bewildering that we have that capacity, but we do."
He adds: "Partly, it's because it is incredibly difficult to decide to sit out… while your peers are writing new business and making new money."
This is where regulators have a role: to ensure the market is not speeding up at a time when it should be slowing down. But Cosmetatos is equally concerned that regulators are seeking to address the problems of 10 years ago without realising that the problems of today could well be different.
Regulators should be looking for the next, unforeseen agent of a downturn – whether it be shadow banking, proptech, blockchain, climate change – but instead they are focusing on the culprit of 2008: excessive lending by the banks. "I worry that the focus is on what happened last time," Cosmetatos says.
Is the loan database capturing the right information, or is it just picking up the standard information that banks already submit to the BoE?
"None of that is to say I think the market is imminently facing collapse or there are massive risks. Generally speaking, I think the market is in a sensible place. I don't think there is too much leverage in the system, [but] I don't think the regulators really understood and really tackled the central problems, and I think the regulatory response has been cyclical."
A prime example of this is what Cosmetatos terms the "ritual execution" of the European commercial mortgage-backed securities (CMBS) market. Unlike its US counterpart, the European CMBS market never recovered from financial crisis. Securitised debt played an instrumental role in the crisis, and it has taken years to work through a huge volume of bad CMBS loans in Europe.
Solvency II rules, which apply to insurance companies, have made CMBS unattractive owing to the level of capital reserves required to hold them. Cosmetatos thinks this is a backwards step.
"It was completely understandable that CMBS stalled, that it went through a bad period, that it was unfashionable," he says. "I've got no problem with that. What we didn't see in Europe – and I don't think we will see – is a correction of the problems with this asset class… because the capital charges truly are penal."
But EU insurers, faced with years of low interest rates, have found it difficult to ignore the yields that can be generated from commercial real estate debt. They have therefore invested through private markets, either by setting up their own platforms or allocating to commingled funds.
"All of these are perfectly sensible things to do with your money," says Cosmetatos. "But they are private and completely illiquid, completely opaque to the outside market, and have no standardisation of information and comparability. So in terms of understanding market risk, the wholesale move from CMBS to private instruments is probably a step back rather than a step forward."
Are invisible risks building up?
There are a number of specific practices that could catch out regulators – and, by extension, investors and the market. One is loan-on-loan financing. This takes two forms, one of which is the purchase of non-performing loans using leverage. The other relates to mezzanine lenders making whole loans and, rather than selling the senior part, taking out a corporate loan secured on the loan.
"They have sold [the senior debt] synthetically," Cosmetatos says. Although not a cause for alarm, he does worry it is not being tracked. "In essence, you have shadow-banking risk. You've got banks that are lending to funds that are lending against real estate… there's a real possibility that no-one's keeping an eye on this bank lending, simply because it isn't directly against the real estate."
Then there is corporate lending. Slotting rules mean it can be cheaper for a UK bank to lend to a real estate company at the corporate level. Many UK real estate investment trusts (REITs) borrow at the corporate level, but it will not be recorded as real estate lending. Cosmetatos says: "Again, is the BoE, is the regulator, is the market looking at the complete picture of how much commercial real estate risk the financial system is taking?"
Another cause for concern is whether foreign investors are introducing invisible leverage into the market. There have been many large London office acquisitions in recent years, involving what are seen to be all-equity purchases – by South Korean investors, for example. But while these investments are ostensibly unleveraged, there is anecdotal evidence that some of these overseas investors have 'pre-geared' the equity from their domestic lenders.
Many of these 'equity investors' have bid aggressively, often significantly above underbidders, in a way more typically associated with leveraged buyers. "I have no sense of how widespread this phenomenon is," says Cosmetatos. "It might be absolutely marginal, but what bothers me is I don't know if anybody is looking."
It could be significant, if such buyers were forced to sell. "The impact on valuations might be disproportionate, because they were buying into the most liquid part of the market and they were paying substantial premiums," Cosmetatos says.
Then there are the debt funds. "Almost inevitably there will be a generation of funds that prove to have been poorly timed, because they hit the point at which they need to liquidate their investments, get their capital back and return it to shareholders at a time when the market is frozen and there is no liquidity or no refinancing potential for their borrowers. I say that is almost inevitable, because that is the cycle," says Cosmetatos.
"So the question is how well are they building in protection that will allow them flexibility on when they return capital, or how they deploy money as the peak of the cycle approaches to minimise the problems they will experience in returning capital at the wrong point in the cycle," he says.
"I'm not saying there is a huge risk there. I would hope that capital going into those funds recognises what it's doing, and I would hope the fund managers are allowing themselves flexibility or are building in discretion, or are building in extension periods and educating investors so that when the particular generation of funds comes along that faces that vintage disaster, they will be well positioned rather than poorly positioned to navigate it."
Mezzanine funds that make whole loans and sell off the senior debt (either synthetically or directly) are a case in point. As one debt fund manager says, if the debt markets freeze some mezzanine funds could be unintentionally stuck with whole-loan exposure.