The IPE Real Assets top 100 ranking of some of the world's largest infrastructure investors has captured more than $415bn (€376bn) in infrastructure assets held by pension funds, sovereign wealth funds, insurers and other institutional capital owners

REITs have performed hot and cold over the past 10 to 15 years. But, asks Christopher O'Dea, could they be just right for investors in 2019?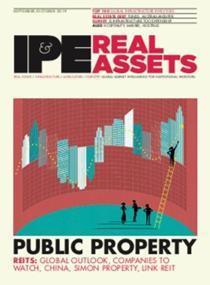 Digital Edition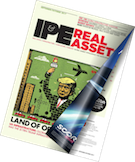 Subscribe to the digital edition of IPE Real Assets magazine to view the latest issue directly in your browser.

With the continued growth of infrastructure mega-funds, is it inevitable that investors will overpay for assets and returns disappoint? Not necessarily, writes Christopher O'Dea

A global housing affordability crisis is deepening, as costs rise and luxury units dominate development activity. Christopher O'Dea reports

Technology has boosted demand for logistics property and now it is transforming the sector in a variety of ways. The key to navigating the future is to follow the consumer, writes Christopher O'Dea  

To put ESG theory into practice, real estate fund managers need good quality data. Some are taking it on themselves to get it, writes Christopher O'Dea

Technology is set to transform city transportation. As Christopher O'Dea reports, real estate investors should get wise to the potential knock-on effects on property values