Reform of a decades-long tax rules for foreign investors has been welcomed by some of Europe's biggest pension fund investors. Rachel Fixsen reports
Some of Europe's largest pension funds have welcomed reforms to US tax laws that discriminate against foreign investors. APG and PGGM, which manage the investments of the country's two largest pension funds, and Denmark's biggest institution ATP, are all hopeful the reform of The Foreign Investment in Real Property Tax (FIRPTA) will be in their interest.
FIRPTA, established in 1980s amid concerns about foreign investors buying up US agricultural land, ensures foreign investors are liable to capital gains tax on the sale of an interest in US real estate or infrastructure. The Real Estate Roundtable, an organisation that has been lobbying in favour of a reform, says FIRPTA has long "discriminated against investment in real estate and infrastructure relative to other types of assets, such as stocks and bonds".
There are number of elements to the reform, including lifting the threshold of the level of REIT ownership before FIRPTA applies. Under current rules, foreign investors cannot own more than 5% of publicly listed real estate investment trusts without triggering FIRPTA. The reforms would increase this to 10%, bringing it in line with rules on foreign investment in US debt securities.
But perhaps the most noteworthy change for organisations like APG, PGGM and ATP is the "foreign pension fund exemption". Here the reform completely exempts "qualified pension funds" and entities wholly owned by such funds from FIRPTA taxation.
Patrick Kanters, managing director, global real estate and infrastructure at APG Asset Management, says the FIRPTA changes will not have a significant impact on the way it invests in the US real estate, but he does believe it is good news overall for European pension funds affected by FIRPTA.
"It should not have any material impact, although it will level the playing field to some degree with our domestic US pension fund counterparts," Kanters says.
According to IPE Real Estate research, APG, which manages the €351bn Dutch civil service scheme ABP, had €2.78bn invested in real estate in the Americas at the middle of 2015.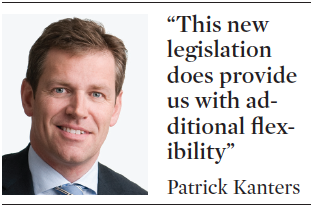 "As is the case with most developed markets, the US commercial real estate market continues to be competitive, given the inflow of investment capital and the resulting liquidity that it provides to investors," Kanters says.
He says APG looks forward to receiving further guidance on the implementation of the reformed legislation.
Under the current system, non-US investors are indirectly encouraged to invest in US property via joint ventures with US funds. Kanters says joint ventures and funds are a part of APG's current investment strategy anyway, but that the tax reform could still give it more leeway within this investment approach.
"This new legislation does provide us with additional flexibility in certain areas such as partner selection and ownership limits," he says.
PGGM, which manages the €165m PFZW pension fund, among others, also welcomed the reforms. "It is good news as, next to improving performance, it broadens and deepens the investment universe," says spokesperson Maurice Wilbrink.
"It is likely to affect investments as it increases the pool of co-investors and larger holdings in smaller companies become feasible for larger investors."
Michael Nielsen, chief executive of ATP Real Estate, the property arm of the DKK705bn (€94.4bn) Danish statutory pension fund, says: "Right now we are analysing what the impact would be for us, but there is no doubt it would have a positive impact."
Although the legislative change was very recent, and ATP Real Estate still has to work out the precise numbers relating to it, Nielsen says initial impressions are that the reform will be an advantage.
Because the FIRPTA tax was levied on non-US investors' capital gains, ATP Real Estate will now potentially be able to decrease its capital gains tax in the US, he says.
"It will have a positive impact on our return, so it was rather exciting to see the change as FIRPTA has always been a problem for non-US investors, because you are taxed differently compared to the local investors," he says.
Because the tax presented a barrier, non-US investors had to consider how they should enter the property market there, he says. "That's one of the reasons we've been focusing on the core space over there, where it's not so much about capital gains but about the cash dividend."
Regardless of the reform to FIRPTA, ATP's exposure to US real estate is set to wind down over the next few years as it moves to a more direct investment strategy.
"We do not have any direct investments in the US, and whether we would get those I really don't know," Nielsen says. "I find it a bit more complicated being a Danish direct investor in the US market, and right now we also have a currency issue."
ATP Real Estate has investments in eight property funds in the US, including holdings in four large core funds and more value-add funds.
"But we have a currency issue in the current market, because ATP has a policy where we hedge all foreign currency exposure – except the krone and euro – meaning that if we invest in the US, we have to build into our business case the hedging costs," he says.
"With the interest rate environment we have today, these hedging costs can be rather expensive and, with property returns being under pressure as well, there wouldn't be much room for covering hedging costs."
ATP Real Estate is comfortable with its existing US investments, even though it does pay hedging costs on these.
"I think we went into these markets at the right time – in 2009 and 2010 – and this market has picked up," Nielsen says.
As part of ATP's recently announced overhaul of its portfolio construction and investment strategy, it has highlighted a sharper focus on direct investments.
"But it's not so that we will sell off all our funds from one day to the next," Nielsen says. "Many of these funds are closed-ended funds and they will simply wind down over the next three to five years. And then we have a proportion of open-ended funds and we simply monitor when is it the right time to exit these funds, or whether we prefer to stay in, if it is a very attractive fund."
But he confirmed that ATP's main principle was to move away from the indirect investment approach. "If we open up for US investments again, we haven't discussed how we should organise it," he says.
In principle, however, ATP wants to keep investing in the US property market. "From a real estate point of view and risk diversification point of view, you should have something at least in these big markets," Nielsen says. "But right now we have the currency issue, which means we are not an active investor over there."
Important measures included in the Path Act
• The ownership stake that a foreign investor can take in a US publicly traded REIT without triggering FIRPTA liability on the sale of stock or capital gains dividend will be increased from 5% to 10%. The exemption will also be extended to interests in REITs held by certain widely held, publicly traded, foreign collective investment vehicles.
• 'Qualified foreign pension funds' and entities wholly owned by such funds will be made completely exempt from FIRPTA taxation, including indirect and listed real estate investments. A qualified foreign pension fund must be established to provide retirement or pension benefits to participants or beneficiaries that are current or former employees of one or more employers.