Non-EU managers have a wait before AIFMD passporting is extended to their jurisdictions. Rachel Fixsen reports on what this means for managers and investors
Passports are a necessity for foreign travel. But for alternative investment managers based outside the European Union, they remain elusive. In the world of Europe's Alternative Investment Fund Managers Directive (AIFMD), passports look set to be the preserve of European managers for some time.
The AIFMD was dreamed up in the aftermath of the global financial crisis to reduce systemic risk and protect investors from being hit by the next Bernie Madoff scandal. It caught real estate and infrastructure funds in its net, alongside private equity and – what many say were its primary target – hedge funds.
European managers that have been authorised under AIFMD enjoy the ability to market funds to investors across European jurisdictions. Non-EU managers, meanwhile, have to adhere to national private placement regimes (NPPRs) in Europe, which differ from country to county. The end game for European regulators is to extend 'passporting' to non-EU jurisdictions, but a number of developments in recent months suggest this will take years rather than months.
It could be argued that the situation has created an unlevel playing field, and Melville Rodrigues, lawyer at CMS Cameron McKenna, believes it is likely to be stifling choice for some European investors.
"In some European states, notably Germany and France, the NPPRs were significantly tightened with AIFMD implementation and now highly restrict third-country managers from marketing to domestic investors," he says.
Jeff Rupp, director of public affairs at INREV – the European Association for Investors in Non-Listed Real Estate Vehicles – also believes this is the case.
"European fund mangers authorised under AIFMD are still unable to market funds from outside the EU, so in order to have access, any funds from outside the EU have to use the old private placement regimes," he says. "This is cumbersome and costly, and it is stifling choice to a certain extent."
In July 2015, the European Securities and Markets Authority (ESMA) issued positive advice on three non-EU countries: Jersey, Guernsey and – on the assumption of passing of legislation – Switzerland. But it said it had "no definitive view" on the US, Hong Kong and Singapore.
"Given the ESMA advice, EU legislators decided to delay extending the passport to third-country managers and funds until ESMA has delivered positive advice on more non-EU countries," says Rodrigues. "The legislators and ESMA are concerned about adverse market impact if the passport were extended to just a few non-EU countries."
ESMA is to begin assessing a further group of non-EU countries – namely, Australia, Canada, Japan, the Cayman Islands, the Isle of Man and Bermuda – with a view to reaching a decision on whether to extend the passport to these jurisdictions. "These countries were selected based on the level of activity already being conducted under the NPPRs and positive engagement by stakeholders with the process, amongst other factors," says Rodrigues.
Last December, the European Commission gave ESMA until 30 June this year to complete its assessment on countries mentioned above. But the Commission also invited ESMA to undertake a more detailed assessment of the relevant supervisory authorities, gauging how effective they might be at enforcing rules. ESMA was also asked to provide a preliminary assessment of the expected inflows of funds into Europe from the various 'third' countries.
As Edward Smith, partner at Linklaters, says: "Those who were expecting an imminent extension of the passport to the three countries already assessed positively by ESMA will be discouraged by the implication that, even for these countries, there is more work to be done."
For the foreseeable future, third-country managers "will need to continue to rely on the NPPRs or create an authorised European manager entity and fund structure solution to utilise the current AIFMD passport", says Rodrigues.
Is authorisation the key?
But are delays to the extension of passporting the real problem? Having an AIFMD authorisation does not guarantee that the process of marketing to investors will be all smooth sailing.
Rupp says that the AIFMD rules themselves are not particularly harmonised across EU states. "Even if you are an EU-authorised fund manager and trying to market EU funds, it is still difficult," he says. "In theory, there's one regime but, in practice, regulators are interpreting things differently."
Various aspects of the regulation are open to interpretation, such as changes in the level of a fund's leverage; the wording of the legislation means a subjective judgement has to be made about whether this change is "material" or "non-material", Rupp says.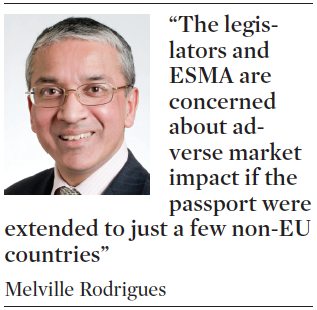 Richard Heffner, a lawyer at Dechert, is not sure that extending the passporting regime and abolishing NPPRs will necessarily increase investor choice. It could have the opposite effect. Without NPPRs, the only way a non-EU manager would be able to market its alternative funds in Europe would be to become fully authorised under AIFMD.
"My sense is that would end up limiting investor choice, because there are some non-EU managers [that] would not want to go down this route," he says. Certain US managers are, he says, "very sensitive" to the remuneration restrictions involved in AIFMD.
Turning off the NPPRs is subject to a separate process in the AIFMD that can only begin three years after the extension of the passporting regime, Heffner says.
As things now stand, Heffner explains, if a non-EU manager wants to market an investment fund with passporting under the AIFMD, it can either set up its own EU subsidiary, by perhaps having a management entity in the UK, Ireland or Luxembourg, or it can set up a self-managed fund in Ireland or Luxembourg. Delegation of portfolio management functions from the EU management entity or self managed fund to the non-EU manager would need to comply with the AIFMD's letter-box rule.
While EU investors in funds managed by non-EU managers might derive some comfort from the safeguards offered by the full AIFMD authorisation and compliance that passporting would require such managers to undergo, they may ultimately find that many third-country managers choose not to use this system, he says.
Glynn Barwick, lawyer at Goodwin Procter, says that the extension of passporting might turn out to be a red herring. "I don't think many managers will find it of much interest because they will have to comply with either all of the directive or virtually all of the directive," he says. When third-country firms realise this, many managers will decide not to go down this route, he believes.
"Most managers will continue to use the private placement regime and register in the simple jurisdictions, such as the UK and the Netherlands, but they'll just continue to say no to Germany and Denmark," Barwick predicts. "The cost of doing business there is just too great," he says.
Onerous requirements such as having to appoint a depositary, which is the case for managers seeking to market funds in Germany under its NPPR, has put off many non-European managers, he says.
Barwick acknowledges that fund managers may be forced to make different decisions if and when the NPPRs are turned off, although they are certain to remain in place until 2018.
In the intervening period, he says the hurdles fund managers face will not limit choice for investors anyway. "They just need to be active in looking for the managers," he says. "They may end up with fewer unsolicited offers, but sophisticated investors don't just sit there and wait to be approached."