Are Asia's REITs meeting requirements of global investors? This abridged version of a survey report by APREA reveals areas of mismatch.
In the Asian region, REITs have grown significantly as a new and popular investment class. Since the launch of the first J-REIT in Japan in 2001, the market capitalisation of Asian REITs now exceeds $140bn. Including Australia, market capitalisation of Asia Pacific REITs is around $170bn.
However, from country to country, REITs vary, sometimes considerably, in the way they are regulated, managed and taxed. This fact, and the nature of the differences, is not often well understood. What constitutes a REIT varies from region to region around the globe but there is an extra layer of complexity in Asia Pacific because of the regulatory and structural differences that exist within the region. REITs are also subject to different tax rules.
The need to better understand these differences is reinforced because of two initiatives aimed at increasing investor knowledge and confidence in the REIT product. Through its membership of the Real Estate Equity Securitisation (REESA) alliance, APREA has been involved in efforts to seek to identify the characteristics that are common to REITs globally. In addition, to effectively promote Asia Pacific REITs as an investment class, a more thorough understanding and explanation of the differences in structure and regulation is required.
In addition, previous annual surveys by The Trust Company and Baker & McKenzie have indicated that investors and other participants in the industry can be more attracted to the REIT regimes of certain countries than others.
Why are some REIT markets in Asia Pacific more attractive than others? Undoubtedly, tax is a contributing factor. What do market participants, investors in particular, regard as an optimal tax regime for REITs? How do Asia Pacific REIT markets measure up to this?
Comparative tax and regulatory studies of global REITs exist (for example, the EPRA Global REIT Survey) and work has also been undertaken elsewhere on the 'ideal REIT' (for example, EPRA's What Would An Ideal REIT Look Like in Europe). Existing studies are extremely valuable as supporting resources in dealing with the particular issues in Asia Pacific identified above. However, there is need for a comprehensive study of the regulatory and taxation regimes governing the REITs found in the Asia Pacific markets.
History behind predominance of externally managed REITs in Asia
One of the striking similarities of REIT frameworks in Asia Pacific that is at odds with other parts of the world is a stronger focus on an external management model. In the US, which developed the REIT model more than 50 years ago, externally managed REITs were phased out in favour of internally managed vehicles (when permitted by changes to REIT laws) due to concerns over perceived conflicts of interest of the REIT manager.
In Australia, which has the longest running REIT model in Asia Pacific, the evolution of the public REIT in the past 20 years has brought a substantial shift to internally managed (or stapled) vehicles. Interestingly, however, the private space in Australia is still dominated by external fund managers.
For the rest of Asia Pacific, the preference for an external management model is a combination of history and precedent at the time of their formation. The Japanese REIT regime was modelled on aspects of the early US model after consideration of the Australian market of the late 1990s which, at that time, was predominantly externally managed.
Other markets, such as Hong Kong and Singapore, which are both Commonwealth jurisdictions with a common law background, not only had both those markets as reference points but also, similar to Australia, had a trust law framework that meant externally managed investment vehicles were a known concept.
There is continuing debate as to the relative merits of internally or externally managed vehicles. While conflicts of interest and cost leakage are commonly cited as negatives of the external model, large fund management platforms can create economies of scale that enable continued enhancement of back-office functions lacking in some internally managed REITs.
The geographic diversity of Asia Pacific might also be a contributing factor. Internally managed vehicles, particularly in 'hub' economies such as Singapore and Hong Kong, may find it difficult to resource sufficient local expertise in a geographically diverse portfolio, whereas a larger external fund manager may have the scale to support the local presence necessary to effectively manage such geographic diversity. This type of issue does not exist to the same extent in the US, where REITs have a predominantly domestic focus.
In addition, given the development-driven nature of the Asian REIT market, the support provided by the sponsors (especially developers) can be significant. Strong sponsor backing, and the importance of sponsors in the supply of assets, has been one of the important drivers of the growth of Asian REIT markets in the past decade.
Asia Pacific real estate would benefit from greater investment by global institutional investors in many respects, including:
• The encouragement of a continental market for real estate in Asia Pacific.
• The promotion of efficiency and transparency of local real estate markets (for example, corporate governance) through the involvement of strong powerful players.
• The generation of new sources of funding for Asia Pacific REITs.
To provide perspective with the lens through which the leading global REIT investors view the structures in Asia Pacific, APREA gathered many of the region's foremost experts in regulation and taxation of REITs to develop a survey. This in-depth study of 39 questions spanned topics such as: REIT structure; nature of operations; capital management; investor reporting; alignment of interests; related party transactions; regulatory and taxation.
The survey was circulated to 195 senior institutional investors and fund managers investing in real estate and REITs. Respondents were selected based on their understanding of real estate and REIT markets globally and within Asia Pacific.
There are two key areas where Asia Pacific REITs would seem to be at odds with what global investors are looking for:
• Internal/external management. Asia Pacific REIT frameworks still predominantly follow an external management model (see internal vs external management). It is clear from the survey results, however, that investors have a clear preference for internally managed vehicles (figure 1).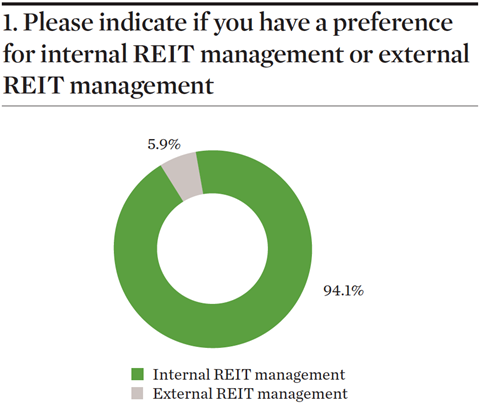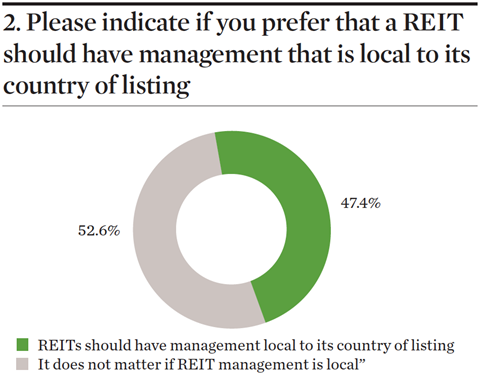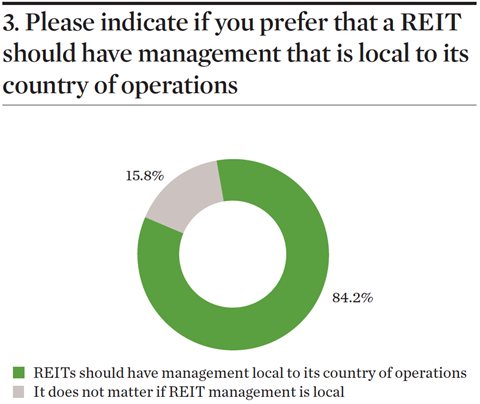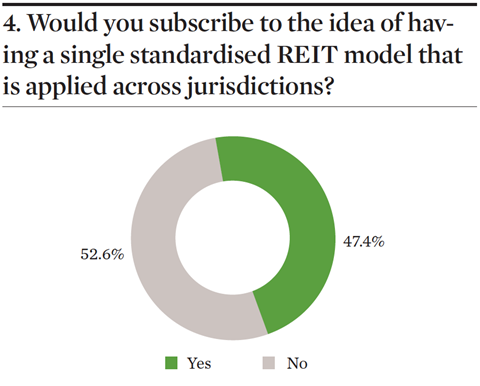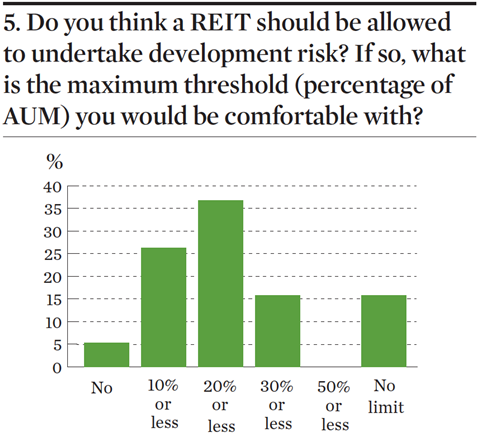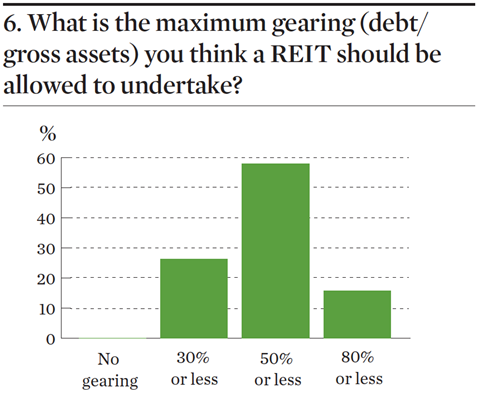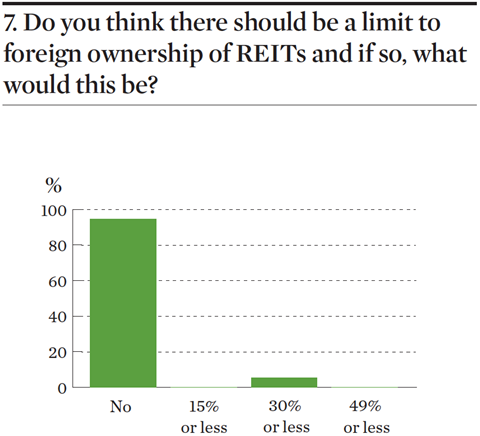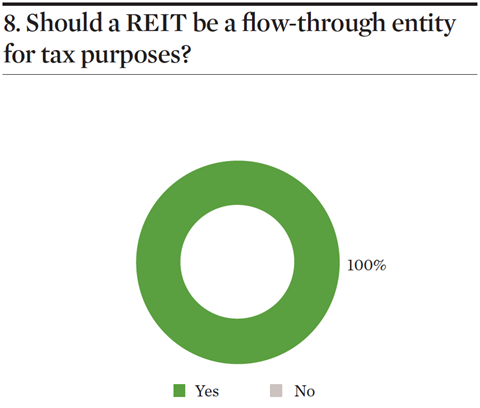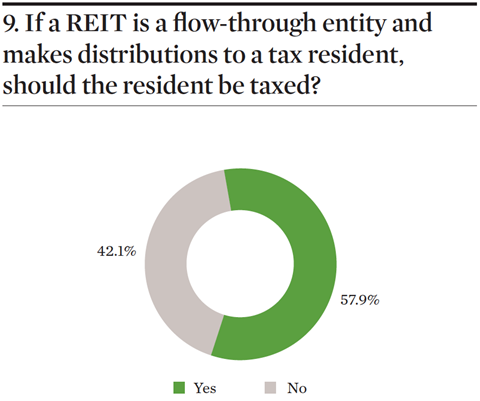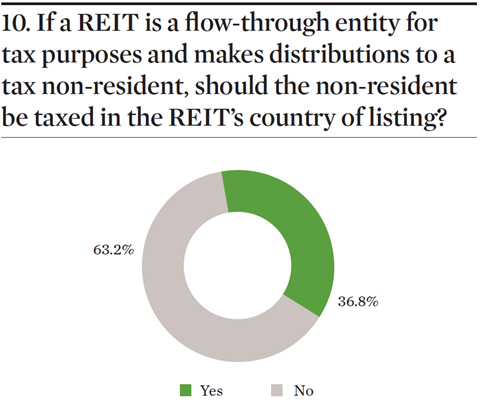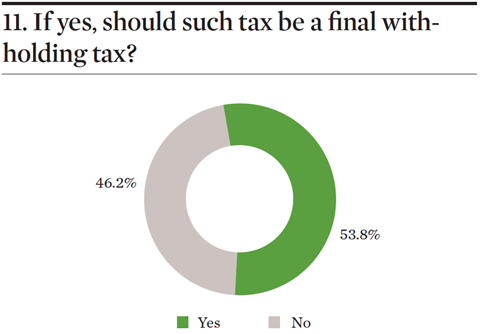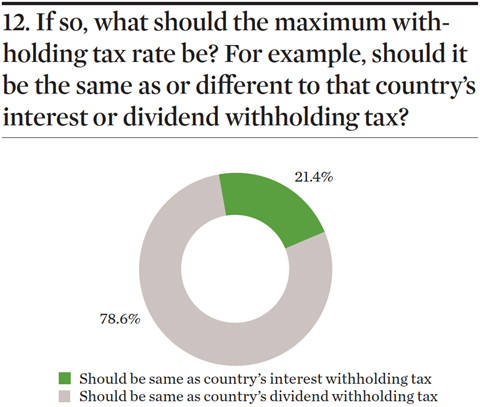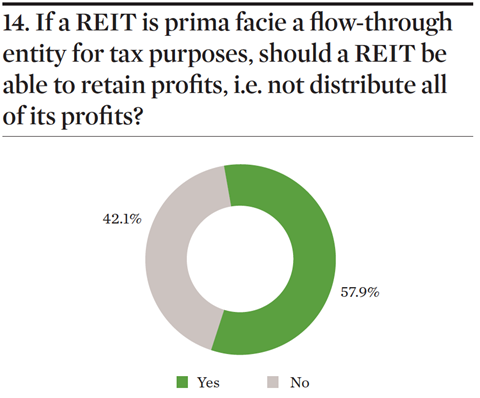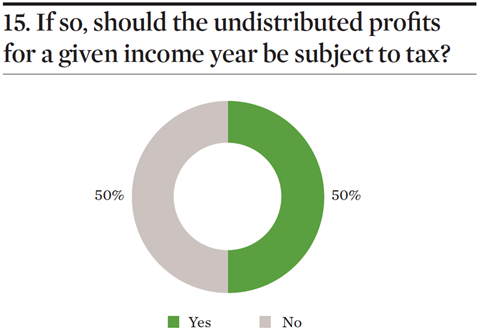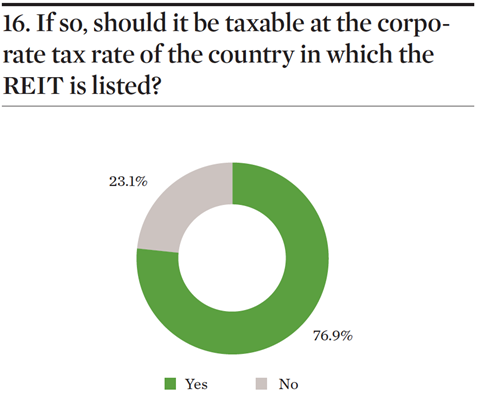 Conflict of interest concerns represent the major hurdle for externally managed REITs. Some investors point to the fact that managers are generally remunerated based on total asset value and so they are given an incentive to continue acquiring assets perhaps at the expense of better return options for REIT investors. It has also been suggested that external management results in a cost leakage to the REIT compared with internally managed vehicles.
Both of these contentions are arguable. While traditional management fee structures have been based on asset values, there have been some attempts to produce greater alignment between external management and investors (for example, through fees linked to market capitalisation). Similarly, there are examples where internalisation of some REITs has brought an increase in operating costs, as vehicles exiting larger funds management platforms cannot replicate the economies of scale of back office functions produced by large fund managers.
Despite the relative merits of each model, it is clear that global investors, perhaps shaped by strongly held views in the US, see the external management model as a major inhibitor to capital allocations in the region.
Asia Pacific countries will need to either explore amendments to current fee structures to create greater alignment or other avenues to assuage the conflict of interest concerns. Comprehensive benchmarking of operating costs between internal and external management models would also be a useful contribution to the debate.
It has also been suggested that other markets within the region should perhaps look to the Australian experience of evolving from a predominantly external model to an internal one to explore how to improve their attractiveness to global capital. But that should be done cautiously. The Australian experience also resulted in a noticeable shift of REITs along the risk curve (greater development, funds management and other less traditional REIT activities) which provided its own challenges during the 2008 global financial crisis where Australian REITs performed considerably worse than their more traditional regional counterparts in markets such as Singapore.
• Appetite for development. While the increased risk profile of Australian REITs proved problematic as the ramifications of the 2008 global financial crisis played out, another interesting outcome from the survey is that investors have an appetite for more development activity within REIT vehicles (figure 5).
The regulatory framework in most markets restricts REITs from undertaking development activity. Investors, however, would appear to see this as a natural extension of existing REIT activities – presumably not with the objective to trade properties but to enable their capital to be used earlier in the development cycle, in order to provide better capital growth potential rather than be merely seen as the end take-out party.
From an economic perspective, greater access to capital to fund development must also be a potential positive for those countries facing substantial capital requirements to meet a burgeoning urban population.
Regulators should therefore explore ways in which to enable REITs to participate in the development aspects of property investment, while balancing the overall risk profile of the REIT sector which underpins its appeal.
Taxation preferences
The survey responses indicate a consistent preference towards the appropriate tax structure for a REIT at the conceptual level, but there were mixed responses to more detailed questions. This serves to reinforce the complexity that arises when developing appropriate tax rules.
The importance of regulatory certainty is evidenced in the responses and clearly this must also apply to certainty around tax regulations. The presence of sovereign risk around tax rules will be a deterrent to attracting investment capital, particularly foreign capital.
Overall, the responses confirm that REITs should be tax transparent and the tax rules should support both the raising of capital from offshore (through the tax treatment allocated to non-resident investors) and the encouragement of REITs to invest offshore (by providing conduit foreign income treatment – that is, the foreign-sourced income passes through the REIT to foreign investors without being taxed in the REIT's country of domicile). The preferential tax treatment indicated for non-resident investors acknowledges the importance of attracting foreign capital.
There was a mixed response in the survey to the taxation of domestic REIT income. More than 40 of those who responded to the question considered no tax should be imposed on domestic REIT income. While such an approach would be extremely favourable to attracting additional capital into the real estate market, it is unlikely that any government would be favourably disposed to adopting such an approach, let alone being able to afford to adopt such an approach. Interestingly, almost one third of respondents did not answer the question.
What is not clear from the responses is whether respondents were purely focusing on the tax to be imposed on income distributions or whether they were also contemplating whether distributions of capital gains should be taxed or not.
Where tax does apply to REIT distributions, respondents were broadly ambivalent as to whether or not it should be a final withholding tax. This perhaps points to the different approaches (that is, final tax/non-final tax) currently adopted in existing regimes within the region. If the tax was to be a final withholding tax there was a clear preference for the rate to be aligned with the country's dividend withholding tax rate. The responses emphasise the importance being placed on attracting foreign capital.
There was a clear preference for the vast majority of a REIT's income to be distributed annually, but there was also recognition that there should be some ability to retain profits. Again, there is no particularly strong preference as to whether the undistributed profits should be taxed or not when retained in a REIT although, if tax were to apply, there is certainly a very strong bias towards the corporate tax rate. The question then to be asked is how such taxed profits should be treated in the hands of investors when subsequently distributed?
Notwithstanding the support for enabling a REIT to retain some profits, almost 60 of respondents preferred a mandatory dividend payout ratio of 60 or more – pointing to the historical role of REITs as a yield-based investment. Another question may be how the minimum distribution amounts should be calculated – by reference to accounting income, taxable income or some other standard?
Conclusion
This report highlights the different ways in which REITs are regulated and taxed in the Asia Pacific region. There are many similarities but also significant differences, particularly at the more granular level. This extensive survey of market participants identifies important aspects of regulation and tax and discusses the participants' evaluation of how well these matters are addressed in the various jurisdictions.
The regulation of REITs in the major regional regimes of Australia, Japan, Singapore and Hong Kong differs in many significant respects, as identified in this report. However, at the more general level, there is a view that, in terms of management and investment choices, REITs provide what investors want, with the exception of the option of internal management and an appetite for more development activity than is currently permitted (Australia excepted).
The survey also identifies many features of global REITs considered by investors to be important that are not necessarily present in Asian regimes, or not provided for sufficiently effectively. These include:
• The need for management that is local to a REIT's country of operations;
• A strong preference for gearing of 50 or less;
• The need for the same capital management tools as operating companies (the lack of this feature put significant strain on many REITs in Japan and Singapore during the 2008 global financial crisis);
• No limitation on foreign ownership of REITs;
• A strong preference for semi-annual or quarterly reporting against benchmarks;
• A strong preference for semi-annual or annual independent market valuation of assets;
• The importance of effective regulation of related party transactions (Australia, followed by Singapore, are seen as the jurisdictions having the greatest level of market confidence and integrity in this respect);
• The need for a REIT to be a flow-through entity for tax purposes (there was unanimity in this respect among survey respondents).
In addition, respondents rated very highly the overall need for regulatory certainty when deciding whether or not to invest in REITs in a particular jurisdiction.
Among other important survey findings, there is a clear market wish for greater standardisation of underlying earnings metrics (for example, information reported, reporting timelines and cut-off dates) across the various Asian REIT jurisdictions. There is also a level of dissatisfaction with management fee structures, with suggestions for achieving greater alignment with minority unit holders in this respect.
The pool of global capital allocated to dedicated REIT investment is increasing exponentially. Countries without REIT markets, such as India and the Philippines, are obviously missing out on sharing in this capital, but it can readily be concluded from the findings in this report that, with respect to current REIT markets, the quality and effectiveness of the regulation and taxation of REITs is a factor in investment decision-making. This may be a reason for the small size of the REIT market relative to the overall size of the institutional real estate market in some economies (Japan in particular).
It is hoped that the conclusions of this report will encourage regulators in mature and nascent REIT markets alike to strive for 'best practice' regulation and taxation of REITs, thereby encouraging greater market confidence and acceptance, and encouraging greater capital inflow into the regional economies.
This is an abridged version of a report produced by the Asia Pacific Real Estate Association (APREA)