The Northwest city is benefiting from a surging tech industry, but are investors taking part in a computer experiment? Christopher O'Dea reports

Birthplace of Microsoft in the 1980s and Amazon in the 1990s, Seattle has today become one of the most sought-after markets for property investors capitalising on the global technology boom. They are following a simple investing rule, following the money – in the form of the rents – flowing from companies setting up shop in the rainy city in the US Northwest.
Tenants and investors "are all chasing the engineering talent that's there", says Drew Hess, senior director in the investment group at American Realty Advisors.
Investors are funding an experiment of sorts. After years of growth, tech giants have gone into overdrive, seeking to build ultra-modern office space in some lesser-developed areas of the city. These include the South Lake Union district where Amazon is buying buildings put up by Microsoft co-founder Paul Allen – and planning to erect several more of its own. The activity reflects the optimism and belief that an urban core can be planned and built as needed.
It is working for now. Rents and absorption are rising, vacancy is falling, and investment sales of major properties are brisk. But there are risks to the Seattle story. A fall in tech company values is an obvious one, but the Seattle boom is broad-based, and for the most part not linked to start-ups. Yet owners of office-bound companies can relocate operations more easily than corporations run by traditional management teams that have to move plants as well as people. An exodus to a new tech mecca or a talent drought could leave institutional property owners hanging up more 'to let' signs than the latest technology logos.
The impact of the tech boom on Seattle's office market is shown in local headlines: 'Twitter expands Seattle office in Century Square Building'; 'Alibaba likely to choose Seattle for US Headquarters'; 'Dropbox opens Seattle office in Columbia Tower', and 'Oracle hiring more than 100 in Seattle to take on Amazon'.
The influx fuelled "the highest increase in prime office occupancy costs of 22 US markets surveyed in the first quarter of this year," according to CBRE's latest report on the office market of Puget Sound, the wider region anchored by Seattle. "Movement of this magnitude means a promising outlook for the Puget Sound office market."
Puget Sound encompasses suburban areas like Redmond, which counts Microsoft as its marquee office tenant, and Tacoma, which has a booming port that works in tandem with Seattle's harbour. The Puget Sound Economic Forecaster expects 3.3% growth, or 59,700 new jobs in 2015, the biggest gain since 1998. Competition for tech talent has become a central theme in recruitment. Companies try to attract workers with new, amenity-rich workspace that can be easily reconfigured.
You could call it STEM City: downtown Seattle is the epicentre of a boom in science, technology, engineering and mathematics, attracting employers and fuelling expansion of office, industrial and retail property. "There's some good stuff happening there," says Hess. "Tech tenants are growing their footprints in Seattle, because they're apt to follow employees. People are moving there from the Bay Area, and all over the globe, really."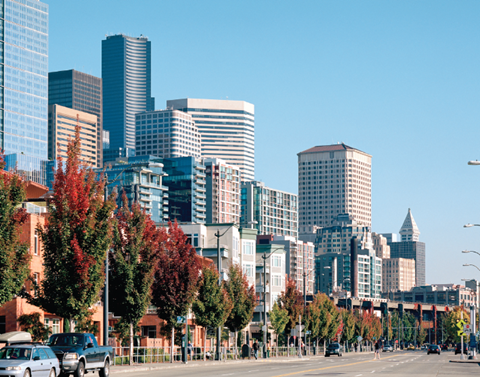 A common strategy, as reflected in Seattle headlines, is to start a small office and grow it by recruiting from Seattle's deep pool of tech coding and engineering talent. One of the biggest carrots employers can offer is cutting-edge workspace.
"This is not your father's office," says Hess. Current offices have a creative feel, he adds, with low-height cube partitions and work tables, plenty of natural light, and interior lighting grouped in 'clouds' to help with sound reduction in typically high-ceilinged spaces.
"They end up being more attractive places to work," says Hess.
Tech companies that have opened offices in Seattle include Google, Facebook, and Adobe. Seattle has also attracted a large number of digital gaming companies, including the Microsoft Xbox division and newer gaming firms like Bunge.
It is hard to find a sector not booming in Seattle. The ports of Tacoma and Seattle reported that container traffic rose 2% through June, and retailers such as Van's, Zara and Leica Camera have all opened new stores in Seattle in the past 12 months.
The city has notched 19 straight quarters of net absorption of industrial space, and CBRE estimated that tenants seeking more than 10m sqft of space were in the market early this year. Growing industries include online retail, food production, logistics, manufacturing and the furniture, fixture and equipment suppliers.
In a thriving biotech sector, Seattle-based start-up Juno Therapeutics, which listed last December, leased 80,000sqft in a new building in South Lake Union being developed by Alexandria Real Estate, a biotech property specialist, due for delivery in August 2016. Seattle is winning a significant share of biotech capital. EY's biotech industry report for 2015 says the Pacific Northwest – largely central Seattle and its Eastside suburbs – ranked fourth nationally for venture capital and third for IPOs in 2014. Biotech and life science property is concentrated in South Lake Union.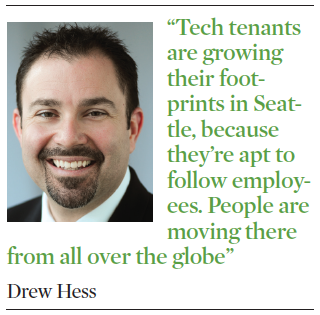 Aerospace manufacturing is still strong, with Boeing delivering 197 planes in the second quarter, up from 181 during the same period in 2014, which ended up with Boeing setting an industry record of 723 deliveries. This prompted aerospace suppliers to take on larger industrial premises.
The use of industrial space is changing "unexpectedly", says CBRE, with very large and very small spaces most active. The count of available spaces over 100,000sqft remained steady at 25 options, the same as 12 months ago. Eleven spaces were added through new construction and the same number were leased, "an indication that developers are supplying the right amount of large-box space". But over the same period, spaces between 15,000 and 50,000sqft shrunk by 20%, "likely because of high demand and lack of inexpensive new supply in that size range", CBRE says.
But the centre of the action remains where the jobs are – in offices in the South Lake Union area. Tech companies are leading the way. In 2012, Amazon bought all 11 of the buildings it was leasing from Vulcan Real Estate, the Seattle property investment and development concern of Paul Allen. That made Amazon one of the biggest landowners in Seattle and accelerated development in the area.
By June 30, over $2.2bn (€1.9bn) in office property changed hands across Puget Sound, exceeding 2014's 12-month total, according to CBRE. Hines, CBRE Global Investors, JP Morgan, Talon Private Capital and the AFL-CIO have been buyers, with Shorenstein, Brookfield and Ivanhoe Cambridge notable sellers. In one of the most high-profile transactions this year, Vulcan sold 2201 Westlake Avenue, a fully-leased, best-of-class office and retail property in the centre of South Lake Union, to American Realty.
The proceeds from the sale will go towards development, land and value-add investments Vulcan is making throughout the region, according to a company statement. Earlier this year, in relation to Vulcan's sale of the Rollin Street luxury apartment community in South Lake Union, vice-president Ada Healey said: "Going forward, Vulcan is targeting higher risk-reward investments, all of which made this the right time to sell Rollin Street. We are actively seeking new investment opportunities in the Seattle region including land and ground-up development as well as value-add assets."
Today, Seattle thrives as STEM City, much as Detroit was the Motor City 50 years ago. The technology that is generating economic growth may have changed, but all booms can go bust. So far, however, Seattle's urban experiment is working. It seems tech leaders understand that a positive user experience depends on smoothly functioning – or even invisible – infrastructure.
In South Lake Union, sidewalks are wide, and people walk on them. The new streets integrate with the existing city grid and streetcars, and parking lots are buried deep underground. New projects are built to a pedestrian scale, which, ironically, may provide skyscraper returns to investors in Seattle property.
The risk of talent drought
The real threat to Seattle's property boom is a talent drought. Each year the state's tech industry adds 3,500 new jobs that require a Computer Science degree, but generates only 500 new graduates qualified to fill them, according to the Washington Technology Industry Association.
In September, the association launched a tech apprenticeship programme to help close the gap. Other efforts are under way as well.
The University of Washington is addressing the looming shortage of tech workers by partnering with Microsoft and Tsinghua University, a Chinese research university, to create the Global Innovation Exchange (GIX) to educate new tech engineers.
The parties are finalising a lease to initially occupy 100,000sqft at the Spring District, a new development by Wright Runstad and Shorenstein Properties that will be accessible to Microsoft and Downtown Seattle by light rail in 2023.
Buy, earn Munich
1

2

3

Currently reading

Seattle: STEM City