Investors are regaining confidence in the Spanish capital which is one of the few European markets where prime office rents are rising, finds Russell Handy
North of Madrid's famous Castellana, work is due to begin on the €240m Cuatro Torres project backed by Corestate Capital.
An international investor boldly ploughing capital into a mixed-use Madrid scheme would have seemed unthinkable not so long ago.
Confidence is back and international capital continues to target the city, driven by a belief that the only way is up for Spain, despite 22% unemployment, according to Eurostat.
"The market is a lot more competitive today; there's been huge interest from all types of investors," says Pere Viñolas, chief executive of Inmobiliaria Colonial, which sits on around 250,000sqm of office space in Madrid. "The main problem is availability of product – particularly in good locations and of quality."
M&G Real Estate this year spent €175m on a central Madrid office asset, its first deal in Spain.
"Competition is there, but the key for us is to find assets which aren't necessarily openly marketed," says David Jackson, fund manager. "It is getting more challenging to do that."
M&G bought the prime asset for its open-ended, core European strategy, which is backed by a number of European pension funds.
"The purchase was very much a low-risk, defensive approach to re-entering the Spanish market," Jackson says. "Once you go out into more suburban locations, then there is the legacy of oversupply from the previous cycle."
Investors are expecting rental growth "in the next few years", Viñolas says."Rents are improving – but not as much as people expect."
While rental growth across Europe remains patchy, the Spanish capital is among a handful of European markets where prime office rents have risen.
"Once you are out of the prime areas, vacancy rates are higher and demand for space [is] lower," Viñolas says.
Similarly to London, Madrid office rents have historically peaked and troughed much more dramatically than in other Continental European cities. Rents in the Spanish capital typically fall to €20 per sqm, and peak at as much as double that amount.
The consensus among "bullish" investors, Viñolas says, is that with rents averaging €24 per sqm today, growth to a "30-something figure" is not unreasonable.
Not all investors are as bullish, according to PwC's annual 'Emerging Trends in Real Estate' report.
One observer told PwC's survey that while capital flows into Madrid and Barcelona, "we have not yet seen the recovery in rental values".
Corestate's Cuatro Torres 70,000sqm project is unlikely to include much office space.
Around 52,500sqm of the scheme will be for public use, which could include a hospital, a university or administration. The remaining 17,500sqm will be used for retail.
"The market is a lot more competitive today; there's been huge interest from all types of investors"
Pere Viñolas-Serra
Sascha Wilhelm, Iberian Corestate Capital board member, told IPE Real Estate that the firm would have been less eager to invest if the scheme was purely office, despite the positive prospects for the sector.
The decision to invest in several sectors under one roof was driven by increased confidence not only in Madrid, but the ability of the firm's local partner, Promociones Y Propiedades Inmobiliarias Espacio, to deliver.
"We feel comfortable investing when we have a partner who is based just minutes away from the scheme," Wilhelm said.
Manic on the streets of Madrid
To the potential detriment of smaller Spanish towns and cities, Madrid, like many major European capitals, is set for increased population. That has increased the confidence of office and residential landlords as well as retailers, including Apple.
"Central Madrid has been revitalised in recent years," says Invesco Real Estate's director of transactions, Fernando San Juan, who joined the firm last year when the investment manager took over the management of a portfolio of value-add assets from Doughty Hanson.
San Juan says re-urbanisation is playing a big role in Madrid real estate investment.
"We are seeing a lot of people moving back to the city centre," he says. "Madrid is much more accessible than five years ago, with more pedestrianised areas."
Increased retail demand was behind Thor Equities' decision to invest in Madrid for the first time this year. Joseph Sitt, chief executive of Thor Equities, says the area's high footfall was a major factor behind the US investor's decision to purchase 9 Puerta del Sol.
"Street rents are expected to grow significantly over the next few years," Sitt says, citing Gruppo Villar Mir's nearby Canalejas Project, which will include a shopping centre, luxury apartments and Spain's first Four Seasons Hotel.
As confidence rises on the prospect for increased Spanish consumer spending, M&G Real Estate's Jackson says there is improved appetite among retailers for space on the Madrid high street.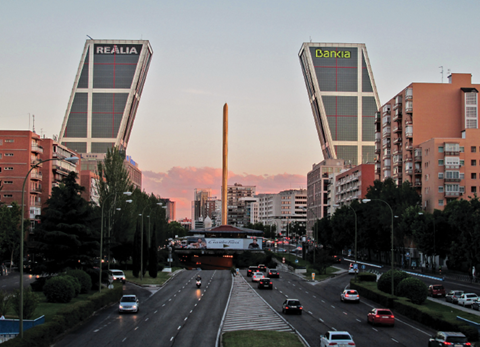 "We can see that the more positive consumer spending outlook is feeding through," Jackson says.
International retailers, including Top Shop, Sephora and Women's Secret, have moved into the street.
Primark recently said it was planning to open in the city's Gran Via. The clothing chain's move suggests that there is growing confidence in the potential of Madrid's centre.
Immobilien Europa Direkt, launched by the Zurich Investment Foundation for Swiss pension schemes, invested in central Madrid retail this year. The open-ended fund spent €25m on a 5,700sqm asset in Calle Fuencarral through Schroder Real Estate.
Jackson, meanwhile, says high street retail in Madrid is a sector the firm will consider investing in, as long as it is "core and well-located".
Invesco Real Estate's San Juan says the current trend for some retailers to seek a high street presence prior to opening in out-of-town shopping centres is playing its part.
Urban assets leased to convenience retailers in particular have attracted international capital this year. London-listed Kennedy Wilson Europe Real Estate paid €85.5m for a portfolio of 16 supermarkets, including 11 Carrefour supermarkets and five Dia supermarkets from a joint venture between French institutional investors managed by AEW Europe.
The 593,600sqft portfolio includes seven high street stores, with a concentration around Madrid and Barcelona.
Mary Ricks, president and chief exeuctive of Kennedy Wilson Europe, says: "The portfolio benefits from a strong geographic concentration around the affluent areas of Madrid and Barcelona regions, where around 70% of the income is generated along with the robust tenant covenants of Carrefour and Dia providing secure income stream."
What investors are currently pinning their hopes on is the potential for rental increases. In the case of Kennedy Wilson's deal, Ricks says the portfolio's prime high street units are 29% under-rented when compared with current estimated rental values. The firm is looking to increase rents through CPI index-linked leases as the Spanish economy recovers and Spanish consumer spending improves, Ricks said.
"The re-setting to market rents through upward-only rent reviews every six years will deliver another lever to create value," Ricks said.
San Juan says retail in central Madrid is a far-from-straightforward market to penetrate – with a lack of choice for investors in central locations.
"A lot of core product is already in the hands of investors who don't want to sell and don't need to sell," he says.
Invesco Real Estate, he says, is looking to create core through refurbishment and lease renegotiation.
"We are looking for core product in the market, but we can also create core product," he says.
Madrid – like much of Spain – has suffered from an imbalance between supply and demand. As 2015 draws to a close, prospects finally look better for the Spanish capital.
City Focus: Madrid regains its allure
1

Currently reading

City Focus: Madrid regains its allure

2

3