Demographics and economics point to opportunities in sub-Saharan Africa. But the region is not without challenges, writes Maha Khan Phillips
In June last year, the London-based private equity firm Actis closed its third opportunistic real estate fund in sub-Saharan Africa, with commitments of $500m (€470m). That was 25% over its original target. The new fund is much larger than Actis Africa Real Estate Fund II, which closed in 2012 with $278m.
The successful closing shows how much interest there is in sub-Saharan Africa, a market that is being shaped by economics and changing consumer patterns. Paul Jayasingha, global head of manager research at Willis Towers Watson, says: "From a top-down perspective, several countries in Africa have a young demographic. They are fast-growing, and high-consuming economies. They are rich in natural resources and at an early stage of their development. So there are elements which are really attractive."
But, he says, European institutional investors are wary of the market. "Our first foray into African real estate was for a group of South African clients who were looking to make an allocation. We did test the broader base to see if there was an interest in the strategy, but the results were mixed. Some clients bought into the growth story, but the vast majority of our clients were pretty cautious about going into Africa, and preferred to allocate to real estate in developed markets."
But industry veteran Actis says its investors have come from a diverse base, including pension funds, sovereign wealth funds, development and finance institutions, and endowments in Africa, Asia, Europe and North America. One of its projects is the $540m Garden City, East Africa's first integrated residential, retail, and office development, which opened in 2015.
"We have developed about 215 upper-middle-income apartments, and they are about 85% sold," says Koome Gikunda, a director in the Nairobi office. "We have another eight months or so to complete construction. Then we are planning to expand the entire park, with a hospital, hotel, more office space, and more residential space. A mixed-use development makes a lot of sense, particularly in cities where traffic and congestion are an issue."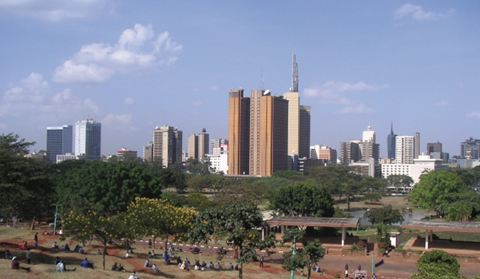 Population growth in the region is a key trend for real estate development. The United Nations has projected that by 2100 there will be four billion people in Africa, one billion of whom will live in Nigeria. In 2015, 42% of Africa was urban. By 2050, this figure will be 62%.
That urbanisation has many implications, according to Knight Frank in its 2015 Africa Report. There is a need for good quality commercial and residential real estate. Retail property development has been encouraged by the rise of the urban middle class, as well as the expansion of South African retail brands to the rest of the region. Multinational corporations are seeking high-quality office space, particularly in key regional hubs such as Nairobi and Lagos. Demand for offices in Luanda, Angola, and an extreme lack of supply has made the city one of the most expensive office markets in the world, with prime rents at $150/sqm per month, according to Knight Frank.
"The expanding middle class and the influence of South Africa are hugely positive developments," says Peter Welborn, partner at Knight Frank. "Look at the amount of retail development that has taken place in Nairobi: 85% of the retail development over the past 12 months is pre-let. There's stability there."
He believes European investors are missing an opportunity. "European investors are behind the curve in Africa. You do not generally have European investors in the market. You either have national investors, or you have global investors. We are currently seeing investors allocating large sums of capital from the Middle East and China. They see opportunities, particularly in west Africa and east Africa. Ethiopia, for example, is starting to get a lot of capital out of the Gulf."
Welborn says Africa's mega infrastructure and construction projects are a sign of things to come. The Kenyan government is planning a huge new port in Lamu, for example, while Tanzania was developing Bagamoyo before deciding to focus on improving the capacity of the Dar es Salaam and Mtwara ports instead.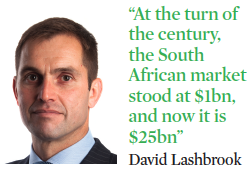 Welborn says: "85% of all goods coming into Africa come from these ports. You're talking about a minimum $1bn investment, probably a lot more. If you have the port, then you have land for warehousing and storage and logistics, and you have retailing and residential, and you have hotels. You also have the opportunities to build away from the old colonial city centres, which are very busy and have narrow roads."
Another key development has been the launch of real estate investment trusts (REITs) in the region. The development of the market could fundamentally underpin the sub-Saharan African real estate sector, says JLL, in its 2016 report, The Great African Capital Migration. "The growth of REITs in SSA [sub-Saharan Africa] should support much deeper pools of global capital and a wider investor base," it said.
South Africa leads the way in this area, with 36 publicly traded REITs, which have a combined market capitalisation of $33bn. Nigeria has three publicly traded REITs with a market cap of $100m, while Kenya has one worth $25m. Tanzania has a newly-listed REIT with a market cap of $31m, while Ghana, the oldest REIT market in the region, has one REIT with a market cap of $11m, according to the report.
"Kenya listed a REIT a year ago, and Ghana has enacted REIT legislation," says David
Lashbrook, head of Africa Real Estate at Momentum Global Investment Management. "You're also seeing the development of pan-Africa income funds."
Momentum launched its Momentum Africa Real Estate Fund to invest in sub-Saharan property outside of South Africa in 2015, in conjunction with sister company Eris Property Group. The fund had commitments of $170m at the beginning of the year and it was targeting $250m by the end of February.
"We have committed 20% of the fund across three projects, from an office block in Mauritius to two 10-storey office blocks in Ghana," says Lashbrook. "We have further pipelines in Mauritius, Ghana, Kenya, Rwanda, Tanzania, and Malawi, and we have a very big development team on the ground."
He believes the region will follow South Africa's success. "At the turn of the century, the South African market stood at $1bn, and now it is $25bn. More importantly, there's been a huge flood of liquidity in the market, as REITs have become very successful. If you go back to South Africa in the year 2000, you could develop double-digit [returns]. Other African markets are where South Africa was 15 years ago."
But the region is facing challenges. Investors are concerned about transparency, with some markets faring better than others on transparency indices. There are, of course, political risks, and corruption concerns, particularly around whether deed titles are clean, given that much of the region is still not computerised. Moreover, the region has suffered with oil price volatility.
"Africa hasn't had many good headlines recently, and oil prices and commodities prices have had a knock-on effect," says Lashbrook. "The oil exporters, Nigeria and Angola have been absolutely smashed. Inflation in Nigeria is running at 20%. But, on the other hand, you have countries that are doing very well. Kenya grew 6% last year, and Mauritius grew 4%. So each country is very different."

JLL does point out that demand has slowed. The surge in investment activity in sub-Saharan Africa, excluding South Africa, between 2008 and 2014 is at an end. Transactions for prime real estate in 2015 amounted to about $400m, roughly double that in 2014 – but in the year up to October 2016 it was only $150m.
"It's not an easy time right now for real estate in Africa," says Gikunda. "There's turbulence from a macroeconomic perspective, but that's short term and cyclical. We are investing on the basis of much longer-term trends, which will persist regardless of the cyclical challenges."
Jayasingha says: "We look for managers who are hands-on in terms of doing the developments, who have people on the ground, and can keep a close eye on the projects that are being developed and, in fact, can do aspects of the development oversight themselves, as opposed to relying on third parties. They have to keep costs under control, particularly because there's a potential for fraud risk. Obviously, being experienced in doing this in each local market is very important."
City Focus Stockholm: Fully stocked
1

2

Currently reading

African real estate: Sub-Saharan surge

3

4