A number of new real estate fund platforms focused on Sub-Saharan Africa (SSA) have emerged in recent years, giving credence to the continent's ability to attract larger capital commitments from global investors.
Actis Capital launched the first in 2007, when it raised more than $150m (€138m) of equity from a single development finance institution (DFI). This was quickly followed by the emergence of other fund platforms and, to date, more than 15 are now established with more than $2bn in equity committed.
These new entrants, together with subsequent rounds of capital raising from existing fund platforms, could target a further $4-5bn over the next few years. And, continuing on this trajectory, JLL estimates that $7-8bn of equity will have been committed to regional fund platforms by 2020. This could deliver up to $15bn of new real estate stock to the market by 2025.
Of course, this only represents part of the picture, since beyond the regional fund platforms there are numerous domestic and international groups developing and investing directly in real estate. But it does provide an indication of the potential growth in investment-grade stock which would, in time, attract the attention of large global investor groups that are studying the evolution of SSA real estate markets with interest rather than intent.
While investors may be viewing the market with caution, many are watching its progress from the favourable vantage point of Mauritius – the primary financial base for these regional fund platforms.
As they do their due diligence and establish reputations, the sources of capital for these fund platforms are broadening. From the clutch of DFIs that we first saw in 2007, capital is now emerging from pension funds, institutional investors, family offices and sovereign wealth funds, predominantly from South Africa, the US and Europe.
The majority of these global groups prefer indirect exposure to SSA markets via established and proven fund platforms because the markets do not yet offer the scale or risk-return profile to suit their mandates.
Of the fund platforms recently surveyed by JLL, it is estimated that nearly half of all new equity commitments will be from South African investors. A further 20-25% will come from North American sources and 15-20% from Europe.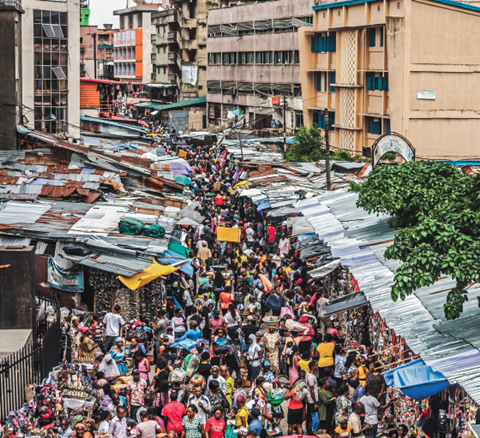 Although China remains the region's largest investor, it is heavily weighted towards state-sponsored infrastructure enhancements and Asian investors are yet to enter the SSA real estate market in a meaningful way.
Investors need scale, which Africa lacks because supply of real estate is so low. The continent also has a different way of doing business and these investors are, typically, more comfortable entering the market at a governmental level. Even so, infrastructure is the precursor to real estate and investment in such projects in SSA is expected to expand by 10% per year over the next decade, reaching an annual total of $180bn by 2025.
A market in the making
Africa has captured the attention of investors as an emerging market. It is an interesting time with recent developments in China and Russia because it is difficult to gauge what the impact of those markets faltering will be.
What we do know is that half of the projected 2.2bn rise in the world's population between 2015 and 2050 is expected to be in Africa. The majority (60%) will live in cities and Nigeria alone will house 1bn people. We're witnessing the emergence of real estate cycles in these big cities for the first time.
"Capital is now emerging from pension funds, institutional investors, family offices and sovereign wealth funds, predominantly from South Africa, the US and Europe"
What Africa lacks in inherent wealth, it makes up for with a new generation of consumers and workers. This is forcing investors, developers and occupiers to take SSA seriously as a business base.
Testimony to this is the fact that Africa's share of global foreign direct investment (FDI) has soared. It is the only region in the world to record significant growth in its share of global FDI flows since 2003 – more than doubling from $62.5bn to $128bn in 2014.
Back in the early-2000s, mining, oil and gas accounted for over 60% of this FDI. But by 2014, this fell to 17% as other sectors, most notably manufacturing, surpassed the extractive industries.
Oil and gas remain a significant focus in Africa for overseas investors, but business services now top the FDI sector list, followed by manufacturing and sales, marketing and support industries. Retail and construction also feature in the top 10, and both have surged in response to the demands from rapid urbanisation and consumer spending.
The subsequent business travel boom, driven by this corporate expansion, has created a need for better-quality hotel stock.
Africa is slowly finding a place on the global hotel investment map and in the past 24 months investors' ambitions in the market have moved from pipe dream to strategic plan – especially in Nigeria, Kenya, Ghana and Angola. The Fundo Soberano de Angola, a sovereign wealth fund from Angola, has allocated $500m in equity capital to a hotel development fund for Africa.
As many European countries reach their hotel occupancy ceiling, average room rates will be the key driver of revenue per available room (RevPAR), boding well for hotel profit increases. Africa is expected to experience double-digit RevPAR growth in some cities, further strengthening its case as the next 'go to' destination for hotel investors.
Retail, too, is a sector to watch. Lagos, for example, is a huge city with just five or six shopping centres that you could classify as modern in the context of a developed market. As more professionals from within Africa migrate to the cities, and international companies set up corporate hubs, this generates a requirement for retail, residential and better supply chains to transport goods.
Africa is now at a stage where Asia was 20 years ago. Institutions around the world face the same challenges in accessing African markets as they did in Asia in the 1990s – issues around the scale they can achieve and the pricing and the availability of stock and financing. These challenges have been encountered and resolved elsewhere and it is very exciting in this market now on the cusp of its emergence as an investment destination.
But the economic optimism should be viewed with caution. Many stumbling blocks remain and successful investors will take a long-term view and commit to strategies with strong local partners.
Anthony Lewis is head of capital markets at JLL