Some value-add fund managers have built up a track record in Asia-Pacific. They now face a tough test, writes Florence Chong
Global capital came to Asia-Pacific more than a decade ago via value-add funds. The funds provided useful lessons for new entrants into what was then high-risk, unfamiliar territory.
Since the mid-2000s, billions of dollars have been raised and deployed, in many cases rewarding institutional investors with double-digit returns. Many funds in the market are third or fourth-generation vehicles, with a couple even older.
The two largest to close in the 12 months to March, according to Preqin, are the Hong Kong-based Phoenix Asia Real Estate Fund, which raised US$1.15bn (€1.06bn), and the Singapore-based Alpha Asia Macro Trend Fund III, with US$1.1bn.
Over that period, nine funds closed, raising a total of US$4bn for value investing in Asia-Pacific. In addition, 13 other funds, with an aggregate target of US$10.8bn, held either their first close or are fundraising.
BlackRock is understood to have raised about US$500m in the first close of its billion-dollar Asia Fund V. Invesco has also raised US$500m for its latest Asia Real Estate Fund IV.
In March, CBRE Asia Value Partners V held its final close, raising US$900m from sovereign wealth funds, pension funds and other top-tier institutional investors across North America, Europe and the Middle East. With leverage, it is expected to have purchasing power of US$2.3bn.
When asked if some institutions might start to waver in view of global economic convulsions in the wake of COVID-19, fund managers say it is too early to know, although it is expected that some investors may have to adjust their own portfolios.
Christina Tan, CEO of Keppel Capital, says: "Market cycles will come and g, and near-term challenges may impact certain decisions, but we do not expect there to be a reversal of intentions to invest in alternative assets, including real estate. There could be changes in market and/or sector focus, but real estate will continue to be a key asset class, especially for the larger institutional investors."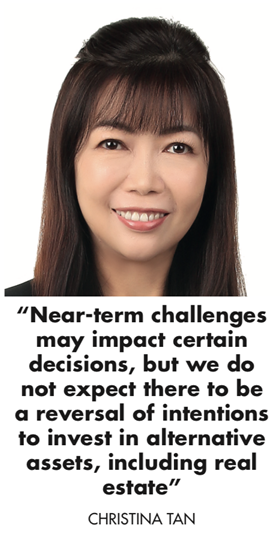 Tan says many global investors are seasoned, especially sovereign wealth and pension funds. They look at long-term trends and match the duration of assets held with their liabilities, so they are not overwhelmed by shorter-term volatilities or market disruptions caused by situations such as COVID-19.
"Macro trends such as urbanisation, growing middle income and consumerism all still point to demand for real estate and infrastructure," Tan says.
Over the years, Keppel Capital's subsidiary Alpha Investment Partners has raised close to US$4bn for its Alpha Asia Macro Trend Fund (AAMTF) value-add series. With leverage, these fund have acquired assets totalling about US$10bn.
Alvin Mah, CEO of Alpha Investment Partners, says: "While we will not rush to do a deal, we are monitoring developments for potential dislocations where stress is being observed. The key gateway cities in Asia-Pacific continue to be our focus."
Mah says Alpha Investment Partners is working with existing investors to establish a follow-up fund later this year. Performance and delivery is key to retaining investors, he says, highlighting a Tokyo investment property known as The Kanda 282. AAMTF III held the asset for just 28 months before divesting it in December 2018. The investment netted an internal rate of return of about 25%.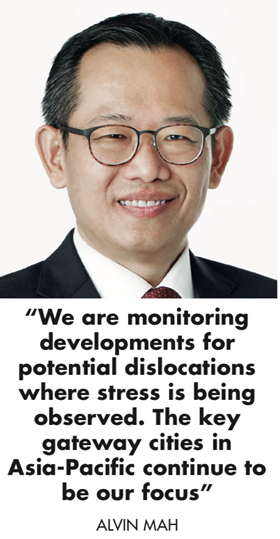 Mah says Alpha would generally distribute all funds received from divestment to investors. "We constantly monitor the landscape and would look to invest when there are attractive opportunities fitting the mandate. This could include the possibility of reinvesting realised capital to enhance overall fund performance. Nonetheless, given the current market environment, we are highly selective at the moment."
Mah says: "Much has changed, yet much has not. The fundamentals of relevant demand and supply are still critical. Having an appreciation of these variables in each market allows us to pick the appropriate investment opportunities at the right time."
John Saunders, managing director and head of APAC for BlackRock Real Estate, says the firm goes into the market turbulence with a limited legacy properties on its books. "Through a combination of prudence and a bit of luck, our existing portfolio is largely sold down," he says. "What isn't sold down is not exposed to hospitality, or in markets like Hong Kong and South Korea."
He adds: "We enter the downturn with a large amount of dry powder. We are well placed to seek out opportunities in a world that is witnessing plenty of dislocations – with a lot more to come."
BlackRock has stress-tested its assets and is confident of weathering the storm. "I am comfortable but not complacent," Saunders says. "We have plenty of liquidity and we have a very defensive portfolio and are significantly sold down."
BlackRock' s Asia Property Fund series has bought and sold US$11bn worth of property. "Obviously we had no prescience of the virus, but it had became clear that we were getting farther and farther into the cycle," Saunders says.
"We run on short business plans and felt it was time to take profit when we did. We have also stayed away from hospitality, and have limited exposure to retail. We deliberately focused on strong real estate fundamentals in Sydney."
Fund managers say they start from a defensive position by focusing on buildings with established income, before looking to increase value through refurbishment.
In a joint venture with BlackRock, Centuria Capital Group bought Zenith Towers in Chatswood, Sydney for A$279m in 2016, before selling the building to Starwood Capital for A$440m in 2019. "It was typical of the buildings that we like," says Saunders. "New infrastructure is going into the area and we felt this was a complex that was underrated and would benefit from repositioning.
"Our strategy is to look for an existing yielding asset in a good location and in need of refurbishment and repositioning. Ours is a conservative approach. We want to collect an income yield from day one and see a big spread between the income yield and the funding cost. Then, as we refurbish the building, that increases the income yield even more. We are basically manufacturing assets for core funds and long-hold investors."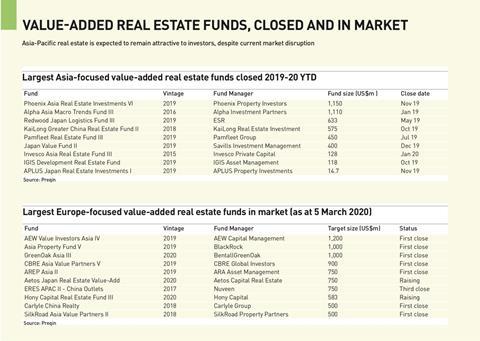 Based on market volatility alone, says Calvin Chou, co-CIO at Invesco Real Estate Asia, there will likely be further disruption and potentially interesting times ahead for value-add investors. Chou believes opportunistic acquisitions could arise from mispricing of market risk that will emerge in coming months.
"In terms of market strategy, we will be patient, focused, and will maintain our investment discipline," he says. "Opportunities will take some time to emerge."
Asked about the implications of the market upheaval, Chou says: "Nothing has emerged to steer us off our long-term convictions. If you are mindful of short-term headwinds, sticking to our fundamental investment principles and the structural drivers behind our focus has not changed."
Chou also believes that if an asset is acquired around the strategy of growing income (as well as the quality of the income), that will soften the impact in the market emerging in the wake of economic slowdown.
Invesco is focused on the key gateway markets of Asia, including Japan, South Korea, Australia and New Zealand. It holds a "patient view" on China while waiting for potential pricing dislocation in markets such as Singapore and Hong Kong.
However, a view is emerging that these economies could be among the first to stabilise. Greater China has gone through a tough time with deleveraging in the mainland and political protests in Hong Kong even before the coronavirus outbreak. And Asian economies have struggled with the impact of the protracted Sino-American trade war.
One fund manager, who wishes to remain anonymous, recently held a first close for a fourth Asia value-add fund but is yet to deploy equity. "The capital gives us a good entry point in the next 12 to 24 months," the manager says.
"Our long-term strategy stays the same. In the short term, our key focus is in developed Asian markets and multifamily in Japan. There is no secret that the Japanese rental residential market is holding up well and is a sector that continues to attract capital.
"In turbulent times, and when rates are low, investors will renew their need for yields. The emphasis will be on cash flow, and so, if there is another downturn, we will still have our cash flow."
Saunders says China is getting back to production mode and back to business. "People are starting to talk about leasing," he says. "BlackRock's portfolio in China is made up mostly of office."
Obviously, there will be a painful period of deleveraging ahead, Saunders cautions, but there is also a large amount of quantitative easing around the world. This, coupled with low interest rates, will be beneficial to real estate, he says.