Although the US has withdrawn, the Trans-Pacific Partnership has the potential to boost Asia-Pacific real estate markets – especially Vietnam, says Florence Chong
Last year, US private equity firm Warburg Pincus created a joint venture with Becamex IDC Corporation to establish a platform for the development of logistics warehouses and prefabricated factories in Vietnam.
Total initial investment was about US$200m (€166m). Announcing the deal, Becamex IDC, the Vietnamese partner, said the aim was to grow assets to US$1bn-2bn over the next five years.
Warburg Pincus already has several joint ventures in Vietnam. It is among the many foreign investors attracted to the country, which is expected to benefit from expansion of trade through the Trans-Pacific Partnership (TPP) and other trade agreements.
"Trade agreements shape economies in the longer term by altering the kinds of goods and services produced and by increasing per capita incomes," says a report on the TPP by CBRE Research. "Consequently, the sources of demand for commercial real estate change. This, in turn, affects growth potential for property types in different markets."
A prime example is the expansion of the Mexican property market after the North American Free Trade Agreement (NAFTA) came into force in 1994. Mexico has evolved to become a car manufacturing hub, attracting North American car manufacturers, Japanese and European companies.
CBRE says in the Bajio region of Mexico, the car-manufacturing the industry fuelled tremendous growth in the commercial real estate market. Since 2012, the volume of Bajio industrial property stock has grown by 8% to 2.3m sqm, while office stock rose by 45% to 227,000sqm during the same period.
CBRE says TPP has the potential to change property markets in all participating economies, especially Vietnam.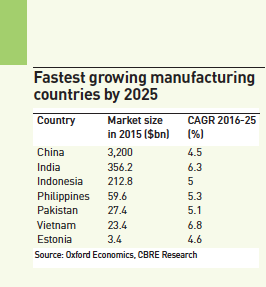 When originally conceived, TPP encompassed 12 Pacific Rim economies, including the US. Collectively, these economies represented 20% of global trade and 40% of global GDP. But the ambitious trade pact was one of the first casualties of President Donald Trump's administration. President Trump withdrew the US from TPP as part of his pledge to renegotiate trade agreements, including NAFTA, which he deemed "unfair" to US industry. TPP is now being revived by 11 countries: Australia, Brunei, Canada, Chile, Japan, Malaysia, Mexico, New Zealand, Peru, Singapore and Vietnam.
CBRE's chief economist, Richard Barkham, says the US decision to pull out of TPP will obviously lessen the positive gains that could have come from the trade pact. "The US is a powerful engine for economic development," he says. "But I was encouraged that the Asian nations are going to continue with the TPP in some form. It is an unfashionable view at the moment, but I think it is possible that, in three or four years, the US will come back in."
Japan and Australia are determined to salvage the TPP, believing that a smaller TPP is better than no TPP at all. The 11 countries are expected to sign an agreement on 8 March.
When the original TPP agreement was concluded in 2015, Barkham and his research team carried out advanced econometric modelling to assess its potential impact on commercial real estate in participating economies. Strictly speaking, Barkham says, it is not possible to measure the precise potential impact on real estate, but modelling allowed his team to estimate the effect on the economies and from there to "informally" work out how this would affect property markets.
His analysis found that, from "a high-level perspective", the projected gains from TPP would be "transformative" to Vietnam and Malaysia. Gains would be notable for other TPP countries, but were unlikely to be as pronounced as in Vietnam and Malaysia.
The report noted that the industrial market in Vietnam would be one of the biggest winners from TPP, due to Vietnam's potential as a low-cost producer – particularly of textiles and apparel – for large development markets, especially the US.
Industrial property markets in Canada, Japan, Malaysia, and Mexico should all also experience notable gains. In CBRE's original TPP paper, published in 2016 when the US was part of the pact, Barkham wrote that office markets in the US and Japan would benefit from higher demand for services that are exported or utilised for trade. That earlier report expected TPP to increase Tokyo office demand by more than 3.7m sqm by 2030 – provided the deal was ratified in the near term.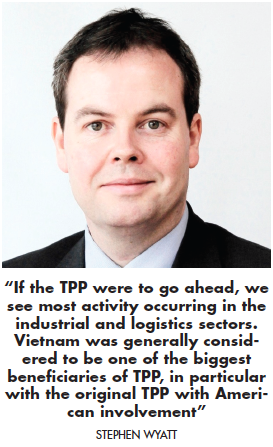 With the US now out of the picture, Barkham expects Japan's services sector to gain market share when the new TPP is implemented. He says TPP will help make the Japanese services sector more competitive as foreign firms enter the market and generate competition.
Stephen Wyatt, regional director for Vietnam at JLL, says: "If the TPP were to go ahead, we see most activity occurring in the industrial and logistics sectors. Vietnam was generally considered to be one of the biggest beneficiaries of TPP, in particular with the original TPP with American involvement. Vietnam does a huge amount of trade with the US, and it was expected that, under the TPP, bilateral trade would grow significantly."
Vietnam is an emerging market, Wyatt says. With many new free-trade agreements being signed and especially under TPP, Vietnam has the potential to become a manufacturing hub for Southeast Asia. But whether or not TPP happens, Vietnam has already become an established manufacturing base for global and regional companies.
Wyatt's point is supported by Barkham who says: "Vietnam has a bright future and attracts a lot of manufacturing. Our manufacturing report points to a high rate of growth in its manufacturing sector."
In its The Future of Global Manufacturing report, CBRE lists Vietnam as one of the fastest-growing economies in the world, with a compound annual growth rate of 6.8% estimated between now and 2025.
Wyatt says: "We are seeing low-cost manufacturing now coming to Vietnam which were previously in China. China is moving up the value chain and is no longer interested in the low-cost sector."
With increased foreign investment in Vietnam, Wyatt expects to see a "knock-on effect", leading to increased office demand in Hanoi, Ho Chi Minh City, and Da Nang. Wyatt says, as the economy grows, more jobs and wealth will be generated, which in turn will lead to a higher demand for housing.
Vietnam's success is being replicated, to varying degrees, in other countries that have benefited from free-trade agreements.
The conventional wisdom is that improved economic fundamentals lead to further investment flows as international real estate investors begin to acquire assets in the participating countries. Trade and manufacturing are closely correlated, because, without manufacturing there is no trade, and without trade, manufacturing would be stifled.
In its The Future of Global Manufacturing report, CBRE says demand for industrial and logistics real estate from both occupiers and investors has been rising since the 2008 crisis. It expects demand for high-quality industrial and logistics facilities to continue over the next decade.
"Since 2004, the global average prime yield for industrial real estate has fallen to 5.3% from 8%," the report says. "This trend is attributed to the rise in e-commerce, but also reflects the rise of Asia Pacific as the world centre of manufacturing activity, and increased investment in infrastructure that transports new and expanded flows of goods to the marketplace."
CBRE notes that 78% of world trade is in manufactured goods – a figure that is higher for the emerging markets. "Manufacturing not only feeds industrial and logistics real estate, it is vitally important for the global economy, employing nearly 550m people in total."
To maintain export growth, countries are forging new free-trade deals. According to the World Trade Organization, there were 279 reciprocal trade agreements in force as of July 2017.
The bottom line is that all trade deals, whether the TPP, the Regional Comprehensive Economic Partnership (RCEP) or the Transatlantic Trade and Investment Partnership (TTIP), have a significant effect on commercial real estate markets in participating countries – over time.
Barkham cites the London real estate market as an example. He says Britain's entry into the European Union in 1975 gave London a substantial boost as a financial services centre.
"Over the years, London built up massive financial expertise to become a financial services hub for Europe. That flowed into all real estate sectors – office, retail and residential. But it developed over 30 years. So trade agreements don't have an overnight impact. The impact plays out over the long term."
Global Trade: NAFTA
1

2

3

4

5

6

7

Currently reading

TPP: Pacific Ocean's 11