Should investors look to ships rather than ports for exposure to global trade? Christopher O'Dea explores the options
Investors looking to diversify their infrastructure exposure to include maritime assets might want to consider investing in moveable assets (ships) rather than the static (ports).
Ports appear to be just the sort of assets investors are looking for today – linked to GDP with long-term contracts (often with inflation-linked fees built in), and typically large in size, offering the chance to deploy significant sums of capital efficiently. But there are two sides to every coin, and in the case of ports the cost of keeping up with the pace of the global digital economy is proving to be high.
Global container-shipping companies, which are the main customers of ports, are consolidating to raise profitability, cut costs and win market share on competitive ocean routes. At the same time, consumer expectations of rapid delivery, along with cost-efficiency requirements of businesses that rely on last-minute global supply chains, are pressuring every service provider in the maritime commercial sector. For ports, that means having the latest fastest loading and unloading equipment, increasingly operating 24-hours a day, improving road and rail links to land transport, and ensuring that every facet of the port is able to handle ever-larger vessels.
Some shipping consultants point to emerging risks to port investors, such as recent port closures when very large vessels ran aground in harbour channels. The high-profile coverage of the first large container ship to sail into the port of New Jersey beneath a the Bayonne Bridge, which has recently been elevated for $1.6bn, highlighted the cost of upgrading major infrastructure to accommodate today's massive vessels. New environmental standards from the UN and governments are also encouraging large ships to reduce per-tonne emissions.
Global trade affects property markets through three channels. One component is the port assets themselves, the docks, cranes, terminals, container yards and facilities to load, unload and service cargo ships. Then there is property that facilitates port throughput: industrial and logistics space at or near ports, which in some major markets can extend for miles inland as consumers demand fast delivery of goods. Ships present a third way for investors to participate in maritime commerce and trade, and some argue that investing in diversified portfolio of ships is a better way to deploy capital, providing a range of income sources from varied industries, without being saddled by the heavy capital expenditures that ports must make to stay competitive.
Those outlays are set to rise rapidly, according to the American Association of Port Authorities (AAPA), which represents US seaport operators. The association's Port Planned Infrastructure Survey shows that port authorities expect their private-sector partners to invest $155bn (€174bn) in port-related freight and passenger infrastructure between 2016 and 2020 – a three-fold increase over the $46bn outlay projected by the same survey five years ago. At best, the AAPA's expects US federal spending on ports through 2020 to be $24.8bn, noting that, at a time when ships are getting larger, "federal navigation channels aren't being maintained at their originally-constructed depths and widths". Mean low-water channel depth, which indicates readiness to accommodate large ships, is one of five key attributes that CBRE Research uses when assessing a port's potential to operate a modern logistics hub.
The port of Los Angeles is in a decade-long $2.6bn capital plan to improve terminals, deepen berths, add cranes and an on-dock rail terminal. The Port Authority of New York and New Jersey, the third-largest in the US, is halfway through a $4.3bn capital plan, most notably adding 64ft of air draft to the Bayonne Bridge to allow some of the world's largest ships to reach terminals.
A key risk of ports is that they cannot be moved – and the service they provide is not fungible the way electricity from a power plant can be sold through the grid, says Anton Pil, managing partner of JP Morgan Global Alternatives. In fact, ports are much more competitive than they initially appear to be in light of the extensive infrastructure. "We're long-term investors," says Pil. "We've got to be certain a port can't be replaced if one further up or down the coast deepens its harbour, lowers its rates or improves its rail access. That can put a particular port at risk from an investment standpoint."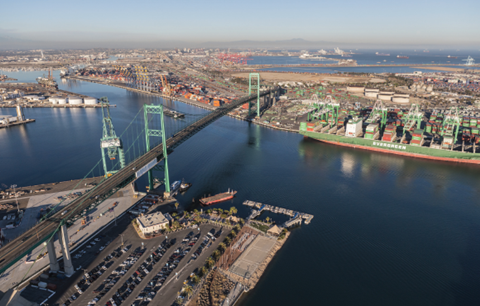 While the shipping industry in general has not performed particularly well, ships are in large measure tied to the economic cycle, and the improving global economy has boosted shipping valuations over the past year. And while that rising tide is lifting all boats, Pil says investors should "look for a diversity of ships that tackle different parts of the maritime market, so as not to be overexposed to one sort of economic risk, like a mining sector or an energy sector in isolation".
Assembling a fleet of ships diversified by type and industry requires looking beyond the obvious. "We tend to think of large ocean-going ships," says Pil. "But shipping isn't just for moving stuff easily. There's shipping that's used for maintenance of offshore wind farms, or batching industries such as floating concrete plants. So the universe is pretty broad and those service ships often play a quite significant role in the economy."
The process of analysing synergies between shipping and other sectors can provide fresh insights across a real assets portfolio, Pil notes. "We're a large ship owner, and we're also a large owner of renewable energy, so it actually is quite interesting to compare notes," Pil says. "We've sometimes been concerned about valuations on offshore wind farms, because the maintenance can be quite expensive due to the high cost of shipping services. If you're a shipping investor, that's actually quite attractive, so you may not want to own the wind farm offshore but you may want to own the ships to service the wind farms offshore."
Shipping assets also offer a margin of safety because the core service that ships provide is hard to replace with new technology. "Shipping isn't really disruptable," says Pil. "If you need iron ore, there's really no easy way to get it from Australia and bring it somewhere else other than shipping."
Just as ships offer investors additional opportunity, port-related logistics property offers investors a way to benefit from economic growth without taking on direct exposure to a port operation. A large port is perhaps the most readily apparent symbol of global trade. But due to the nature of rapid delivery, the purpose of logistics property itself has been transformed from a storage function to an integral component of the delivery chain.
Closer the better
Although US headlines reflect trade tensions, most people do not take into consideration government positions about trade deals when deciding where to live. People in the US, and around the world, choose to live in or near cities to take advantage of urban lifestyles, and seaports anchor some of the country's largest metropolitan areas. In fact, the five fastest-growing US property markets are port-centric cities, according to CBRE Research.
Such markets display the characteristics that support logistics property, says Kurt Strasman, senior managing director of the CBRE Port Logistics Group. They include high population density, a large total population, expected population growth, and a diversified economy to reduce exposure to any sector. The strength of a port's local economy is critical to the potential performance of a port investment. CBRE Research shows that 60% of all cargo that comes into the ports of Los Angeles and Long Beach – the largest seaport complex in the US, handling 30% of US container volume – remains in the southern California region.
The main rule for evaluating port-related property is "the closer the better", Strasman says. Industrial users balance the transportation and labour costs of potential locations against the delivery requirements of the end customers. In the digital economy, companies have a highly refined understanding of their customer base, which influences property leasing decisions.
About 27m sqft of logistics and industrial property was under construction at the end of 2017 in the greater Los Angeles area, which posted a 3.8% availability rate in Q2 2017. The growth of e-commerce is fuelling demand for last-mile facilities in infill locations, while the Inland Empire is seeing continued construction of new top-quality space – about 75% of the market was built within the past 15 years as the region has expanded, Strasman says.
"The Inland Empire is very well positioned," he says. "It's a great location for any type of supply chain model," he adds. Users can "ship out of there to other parts of the US efficiently, as well as service southern California exceptionally well".
Building Oakland's new mega-warehouse
The redeveloped Port of Oakland will be the first in the US to offer transloading of goods
Property investors rarely get the chance to design a major new seaport terminal from the ground up – at least not one that will not require extensive demolition before building.
But that is just what the Port of Oakland Commissioners gave CenterPoint Properties last November when they approved a plan to construct a 440,000sqft distribution centre adjacent to the port's $100m (€92.4m) rail yard.
Part of a decommissioned US Army base, the site is just one of a few significant-sized, undeveloped parcels of land inside a major US seaport. Construction of the $52m logistics facility could start early this year.
CenterPoint's building would mark the first phase of the port's Seaport Logistics Complex, an ambitious project of 180 acres. The port said the new building would be the largest distribution facility at any port on the west coast.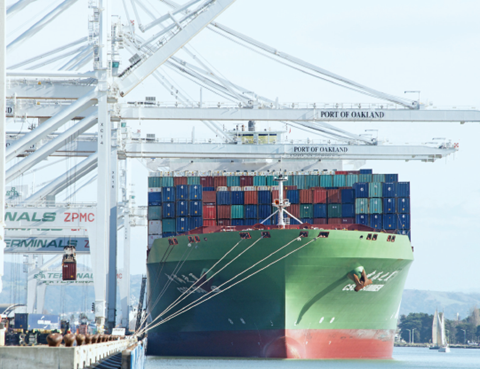 It would also make the Port of Oakland the home of the first distribution facility capable of transloading of import, export and last-mile cargo between ships, trucks and trains.
The prevailing trend is to locate distribution warehouses, especially e-commerce fulfilment capabilities, as far as 50 miles ports. Transloading would see imports unloaded, containers repacked with export goods, and some goods directed to fulfilment centres serving northern California. The financial proposition of lower costs of trucking and repositioning containers in an inland network will more than offset the higher lease costs in the port.
Both partners have a knack for innovation. A recent CenterPoint paper on logistics advises clients to mitigate supply-chain risks by setting up import or export operations at more than one seaport, and extols the benefits of ports offering the most advanced combination of container-handling systems and transport options, such as on-dock railroads.
For its part, the Port of Oakland is already unique among US ports – it exports more goods than it imports.
Now it wants to use its transloading approach to be cool, too. Literally.
The port is developing Cool Port Oakland, a $90m, 280,000sqft temperature-controlled facility that would bring chilled or frozen beef or pork by rail from the American Midwest, transfer the goods to shipping containers, then load onto ships bound for Asia.
Work is underway on a new rail line connecting the port's rail yard to the trans-continental lines from US stockyards. Premium American beef is scheduled to sail for Asia by August – just in time to support one of America's greatest exports – summer grilling.
Global Trade: NAFTA
1

2

3

4

5

6

Currently reading

Shipping: Favourable tide to ship out of ports

7