Losses in rental income is putting pressure on the ability to service real estate loans. Can property debt funds take advantage? Jennifer Bollen reports
Alternative lenders are preparing to move in on a funding gap worth tens of billions of euros as a sharp fall in loans backing European commercial real estate has accelerated 'irreversible' pre-COVID-19 trends.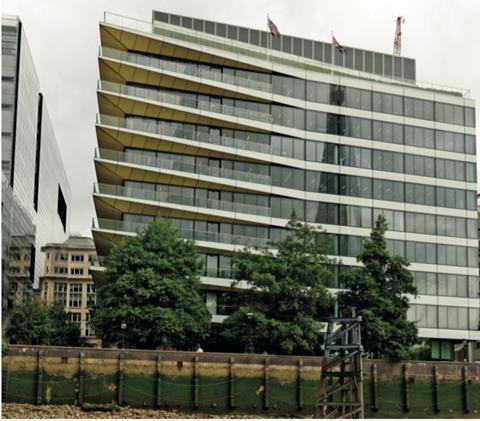 Market participants anticipate a shake-up of the debt market in the coming year, driven mainly by more conservative bank lending and a growing shift from consumer-focused assets.
Invesco Real Estate is among those ramping up its activities. It acquired GAM Investments' European property debt business, including €250m of assets, in October. The deal diversified Invesco's lending businesses, which already spanned the US and Asia-Pacific.
Meanwhile, more subdued bank lending in Germany – one of Europe's biggest real estate debt markets – is boosting opportunities for alternative lenders, according to research by consultancy FAP Group in October. There were 155 active subordinated debt providers in the German real estate market in the first half of the year, up nine on last year.
The FAP Group said the 53 firms surveyed for its latest mezzanine report had supplied a combined €6.9bn of loans over the past year, up almost a fifth from the €5.8bn recorded in its last report. This latest bout of finance enabled development and investment projects worth a total of €40bn.
Subordinated lenders "jump into the breach where banks are either not willing to lend or only at low loan-to-value ratios", Hanno Kowalski, managing director at FAP Invest, says in a statement.
The news follows separate research reports published in October, which hinted at the scale of the problems faced by real estate borrowers, with the true impact of the pandemic yet to emerge. Loan origination for UK commercial property fell by 34% in the first half of the year to £15.5bn (€17.2bn) compared with the same period last year, according to The Business School (formerly Cass).
Meanwhile, European real estate transactions have dropped. The latest figures from property services provider CBRE show that deals fell to €48bn in the third quarter, down 37% on the same period last year. It compares with €43.9bn of deals in the second quarter of this year.
A mid-year report published by CBRE in August predicted that globally, property capital values would fall by 14% overall this year based on lower rental income – while real estate lenders pointed to bifurcation in valuations, with retail and hospitality suffering, and logistics riding high.
Nicole Lux, author of the report and senior research fellow at The Business School, says the news spelt trouble for refinancing in the next two years. It would be worth £9.5bn for retail assets and a further £13.5bn for alternative assets including student housing, care homes and hotels, she said.
A separate report by AEW projected that the UK debt funding gap would reach £30bn for the 2020-23 period – or 16% of outstanding loans, with almost half in the retail sector. AEW defines the debt funding gap as the mismatch between the outstanding Principal debt sum and the funding available in the UK and German commercial property markets, based on predicted falls in asset valuations and loan-to-value (LTV) ratios.
Meanwhile, the loan market has become shorter term in nature compared with before the global financial crisis, says Alex Lanni, head of investments, credit strategies for Europe, the Middle East and Africa at CBRE Global Investors.
"In 2007, 60% of loan stock was due to be refinanced in five years; today, that figure has risen to 81%," Lanni says. "If a large proportion of 2020 loans have been granted short-term extensions during the pandemic – which we think is the case – then 2020 loans will roll into 2021, and in 2022 we are already forecasting the peak at £32bn. That would mean a combined £75bn of refinancings to take place by the end of 2022, which is an ambitious figure."
Gregor Bamert, head of real estate debt at Aviva Investors, says that lenders were "very accommodating" in the first half of the year in response to the immediate challenges posed by coronavirus.
However, "as time has moved on, there is a recognition that this won't last forever and so if there are loan positions that are maturing in the coming months or indeed next year, there is recognition a longer-term solution needs to be found, which needs to reflect the viability of the underlying asset", he says.
"A number of problems are income related, not leverage related at the moment, and in some instances debt can't be serviced despite underlying interest rates being close to zero," says Lanni. "The key is trying to establish whether this is a permanent problem [or a] permanent reset in loan sizing – which it is for some sectors – or just temporary.
"Capital value declines will lead to loans either requiring an element of pay-down at refinancing, or a re-pricing of the incremental extra leverage, which has arisen due to values softening. It will be particularly acute in COVID-affected sectors. There are already 'dry patches' of liquidity, but we feel that this is more of a recalibration – the supply of debt will gradually respond to, and re-price, the opportunity."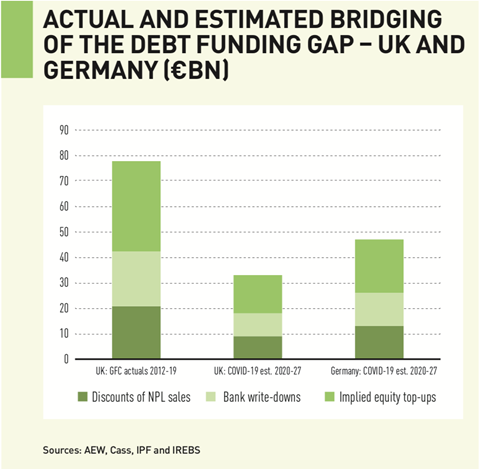 Lenders will also look for extensive risk mitigation through covenants, with interest reserves and earlier cash-trap events – in which surplus cash flow is ring-fenced – likely to become more common, she adds.
Market participants expect European real estate to withstand the impact of the pandemic better than they did the 2008 financial crisis after banking regulation subsequently led to less aggressive debt packages.
AEW estimates that LTV (loan-to- value) ratios for 2019 acquisitions were at an average of 50% – modest compared with the more than 70% LTVs average before the 2008 crisis. LTVs had already decreased in the immediate aftermath of coronavirus, and AEW believes it is reasonable to expect the average to drop to less than 50% by the end of the year.
Nevertheless, Hans Vrensen, head of research in Europe at AEW and author of the report, predicted the opportunity would lead to non-bank lenders accounting for up to 40% of the commercial real estate new loan origination market share in Europe in the next two years.
Dennis Schoenmaker, associate director at AEW, says: "Based on our analysis of the impact of COVID-19 impact on capital values and lending standards, we think that the current market situation will allow the growing number of non-bank lenders to take a larger market share, particularly in mezzanine loans as well as refinancing a larger part of senior loans, mostly through the syndication market."
Ali Imraan, managing director at LaSalle Investment Management, says: "The chances of a borrower required to plug that gap or required to do a mezzanine piece and having lenders like ourselves able to do that… will be how the market will operate." Alternative lenders may not be able to address the entire funding gap, with some focusing on senior loans and others concentrating on higher risk and higher reward junior leverage, including mezzanine, says Vrensen.
However, there is substantial firepower in the market. Data provider Preqin says closed-ended Europe-focused real estate debt funds had $12.8bn ($10.8bn) of committed but uncalled capital as of October – almost 11 times higher than 10 years ago. Furthermore, 29 such funds were targeting a combined $15.5bn as of October.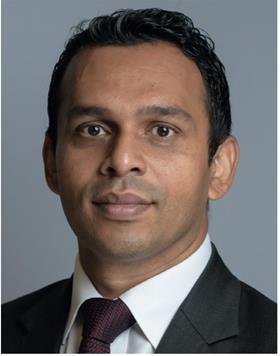 Cheyne Capital is among those marketing itself as a lender able to plug the gap during the uncertainty caused by the crisis. Ravi Stickney, managing partner of Cheyne Real Estate, says: "Brexit showed us that global macroeconomic risk is hard to predict… so we decided the right thing to do in that environment is to be in a more conservative space. Since Brexit, for us the shift has been away from mezzanine and preferred equity and into senior."
In October, Cheyne completed four senior debt deals representing £232m of loans on residential, co-living, grade-A office and student accommodation assets in the UK, France and Spain. It has further senior loan investments in the pipeline exceeding £800m in value for the fourth quarter alone, mostly in the UK, France and Germany.
US alternatives firm Apollo Global Management cites its ability to invest off-balance-sheet rather than from a fund – giving it more flexibility to chase different types of financing deals – as a distinct advantage over some of its competition. This year to date, it has completed $6bn of loans in commercial real estate globally, according to a spokesman.
Ben Eppley, partner at Apollo, says: "There are certainly types of deals that we've been able to do now that we probably wouldn't have been able to do a year ago because it was too competitive."
Meanwhile, JLL was working on more than £7bn of deals in EMEA across the spectrum, from core, low-leverage deals to higher leverage and "effectively rescue capital" in every property sub-sector, says Michael Kavanau, head of debt and structured finance for EMEA at JLL.
The true scale of the potential problem has yet to present itself, but the market is preparing for increased demand for alternative finance in the coming months. Matteo Milan, a principal at real estate investment manager Cain International, says: "As of mid-October, signs of distress in the market have not been seen."
Bank lenders have waived covenants – and even requirements to carry out valuations on properties – since the COVID-19 pandemic began to give real estate managers breathing space, says Indeesh Tangeraas, head of the real assets investment group at investment manager and consultancy Cambridge Associates.
"The middle of next year is when you'll see a crunch point and that's when stress will start to emerge," Tangeraas says. "It will be driven in part by managers either being in stressed situations due to the debt, or because of a lack of available exit for some of the business plans they may be looking to work out until the end of next year."