A new report urges local-authority pension funds to allocate more to place-based investments. Richard Lowe reports
The UK's Local Government Pension Schemes (LGPS) should re-allocate £16bn (€18.5bn) of capital to local "place-based" investments, including housing, clean energy, infrastructure and regeneration. This is the main thrust of a report published by the Place-Based Impact Investing Project, recently launched by The Good Economy, the Impact Investing Institute and Pensions for Purpose.
Scaling Up Institutional Investment For Place-Based Impact focuses on the potential role of the UK's £326bn LGPS sector, but also argues that the conclusions are relevant to institutional investors more broadly. The report found that LGPS already have exposure to what could be categorised as place-based investments, but this was limited to about 1% of portfolios – despite their potential to generate "stable, risk-adjusted returns" while supporting "local and regional economic development and creating positive social impact".
"We have this build-back-better, levelling-up agenda, now stretching all the way from the Queen's Speech, the opening of Parliament, all the way through to the CBI [Confederation of British Industry]," says Mark Hepworth, director of research and policy at The Good Economy, which he co-founded with CEO Sarah Forster in 2015. "It has become a mantra, really, and there is no doubt in reality we have to do it. We have to build a much stronger domestic economy in the UK, post-Brexit."
To do this, however, is going to take more than the government's £4.8bn Levelling Up Fund. Hepworth points to estimates from the former head of the UK's civil service Bob Kerslake that £1trn would be needed to address regional economic inequalities in the country. Kerslake is the chair of the UK 2070 Commission, an independent inquiry into the issue.
"We've got government actively doing things – they have programmes in place – but these fall well short of the kind of numbers that people think are needed," Hepworth says. "So we've already got government, we've already got social [impact] investment going into places. But what we need to have is some of the larger amounts of capital, which at the moment, are not going into this."
If all the LGPS funds were to allocate 5% to place-based investing – a proportion in line with potential government guidelines for LGPS on allocating to local investments for LGPS – this would unlock £16bn. Still someway short of Kerslake's trillion, but the placed-based impact report is not just concerned with LGPS funds. Hepworth says: "The LGPS is actually our route into it, because it's such a natural choice if you think about it – because essentially they are placed-based in terms of membership, administration and so on."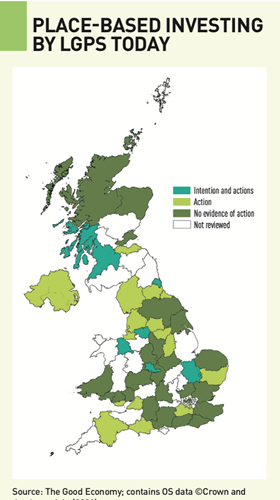 Hepworth bemoans the paucity of domestic institutional capital flowing into investments that could support the UK economy. "They are not being used in that way," he says. "Instead of which they are being used essentially, they go overseas, they go into listed markets."
It is an issue that has caught the attention of Paul Stanworth, former CEO of Legal & General Capital, Principal adviser to The Good Economy and co-author of the report alongside Hepworth and Forster. He says research shows that about £8bn of LGPS capital goes into the big tech stocks of Alphabet, Amazon, Apple, Facebook and Microsoft, which is more than the £7.7bn allocated to impact investing. Local investments, meanwhile, represent a fraction by comparison: about £300m.
"And yet, we've got £8bn in five stocks that don't pay tax," he says. "The interesting question is: why did they do that?"
Stanworth knows the answer to the question. UK pension funds have long been diversifying their equities investments globally. And, today, such significant holdings in large American tech stocks is no surprise – especially when pension funds are increasingly turning to low-cost, passive stock-market exposure.
But Stanworth questions the effectiveness of this form of diversification. "How synchronised are equity markets now? How much do you ever see the equity market in the US ever diverging from the UK or anywhere?"
He continues: "Not only do you get investment returns from doing the impact investing in the UK, but you get the economic generation, which creates a multiplier effect in the UK – which in local authorities also feeds the pension fund… they get money either from the pension fund or they get money from local rates. And that together, pays the pension. Whereas what they're actually doing is investing their money in the US [in companies] not paying any tax. It doesn't create any multiplier generator any kind."
Stanworth says other pension funds – notably the Canadian, Australian and some continental European institutions – have come up against "exactly the same issues" that can be deterrents for institutions investing locally – in other words, potential conflicts of interest. "They don't want to be crossing the line between politically-driven investment agendas and their own fiduciary responsibilities," he says. "But they find the social assets and infrastructure assets more valuable, because they are prepared to spend more money on investment teams to develop them."
Perhaps UK investors have been looking for diversification in the wrong places, and they should have been paying attention closer to home.
South Yorkshire Pension Authority (SYPA) is highlighted in the report as one of the LGPS funds leading the way in placed-based investments. Director George Graham looks at local investing as a "way of diversifying sources of income". He says SYPA is "not investing locally to be local, but to invest in a different way".
In 2019, SYPA established a specific allocation to development finance in South Yorkshire and appointed CBRE to help make loans of £10-15m for local projects. Among other things, the pension fund is financing the redevelopment of former foundries into 52 low-carbon homes in Sheffield and the regeneration of an old coalite plant in Derbyshire.
These sorts of projects are not below the radar of traditional lenders. But Graham says SYPA's involvement in the local economy is creating a "virtuous circle", where more and more potential borrowers have started "knocking on our door, which is great", and where other commercial lenders have noticed what SYPA is doing. Graham welcomes the competition.
Graham's perspective certainly seems to validate the contentions from The Good Economy. Hepworth is keen to clarify that the report is not arguing for a reversal of global diversification. "This is about local diversification alongside global," he says. "There's no reason why you can't have a global-local approach to how you invest. We're not saying forget global, we're just saying let's have a better balance… we're not saying, LGPS put 100% of what you've got into the local economy."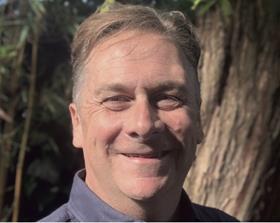 Hepworth says the idea is to create a "common room" to "have the conversation about what this might look like". Then, questions – such as the amount of capital going into US tech stocks versus the local economy – can at least be discussed.
Graham says LGPS funds are in an advantageous position when it comes to these sorts of local investments, given how entrenched they are in their localities – both in terms of members and their organisations. "If LGPS are not the most connected, then I don't know who are," he says.
Forster, who was CEO of the social investment arm of the Big Issue for eight years before co-founding The Good Economy, says: "You can do diligence and appraise them better in your own country than you can overseas… [they are] seriously good long-term investment opportunities, which are potentially, lower-risk [with] the sorts of income they need in terms of pensions. And yet they get overlooked."
Forster says she knows a number of fund managers that specialise in local, social-impact investments, including social housing, that "find it very difficult to raise capital from UK pension funds". She says: "I've talked to housing funds that find it easy to raise money from European and [other] foreign investors. I'm thinking, why the hell isn't Britain investing in British social housing?"
In recent years, there has been an increase in LGPS funds committing capital to social and affordable housing funds in the UK. These tend to be national strategies rather than placed-based ones, but Forster says this is complementary activity. "Although these are national funds, they always have to engage with local authorities, and normally are working with registered housing providers who are local organisations in terms of actually managing the homes," she says.