Nordic real estate specialist NREP is forging ahead with a number of ESG innovations, from the largest rooftop solar plant to concrete upcycling. Rachel Fixsen speaks to CEO Claus Mathisen
Nordic real estate specialist NREP has grown rapidly over the past seven years, attracting global institutional investment for its regional strategies funds. The funds have been putting money to work in projects where the Copenhagen-based firm adds value through an innovative, sustainable and socially-responsible approach.
NREP is looking to raise €1.25bn for its latest vehicle, NREP Nordic Strategies Fund IV, a value-add fund with a double net IRR target of 13%, focusing on underserved market segments. The target is a significant step up from the €900m raised for the previous fund in the series in 2018, and the two funds before that, which raised €600m and €400m.
CEO Claus Mathisen says that, while NREP is in a phase of strong business growth, its aim is not just to maximise financial gain, but also to improve the built environment for its customers, communities and cities. NREP believes that a purposeful approach is a driver for profit, and that long-term value creation is fuelled by a holistic stakeholder approach to real estate development, using multidisciplinary teams.
"Our firm was founded in 2005 by two Danes and a Swede – Rasmus Nørgaard, Mikkel Bülow-Lehnsby and Rickard Dahlberg – with a simple premise and curiosity about how real estate investing in the Nordics could be done with more of a value mindset than was prevalent at that time," he says. "What drives us today is a desire to do things better, which we convert into a number of core words we use on a daily basis – entrepreneurial, innovative, and value-creating."
Mathisen says: "People use real estate not [just] as tenants but also as customers. We have a very wide stakeholder group – people who use the buildings, but there are also those who have other interests in them, and we believe if we solve the problems of all of these people, then we drive value."
Part of NREP's approach as a real estate investor is to look for structural tailwinds – supply-and-demand imbalances – which often leads it to look at macro trends. "In logistics, for example, we believe that goods flows will increase, and operations will consolidate, with the large becoming larger as this industry grows. They will require modern buildings and their demands will become more specific," says Mathisen.
NREP has one of the largest team of residential specialists in the Nordics. "Here we are investing in senior housing, student housing, co-living concepts for families and seniors, and building portfolios that can service those segments."
The company is also focused on projects to regenerate distressed neighbourhoods. In one part of Copenhagen, NREP worked on a large-scale project to improve a residential area suffering from a higher-than-average level of crime. The work was led by former Copenhagen mayor Jens Kramer-Mikkelsen, who is now director for urban development at NREP.
"We partnered up with the social housing companies operating there and took a holistic perspective – looking at the whole area and using a different business model," Mathisen says. The result will be more than 1,000 new affordable private homes designed for current residents to "move up" to, rather than moving out of the area – while also attracting "young and resourceful families" from other parts of the city. To meet the needs of future residents, NREP consults not only anthropologists and architects but also panels of students to inform design.
A very different type of residential development, NREP launched Noli Studios in Helsinki in April 2019. These serviced-living units are in the Finnish capital's downtown districts of Katajanokka and Sörnäinen.
The studio apartment complex "combines the comforts of home and the amenities of a hotel". NREP claims it is the first of its kind in the Helsinki market in terms of flexibility, services, sense of community and pricing. The concept will be exported to other Nordic countries.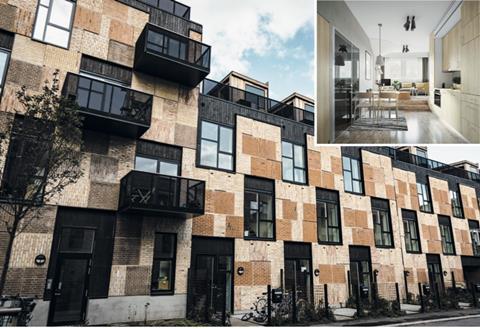 Pushing the boundaries of renewable energy know-how in its developments is another priority for NREP. In March it announced it had fitted a logistics facility near Gothenburg with 60,000sqm of solar panels. The system is the largest-ever rooftop solar plant in the Nordics, providing green electricity for the building and the national grid.
In another energy innovation, NREP engineered the first geothermal heating system in Finland for a logistics facility, which involved drilling almost 1.5km into the ground. "It had never been done before, but we saw it as a way to demonstrate that this can actually be done and create a positive return impact on the investment," Mathisen says.
Last year, NREP joined the RE100 green transition coalition, committing to 100% renewable electricity in its direct operations within a year, and for all its buildings before 2025.
Using recycled materials is another area of focus for NREP. Working with Lendager Group, which specialises in constructing homes from 'upcycled' demolition materials, NREP developed a new building in 2016 by reusing 100% of the crushed concrete from an existing structure on the site – which it says was a world first.
In constructing the Pelican Self Storage building in Copenhagen out of this material, NREP was challenging the current practice of crushing the concrete of demolished buildings into aggregate for roads.
Working with such materials means the developer spends less money on the them, although upcycling processes and supply chains are immature. "This is one of the areas where we are playing a pioneering role for the industry," Mathisen says. "The first upcycling projects have cost us slightly more, but we can lead the way here and say this can actually be done and then, in turn, the viability of it will improve."
NREP sees signs of sustainability becoming part of a residential rent or purchase decision, since homes in its upcycling projects are being leased out faster than standard homes.
The firm's willingness to go beyond what is generally required in terms of the social and environmental benefits of its buildings and developments is all part of a virtuous circle of value creation that includes strong financial returns, says Mathisen.
NREP: Nordic innovator
1

Currently reading

NREP: Nordic innovator

2