Despite worries about the future of the NAFTA, US industrial property has performed well, and might continue to do so. Christopher O'Dea reports
Solid economic growth and ongoing evolution of supply chains have left the US industrial property sector poised to deliver a fourth consecutive year of positive performance in 2018.
The upbeat outlook comes even as shrill headlines warn that the North American Free Trade Agreement (NAFTA) might be repealed or simply collapse under President Donald Trump's heated, year-long rhetorical campaign against the trade pact.
Despite progress on some technical matters, a fifth round of talks between US, Canadian and Mexican officials ended in November without making progress on major issues such as automotive tariffs, dairy markets, dispute resolution procedures, and a US proposal to make it easier to terminate NAFTA.
But against that backdrop of trade tensions, the US industrial and logistics property sector is thriving, in both fundamental and capital markets terms. Why is this?
The simple answer is that the strength of local economies in the US and North America plays a much bigger role in the demand for logistics property than the terms of regional or global trade pacts. As noted in the lead article of this special section, long-term economic trends have shaped global supply chains in accordance with underlying labour costs, technology talent, and consumer buying power. Those trends can be influenced by, but not necessarily determined by, trade policies.
So even as efforts to renegotiate NAFTA grind on, accelerating GDP growth in the US will continue to dictate the terms of trade, so to speak, for industrial property – and the terms are largely favourable for institutional investors.
New industrial and logistics buildings are getting bigger, while global institutional investors are deploying capital to the US aggressively enough to maintain steady yield compression. Vacancy rates in the 50 largest US industrial markets are in single digits for the first time, reflecting limited new construction. The main reason for the demand for new space is the continuing evolution of e-commerce, which absorbs about 60m sqft annually, allowing retailers to shorten delivery times on virtually any goods.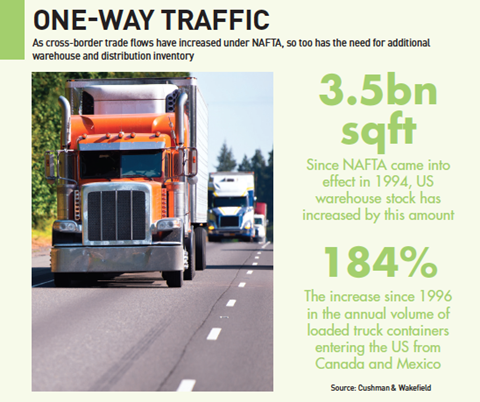 Recent investor interest in Mexico, sources say, illustrates how the country has become a manufacturing platform in its own right. It is attracting capital from global institutions and interest from Chinese state-owned companies in central and Pacific Coast states far from the main auto-production area NAFTA created near the US border. China is conducting a feasibility study for a major industrial park in a western state that would house Chinese companies, a project that reflects the new global labour regime – Mexican workers are now more productive and cheaper than Chinese workers, according to Boston Consulting Group. Other costs, including energy and transportation to the US, are also much lower in Mexico than in China.
Despite President Trump's rhetoric about how trade deals harm the US, the numbers on NAFTA tell a different story – and for industrial property owners, the story is a good one. Using US Department of Transportation data, Cushman & Wakefield calculated that since 1996 the number of loaded truck containers coming into the US annually has increased by more than 184% following the creation of NAFTA in 1994. The increase in cross-border trade boosted demand for warehouse and distribution property – Cushman found that US warehouse stock increased by 3.5bn sqft under NAFTA. That increase occurred in three waves. The first two, from 1995 to 2001 and from 2002 to 2008, were each cut short by global market shocks – the tech bubble in 2001 and the financial crisis in 2008. But the expansion resumed quickly after each setback. The current wave got going in 2010 – and it shows no sign of ending.
"Despite President Trump's rhetoric about how trade deals harm the US, the numbers on NAFTA tell a different story – and for industrial property owners, the story is a good one"
Positive US growth, e-commerce transformation and favourable trade winds have made industrial property the best-performing sector over one, three, five, and seven years ending in the third quarter of 2017, according to the National Council of Real Estate Investment Fiduciaries. Annualised total returns for multifamily, office and retail have steadily declined – one-year returns are about half compared with seven-year returns – while the total return for industrial assets has barely budged, remaining between 12.8% and 13.6% for all four periods.
The key economic trends suggest industrial property asset values are likely to continue to appreciate, as occupancy gains and rent growth support higher net operating income to investors.
"Ultimately, the driver for US warehouse demand is domestic consumption," says Tim Wang, managing director and head of research at Clarion Partners. Clarion manages Lion Industrial Trust, a core-plus, open-ended fund that owns $9.7bn (€8.1bn) of assets with 127m sqft of space in 25 markets, including more than a dozen facilities leased to Amazon.
Clarion believes the industrial sector is being repriced through greater institutional ownership as US logistics supply chains are transformed to provide faster, more efficient delivery. E-commerce now accounts for 11.8% of US core retail sales, excluding autos and gas, which is up from only 0.8% in 1999. Clarion expects this market share to increase. It has been advising clients to overweight industrial property since 2010. Wang believes e-commerce transactions – which have been increasing by about 20% annually since 2000 – could account for 20% of sales over the next five years, as the use of digital tools spreads beyond tech-savvy younger consumers. For example, older people are quickly adopting e-commerce delivery, which relieves them of the need to lift and transport heavy items, such as groceries or household supplies.
Wang estimates that 25% of total industrial space demand is from tenants related to e-commerce, with pre-leasing rates for well-located new facilities topping 40%. Demand comes in two forms, with retailers seeking to separate e-commerce operations from traditional warehousing. The two processes differ markedly: e-commerce facilities require significantly more automation and specialisation for handling specific items than traditional warehouses, including substantial lighting, mechanical systems, more mezzanine space and much higher ceilings. And as same-day delivery has become the norm, demand has increased for new fulfilment facilities and infill warehouses close to large or growing population centres.
Robust consumer demand reflects the strengthening US economy. Retail sales for the 2017 holiday period were up more than 5% over 2016, and US housing starts through September were up 5% over the prior 12-month period.
Global trade figures reflect this strength as well. Air cargo volume, a leading indicator of warehouse demand, increased about 11% in Q3 2017. In addition, container imports through US seaports have been increasing at a 6% annually. Container volume is highly correlated with warehouse demand, Wang notes, as US imports tend to be bulky items that occupy a lot of space.
Wang says that the bottom line for industrial property investors is that as long as US consumers keep on spending there will be demand for goods and services. "Goods can come from oversea or be produced locally," he says. "In the end, companies all need warehouses to store and distribute goods."
The strong performance of logistics property is clear in the capital markets, says Jack Fraker, managing director for global industrial and logistics property at CBRE Capital Markets. "Every single new house that's built – or, for that matter, new apartment – requires furniture, fixtures, carpet and appliances," he says. "All of those items reside in a warehouse before they end up in a dwelling unit."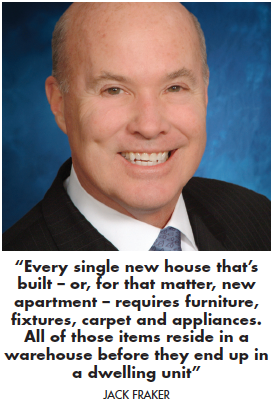 Recent CBRE research indicates that cap rates on prime logistics property have compressed steadily across the globe as institutional investors invested $85.8bn in the sector during the first nine months of 2017 – 12% more than in 2016. Nearly three-quarters of the 64 markets CBRE tracks recorded decreases in prime yields. Nearly half of the Americas markets experienced yield compression year-over-year, with the national average dropping 18bps to just 5.77%, the lowest of any region. With limited new supply driving rents higher in the US, investors opted for high-performing markets such as Seattle, Oakland, Los Angeles/Orange County, California's Inland Empire and New Jersey, each of which recorded cap rates of between 4% and 4.25%.
The decline in yields reflects modest new supply, says Fraker. While full-year numbers are being tallied, industrial users absorbed about 260m sqft of space in 2017, against new construction of 220m sqft. The national average of new construction from 1987 to 2007 was 225m sqft per year, he adds, "so we're really not even at the national average that we had leading up to the global financial crisis".
Chalk it up to lessons learned. "Every time we have a financial crisis in this country, our industry gets more and more institutionalised," says Fraker. "There's more of an institutional investor mentality, and the banks are much more cautious." In the commercial property industry, he adds, "new banking regulations really act as a governor on new supply".
Rising land costs are also keeping supply in check. In new research, CBRE found that the average price for industrial land parcels of 50-100 acres suitable for warehouses more than doubled during 2017, while the price of smaller parcels suitable for infill distribution centres rose by more than 25%. That situation is expected to persist, because markets near densely populated urban centres – where distribution centres are most in demand – have limited land available for industrial uses.
Current conditions suggest that yields on US industrial assets will remain compressed. Even if prices appreciation slows, tight supply offers investors the reasonable expectation that they will be able to improve total returns by increasing rents. E-commerce operators require an estimated average of up to three times more space than traditional warehouse users owing to a greater diversity in products handled and the need to have them immediately accessible, according to CBRE Research.
The strong fundamental outlook resulting from the transformation of supply chains has sparked cross-border investment in the industrial sector as global investors add logistics to portfolios, says Fraker. About one-third of the transactions his team at CBRE undertakes involves an international capital source, he says.
But do not expect investors to deploy capital randomly. The digital revolution that sparked e-commerce is transforming the investment committee conference room too, says Fraker. "The CIO of a pension plan is responsible for making smart investment decisions," he says. "Tools like Google Earth enable the investment committee to look at every single building or project in a particular sub-market."
Global Trade: NAFTA
1

2

3

4

5

Currently reading

NAFTA: US industrial property powers ahead

6

7