The real estate multi-manager industry has boomed in recent years, in part thanks to a deepening secondaries market. Jennifer Bollen and Richard Lowe report
Fund-of-funds (FoF) managers and multi-managers were some of the first institutional real estate practitioners whose days were numbered following the 2008 financial crisis.
Investors shunned real estate funds in the months that followed; those brave enough to make investments in 2009 and 2010 favoured direct deals and joint ventures where they had full control and visibility. If investors were turning their backs on real estate funds, the idea that they would turn to FoFs and multi-managers to add another layer of complexity and fees seemed fanciful.
But the FoF/multi-manager model has proven to be robust and continues to grow. In November, Aberdeen Standard Investments won a $1bn (€817m) multi-manager mandate from an unnamed investor.
Meanwhile, the real estate fund management world is eagerly waiting to discover who will manage the global real estate allocation of the world's largest pension fund – Japan's Government Pension Investment Fund (GPIF) is planning to invest in global real estate for the first time and has chosen to go down the FoF route to achieve this. The successful candidate will become a yen-rich allocator of real estate funds.
Patrizia Immobilien, which has been on a corporate spending spree in recent months – having acquired rival real estate fund managers Triuva and Rockspring Property Investment Managers – has also entered the fray by buying Sparinvest Property Investors (SPI).
SPI, which was founded in Copenhagen in 2005, has been integrated into Patrizia's growing business and renamed Patrizia Multi-Manager. The company manages four FoFs with €1.5bn of committed capital. SPI had a strong Nordic investor base, and its new parent could help bring more German capital into the unit.
"The market has moved from purely investing in primary funds to doing other types of transactions. We call them special situations transactions but they fall into a few categories – secondaries transactions, co-investments, and joint ventures"

Mark Wilkins
FoFs are not often associated with German institutional investors, which tend to favour direct investing. This is why Helaba Invest's success in launching FoFs for German investors is notable. In December, the company announced it had held a first close for its third vehicle, raising €100m from eight investors. The HI-Immobilien-Multi Manager-Fonds III will invest in European real estate with a focus on Germany.
Thomas Kallenbrunnen, head of real estate and alternative investments at Helaba Invest, expects "the multi-manager model will remain a niche approach with German investors", and that "multi-managers like us have to clearly define their added value". But it has been a growing business for Helaba, which has focused on listed equities.
Part of the success of the multi-manager model is that it has evolved from just allocating capital to new funds (primaries) to include more direct approaches (club deals, joint ventures, for example) and buying into existing funds on the secondaries market.
"What has happened is the market has moved from purely investing in primary funds to doing other types of transactions," says Mark Wilkins, head of Europe, the Middle East and Africa for Aberdeen Standard Investments' real estate multi-manager. "We call them special situations transactions but they fall into a few categories – secondaries transactions, co-investments, and joint ventures."
Prior to merging with Standard Life Investments, Aberdeen Asset Management had been building a global multi-manager real estate business. It reached €1.69bn in 2017, and the aforementioned $1bn mandate will be seen as a vote of confidence in the recently consolidated investment manager.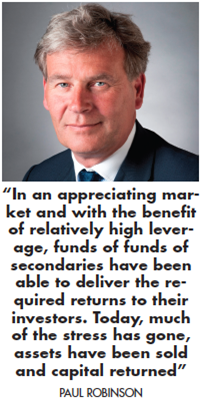 Of the £12.5bn (€14.1bn) managed by Schroder Real Estate, primarily for UK pension funds, £3.7bn is overseen by Schroder Real Estate Capital Partners, its multi-manager arm.
"We are looking to grow materially as a business," says Graeme Rutter, head of Schroder Real Estate Capital Partners. "We are underwriting new and emerging markets and are aiming to provide clients with a global real estate offer.
"Many of our strategies are focused on the themes of demographic change, urbanisation and technological advances. We are investing in residential land in the UK to reflect the steadily growing population and the scarcity of new home construction. We are also proponents of alternative investments, such as student accommodation, healthcare and real estate debt."
Secondaries: engine of growth
One of the biggest growth areas is secondaries. "There's more money being raised and more investors are looking at this part of the market," says Wilkins. "There's more demand for deals but we think at the moment there's room for plenty of managers."
Gauging the size of the secondaries market is difficult, with estimates varying significantly, possibly due to differences in definitions. Property Match, a broker for the market in Europe, estimates that €2bn was transacted in 2017.
Wilkins says: "Whilst there is no single source to confirm, we think there is possibly about $8bn to $10bn of transactions every year, and there might be anywhere up to $7bn of equity to invest. That needs to be invested over a three-year period, so we think there is plenty of capacity."
He adds: "On a secondaries investment… you have much more visibility on what the holding plan is for the assets. You can forecast your returns more accurately.
"For a primary fund you're handing over your allocation and you don't know what the manager is going to invest in. You don't know the actual property you're going to buy. You can't see and touch the real estate yet."
Regulatory changes, portfolio rebalancing and pension fund consolidation are among the forces of investor-led secondaries sales, while manager-led sales are largely driven by mature funds seeking extensions and recapitalisations.
The secondaries market is developing as a by-product of multi-managers' primary investments, says Jos van Gisbergen, a senior portfolio manager at Dutch investor Achmea. Existing FoFs benefit from close relationships with their GPs and pre-emption rights, giving them first access to deals.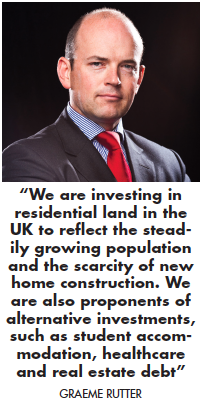 "Since most of the secondaries offered are smaller positions, the regular secondaries groups are not interested, since they have already too much money raised for their activities and are facing too much competition," Gisbergen says.
Schroder Real Estate Capital Partners has been active in the secondaries market for nearly 20 years, particularly in the UK. Rutter says the company has transacted about £2bn of fund units, with about 60% of these via primary issuance and 40% on the secondaries market.
"Most of the major real estate investors are active on the secondary market as a means of gaining exposure to the sector," he says. "Within Schroders, my business area provides clients with indirect exposure to property via segregated accounts and pooled funds, with a large volume of units sourced via secondaries."
Asia represents a large but growing market for secondaries, Rutter says, with opportunities to co-invest.
The growth of real estate secondaries centres on core assets in developed markets globally, says Eric Byrne, managing director and head of multi-managers for real estate and private markets at UBS Asset Management.
He says secondaries has proven to be a significant proportion of the real estate multi-manager activities of UBS Asset Management, which manages a €1bn global mandate for Germany's biggest pension fund Bayerische Versorgungskammer (BVK), one of Germany's biggest investors in FoFs.
Byrne says this increased interest in secondaries has been spurred by investors lowering their risk appetite or facing shorter periods in which they would ideally commit capital. Others, meanwhile, are eyeing greater international exposure – fast.
"You've got large pools of investors from Switzerland to Japan earning negative interest rates on their cash; they want to move out of that and deploy it quickly," says Byrne. "They don't want to sell their fixed income and sit on the sidelines in a fund queue.
"Our role is to deploy our clients' capital in the developed markets, investing in low-risk real estate in core, core-plus real estate. How we invest that is up to us. The most efficient way in the last few years has been through fund investments and part of that using the secondaries market. That has been an efficient way to reduce the cash drag or j-curve in our funds."
UBS has historically been overweight in the US and underweight in continental Europe. However, in the past 18 months it has shifted to a neutral allocation – it estimates that the US core markets returned about 11% a year between 2012 and 2015, compared with 7% in Europe. Today both markets return about 6-7%.
Secondaries investors typically sought opportunistic returns, says Paul Robinson, executive director of CBRE Capital Advisors, but exceptional acquisition prices may be difficult to find. "There was a time earlier in this cycle when fund interests could be acquired at large discounts [to net asset value] particularly in opportunistic funds," he says.
"In an appreciating market and with the benefit of relatively high leverage, funds of funds of secondaries have been able to deliver the required returns to their investors. Today, much of the stress has gone, assets have been sold and capital returned."