Some of the biggest global real estate investors are raiding the public markets to get hold of assets. Florence Chong investigates the take-private phenomenon
In December, a three-year saga over the ownership of the Investa Office Fund came to a close. It was a takeover battle that left a trail of bruised egos, with observers at times left alternately intrigued and bemused.
Pitched against each other for the A$4.5bn (€2.8bn) AUM real estate fund were some of the biggest global and Australian names in institutional real estate. They were all looking to take the listed vehicle private.
The deal can be seen as part of a wider trend of global real estate investors turning to public markets at a time when the unlisted property market is extremely expensive and competitive.
Oxford Properties, the real estate arm of Canadian pension fund OMERS, was the eventual successor (see Oxford outbids Blackstone), renaming the fund Oxford Investa Property Partners in December. Significantly, Oxford Properties has never taken a company private before – and it saw off competition from one of the world's most seasoned 'take-private' specialists, Blackstone.
Oxford Properties' parent company has significant experience in taking companies private. OMERS is a well-established private-equity player and took Oxford Properties private when it became its real estate arm.
Public-to-private M&A activity in the US has reached levels not seen in more than a decade, according to listed real estate specialist Cohen Steers, while Europe, Australia and other markets are seeing an increase. In a recent report, Cohen & Steers said: "The buyers increasingly include private-equity investors, who see REITs as attractively priced compared to the private market values of their underlying properties."
In Asia-Pacific, private capital has gained control of at least €65bn of real estate assets previously owned by publicly-listed vehicles in Asia-Pacific – including Investa Office Fund.
At the time of writing, two more listed real estate companies in Australia were under due diligence. If these deals are finalised, they will take the total M&A to about €21bn over a two-year period in Asia-Pacific. This figure does not include the large public-to-public merger between Westfield and Unibail-Rodamco completed in May 2018.
Australia and Singapore provide some of the most fertile ground in Asia-Pacific for take-private hunters. Analysts cite a mismatch of capital and asset availability; capital is abundant, debt is cheap and real estate is scarce, so raids on public companies have become the best option.
Analysts point to many smaller, 'unloved' Singapore REITs that trade at discounts to NAV, making them vulnerable to takeover. Acquirers see an opportunity to access real estate, to add value through a change of management, and to fold the portfolios into a large pool to benefit from economies of scale.
For investors new to the region, buying an existing company provides a platform to launch Asia-Pacific ambitions. Other established players, such as GLP and ARA Asset Management, see privatisation as a path to growth without the constraints of operating as a public company.
In the largest buyout of an Asian company in 2017, a management-led private consortium, which included international investors, acquired GLP for SGD16bn (€10.3bn). Property securities managers say GLP had not performed well as a listed company. In contrast to its the Sydney-based rival Goodman Group, which had been trading at an ever-increasing premium, GLP persistently traded below NAV before the buyout.
When delisted in January 2018, GLP had US$45bn in assets under management. As a privately-owned company, this has risen by more than one third to US$60bn.
ARA Asset Management has also flourished since going private, and is marching towards its ambition – to become a global fund manager with a SGD100bn portfolio. Last November, the founder and chief executive of ARA Asset Management, John Lim, formed a consortium with four private investors, including Warburg Pincus, to buy back the company for SGD$1.8bn.
When delisted in April, ARA was managing about SGD$34bn of real estate held in private and public trusts. Since going private, it has expanded globally, branched into infrastructure investment and acquired businesses in several markets.
A-REITs: hunting in the outback
The rationale for takeovers in Australia is different. As in Japan, Hong Kong and even Singapore, quality real estate in Australia is tightly held. Australia's investable real estate has mostly been securitised, and is now owned by listed real estate trusts.
"Whether it is a sovereign wealth fund or a large pension fund looking to increase its exposure in Australia, corporate activity is one way of getting set very meaningfully," says Stuart Cartledge, managing director of Phoenix Portfolios, a Melbourne-based property securities fund manager.
The "hot sectors" – namely, office, logistics and healthcare – "have been well bid", he says. "If you ask me whether the level of corporate activity will continue, my answer would be, yes, it will. One thing is for certain: there is a huge amount of capital looking for a home. It is a question of identifying the most effective way to deploy that capital."
Blackstone this year raised US$9.4bn in two funds dedicated to investing in Asia-Pacific. Australia has proved a reliable and productive market for the US private-equity giant.
Richard Jones, head of the Australian REIT team at JP Morgan, Australia, says: "At various points in the cycle, listed assets are trading cheaper than private real estate. At the moment, we see that REITs are trading at a discount to the value of their assets."
Julia Forrest, portfolio manager with Pendal Group, says: "Pension funds look at these assets and they can buy them cheaper than their replacement cost." The alternative to buying a platform, says Forrest, is to assemble one. That takes time, and costs more. Another driver is access to cheap debt, which is still fairly abundant for high-quality assets, she says.
A delayed recovery in the office markets of Sydney and Melbourne over the past decade has put on hold many new projects, which are just starting to get under way. Forrest notes that the next crop of office buildings in Sydney will not come online until 2020. "This is why you are seeing privatisation," she says. "There is a lack of physical assets in Sydney to invest in."
So the guessing game becomes which of the A-REITs might become the next takeover candidate. The choice is more limited today and prices have risen.
One of Australia's best-known stock analysts says: "The two obvious candidates are Mirvac and GPT. Both have high-quality portfolios and are trading at reasonable pricing." At the time of writing, Mirvac was trading at a 5% discount to its book value. It had been de-rated due to exposure to the weakening housing market, but the group's diversified businesses were doing well.
Meanwhile, Australia's oldest listed trust, GPT Group, was trading close to its net tangible asset value. A fund manager says GPT has a high cost base and its assets are "passively managed". The company offers potential to add value to its portfolios in office, retail and industrial assets, and it would be "easy" to reduce costs in its operations, the manager says. A takeover of GPT has been mooted for years, but no one has yet made a move.
With market capitalisations of A$8.1bn and A$9.5bn, respectively, only deep-pocketed investors, or a consortium, could afford to pitch for Mirvac or GPT.
Says the analyst: "If someone was looking at GPT, he would have to offer a 15% or so premium and then pay for the intangibles (goodwill and brand). If you add debt, the all-up cost would be close to A$15bn."
A logical contender for a company like GPT would be Blackstone. Having lost out to Oxford Properties for Investa Office Fund, some wonder what it might do with the more than A$3bn in unspent capital.
Blackstone has been scouting for opportunities ever since it bought the former Valad Property Group in 2011 to give it a presence in Australia. Last year, Blackstone took over the listed Astro Japan Trust for A$430m – within days of buying the Singapore-listed Croesus Retail Trust for SGD901m.
Blackstone: rarely outbid
In the past two years, in its sweep across the globe for real estate assets, Blackstone, took private half-a-dozen listed companies based in Australia, Canada, Finland, Spain, Singapore and the US. Targets ranged from Spanish hotels to Japanese retail and North American industrial assets.
Other than Oxford Properties, the only competitor to outbid Blackstone for one of the largest deals of 2018 was Pebblebrook, which acquired LaSalle Hotels in the US for US$5.2bn. Taking public companies private is seen as a solution for Blackstone to deploy some of its mountain of cash.
Cohen & Steers senior vice-president Chip McKinley says Blackstone has been the most aggressive buyer of public REITs over the past few years. "It is no coincidence that they raised the most investor capital – and they have been more innovative and more aggressive than others in deploying that capital," he says.
Blackstone's largest acquisition was the US$7.2bn take-private of Gramercy Property Trust. In total, it completed deals valued at US$15bn, according to company and public information.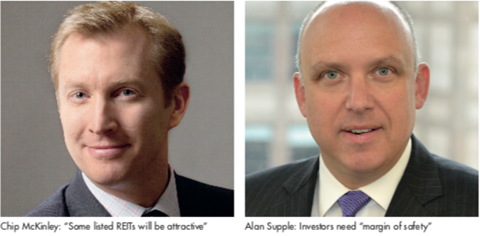 Alan Supple, global head of property securities at JP Morgan Asset Management, says Blackstone saw an opportunity through Gramercy to arbitrage its portfolio and development platform to build scale.And he describes Blackstone's takeover of the Pure Industrial REIT in Canada as "a very clever" deal. "Blackstone looked at the relative progression of e-commerce in Canada – which is at an early stage – and saw a chance to own quality industrial assets in the trust," he says.
After the CAD2.5bn (€1.6bn) Pure Industrial REIT deal, Blackstone Property Partners and Ivanhoé Cambridge respectively own 62% and 38% of the vehicle.
Brookfield is another active player, with takeovers in a number of markets. Most success has come in the US, where Brookfield took over Forest City Realty and GGP for a combined total of US$25bn. It is currently pursuing an Australian company, and, if successful, will add another A$4.5bn to its total spend.
Public-to-private deals are more numerous in the US, where the US$1trn REIT market offers infinitely more opportunities than its counterparts.
Calvin Schnure, senior vice-president at the National Association of Real Estate Investment Trusts (NAREIT), says US$75bn of REIT mergers and acquisitions took place in the US in 2018. This is more than in 2017 and 2016 combined – although between US$70bn and US$80bn is a normal yearly amount for industry consolidation and rational-isation, Schnure says.
Matthew Werner, managing director and portfolio manager at Chilton Capital, says the value specifically of public-to-private takeovers in the US amounted to US$24bn last year. He compares this with just US$5bn in 2017. Yet, the 2018 figure of US$75bn is modest compared with 2007, when one single deal – Blackstone's acquisition of Equity Office Properties Trust – accounted for US$39bn.
Brookfield set the pace in the US in 2018 with its acquisition of the diversified REIT, Forest City, for US$9.7bn. It also succeeded in a public-to-public merger of GGP, a retail REIT, for US$15bn, folding the assets into the listed Brookfield Property Partners.
Another significant deal in 2018 was done by Greystar, a global leader in student housing, which took over the listed Education Realty REIT for US$4.6bn. The REIT has since been delisted.
As part of the transaction, Greystar formed a 5%/95% joint venture with Blackstone Real Estate Income Trust (BREIT) to acquire an interest in 10,500 beds across 20 assets for US$1.2bn. Sources say Greystar has raised "a considerable amount of money", and is on the prowl for acquisitions.
Schnure says the US offers a stable, high-value and profitable market. "The fundamentals are solid, so it is not surprising to see a lot of capital coming in through both private and public channels," he says. "Both are looking for the investment advantages inherent in real estate. A big part of the reason is that a number of US REITs are trading at a discount to their net asset value."
Case Study: Oxford outbids Blackstone
Oxford Properties beats Blackstone to secure the Investa Office Fund in Australia
Investa Office Fund (IOF) began life as ING Office Trust in the mid-2000s. After the financial crisis, in 2011 it fell under the control of Investa Property Group, then owned by Morgan Stanley Real Estate Investing (MSREI).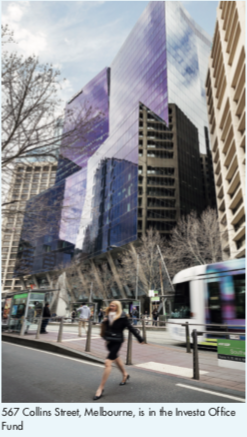 In 2007 MSREI took private the considerably larger Investa Property Group for A$4.7bn (€2.9bn), setting a price record for the takeover of an Australian property company. When MSREI decided to exit the investment, up to 50 separate parties reportedly circled to buy the unlisted Investa Property Trust. It went to China Investment Corporation for A$2.45bn in 2015.
Among those that missed out were Dexus, Cromwell Property Group, and Blackstone, which then trained their eyes on the listed IOF, which co-owned a number of assets with Investa Property Trust.
Dexus started the ball rolling with an A$2.5bn offer for IOF in December 2015. The Dexus play was thwarted when Cromwell emerged with a blocking stake in the fund – but an anticipated takeover offer from Cromwell did not happen.
Many in the market said Cromwell was stumped by a lack of support, principally from its then key shareholder, South Africa's Redefine group. The market remained convinced that IOF's future as a listed company would be short lived.
Some mused that IOF's sister trust, the wholesale Investa Commercial Property Fund, which had built up a stake of 20% and was the manager of its assets, could take IOF private. But as the share price of IOF continued to rise, along with the rest of the Australian REIT market, that possibility receded.
ICPF's shareholders, mostly Australian pension funds, baulked at paying a premium for IOF's assets, some of which they already owned through ICPF.
Over the next 12 months, IOF continued to trade, conscious that a suitor was lurking. Then, in March 2018, Blackstone came along with an A$3.14bn proposal to buy all IOF shares.
A deal seemed in the offing as IOF and Blackstone agreed to enter into a scheme of arrangement to shift control to the US private-equity firm. Then, out of the blue came the spoiler in the guise of Oxford Properties.
A bidding war ensued, with Oxford ultimately dealing a crushing blow to Blackstone by raising its final offer to A$5.60 per share, outbidding Blackstone's A$5.52.
Oxford Properties sewed up the deal for A$3.4bn in "just 100 days" – a feat, said Paul Brundage, Oxford's head of Europe and Asia-Pacific, that was "testament to our team's ability to rapidly execute large-scale and complex transactions in markets across the globe".
Australia is now a key plank of Oxford Properties' Asia-Pacific strategy, which will be overseen from its recently-established regional headquarters in Singapore.
Werner says: "Some publicly-traded REITs are trading at a significant discount to assets in the private market. That is where it makes sense to have a take-private transaction."
Werner says the better retail REITs with quality assets are trading at discounts of 10% to 20%. Those with secondary assets are trading at discounts of 30% to 50%. "Such discounts were previously unheard off," he says.
To the casual observer, buying something for 50 cents in the dollar might look attractive, but it involves a complex equation. "A private-equity group can get 15% or 20% returns," Werner says. "It does this from higher going-in yields and leverage. Given the level of discounts to NAVs, I would have thought there will be more transactions this year."
Werner, the veteran US property securities manager, says a barrier to more public-to-private buyouts is a mismatch in price expectations. The boards of some US REITs have yet to cross the mental hurdle that their stock values have fallen sharply. They need to accept a lower market value.
Investors need a "margin of safety", says Supple. "For a private-equity group to take one of these [heavily discounted] companies private, that margin is quite significant. A listed REIT may be trading at a 30% discount to NAV, but when you factor in the cost of the transaction, including tax liabilities, the vehicle may not be as cheap as it looks."
McKinley says some companies are cheap enough to attract a bid. But even if a buyout price is agreed, competition can force up the final price. An example is the struggle for control of LaSalle Hotels, where Pebblebrook made an offer – and a bidding war followed with Blackstone. While the transaction was eventually done at a 48% premium to spot price before the acquisition was announced, McKinley points out that, compared with LaSalle's trading price a couple of months before the Pebblebrook bid, the premium was about 20%.
He warns of falling into value traps when buying companies trading at deep discounts, citing retail REITs as "a perfect example". Some vehicles, particularly in this sector, are trading at discounts of 30% or 40% to NAV, but they face structural – not cyclical – problems.
Eyebrows were raised, says McKinley, when Brookfield bought GGP at a time when investors were backing away from retail, believing it to be in secular decline. But Brookfield, a skilled manager with experience in retail, would have made the investment expecting the sector to turn the corner, with GGP performing well.
Supple says there are good reasons why office and retail REITs are trading at discounts to NAV. "In office, the market is concerned about the capex burden in leasing space because of anticipated over-supply in markets such as New York, where net effective rents are turning negative," he says.
The listed Colombia Property Trust, which has a market capitalisation of US$2.8bn and owns office buildings in cities including New York, announced in September that it is exploring a possible buyout offer. In contrast to office, the story on industrial REITs is positive, with many trading at full price unless there are issues with specific vehicles.
Schnure says the motive for many transactions is to achieve economies of scale and management efficiencies by combining portfolios.
McKinley sees opportunities across geographies and property types. "E-commerce-focused logistics, data centres and cell towers in the US, Europe and Asia, are well-positioned for the long run because they are part of the e-commerce ecosystem," he says.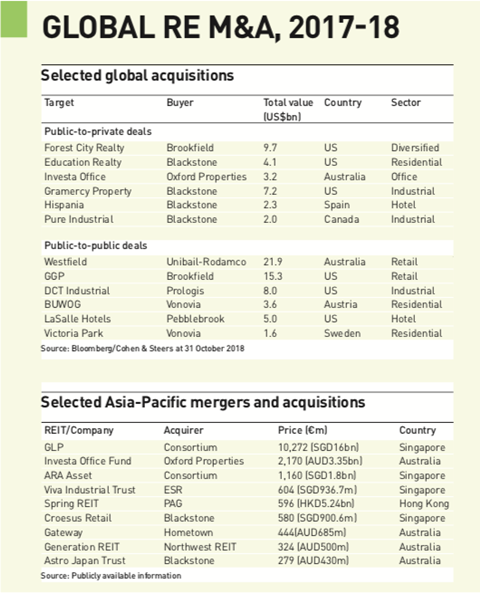 "Student housing and senior living globally are attractive because of defensive growth characteristics, as well as US multifamily due to strong employment, affordability, and tepid demand for home ownership."
Werner says that rather than a takeover, institutional investors are sometimes content to hold a stake in a company at the current traded price. He names as an example the Qatar Investment Authority, which has invested US$622m in the listed Empire State Realty Trust. By doing so, it has become one of the largest commercial property owners in New York.
In 2016, Blackstone began building a stake in the Swedish residential landlord D Carnegie. By 2018, it had increased its investment of 30% to 61% and renamed the company Hembla.
The take-private market is less active in Europe, says Supple. A notable deal is Blackstone's takeover of Spain's Hispania hotel group. "The original owner had built up a nice platform of resort hotels in Spain and had a good operating team. Hispania offered an opportunity to acquire a set of assets that, in some cases, had been repositioned or had repositioning potential."
While the vendor could have extended the life of the trust that owned the company, Blackstone's bid was interesting enough for Hispania to accept.
As demand for institutional-quality real estate continues unabated, McKinley says the next two years could be "very attractive" for take-private opportunities. He expects market volatility "at times" to depress the price of more listed entities, making them more attractive to opportunistic private money.
Supple says some companies are trading at substantial discounts to NAV in the UK – and that Brexit has the potential to erode stock values further. "Now, the office market is still doing well in London," Supple says. "But the feeling is that it will come off when we get into Brexit."
Supple expects Asian sovereign wealth funds, which take a long view, to step into the market, but he says others will be more careful because of Brexit uncertainty.
McKinley says: "The pricing of some listed REITs will be attractive and will offer viable take-private opportunities for the foreseeable future. But the long-term income and capital return profiles will have to justify the acquisition price. Otherwise demand will disappear."