It is no secret that Australia's Cromwell wants to expand. Florence Chong speaks to Paul Weightman about its attempts to consolidate
In the coming weeks, Cromwell Property Group will embark on a roadshow for its new European real estate fund. The vehicle was made possible by Cromwell's acquisition of Valad Europe last year, which gave the Australian company a platform in the region.
It has taken eight years for Paul Weightman, founder and chief executive of Brisbane-based Cromwell, to get to this point. "It shows how patient we are," he says. "We first tried to acquire Valad in 2008, but missed out. We went back in 2010, then again in 2011 before we finally acquired it in 2015."
Initially unsure that it wanted to sell, Blackstone, which bought the entire global platform of Sydney-based Valad Property Group in 2012, eventually agreed to part with Valad for €150m.
Weightman spotted a jewel in what was, in 2008, a debt-burdened entity, brought to the verge of bankruptcy by the global liquidity crisis.
In those tumultuous days, some of Australia's property groups cut their losses and retreated to the safety of their home market, but Weightman thought otherwise. "We could see that Valad Europe would be a fantastic platform for us," he says. "Really, you couldn't build that business today. It is historical accident; it has evolved over a long period of time. You are talking about a business with a legacy of more than 50 years."
Weightman explains that Valad is an aggregation of some of the oldest property names in Europe, including Scarborough and Teesland from the UK and the former business of GE Real Estate in central Europe. "The scale and the depth of the Valad business is quite remarkable." Valad has 185 employees over 23 offices.
The acquisition gives Cromwell instant critical mass and a broad footprint across the UK and Europe. Valad bulks up Cromwell's funds under management. Today, more than half of these – AUD9.8bn (€6.26bn) as of 31 December 2015 – come from Europe.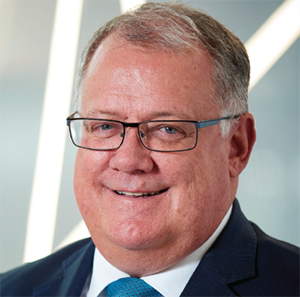 Weightman says: "Valad has €3.5bn worth of assets under management and another €1bn in investment capacity." It manages more than 20 single mandates and runs funds, including the Valad European Income Fund.
Weightman has anchored his funds management platforms in Australia with Australian fund manager Bevan Towning, and in Europe with Audrey Klein, who ran the Park Hill Real Estate Group, a division of The Blackstone Group, from 2006 to June of 2014.
Some would say that Valad Europe's experience with Blackstone as its parent was "bitter sweet". It has been suggested that competitive tensions ran through their relationship. In fact, some believe that if Blackstone had owned the business on its own balance sheet, it might not have sold. Valad Europe was held in one of Blackstone's funds.
Weightman is clear that there will not be any conflict of interest. "We will invest in the business, we will support what it does and we will be a co-investor," he says. "We see ourselves as a real estate investment manager, so our objective is to run our business as effectively as possible.
"We want to access as many different sources of capital as we can throughout different cycles because each capital source has its own appetite, its own pricing, and, at different point of the cycles, its own preferences as to where it wants to invest.
"The European business gives us access to capital that we never had before, and to long-established relationships with global pension and sovereign funds."
Although it has left the European platform intact, Cromwell will tweak the business with a slightly different mix of capital and funds. Under its previous owners, and especially under Blackstone, the business was focused on private equity. "We're keen to ensure that we retain a relationship with those private equity clients but increasingly we will grow our capacity to build out and manage open and diversified funds, core plus and core funds," says Weightman.
He is unconcerned about the waves of uncertainty sweeping Europe. He believes life revolves around real estate. So, in times of uncertainty, real estate is the safest investment.
After Europe, Weightman's eyes will turn to Asia as he seeks to lift recurring income from his funds management business, currently fluctuating between 10% and 15%, to 20%. He sees opportunities emerging eventually to export the Australian real estate funds management model to Singapore and Japan as these markets evolve. "It is not something that is going to happen tomorrow," he says. "Our medium-term objective is to build out what we have in Australia and in Europe."
The acquisition of Valad was a game changer for Cromwell, but an even bigger transformation would have been its (unsuccessful) bid for Australia's Investa Property Trust, which owns some of Australia's best known office buildings.
Formerly controlled by Morgan Stanley, it went to China Investment Corporation for an unmatched price of about AUD$2.45bn, last July. Industry sources told IPE Real Estate that when everything is taken into account, including the sale of the entire Investa platform, Morgan Stanley might have walked away with more cash from the Cromwell offer, believed to be about AUD2.55bn.
Having dusted itself off, Cromwell re-emerged in March in the takeover tussle for the listed Investa Office Fund (IOF), manager of AUD3.5bn CBD assets. Cromwell appeared to scupper Dexus Property Group's takeover of IOF, when it paid AUD254m to buy a 9.83% stake. It led to speculation that Cromwell might even attempt a full takeover of IOF itself eventually.
Says Weightman: "We now have a stake and, if something is going to happen, we have a seat on the table. We are disciplined with what we do and we are patient."
With some AUD4.6bn of Australian and New Zealand AUM, and a large property securities fund business, Cromwell is not in the big league of fund managers at home. But it is in a strategic alliance with South Africa's cash-rich Redefine Group, and that sets it apart from other mid-sized Australian property groups.
Cromwell brought Redefine into its share register in 2009 with a AUD73.3m placement. "It is fair to say that they have been good partner and a natural investor in our company," says Weightman. "The Redefine team in South Africa has great capacity to raise capital. It has a very good relationship with institutional investors and access to capital."
Weightman founded Cromwell 18 years ago with just a handful of employees and assets. The firm ran retail syndicates for the first eight years. Then, in 2006, Weightman attached 20 different funds with some billion dollar of assets to the management company to become a REIT.
Last year, the company launched its first wholesale fund, Cromwell Partners Trust, which is equally owned by Cromwell and Redefine. Its first asset is Northpoint (pictured), an office tower in Sydney's second CBD purchased for AUD275m, now undergoing an AUD140m makeover.
Not everyone in Australian property circles is convinced that the game is over regarding Investa. But Weightman is keeping his own counsel. "Acquisition is always a challenge if you have to merge vastly different culture and values. You have to find someone who is likeminded, and then you can grow through acquisition or aggregation. We are in no hurry to get massively big tomorrow. We will make the right decisions at the right time."
Real Assets: The bigger picture
1

2

3

4

Currently reading

Interview: Cromwell Property Group

5

6