The Singapore-based investor has been building exposure across Asia-Pacific. Florence Chong speaks to Jonathan Yap
The sheer potential of India is enough to pique the interest of many global real estate investors. It is, after all, the world's second most populous nation.
With the heat coming off China's growth, India is taking the mantle as the fastest-growing economy of Asia. But, for the moment, it remains a country where only the most intrepid investors venture. India's well-known bureaucracy is daunting to many investors; it requires skill – and patience – to navigate the complexities of doing business there.
One pioneer in the learning process is Ascendas-Singbridge (ASB), which first invested in India back in 1994. Today, with SGD2bn (€1.28bn) in assets under management there, the Singapore government-owned company has itself become a partner for other global investors seeking entry to India.
Jonathan Yap, ASB's CIO and head of real estate funds, says: "We created our first private fund in India, Ascendas India IT Parks Trust, in 2005." The fund, since renamed Ascendas India Trust, listed on the Singapore Stock Exchange in 2007. It has a market capitalisation of SGD1bn.
ASB also manages two private funds in India – the Ascendas India Development Trust and the Ascendas India Growth Programme (a partnership with GIC, the sovereign wealth fund of Singapore).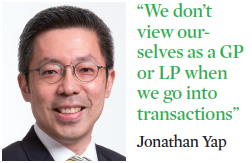 "We are exploring the possibility of launching more private funds for development of IT parks and logistics assets in India," Yap says. "Obviously we need to find the right investors and the appropriate investment vehicle structure. We are working through the details now."
ASB pioneered development of India's first IT Park in Bangalore – India's answer to Silicon Valley – 23 years ago. It has since established offices employing 200 people in five Indian cities to support activities ranging from development to asset management.
But ASB's credentials as a specialist in emerging markets go far beyond India. China is ASB's other key market, where its exposure has grown in tandem.
The Chinese market offers ASB a broader footprint, encompassing office, industrial and residential projects and investment. For ASB today, China is the bigger market, with assets totalling SGD4bn.
Ascendas brought know-how in developing industrial and technology parks in Singapore to China in 1995 when it rolled out ready-built facilities in Suzhou Industrial Park.
"We see a lot of opportunities in China," says Yap. "While people debate the impact of a slower growth rate, even if China grows at a slower 5-6% annually, as the world's second-largest economy, it is still a market with high potential over the long term."
ASB runs two private funds: Ascendas China Commercial Fund 2 and Ascendas China Business Parks Fund 4, for international investors.
"We like China exposure, so that is a market where we want to do more in the future," Yap says.
The primary focus in China, he says, is to get the right assets onto ASB's balance sheet, and to pave the way for the launch of more private funds there.
In March, ASB bought an office building near People's Square in Shanghai from the US real estate private equity firm AEW, reportedly for ¥1.35bn (€174m). "It is an older but well-located building," says Yap. "We will do a bit of repositioning and tweak the tenancy mix to extract value."
It is fair to assume that ASB's success in China and India could be linked to its special status as a government-owned company. Both its parents, Temasek (which has a 51% stake), and JTC (with 49%), are part of Singapore Inc.
Ascendas-Singbridge was born out of a merger of Ascendas (owned by JTC) and Singbridge (owned by Temasek) in 2015. Yap says the merger expanded the capabilities of the company, providing complementary skills "to better participate in Asia's urbanisation and move up and down the asset creation chain".
ASB manages assets totalling SGD22bn across nine countries, of which SGD13bn is held in listed vehicles, SGD6bn on its balance sheet and SGD3bn in private funds – the latter on behalf of about 30 institutional investors from Asia, Europe, the US and Middle East.
Yap says assets held on its balance sheet are the pipeline for its existing and future funds.
Outside of China and India, Ascendas-Singbridge has a well-established presence in South Korea, where it runs single-asset funds for South Korean institutional investors, mostly Korean pension funds.
ASB has launched six private funds in South Korea, one of which has been wound up. The remaining five hold assets total SGD2bn.
ASB also has a modest presence in Malaysia, Vietnam and Indonesia. And it has begun to expand into the developed markets of Japan and Australia, countries in which its parentage is less important. Here it is the weight of capital that counts.
ASB has already demonstrated its financial strength when competing against seasoned and deep-pocketed buyers in hot markets like Australia.
In 2015, Ascendas-Singbridge outbid some of the world's biggest names, reportedly including Blackstone, Ivanhoe Cambridge and Korea's National Pension Scheme, to win an Australian logistics portfolio offered by GIC and Frasers Properties for AUD1.07bn. ASB set a new record for an Australian industrial asset at the time.
"We believed in the fundamentals of the Australian logistics market," Yap says. "Since our acquisition, prices have gone even higher. The portfolio is substantially located in two key markets – New South Wales and Victoria – and the assets are stable and income-producing."
Yap says ASB decided the Australian portfolio would be best suited for the group's listed Ascendas REIT, its largest vehicle, with assets under management of SGD10bn.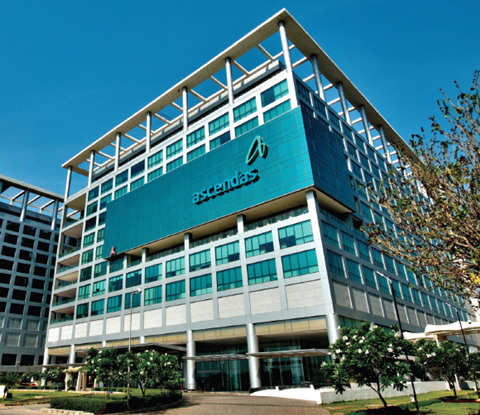 "The way we run our business is to consider all sources of capital," he says. "We match the most appropriate capital with each investment. We invest though our balance sheet, or on behalf of our private funds and listed trusts."
There was surprise initially when it became known in the market that ASB was acquiring hotels in Japan, China, Australia and then Singapore in the early 2010s. Little did market players know that what they were seeing was part of a strategy for a group, which was deeply rooted in logistics and IT parks, to set up a new asset class under its management platform.
The landing of a portfolio of Australian hotels from a fund managed by the listed Mirvac Property Group in 2012 launched ASB's third listed vehicle, Ascendas Hospitality Trust, its first pan-Asian hotel industry entity.
"It was in 2012, fresh off the GFC, and we bought the assets at a very fair price," says Yap. "There were few buyers, and hotel owners needed to sell. We wanted a long-term hotel vehicle and we had started to build a portfolio."
It was at this point, he says, that ASB decided the best option was to float a hotel REIT. Ascendas retained a 27% stake in the REIT, which owns 11 hotels across Australia, China, Japan and Singapore valued at SGD1.5bn.
Reportedly, suitors have recently been lined up for these Ascendas assets, with both Blackstone and Hong Kong's Gaw Capital said to have made offers to take them private. The future of the Ascendas Hospitality Trust was settled last year when its board announced that, after careful examination, it was in unit holders' best interests to not accept the offers.
In July 2016, Miguel Ko, ASB's group CEO and a hotel industry veteran, became the trust's chairman, signalling the intention of both the sponsor and the trust to continue growing the portfolio.
Yap confirms that the sponsor's stake in the trust is not for sale.
Having ventured into the hotel sector, the group turned its sights to office, the single missing link in ASB's stable of REITs. "We like the idea of investing in office in key gateway cities in Asia," says Yap. "We believe in the long-term attractiveness of office in Asia – its growth story and stability, and therefore the growth potential of the asset class."
Yap says the objective is to establish a long-term, open-ended core office fund, which can be either listed or unlisted. "Our focus is making the right investment," he says. "As to the form, shape and choice of structure of the holding vehicle, that should be secondary to what makes good investment sense.
"We are open to separate accounts, joint ventures or open-ended funds. The decision will come later when we decide on the structure that best matches what we see in our investment vis-à-vis what our capital partners are prepared to sign up for.
"The first stage is getting the investment. When our portfolio is large enough, we will consider the next stage. [But] we would have structured it in such a way that there is enough flexibility to eventually convert into a wholesale fund or a listed REIT."
Yap adds: "We are prepared to put money with our investors so that our interests are aligned. We are agnostic as to whether it's a private fund, a club or a joint venture."
ASB chose to form a joint venture to redevelop an office building in Singapore's central business district with two Japanese companies, Mitsui and Tokyo Tatemono, because, says Yap, in that instance it was the best approach.
"We don't view ourselves as a GP or LP when we go into transactions. The truth is that we are concurrently both investor and manager. We identify where we are relevant to whoever we work with, and position ourselves according to what will work best for all parties.
"If we don't get the logic right, we won't have a deal."
Emerging Markets: Stars align above India
1

2

Currently reading

Interview: Ascendas-Singbridge