Dense cities have the edge in the war for talent, write Megan Walters, Clemens Ernst, Gizem Bartu and Luke Latham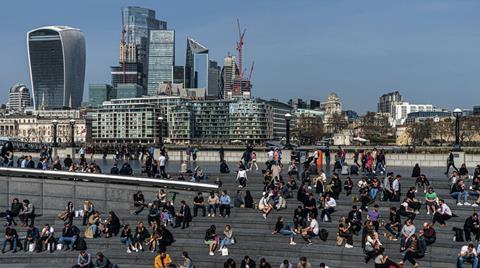 As the COVID-19 pandemic recedes in the rear mirror, investors should refocus on long-term structural factors. For cities, a key question is where young, high-quality talent will go. Being ambitious and highly skilled, these young professionals are a very productive cohort of the workforce and thus represent a key demographic. Furthermore, the technology sector, which is a key driver of growth in employment and office demand, is reliant on highly qualified labour.
Competition for this young talent will likely intensify over the coming years. The recent 'great resignation' has shown a glimpse of how fierce the war for talent could get. Demographic headwinds will only strengthen this; as the average age of populations increases, young talent will become proportionally scarcer. In parallel, the rise of technology has meant young and skilled people are less and less restricted to one business sector.
Most sectors are now facing much wider competition for the same pools of talent. Life sciences is a good example of this blurring of boundaries; many recent breakthroughs are the result of technology and the integration of artificial intelligence into healthcare.
Large and densely populated global cities have always been a magnet for young professionals. These cities have the widest range of job opportunities in business, science and finance but they also have centres of creativity, culture and amenities. This caters well to the younger demographic, which has a strong preference both for living and working in urban city centres. It is thus no surprise that global brand-name cities such as London, Paris and New York are key destinations for the brightest and best.
As a result, dense global cities have a strong competitive advantage in drawing in and retaining university graduates. Many top international universities are in or near these cities. These play a crucial role in bringing in young students who often stay after graduation due to personal or professional ties. London manages to retain around two-thirds of the students that study in the city.
The ability of dense global cities to attract an influx of talent creates virtuous circles. Firms fighting for the highest-quality talent will naturally be drawn towards these deep labour pools. This in turn draws in further graduates and young professionals looking for work, as well as other firms looking to compete. This positive agglomeration means that a successful global city will become denser over time.
Agglomeration creates many advantages for large dense cities. First, the breadth and depth of labour pools and employment opportunities improves job matching. Workers and firms can be more selective and therefore increase productivity.
Second, shared infrastructure with high fixed costs becomes much more efficient. Sophisticated communication and transport networks can develop, further improving access for those in the city.
Finally, the close proximity of individuals and institutions is the perfect incubator for innovation and adoption of new technologies. Knowledge spill-overs reduce the cost of generating novel ideas; this proximity and frequent face-to-face contact allows important new information to spread rapidly. Firms in large dense cities will be more willing to invest in cutting-edge technology because they know they will be able to find the specialised talent required to use it. Similarly, workers are more likely to invest in training themselves because they know better jobs will be available.
For investors, dense global cities with deep talent pools provide the opportunity to invest for long-term growth and resilient income. Growth will come from the interplay of density and agglomeration benefits, which attract young professionals and occupiers hunting for them. This dynamic will ensure sustained growth in occupier demand, which supports growth in office rents.
These cities also provide resilience in an environment of changing working practices. High density levels imply that a larger number of alternative users is available in case office space is vacated as employees increasingly work from home. Moreover, propensity to work in the office is higher in dense urban areas because apartments are usually smaller, making working from home more difficult. In turn, commute times to the office are shorter, which lowers the bar for employees to work onsite.
Megan Walters is global head of research, Clemens Ernst is a senior associate and Gizem Bartu and Luke Latham are analysts at Allianz Real Estate