---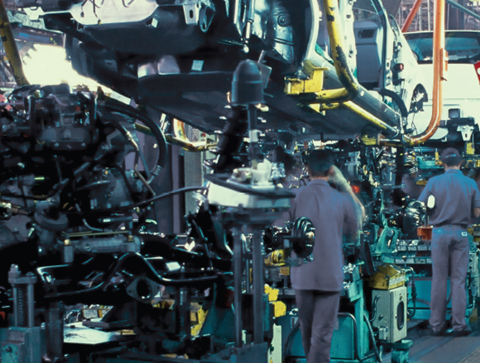 Regardless of the future of NAFTA, global trade will in the main persevere. But the saga has opened up the question of its true relationship with real estate, writes Christopher O'Dea
NAFTA is dead. Long live free trade in North America.
Even as President Donald Trump's administration pushed talks into a sixth round with no sign of agreement on core issues this winter, trade continued to expand, both within North America and between most countries around the world.
In recent months, the EU reached a new deal with Japan, China struck new trade accords with Mexico and Argentina on agricultural goods, Japanese and EU automakers continued to invest in Mexico's northern production zone, and EU aviation companies announced new industrial plants in central Mexico.
In April, the Texas International Produce Association (TIPA) will convene Viva Fresh Expo in San Antonio, a gathering of producers from Mexico, Texas and the US Southwest who are developing bilateral food safety and transport initiatives in the Rio Grande Valley, illustrating the seamless connection between US and Mexican agriculture markets – and US consumers' taste for high-quality produce all year round. The event started four years ago in response to the soaring growth in agricultural trade in the area: between 2007 and 2015, according to TIPA, US imports of fresh fruit and vegetables from Mexico increased by nearly 110%, and about half – worth $5.4bn (€4.4bn) – enter the country through Texas land ports.
All that activity, across varied sectors, is good news for logistics and industrial property – including warehouses, distribution centres, and a variety of port, rail and other property assets that are increasingly integrated into the global supply chains. This raises an important question: does trade itself drive property location, or are property fundamentals driven by economic and demographic factors that are distinct from, even if related to, trade flows?
It is important for institutional property investors to distinguish between the effects of trade itself – that is, the movement of goods – and the economic strength of the regions and cities to which goods are transported.
"The impact of global trade on property for the most part is limited to industrial, and to a very limited extent retail property," says Lee Menifee, head of Americas investment research at PGIM Real Estate. "Maybe this is a bit of a contrarian position, but the effects of global trade on local industrial and retail markets are actually pretty hard to observe most of the time, and not as big a factor as headlines would suggest. Domestic consumption, and more recently e-commerce, have been much more significant drivers than trade flows increasing at a faster or a slower rate, particularly over the last decade."
Trade flows do affect industrial property demand around ports, but the majority of demand stems from the economic pull of the large, often densely-packed populations around major ports, such as Los Angeles and New York.
"Incrementally, trade flows are important, and goods pass through, and there are warehouses that absolutely serve a logistics function for that," says Menifee. "But the bulk of the warehouse demand is really driven much more by the spending of the people in the major markets." There has been some rotation of container trade from West Coast ports to East Coast ports as a result of widening the Panama Canal, he notes. "But it's a marginal impact, not the driver of demand for warehouse and industrial property in those markets."
Demand for logistics property today, Menifee adds, comes from the need for supply chains to get goods closer to consumers, regardless of where the goods come from. "Let's say that NAFTA negotiations failed, and Mexico and Canada no longer benefit from its favourable import treatments," he says. "There may be some redirection of trade flows around the US, but there would still be considerable trade with both Canada and Mexico, even under a tariff scenario. Most supply chains would not change all that much. At least for a pretty long period of time, it would still be business as usual."
For the most part, business as usual under NAFTA means business is booming. While organised labour and some progressives contend that trade pacts harm lower-wage workers in industrial countries by shipping work to foreign markets with cheap labour, one thing is clear: plenty of capital has flowed into Mexico under NAFTA. From 1993 to 2016, cross-border investment surged, with US foreign direct investment in Mexico increasing from $15bn to over $100bn, according to a recent Council on Foreign Relations (CFR) analysis of the economic effects of NAFTA.
It is hard to understate the importance of NAFTA on trade between the US, Canada and Mexico; trade in the region has mushroomed, according to CFR, from about $290bn in 1993, to $1.1trn in 2016. NAFTA fundamentally reshaped the North American economic landscape. It has now come under assault from a US administration that claims the trade pact is a leading cause of US job losses and a major contributor to income inequality. But the underlying changes – creation of global manufacturing platforms for US companies and the stimulation of North American regional trade – have won plenty of support for the treaty, not least from US automakers that produce some of their most competitive global models at plants built in northern Mexican states as part of NAFTA implementation, but also from farmers in the US Midwest who helped put Trump in the White House.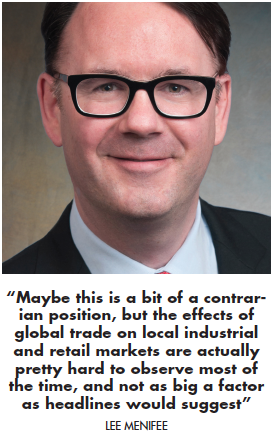 Despite those positive headline numbers, CFR echoes Menifee's sentiments, noting that it "has proven difficult to tease out the deal's direct effects from other factors". Those include rapid technological change, expanded US, Mexican and Canadian trade with other countries such as China, and unrelated domestic developments in each of the countries. In addition, CFR notes, "debate persists regarding NAFTA's legacy on employment and wages". Some workers and industries face "painful disruptions as they lose market share due to increased competition", even as others gain "from the new market opportunities that were created".
In short, there are winners and losers. Under NAFTA, US trade with its North American neighbours has more than tripled, CFR says, growing more rapidly than US trade with the rest of the world, and adding about 0.5% to US GDP – about $80bn dollars to the US economy, several billion dollars of added growth per year.
According to Cushman & Wakefield, US Department of Transportation data show that since 1996, the number of loaded truck containers coming into the US every year increased by more than 184% after NAFTA came into effect in 1994. The increase in cross-border trade boosted demand for warehouse and distribution property – Cushman concludes that US warehouse stock increased by 3.5bn sqft under NAFTA. In short, increased trade requires warehouse space to store goods on the move.
But that upside is obscured because the costs are highly concentrated in specific industries such as auto production, where 350,000 US jobs have been lost since 1994 as Mexican auto-sector employment have swelled from 120,000 to 550,000 – while the benefits of NAFTA are distributed widely across society in the form of lower prices for many goods. A study of NAFTA's effects by the Peterson Institute for International Economics (PIIE) concluded that 15,000 jobs are lost (net) each year due to imports stimulated by the pact – but that for each job lost, the US economy gains about $450,000 in the form of higher productivity and lower consumer prices.
Why, then, is the Trump administration on the verge of withdrawing the US from the treaty? The job gains and losses have been distributed across the Trump coalition in the Midwest, the Plains and Texas – with auto workers losing and farmers gaining. And US manufacturers faced wage and productivity competition decades before NAFTA came into effect.
A 2016 study by three economists at the University of California found that competition with China since it joined the World Trade Organization (WTO) in 2001 had a worse impact on US manufacturing than NAFTA – and NAFTA actually helps the US auto industry compete with China by contributing to the development of integrated, sector-wide, cross-border strategic supply chains, which lower costs and increase productivity.
Under NAFTA, a production cluster has emerged where automakers can seamlessly ship parts back and forth across the US-Mexico border to assemble cars and trucks in the most cost-efficient location for each. These links, the University of California authors assert, "would be much more difficult without NAFTA's tariff reductions and protections for intellectual property".
The influence that NAFTA would ultimately have was not clear at its formation. The deal almost died several times, prompting one US Senator to dub it the 'Lazarus Act' because only President Bill Clinton's last-ditch effort to secure US Congressional approval raised it from the dead. That anecdote, which illustrates US ambivalence about trade deals, anchors the analysis of NAFTA's role in global trade in a new book on US trade policy by Dartmouth College professor, Douglas Irwin. In pressing to win votes, Irwin notes, Clinton in 1993 admitted to "mixed feelings" about the deal, but concluded the US had no choice but to adapt to the globally competitive trade environment.
Mixed feelings remain today. The US and its partners in NAFTA have clearly benefited from the treaty. But, as in 1992, industries experiencing change are calling for NAFTA's repeal, even as most consumers in North America enjoy the fruits of the open system the pact created.
"NAFTA fundamentally reshaped the North American economic landscape. It has now come under assault from a US administration that claims the trade pact is a leading cause of US job losses and a major contributor to income inequality"
The linchpin of that open system is that, just as demand for warehouse property hinges more on the domestic consumption in a given city or region than on incremental trade flows, the population movements that create those clusters of economic power and commercial connections also occur largely independently of trade pacts.
For example, as Irwin notes, half of US imports from Mexico already entered duty-free under pre-NAFTA arrangements, and there was nothing stopping companies from moving production to Mexico without NAFTA. In light of those conditions, Irwin contends the rhetoric opposing NAFTA was more intense than the economic stakes appeared to warrant.
As the first major multilateral trade pact agreed after the Cold War ended, NAFTA created a template for trade relations in the 21st century that has emerged from the era of superpower détente. It is a model based on regional clusters composed of educated populations, technological innovation and mobile finance capital. With the WTO gridlocked, these regions have begun to wield their own political clout and trade-boosting policies.
China's 'Greater Bay' policy is one of the latest examples, a deliberate attempt to compete with New York, London and Tokyo by linking nine cities, including Guangzhou, Shenzhen and Hong Kong, into a global megalopolis with a population of 68m, GDP of $1.5trn and common customs rules. The concept suggests that property investors will face a world in which 21st century metro-states might be the entities that offer policy terms and financial incentives previously packaged as trade pacts between nations.
Whatever form NAFTA takes – following renegotiation or withdrawal – one major question looms: is the age of the multilateral trade deal over? The US has also pulled out of the Trans-Pacific Partnership, while other Asian regional trade efforts, such as the China-backed Regional Comprehensive Economic Partnership, have so far gained little traction. The Trump position on trade is another chapter in the story of US trade relations, where support for deals waxes and wanes in reaction to domestic and geopolitical pressures.
But it is unlikely that the trend of migration to coastal urban centres adjacent to ports, airports and other transport links will stop because of tariff changes. Although the form of trade pacts may change, the underlying demographic and economic trends that create local demand indicate that prevailing property capital flows are more likely to behave like the trade winds that propelled ocean-going merchant ships in the age of sail – fluctuating seasonally, but reliably blowing in the same direction year after year.